"On November 4th, 2019, we welcomed our 5th child into this world. Exactly 371 days before, we were in the same hospital, in the same OR, delivering our 4th child who we had to say goodbye to at 22 weeks. So much can happen within a year.
When I found out I was pregnant again less than 5 months after Clark was stillborn, I was in complete shock. Elated, terrified, excited, anxious — and everything in between — type shock. Could I do this again, knowing what happened to Clark, and how it was never discovered what actually caused his fatalities?! Yes. I had to. We needed this sweet little rainbow babe to complete our family and we had faith that our Clark sent this little one from heaven to be with us.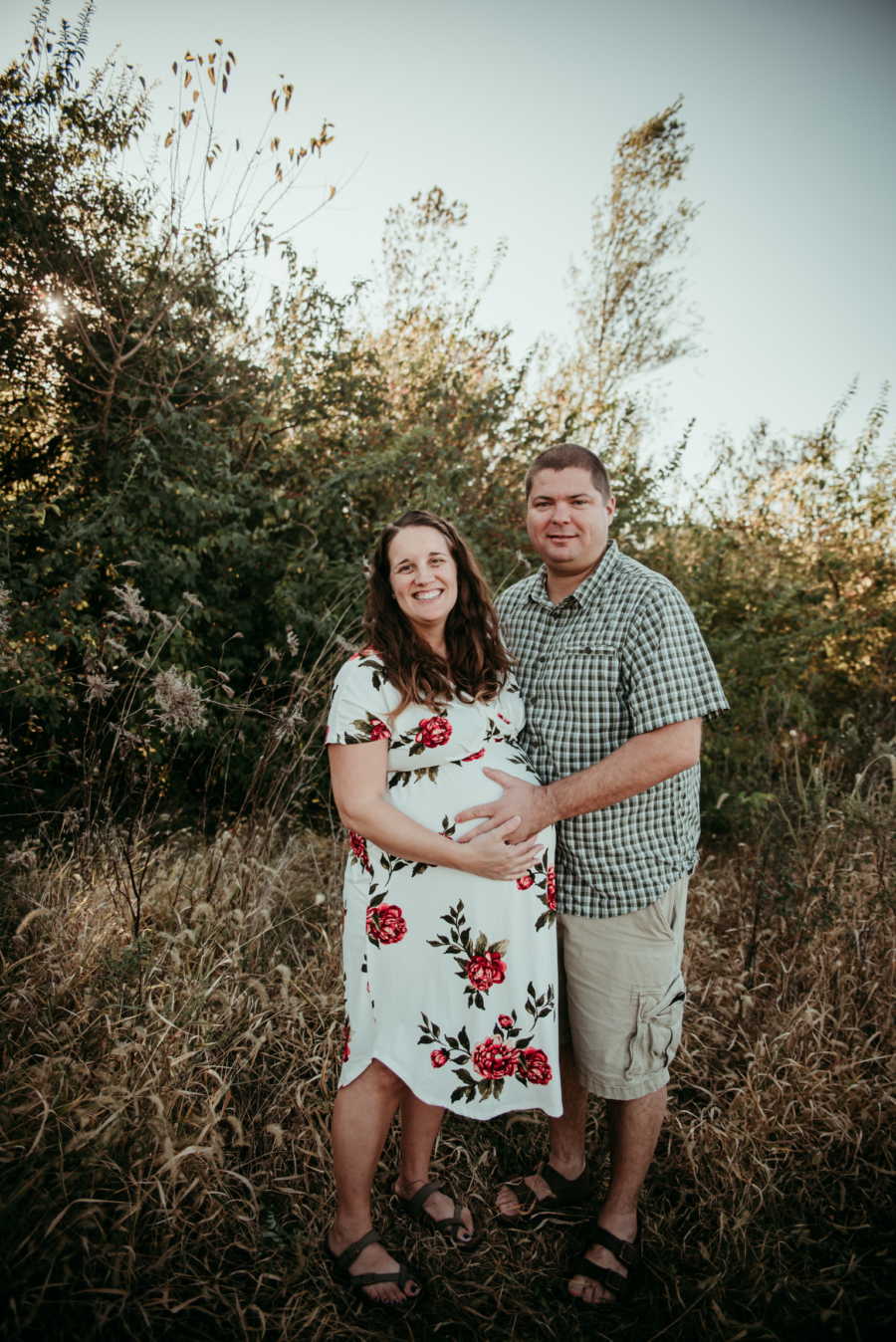 As my pregnancy grew deeper and deeper, so did my anxieties. I was absolutely terrified of losing another baby. Pregnancy after loss is hands-down one of the most difficult things I have ever been through and I knew I never ever wanted to go through it again. I knew this sweet little rainbow babe was worth it, but I was also very okay with this babe being our last.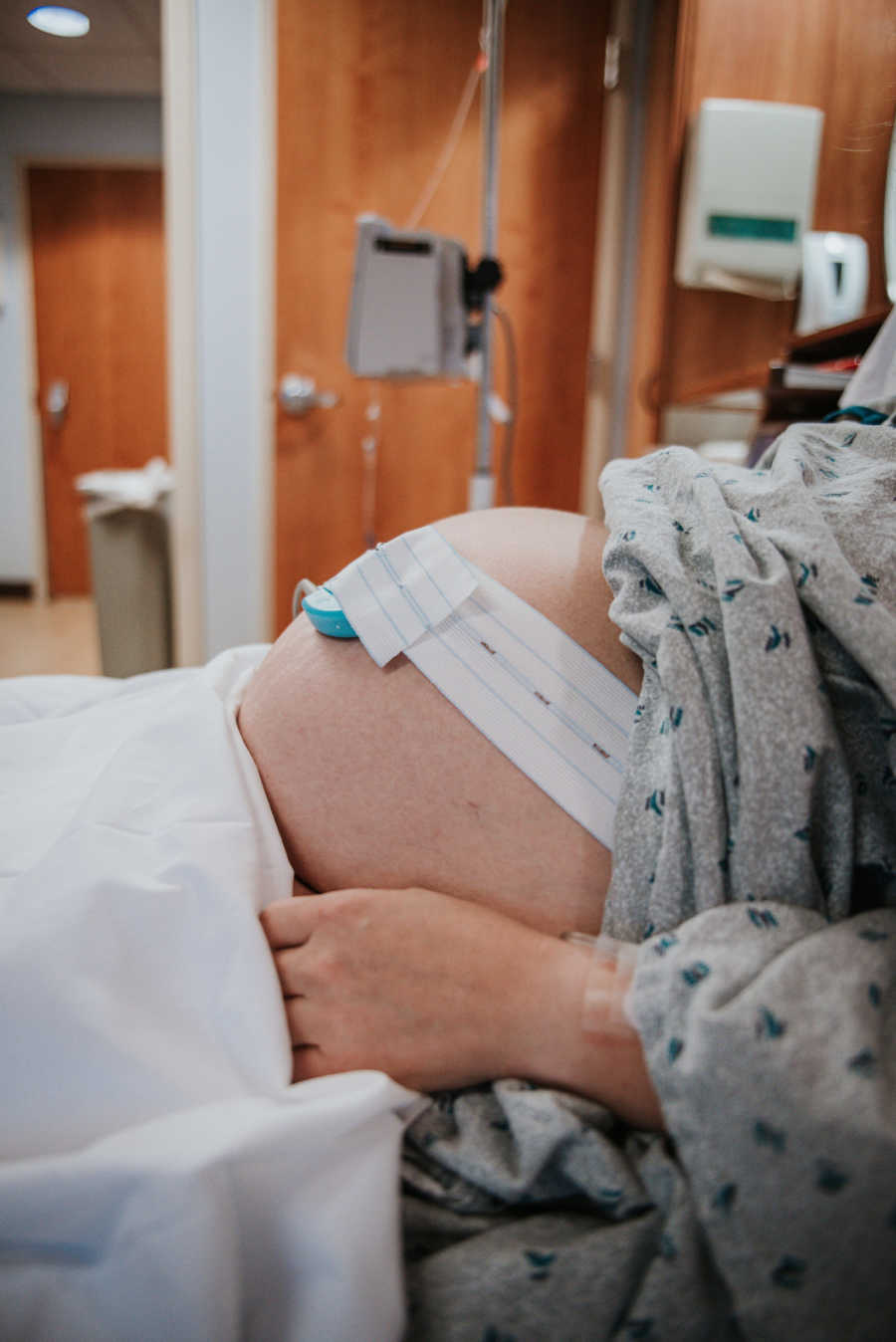 Since this was going to be our last, I wanted to do everything in my power to document this babe's arrival like no one else has. I was scheduled to have my 5th c-section (in just 6.5 years) barely a year after Clark's birth. My OB, as well as my high risk OB, decided it was best that we schedule earlier than later, given those statistics, so at 37 weeks this little rainbow babe was going to make his arrival. And I wanted to make it a memorable and special one…and also show that c-sections, or belly births, can be empowering as hell. They are birth. Period. And I wanted my last birth to be one that I looked back on and was proud as can be for birthing my fifth and final baby that way.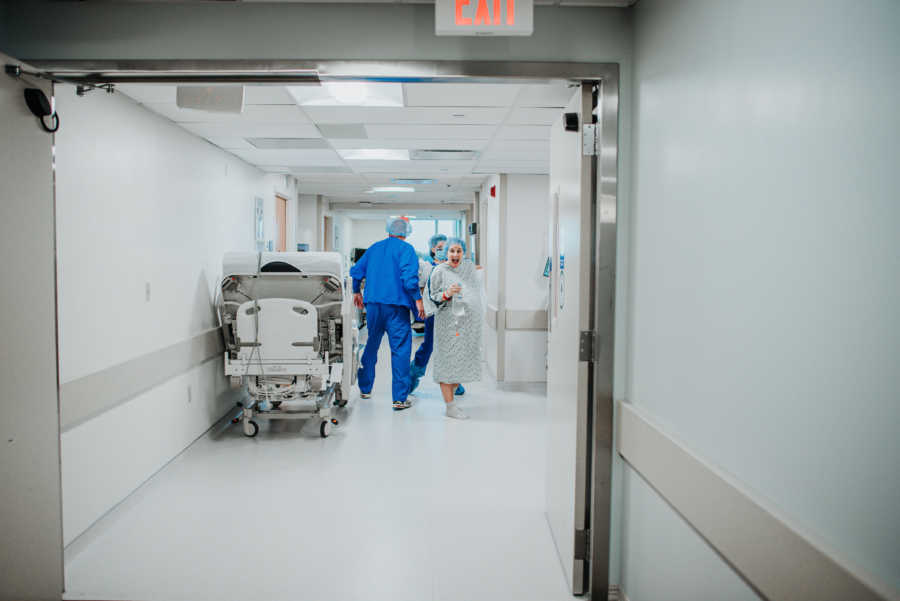 I have seen circulating around social media quite a few photographers taking their own birth photos — but they were all from vaginal deliveries — I had never seen one from a c-section. I decided I was going to change that. My past 3 sections were scheduled and I never felt like I did (uncontrollable shaking, fighting to stay awake, etc…) with my first with them, so I assumed this scheduled section would be the same. I went over my birth plan with my OB. I flat out asked her, 'Would I be able to take my own photos during my c-section?' I remember the look she gave me one was of puzzlement, but also reassurance. She told me, 'Oh absolutely! I think we can make that happen.' So when baby day came, I asked the nurse and anesthesiologist, 'So it's okay if I have my camera in there and take pictures once baby is out from my perspective, right?' Honestly I was so set on this idea I would have been crushed had they said no. But to my delight, they both said it was totally fine (I'm sure even giggled at my idea, because I don't know if they've ever had anyone request this before either!) and we were all set.
I was going to be able to take my own birth pictures from the operating room table. Just amazing. And so freaking empowering to have such a strong support system behind me as I was about to walk into the operating room to deliver my rainbow baby.
I had handed my camera off to my husband Mike and when it was go time, he and Victoria, my incredible birth photographer and friend, walked in and we got ready to meet this babe. Mike held tight to my camera and the anesthesiologist let us know when it was about to be baby time and Mike handed it to me.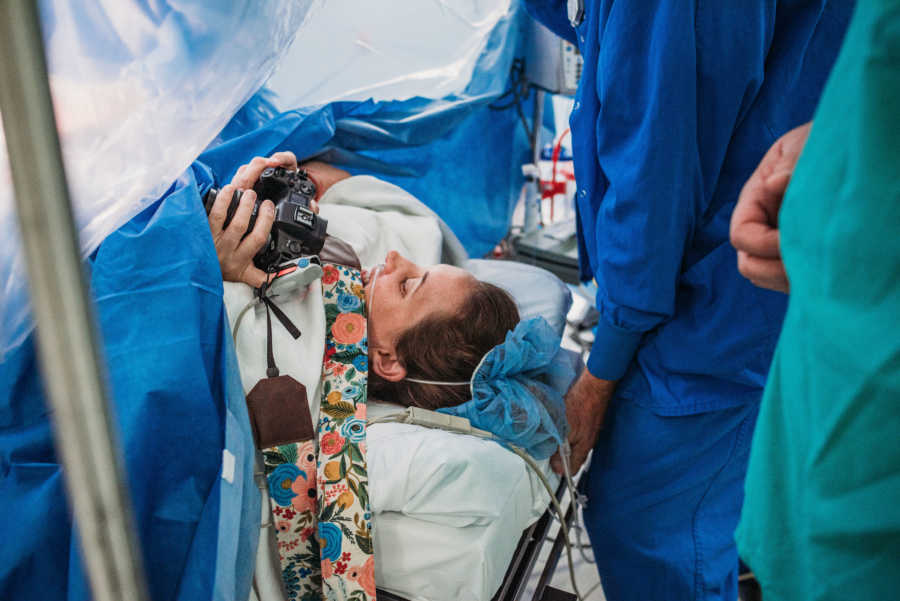 Strapped to the table, I adjusted my settings and white balance and armed my camera ready to capture our sweet boy's arrival. Mike was anxiously looking over the drape before it was dropped, and just as the anesthesiologist dropped the blue drape so there was just a clear plastic drape, my OB pulled our son Teddy out screaming.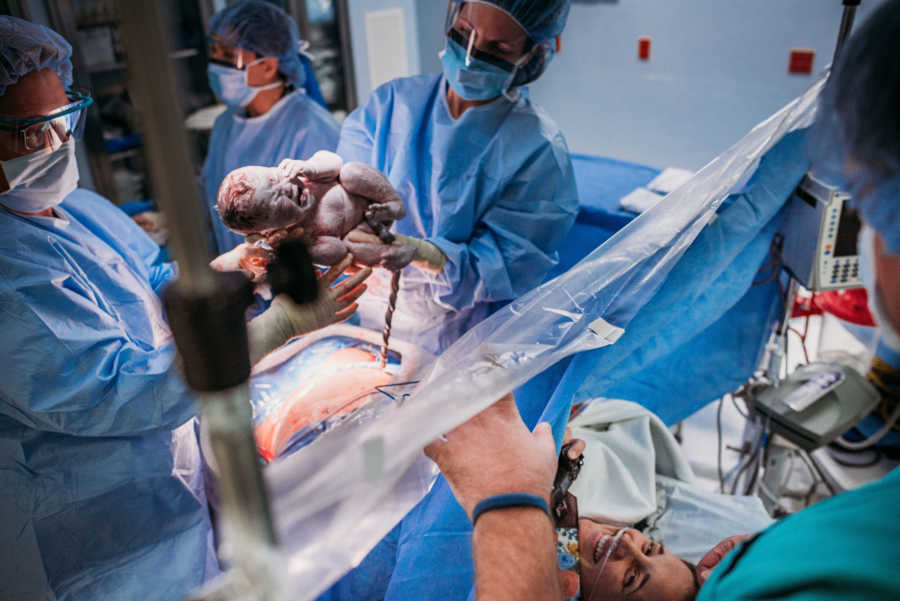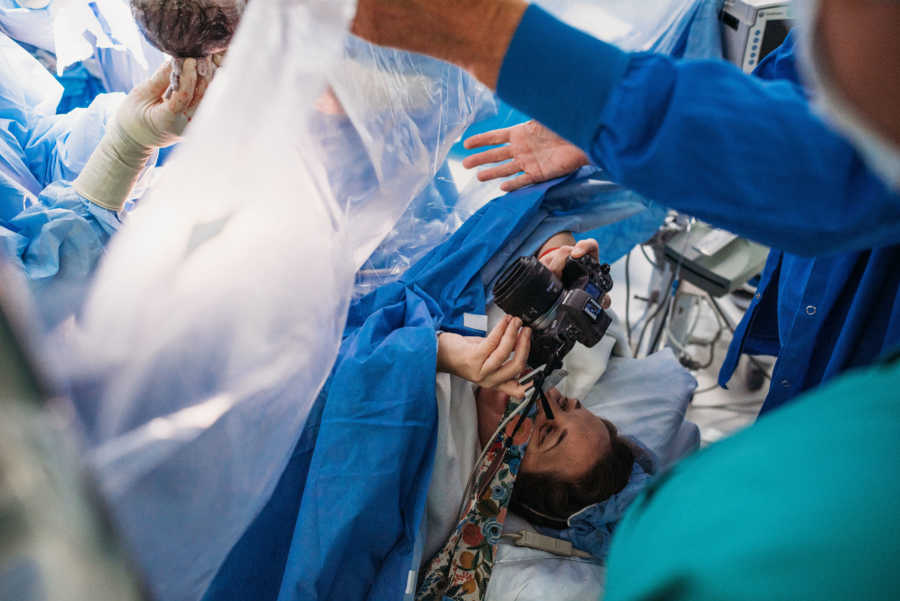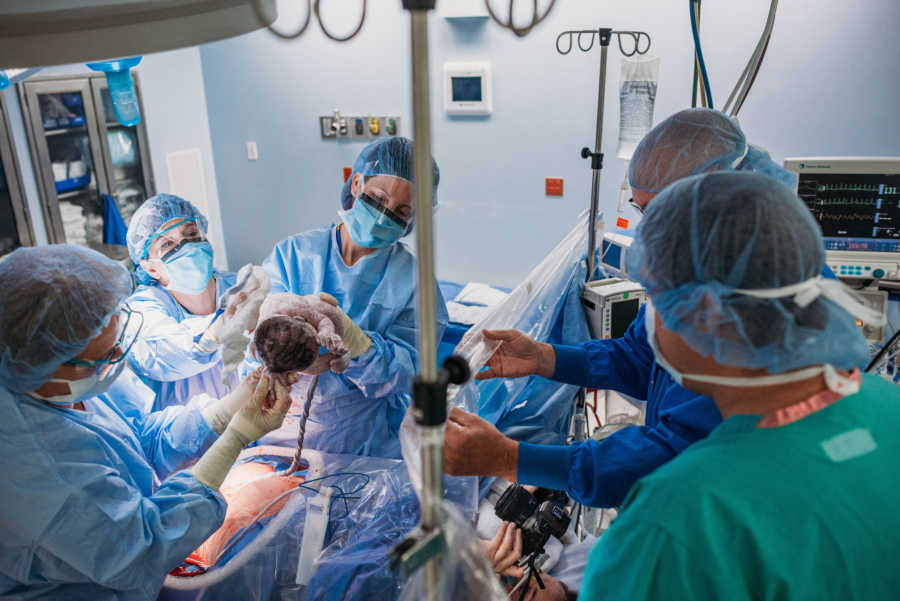 Mike shouted, 'It's a boy!" and I was clicking away, fighting back tears and trying to see my new babe, focus my camera, and keep my eyes clear to be able to see everything.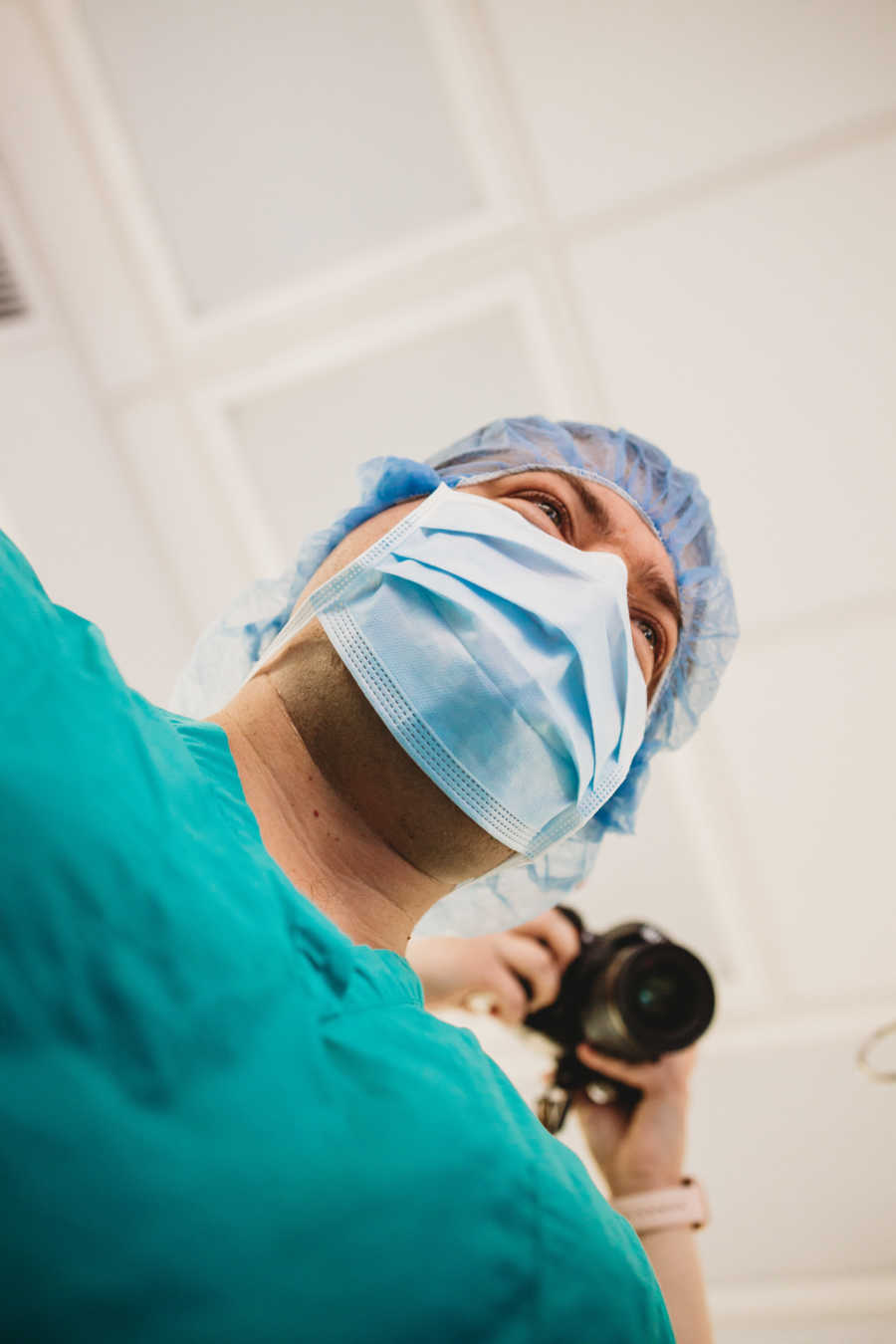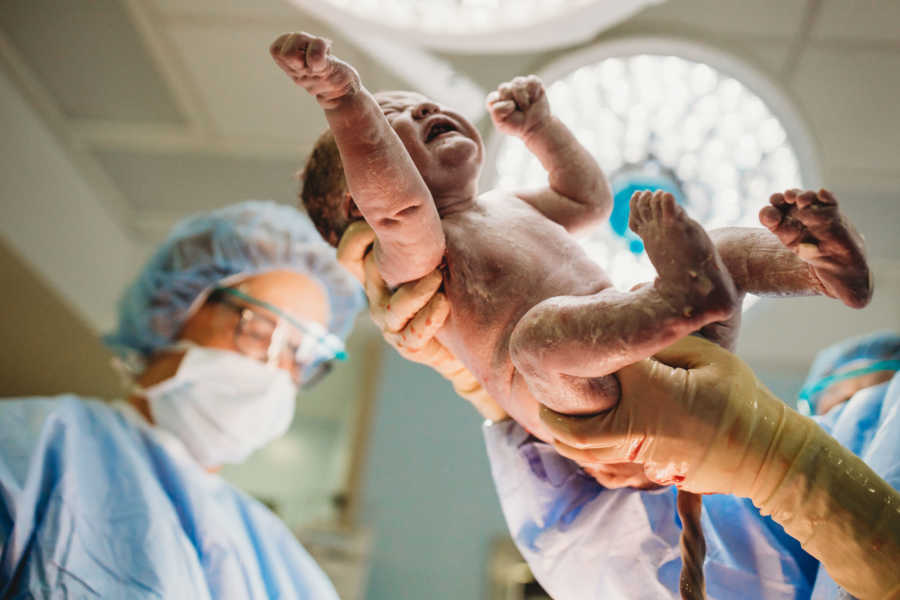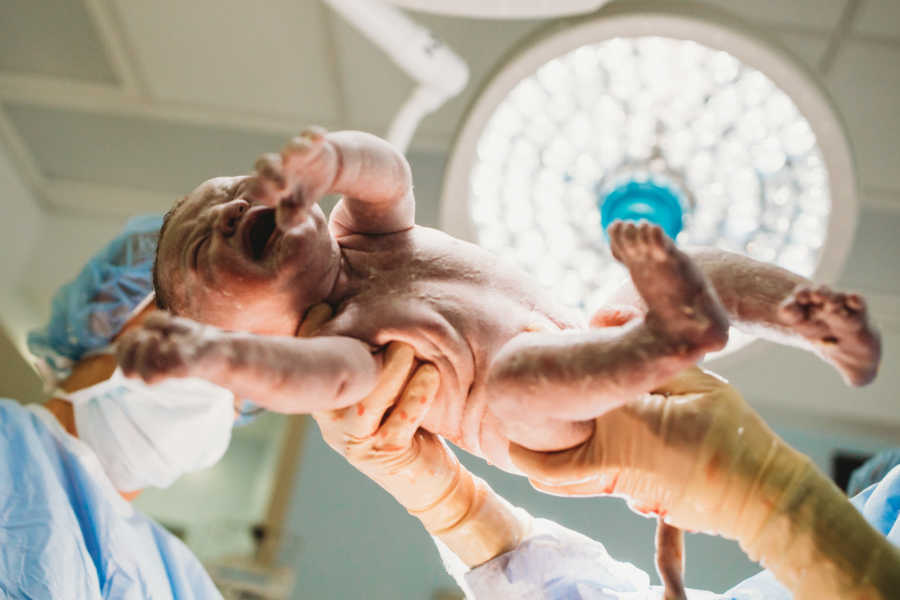 This was such a surreal experience, because just 371 days before in the exact same OR, our little Clark was also pulled out at this exact same spot, but there was no crying, no excited cheers in the room, no shouts of 'it's a boy!' from my husband.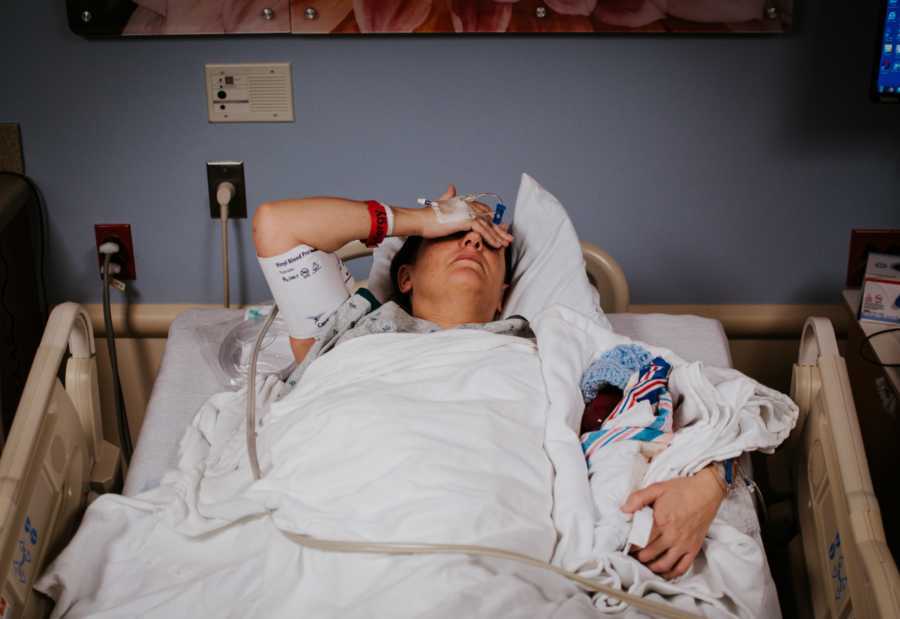 And now, hearing all of this with Teddy's birth AND getting to capture it from my perspective is something I will never ever forget.
Teddy's birth was not only empowering, it was incredibly healing too. It helped bring me out of the loss abyss of fearing that I would deliver another child born sleeping. It showed me that good can come from heartbreak, and that big brother in heaven was watching down over his little brother this entire pregnancy and birth. And it taught me that if you want to do something, you can make it happen.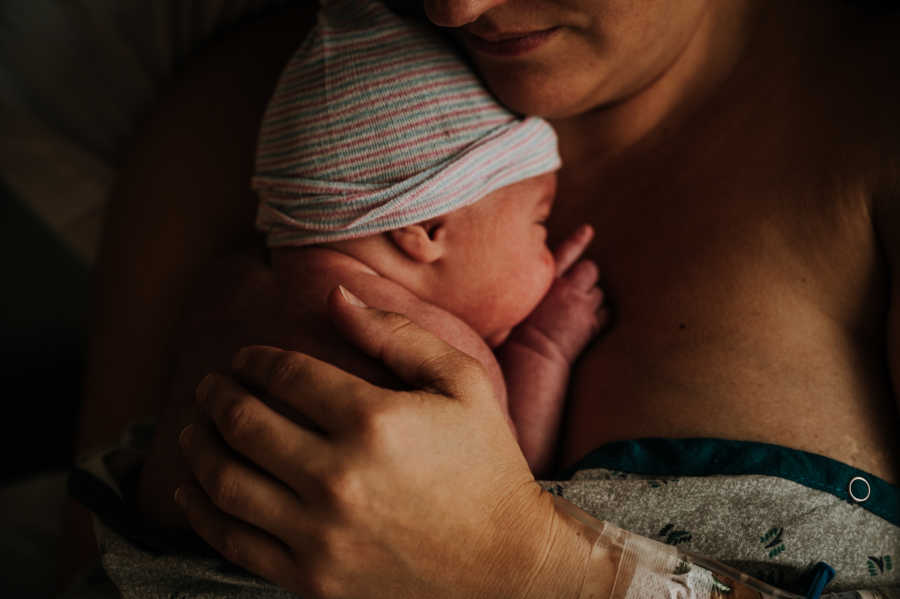 Photos are a huge part of my life — heck, it is my full time job providing those to others!! — and it was so vitally important to me to capture part of Teddy's birth from my own lens. My photos from Clark's birth are something I cherish more than anything, and I wanted something from Teddy's that I would be able to hold on to alongside his big brother's as well.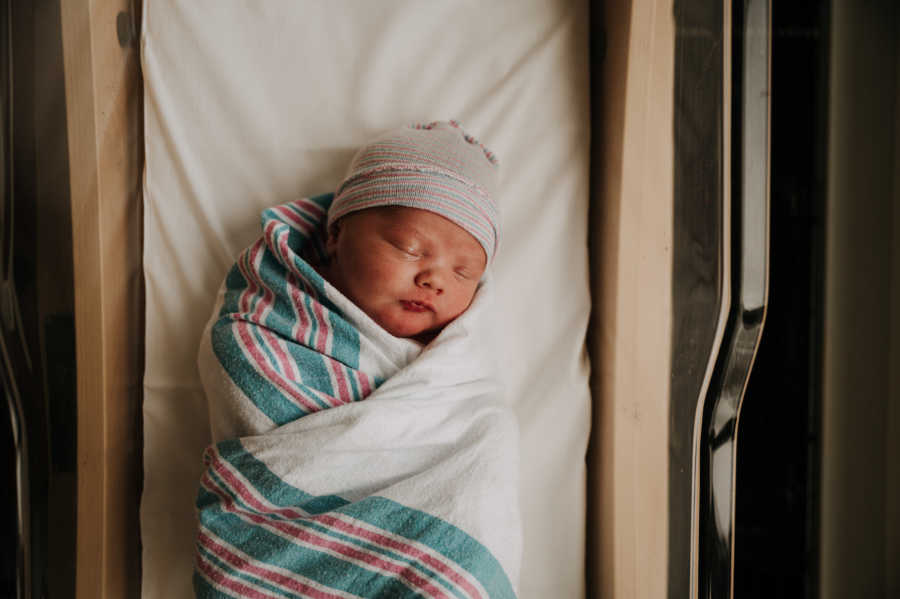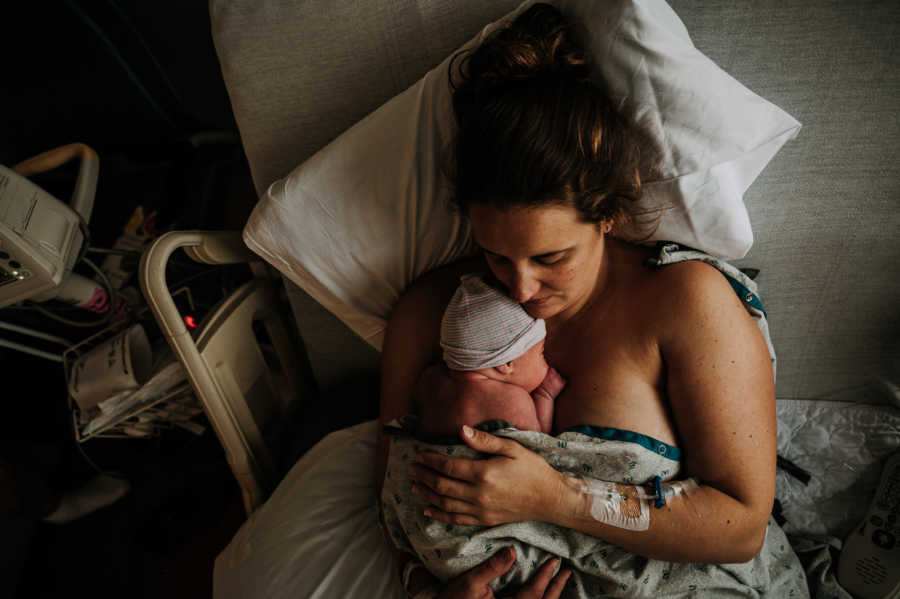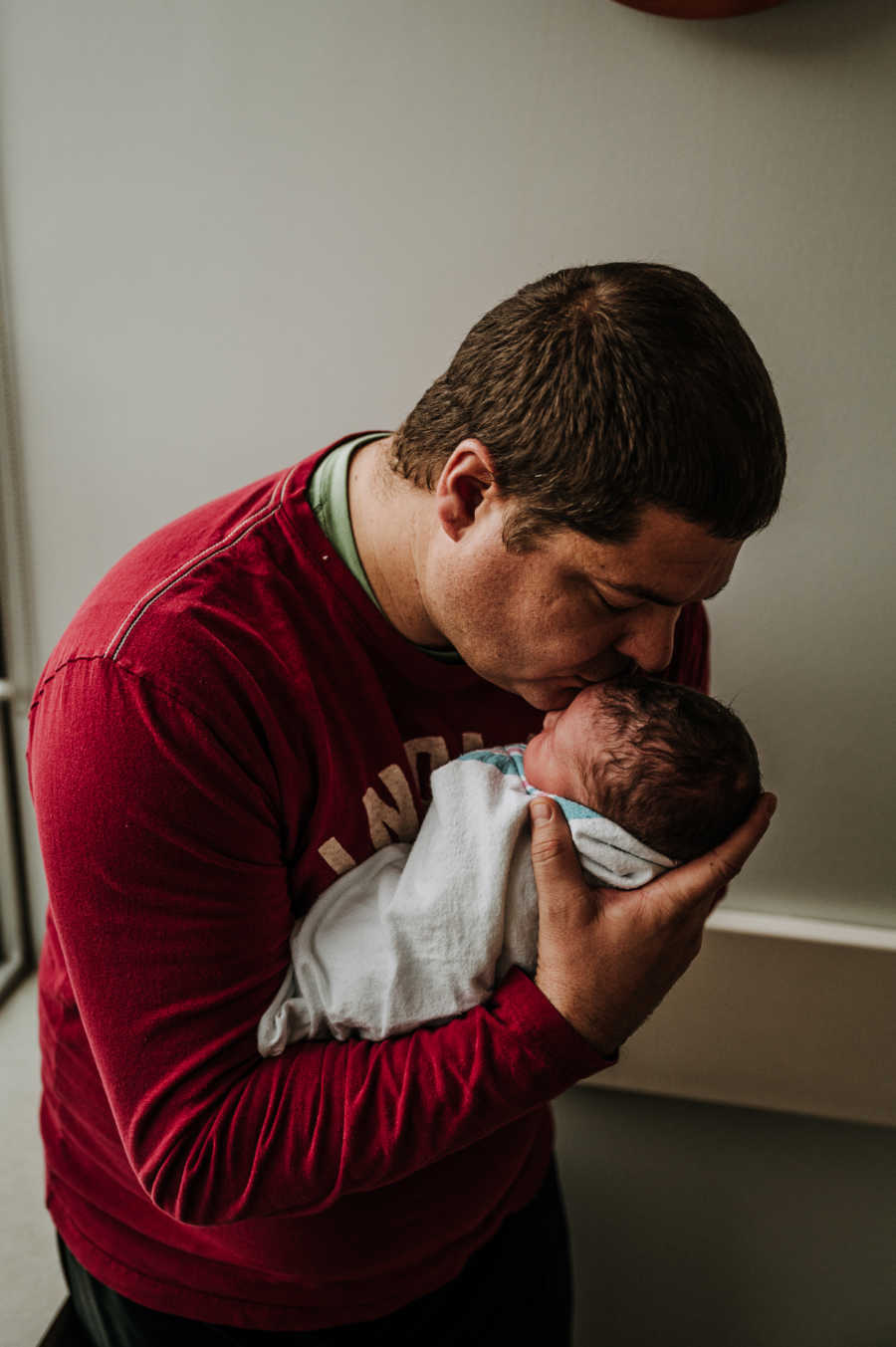 As a birth photographer I understand how each and every birth story is different — of the 75+ I have captured, no two have been alike. And that's why I love this job of mine; it keeps me on my toes in what comes in front of my lens to capture for these families. However, with each of these births I've done, every single one of them tell a story of birth, but also show just how incredibly empowering birth is, even if it's one that doesn't go according to plan. This was probably the best part of Teddy's birth for me – the empowerment I felt in capturing my own pictures — I truly felt like I had our sweet Clark with me and was taking this birth in my stride and capturing (and in turn telling) my story exactly how I saw it unfold for me. And to have that is empowering as hell."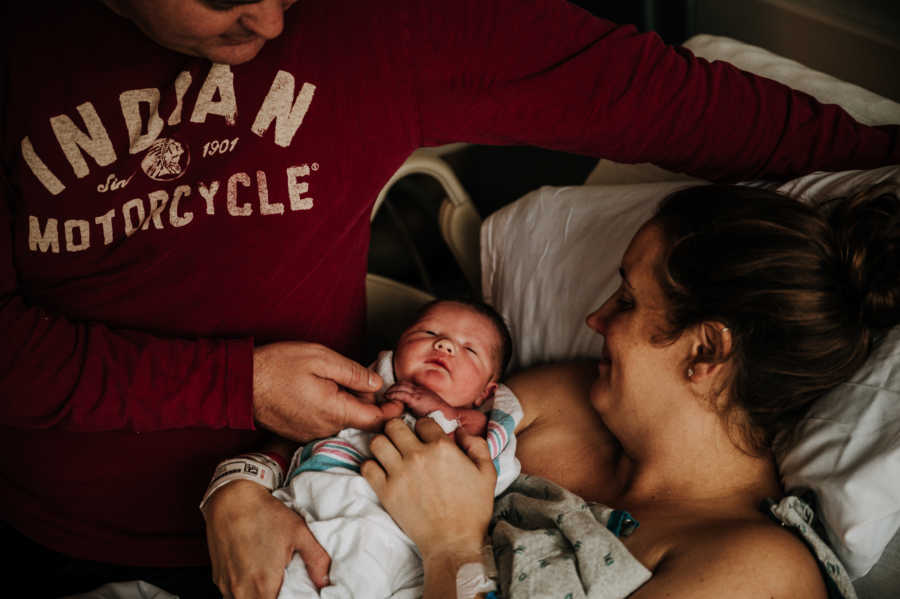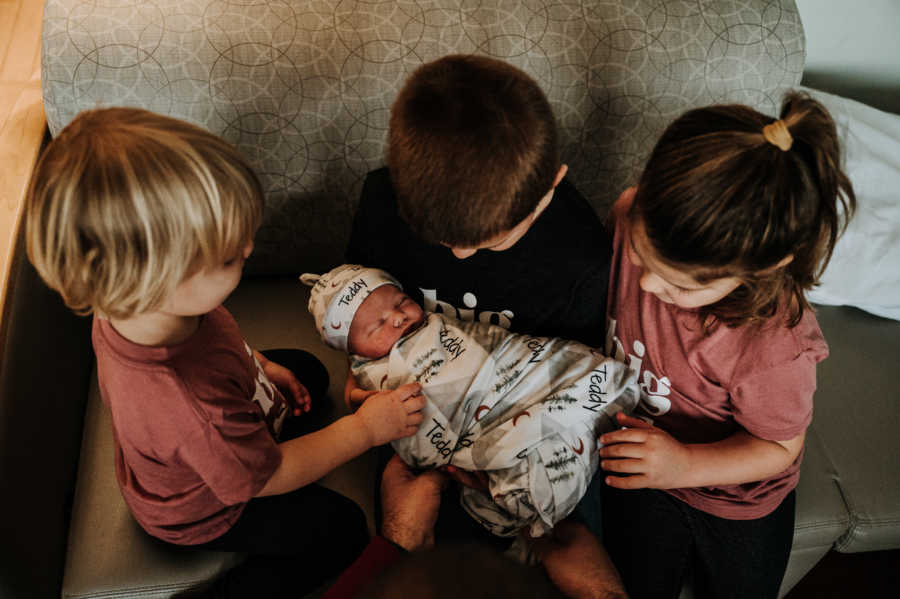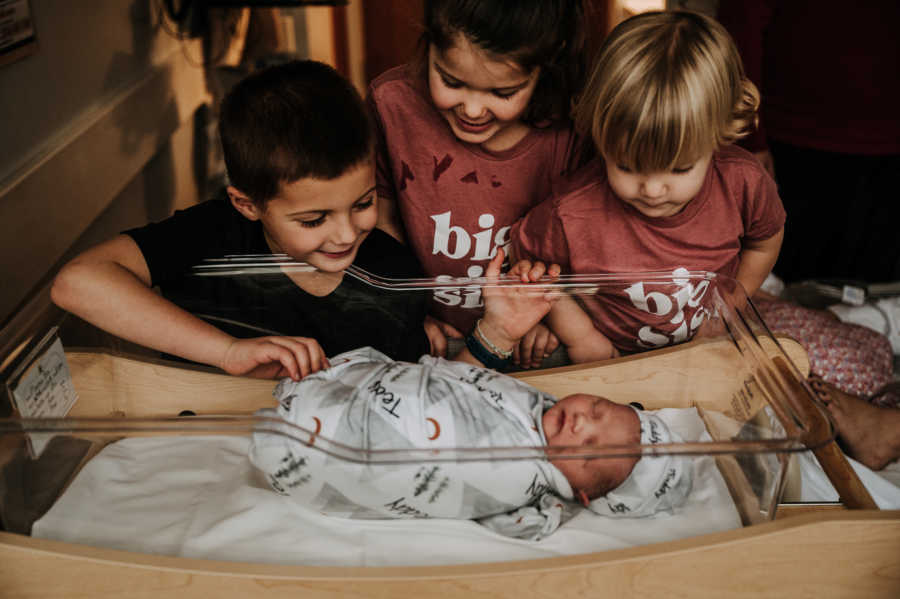 This story was submitted to Love What Matters by Alexandria Mooney of Alexandria Mooney Photography in St. Louis, Missouri. Submit your own story here. Be sure to subscribe to our free email newsletter for our best stories, and YouTube for our best videos.
Read Alexandria's powerful backstory of losing her sweet Clark:
'There is a lot of fluid in there. I am going to get your doctor.' My heart sank, and I debated calling my husband, but just sat there, numb, and decided to wait.'
Provide strength and empowerment for other mamas. SHARE this story on Facebook.