"18 years ago, God laid it on my heart to adopt. I was in college and knew next to nothing about life, but it was so strong in my heart I told my boyfriend at the time, who's now my husband. I said if he couldn't consider adoption someday, then I couldn't marry him. Zero pressure there. Years passed. We changed jobs, we moved around, we finished graduate degrees, we had our three beautiful daughters, and then we felt we were there. It was time. But as we prayed for direction on the 'Who, what, where, when, why, and how' of adoption, it felt disappointingly blank.
It was just an ordinary day. I was having a pity party about being at work on a Saturday morning. Then I met a patient who changed the very course of our family's life. A mother brought her ill son into the clinic. As I examined him, the woman mentioned he had been adopted. He was the second child they had adopted from foster care. She had even written a book about the first child's journey through foster care and into adoption. Me, always a bookworm, got her book and read in a day. The story grabbed my heart and so the seed was planted.
A week after hearing about foster care for the first time, our church hosted a traveling ministry group. The couple leading it stood up and shared an incredible story of how their family grew through foster care and adoption. Typically when I hear something once, I file it away in the recesses of my brain and let it sit. But if I hear the same thing a second or third time, I start asking, 'What does this mean? What are you trying to teach me, God?'
I sat in my office at work and spilled to my coworker about foster care and how those words kept popping up in my life. I threw my hands up, pointed my face to the sky, and shouted, 'God, if you make me do foster care, I'll scream!' Doing foster care seemed like the very last thing on this earth I wanted to do. Then I turned back to my friend and said, 'You just watch. We're going to end up doing foster care.'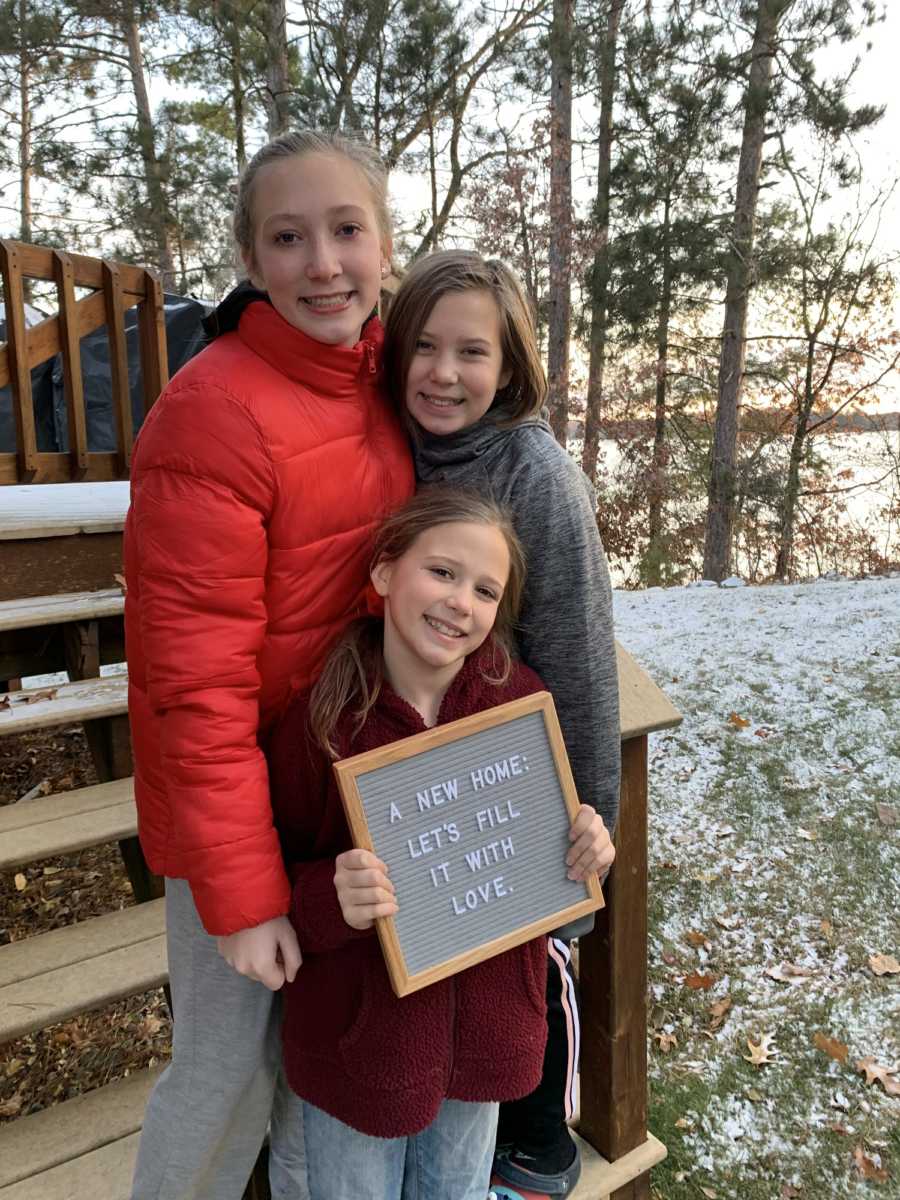 I could not shake the persistent prodding on my spirit to pursue foster care. I was afraid to tell my husband. Surely he would fall off his chair when those words came from my lips. But he didn't fall off. He actually stayed in his chair. Shortly after, with a pounding heart, I called our county's DHS and asked to become a foster family. God wasn't done blowing away our original plans and growing his plans in our hearts.
Now, 5 years later, we have always had a baby or toddler in our lives. When we started fostering, we had already managed to survive our three biological kids going through toddlerhood. It was a stage we swore we would never repeat. Our 'criteria' for a foster placement was just a female child in elementary school. At the beginning of our foster care journey, I wrote out our 'honest list.' It looked something like this:
'We are not baby people. I am so over that phase of my life. There will be no more diapers, bottles, sleepless nights, daycare, and all the other five million things that go into having a baby. We are not toddler people. Toddlers move. And they like to try and kill themselves every few minutes. It's like being on a continuous suicide watch. They try to poison themselves, jump from high places, carry sharp objects, jump in front of moving vehicles. The constant vigilance is very stressful. Our family is social and involved. We have learned babies and toddlers do not mix well with volleyball, basketball, softball, soccer games, school plays, remodeling houses, church groups, hanging out with friends, etc. Babies kind of put a damper on a lot of things.'
Our first placement was dropped off late one stormy night, sleeping soundly in his car seat. A 14-month-old boy. It really is okay to laugh. I am 1000 percent sure God was laughing. And we haven't stopped changing diapers since. If you want to get some insight on the best, most cost-efficient diapers out there, ask me. I've tried them all. When I get to heaven and see Jesus, I'm going to ask him, 'How many diapers did I actually change while on earth?!'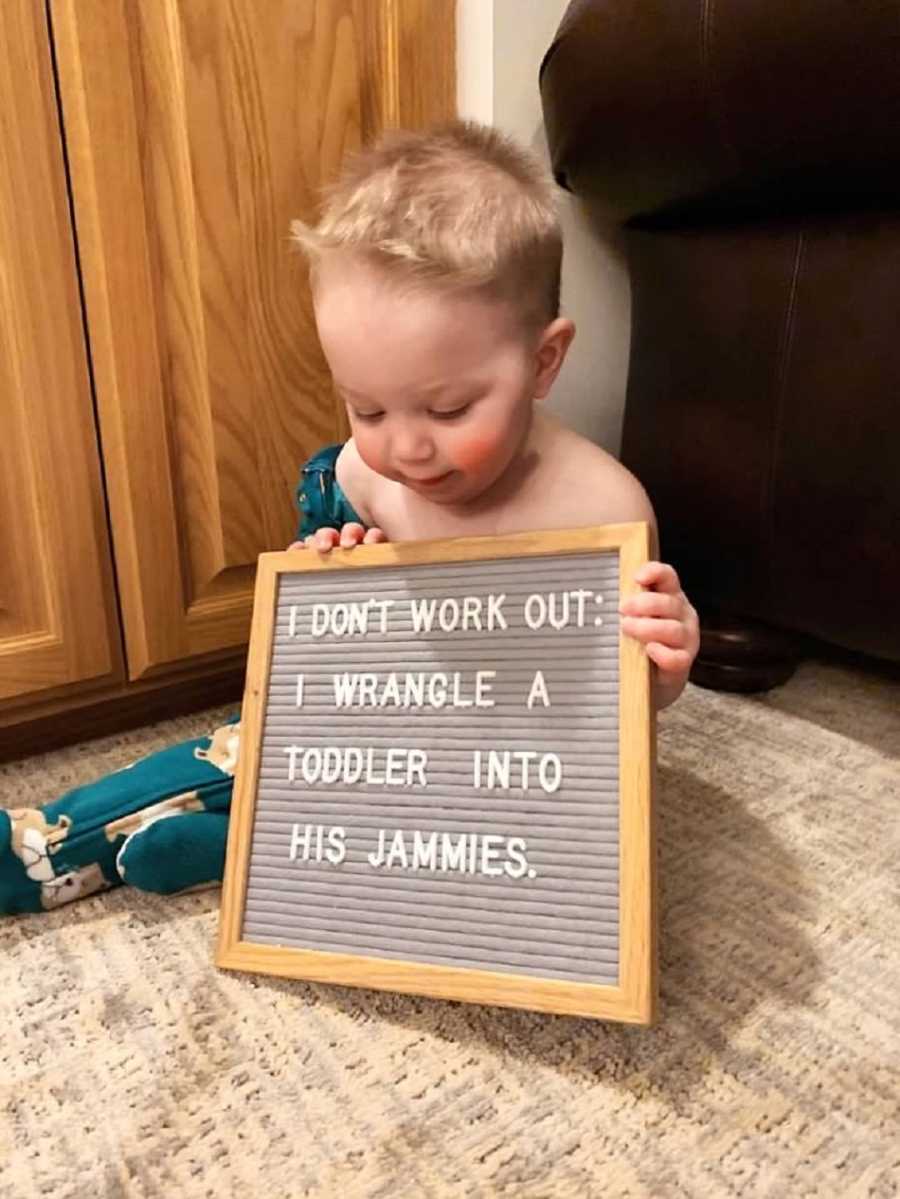 Obviously, 5 years ago when I wrote our criteria, I pretty much was an idiot. We started our foster care journey with closed minds. We wanted a particular child. We wanted what we wanted. But that's not how foster care works. Foster care is never about what we can get out of it. Foster care is about what we can give of ourselves to others and that was a lesson I had to learn. Since becoming a foster family, we have had nine children under 3 years old and only three children around 4 to 5 years old come into our care. We have had two newborns, fresh from their mothers' wombs. When we thought, with certainty, we were done with babies, God sent us two baby boys.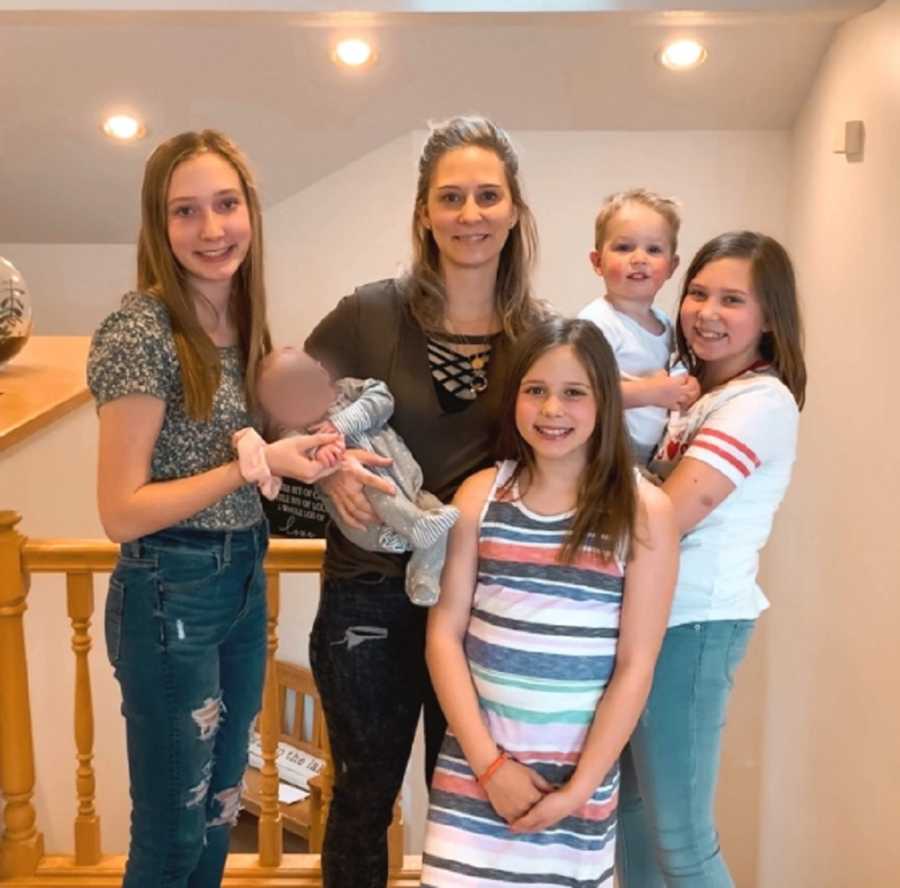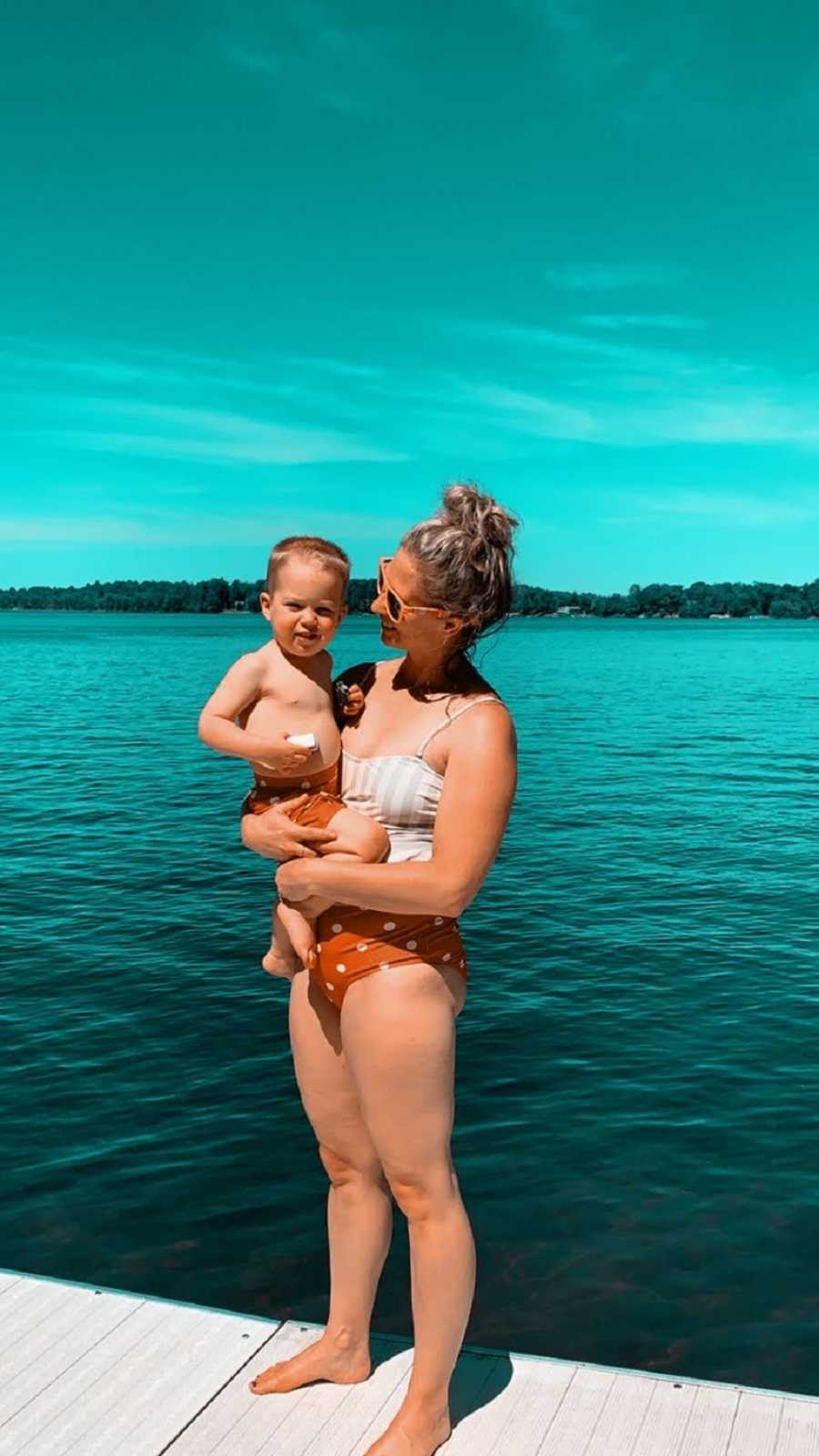 Foster care is complex and can be very messy. It stretches you to lengths you did not know you could reach. So many times I have uttered beneath my breath, 'How did I get here?' There were moments of stretching our table out to accommodate more children around it. Taking two vehicles everywhere because we cannot fit into one. Meeting biological families for the first time, communicating with them, developing a relationship, and co-parenting with them. Having a child fish-flopping in the aisle at church, not knowing what they're supposed to do. Taking kids to the doctor's office and forgetting essential things, like their last names or dates of birth because I've had to memorize so many, and being sure the secretary is going to call the cops on me for kidnapping. Waiting in the hall for a court hearing and awkwardly sitting by all the other parties of interest. Listening to our child's case in court and hearing heart-crushing details of their life. Caseworkers becoming like family. The endless sleepless nights as we helped traumatized children learn to sleep in a new home. As I held our first son, on that first night, his hair reeked of marijuana and stung my nose. He cried if we put him down, so I sat up through the night holding him close and pondered how I got to this beautifully messy place called Foster Care.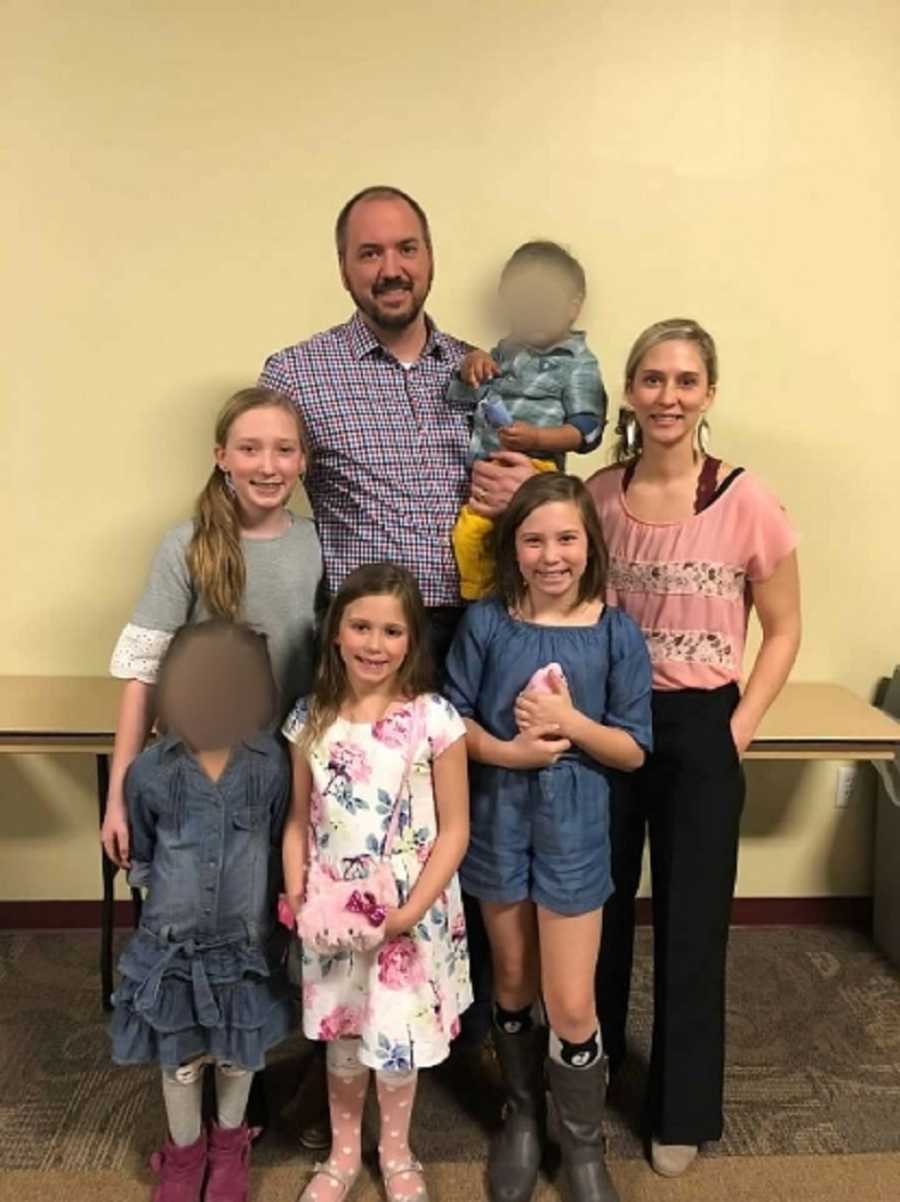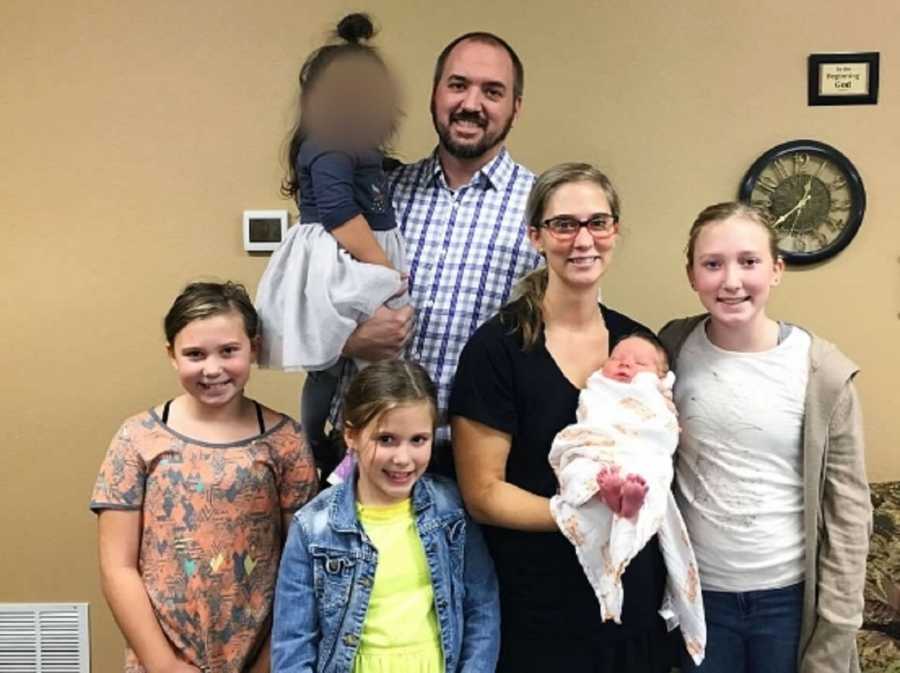 What about adoption? Wasn't that originally on my heart? Yes, it was and continued to be. But I had to learn not to look at foster care as a means to an end. It's about giving, not receiving. Years passed, tears were shed, and many prayers uttered, 'Why are you taking so long, God?' Until finally one Sunday, at church, I announced, 'I've prayed for adoption for nearly 20 years. And I've finally come to this: If we never adopt, God is still good.'
Just 3 days later, a newborn baby boy was brought into our family. I didn't want to say yes. It was too scary. I really didn't want a newborn. I wanted someone who was potty trained, but our family said a shaky and unsure 'yes.' 18 months later, we sat before the judge and our village of friends and family and as we became that boy's forever family. I told the court how our scariest 'yes' became the best one.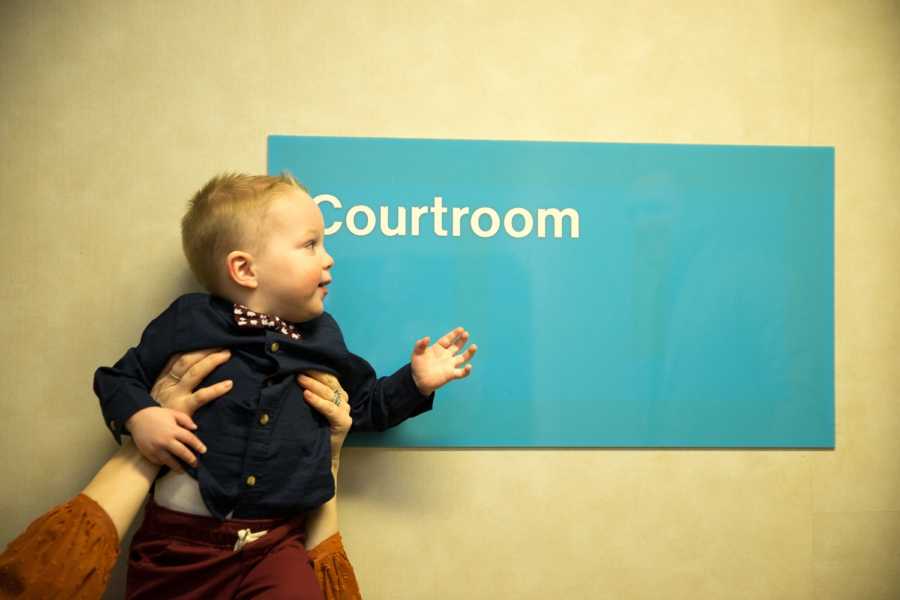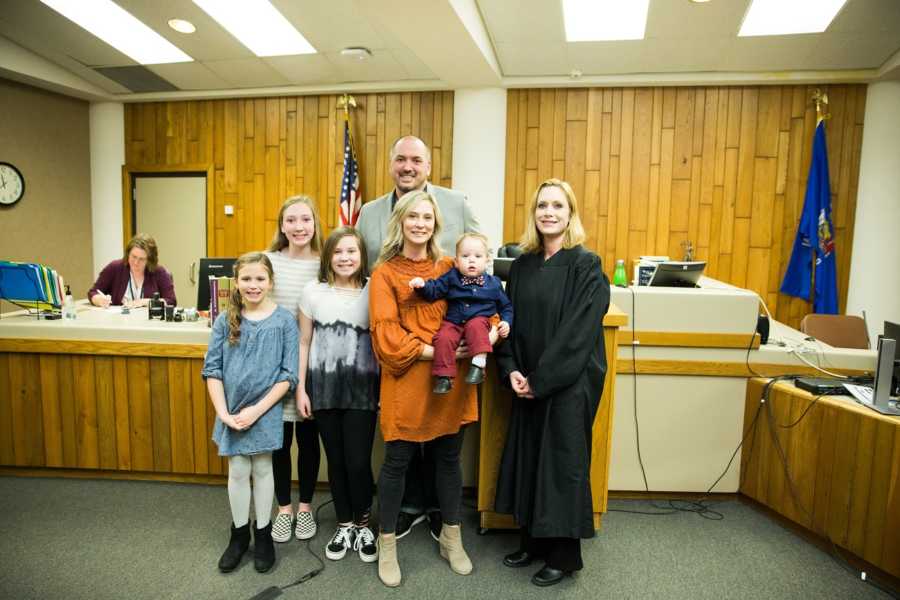 On our son's adoption day, the caseworker told us a baby brother was due to come soon and asked if we would take him too. A mere 6 weeks after our son's adoption, we had another baby boy in our house. Currently, I am a mother to an infant, a toddler, an elementary-aged child, a middle schooler, and a high schooler. I'm a little tired just writing that crazy sentence, but here is what I know: opening your heart up leads to the most incredibly beautiful things."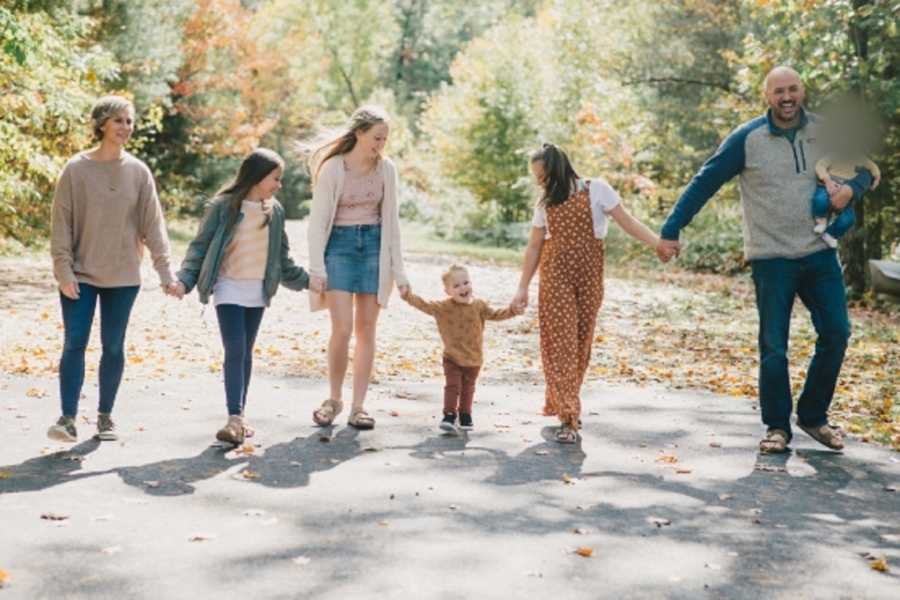 This story was submitted to Love What Matters by Leah Ingalls. You can follow her journey on Instagram.  Submit your own story here, and be sure to subscribe to our free email newsletter for our best stories, and YouTube for our best videos.
Read more touching stories like this: 
'Can you take in 3 siblings? They've been in foster care 15 months and need parents.' We cried tears of joy.': Couple adopt 4 siblings from foster care, 'They are our heroes'
'She's white. Is that okay?' Without hesitating, my husband said, 'She needs a home. Her race isn't relevant.': Foster parents adopt 3 children in 7 months, 'Families don't have to match'
Spread beauty and strength for others. SHARE this story on Facebook with family and friends.