"It was January 25th, 2018, when I found out I was pregnant. My initial reaction was shock and fear after recently having 2 miscarriages within the last 6 months. It was a scary thought. I called my doctor to set up an appointment and kept quiet about the good news for now. None of my pregnancies have been easy, so I did not expect this one to be either, and my doctors were fully prepared.
Early on I began to have problems. I arrived at the ER and spent hours there going through all the tests and procedures. During the ultrasound, I began asking the tech questions. 'What's the heartbeat?' 'Is the baby fine?' Being an emergency room check-up, she couldn't tell me much so it made me even more nervous. Sitting on the bed waiting for what seemed like hours, two doctors and the tech finally walk in. The doctor starts to explain, 'Everything is fine,' but in his discharge instructions, he stated, 'the heartbeats were 157 and 152.' I was in total shock.
'What did you say?' He said, 'Mrs. Jones, it's twins. Fraternal twins.'
I sat there quiet for a while, got the paperwork and immediately texted my sister, the father, and my friend. I said, 'SIS, GUESS WHAT?' To my surprise she said, 'You're having twins!' I told her yes and we laughed – we were both in shock now.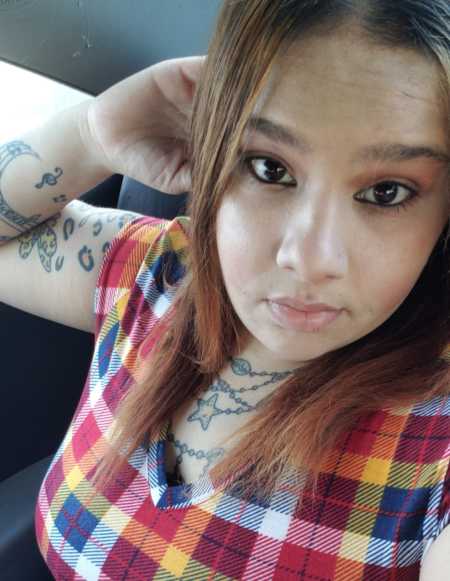 Throughout my pregnancy, it was rough. My cervix was shortening, and working at a nursing home full time wasn't helping any. Baby A, Malaysia, was moving like crazy (which actually was a great thing) and with a 1-year-old on the brink of turning 2, and a 5-year-old going on 21, the whole pregnancy certainly was a task. At the doctor appointments every 2 weeks, ultrasounds showed my peanuts started to grow. They were doing well into the second trimester, but just short of the third trimester, it started to get really rough. The father wasn't helping any, and the girl, Baby A, wasn't growing as well as the boy, Baby B, which is to be expected with multiples, but was still very worrisome.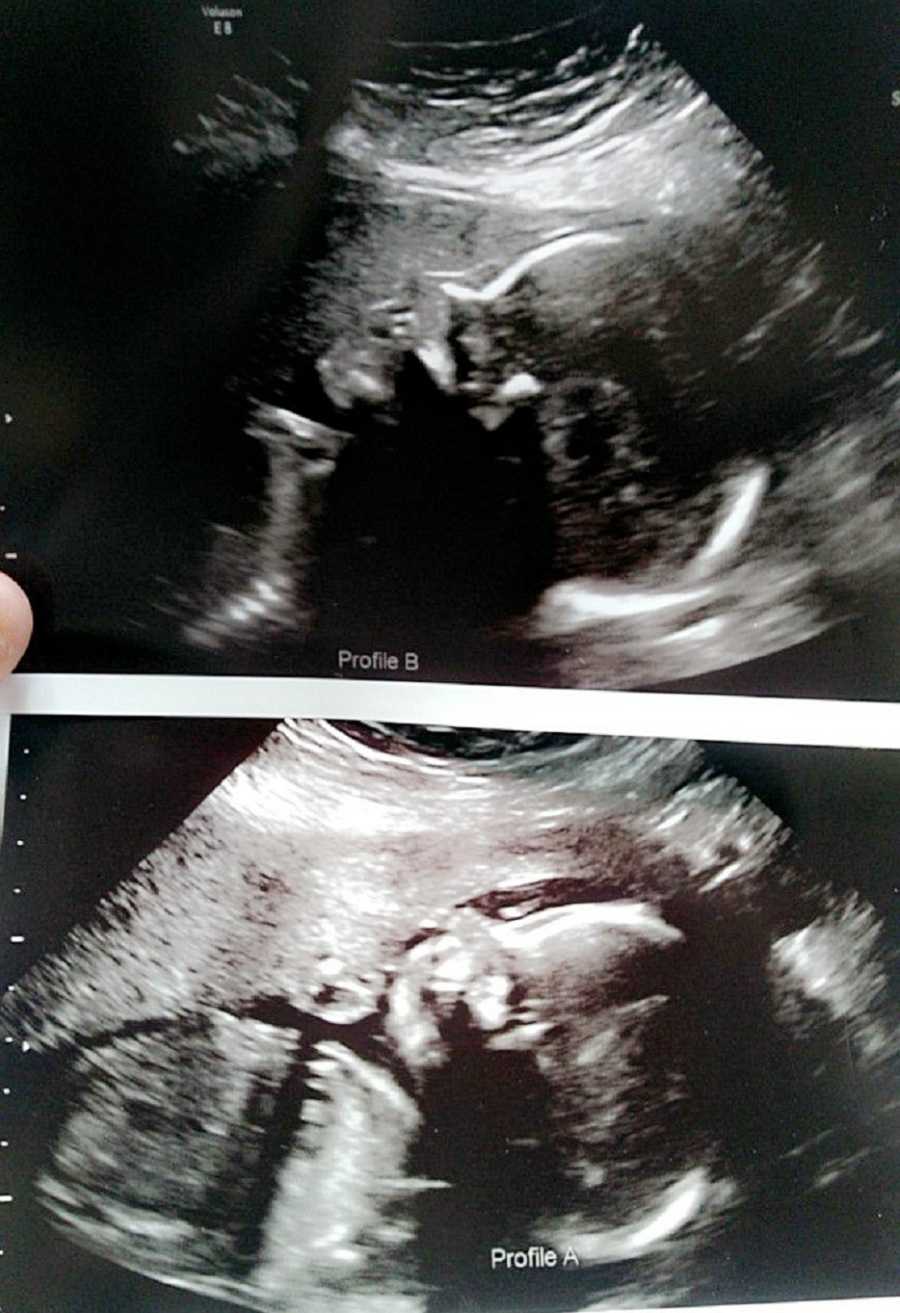 On my way to an ultrasound, I was 27 weeks along and more bad news came. My baby girl still wasn't growing and her amniotic fluid was low, and my cervix was completely gone. They admitted me into the hospital and monitored me and my precious babies closely for 2 days. They gave me steroid shots for their lungs – two every 12 hours – and released me. Upon arriving home and laying down, I woke up in pain. I again rushed to the hospital. My blood pressure was 200 over 100 and my protein was extremely high. I had preeclampsia! They started having me sign forms for a C-section transfer to a level 4 hospital.
I transferred the next night, and my children were born at exactly 28 weeks. Baby A, Malaysia, weighed 1-pound and 15 ounces and Baby B, my angel Malachi, weighed 2 pounds, 7 ounces. They were so small. I was the only one in the room besides the 10 nurses and doctors. All I could do was cry as I saw them working on my children, running around.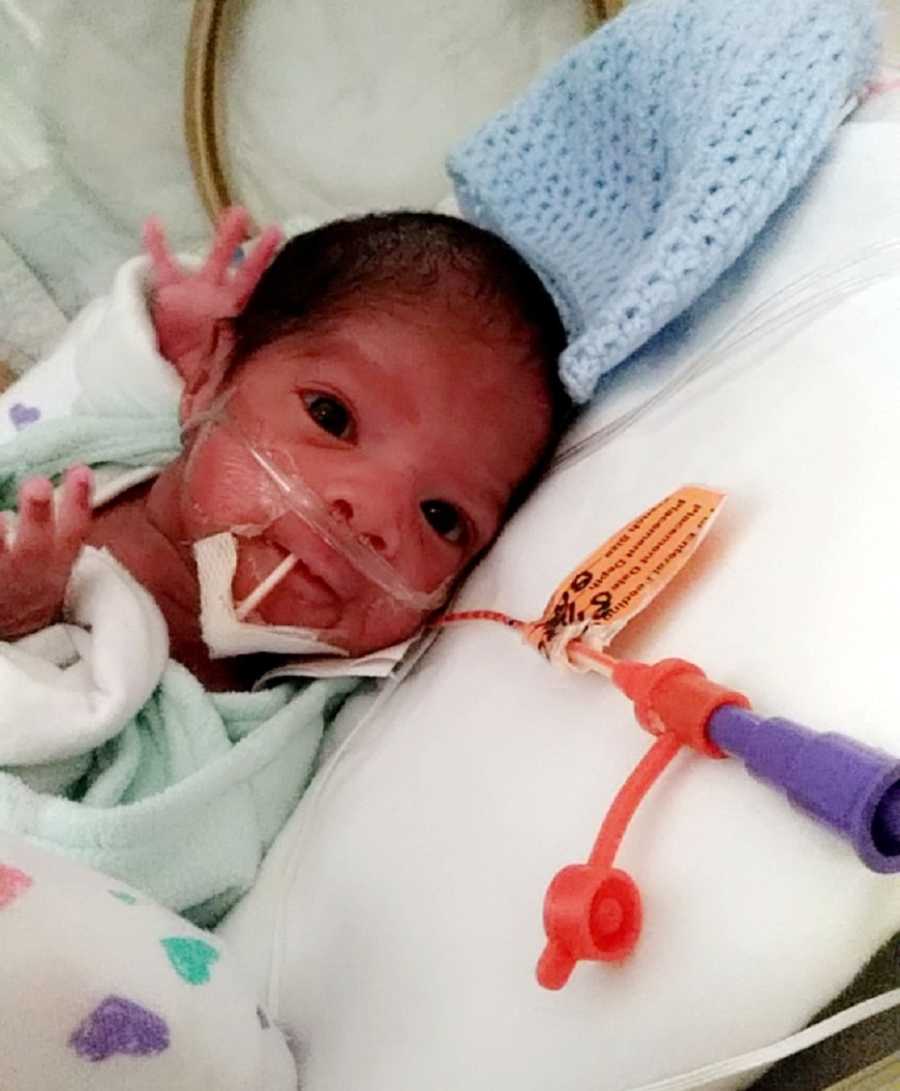 The next couple of days, weeks, and months were tough on this mama and her little warriors. There were a few episodes of terrifying moment where my little girl stopped trying to fight for mommy, but she pushed through.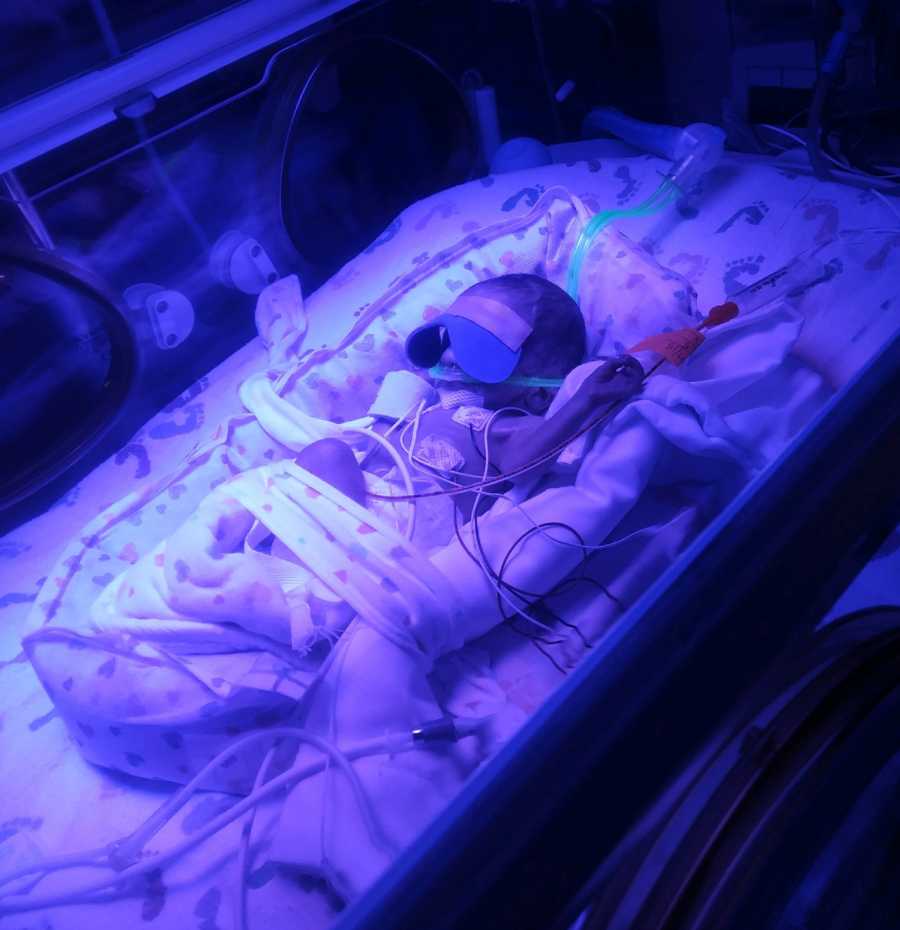 The first few weeks after they were born, you couldn't see the differences in how they looked. But as they began to fill out, to everybody's amazement, they were total, polar opposites. She was fair skinned with bright blue eyes and blonde hair, and he was dark skinned with brown eyes and black hair. A lot of nurses didn't know how to approach me with certain questions. I got statements like, 'I've been a nurse 23 years and have never worked with twins like them.' 'Is it weird having a white twin and a black twin?'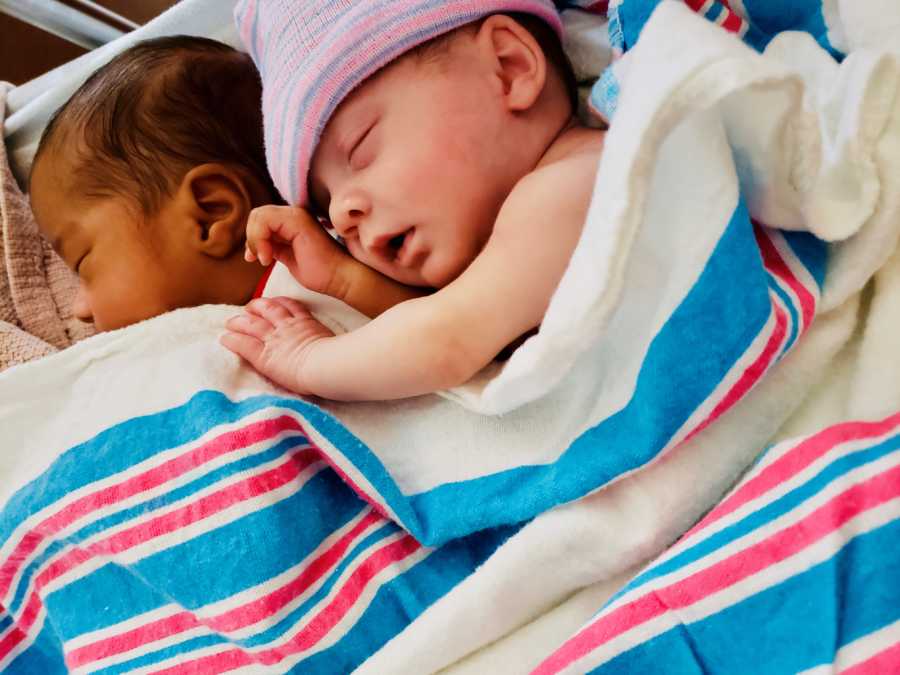 When I finally got to bring them home from the NICU, family and friends were shocked. No one could believe it. They were spoiled rotten and continue to be as they grow and days pass. They couldn't be any more different from their hair color to their skin, eyes, their attitudes and little personalities.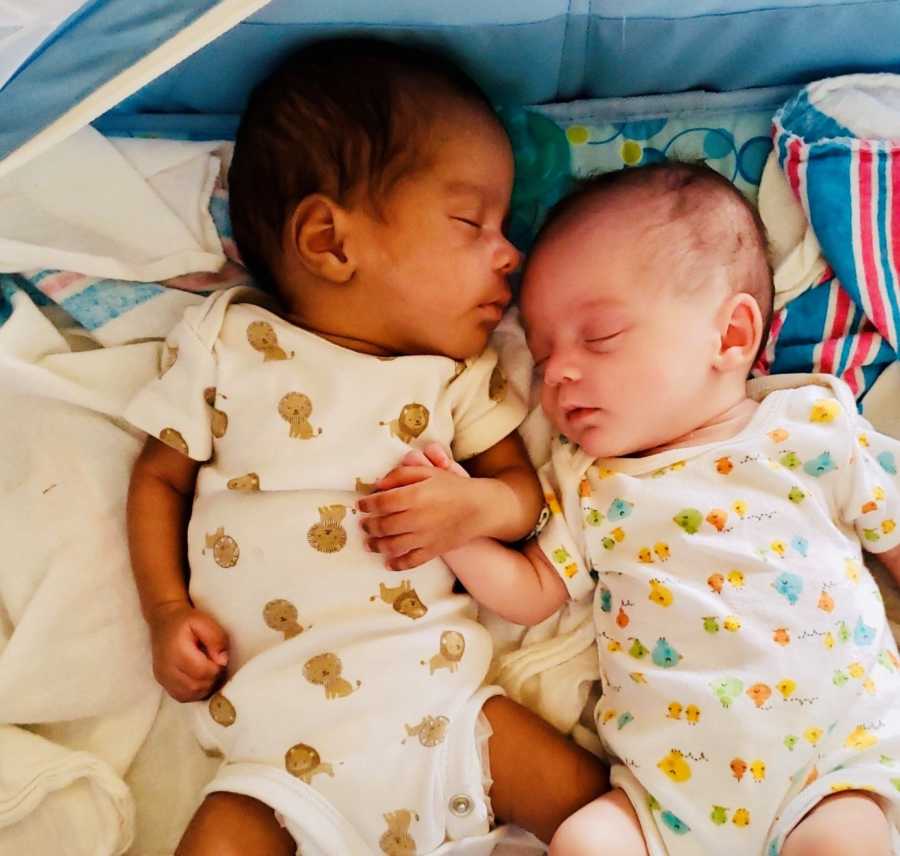 When we're out in public I've gotten questions like, 'Are they adopted?' 'Are they twins?' 'Do they have the same father?' It's amazing the things I get asked. They're constantly getting looks from people, but they are always adored. This experience was by far my best journey in life. I wouldn't change it or them for anything in the world. My now 6-year-old, being dark skinned, and my now 2-year-old, being fairly fair-skinned, my babies fit right in with our family. All 4 of my kids are total opposites, but best friends.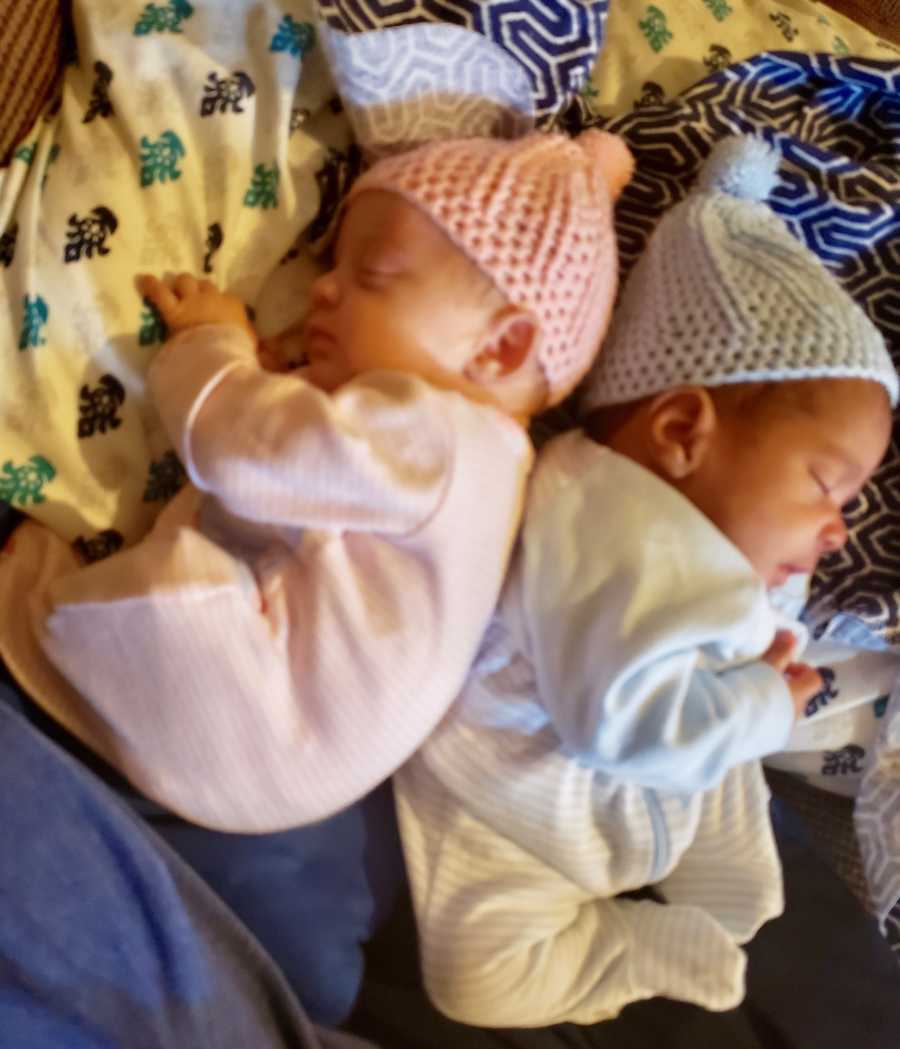 Having twins alone is rough, but also a blessing and such an amazing experience. It flies by – so everybody in this situation, pray and appreciate every little second because they seem small now, but you'll blink and they're adults making life decisions. Cherish them now, every moment you have with them."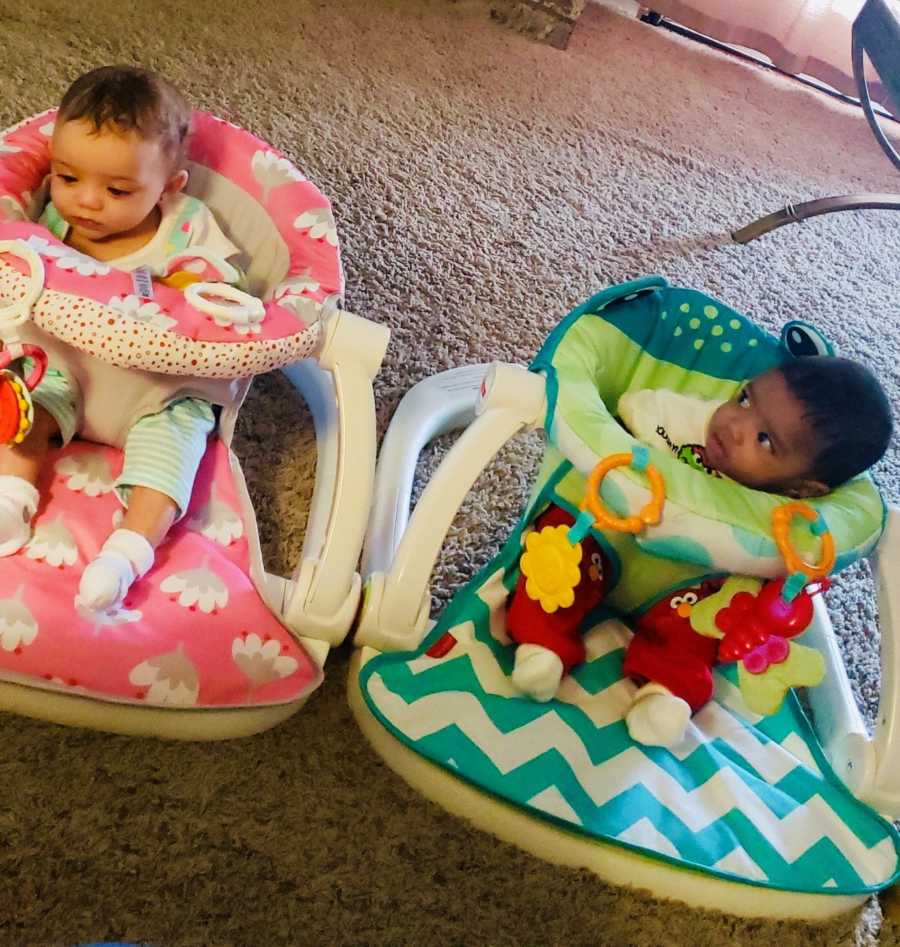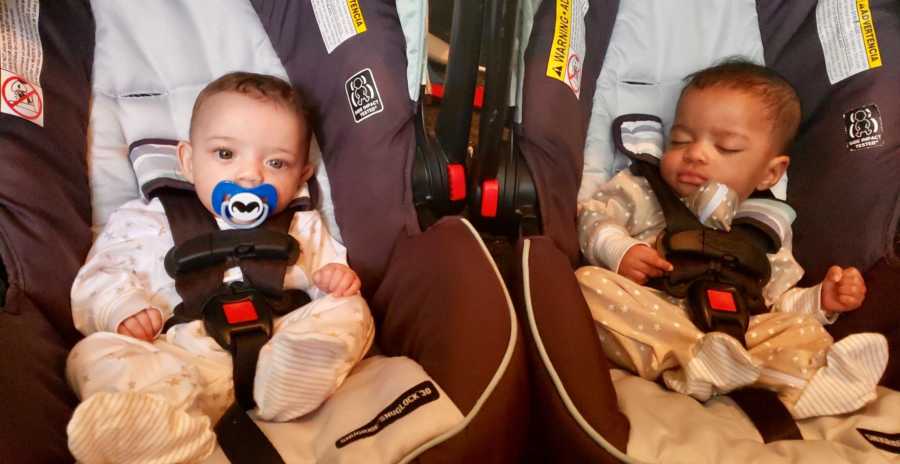 This story was submitted to Love What Matters by Sarah Jones of Lawton, Oklahoma. You can follow their journey on Instagram. Do you have a similar experience? We'd like to hear your important journey. Submit your own story here, and subscribe to our best stories in our free newsletter here.
Read more inspiring stories of unique and beautiful differences:
'When he was born I heard, 'Oh my God. He has RED HAIR!' I paused. 'No, just wash him a few times.' The nurse washed him 3 times. 'No mama, you've got a little ginger.'
'The doctor was staring up my vagina with a flashlight. 'Whoa! He has some really blonde hair.' AND I JUST KNEW. My husband smiled. 'He's an albino.'
SHARE this story on Facebook to help celebrate unique and beautiful differences!