"A lot of people think that we chose to adopt because we couldn't have our 'own' biological baby. That's just not how our story goes…
5 years ago we were pregnant with a sweet baby that ended in a miscarriage. During that time of heartbreak, we had no idea that God was forming another baby all the way over in Ghana, Africa.
Over the next 2 years God kept showing us that He wanted us to start our family through adoption. We knew that a lot of HIV+ children needed families, so we dove into research and discovered that it's easier to manage than a peanut allergy!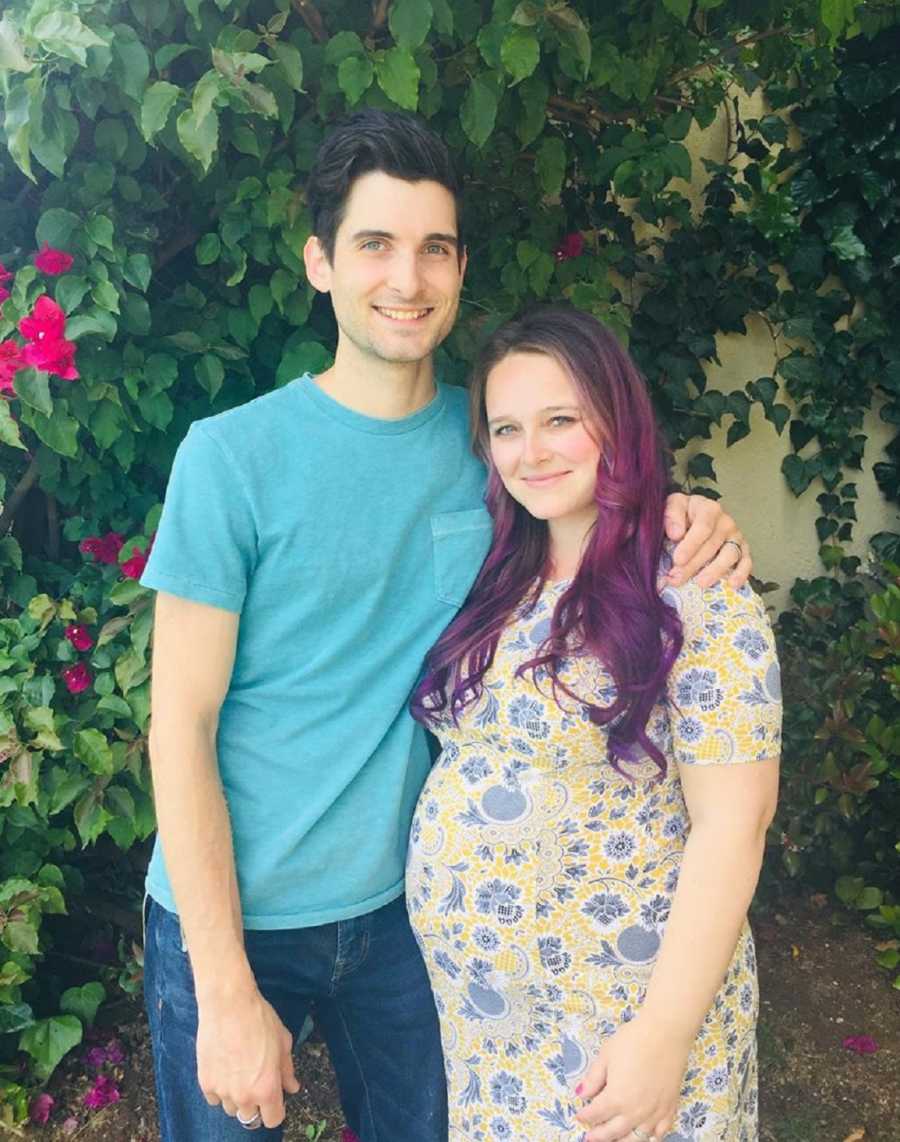 In July of 2016 we saw Emmanuella's picture for the first time! Right away I thought to myself, 'Is this our daughter?' I was scared to feel anything, but I felt like I was having one of those moments that other parents describe when they just KNOW this is their child.
We were looking for a child with HIV. When we learned she was positive, we knew she was the one. God was flinging the door wide open for us, so we paid the Ghana application fee and started our trek up the mountain of never-ending paperwork, classes, books, and invasive interviews. We had just become debt free following Dave Ramsey's plan, so all we had in savings was our $1k 'emergency' fund. The fundraising began!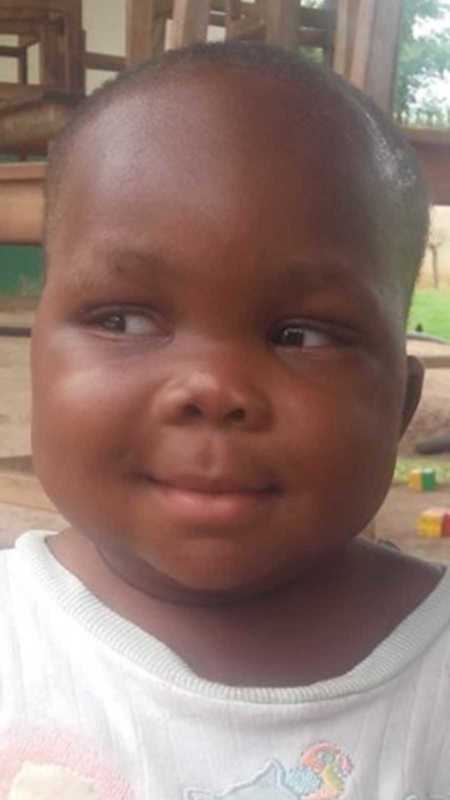 A couple months into the process we found out that Emmanuella had come very close to death due to getting malaria 3x, spreading to her lungs and developing into pneumonia which caused further sickness and severe malnourishment. Our hearts were broken every day for our daughter who was suffering without us. Every time we received a new photo of her, we soaked up every feature of her precious face, tiny hands, and little toes. Every adoptive family knows how difficult the waiting period is. There's nothing you can do except pray and wait to get the call that you can travel and go meet your son or daughter.
After 4 months we finally got the call that we could travel to Ghana! After all the health information we had received about Emmanuella, we knew I needed to stay in Ghana and take care of her until we could both come home together. We figured I would have to stay there for about 6 weeks. I knew it would be tough, but 6 weeks wasn't too bad – I'd always wanted to live in Africa anyways (I told myself!). James would come for the first 2 weeks and then he would have to return home to work, sell coffee, and continue fundraising – since we still owed $10k to the agency. We didn't know how it was all going to work out, but God was telling us to go, so we booked our flights!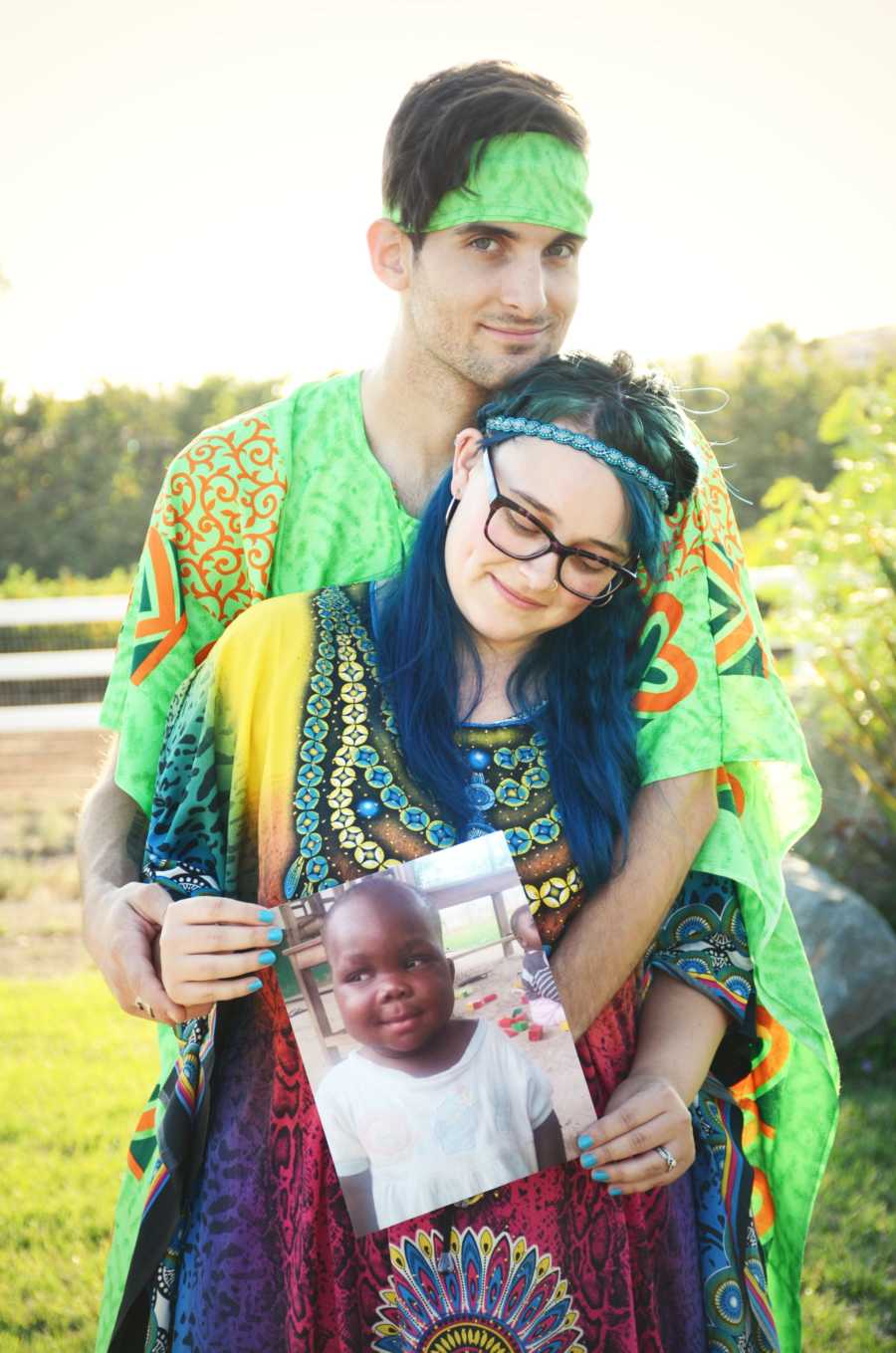 On November 9th, 2016, we arrived at the orphanage in Ghana and saw Emmanuella for the first time. It was like time stopped when we saw her. It was so surreal. We had been praying for her and dreaming about her for 5 months, and now we were looking at her in real life for the first time. She was absolutely beautiful and perfect, but immediately we could see how her oversized clothes hung loosely on her tiny frail body, and how distended her tummy was due to malnutrition. She was 2 years old and only weighed barely 15lbs. Every fiber in my body told me to run to my daughter and hold her and comfort her, but I knew I couldn't. I was just a stranger.
She was afraid of us for the first few days. She didn't want us to touch her or hold her, but we didn't stop showing her how much we loved her. She cried almost constantly, but each day she started to trust us more and more – especially when we introduced her to Cheerios! Our first 2 weeks bonding as a family was an amazing time that we will cherish forever. It went by way too quickly and on Thanksgiving Day, James left Ghana. We kissed each other goodbye and had confident hope that I would be following with Emmanuella in a few weeks.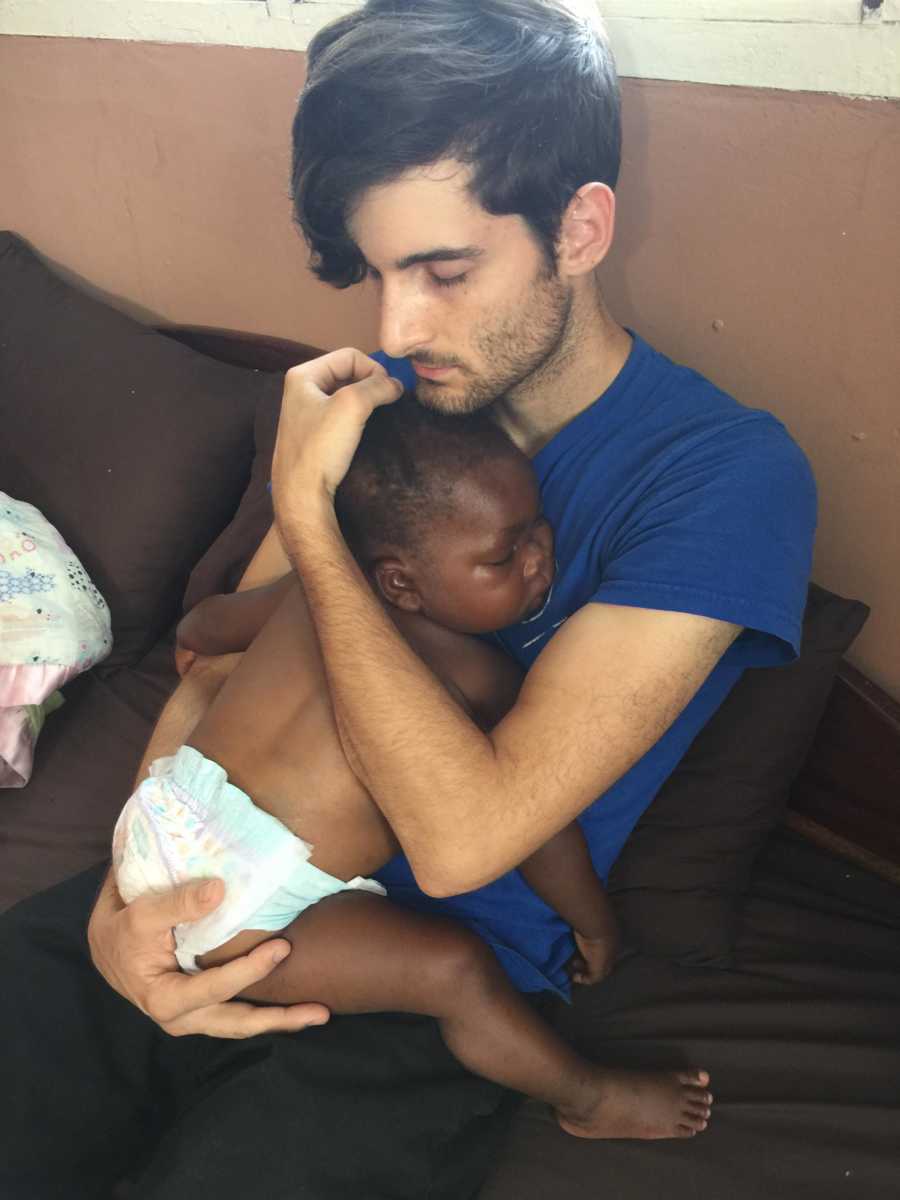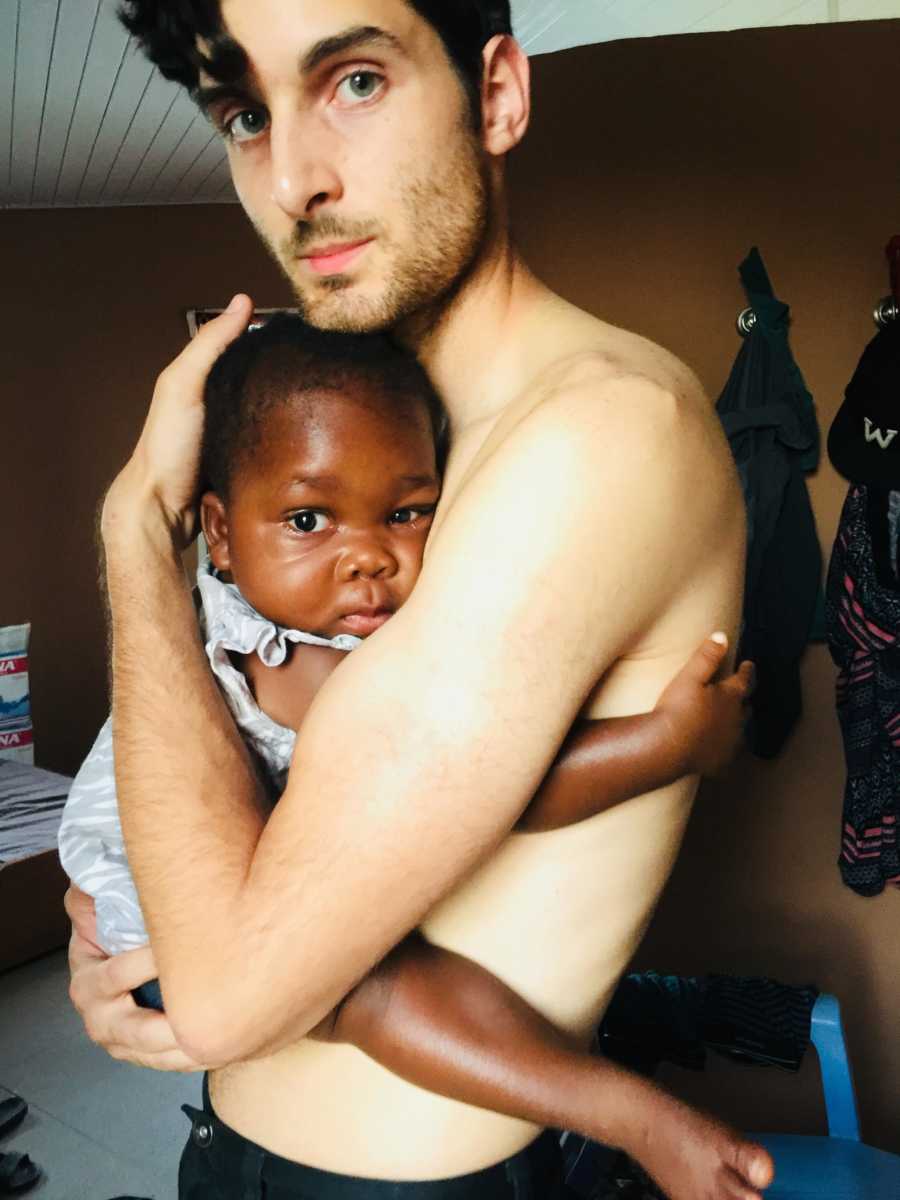 Weeks became months, no court date and no news. I had to 'forget' my American life so I could survive my current reality. I lived without running water, often using a bucket to gather rainwater to take showers and wash our clothes. I learned how to shop at the local market and how to say 'I want black person price, not white person price' in the local language. I walked miles to buy food and drinking water, and rode on the back of a motorcycle with Emmanuella tied to my back when the distance was too far. For 6 months I lived alone and isolated from the outside world and everything familiar. Sometimes I would go 8 days without talking to James because the wifi didn't work. God taught me the depths of what surrender truly meant. I learned to choose joy every morning when I woke up. I embraced motherhood and bonding with my daughter in her culture – an experience than many parents don't have the opportunity to go through. Emmanuella gained weight and confidence and became a healthy toddler. She started to pick up on my characteristics and it was so amazing to see how a child who was not biologically related to me, was exactly like me in so many ways!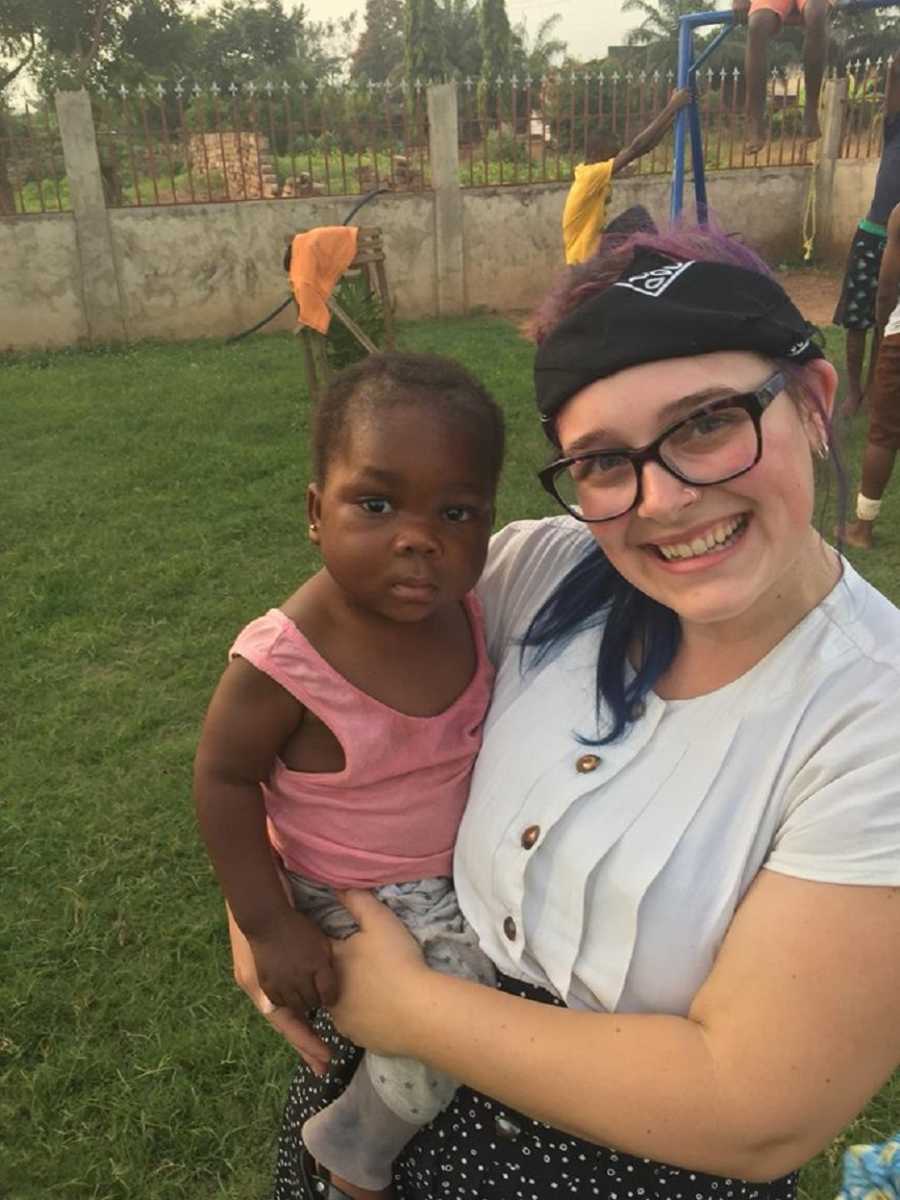 One miraculous day, James received a phone call that shifted our Ghana experience. The Tim Tebow Foundation said they wanted to give us an adoption grant for $8,000! The grant would cover almost all of the fees we owed, and we had enough in our savings account for James to come back to Ghana. On May 9th, 2017, God reunited our family for the first time in 6 months.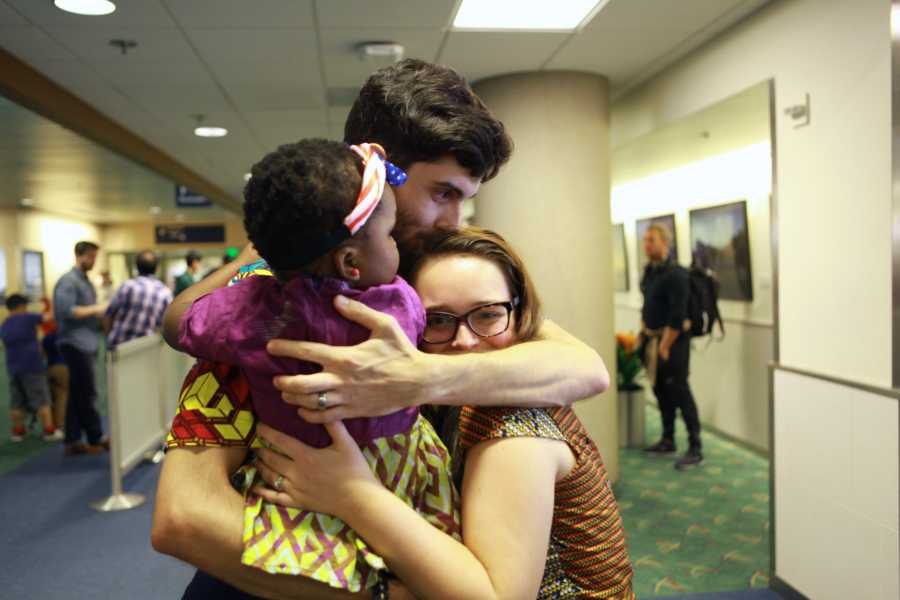 3 months later we finally had a successful court hearing (after 2 attempts) and Emmanuella Faith Wilson legally became our daughter! We filed our immigration paperwork at the U.S. Embassy, and prayed it would be approved within a couple weeks. During that waiting period we moved out of the village and into the capital city of Accra and took Wella to a medical lab, only to be told that she didn't have HIV! We were completely shocked, but grateful.
For almost another year we fought for the U.S. Embassy to complete their investigation and approve our case. We endured stressful phone calls and emails requesting more documents. We dealt with people who were making every step difficult for us. We were weary from battle, but our darling daughter Wella was worth every minute of the fight.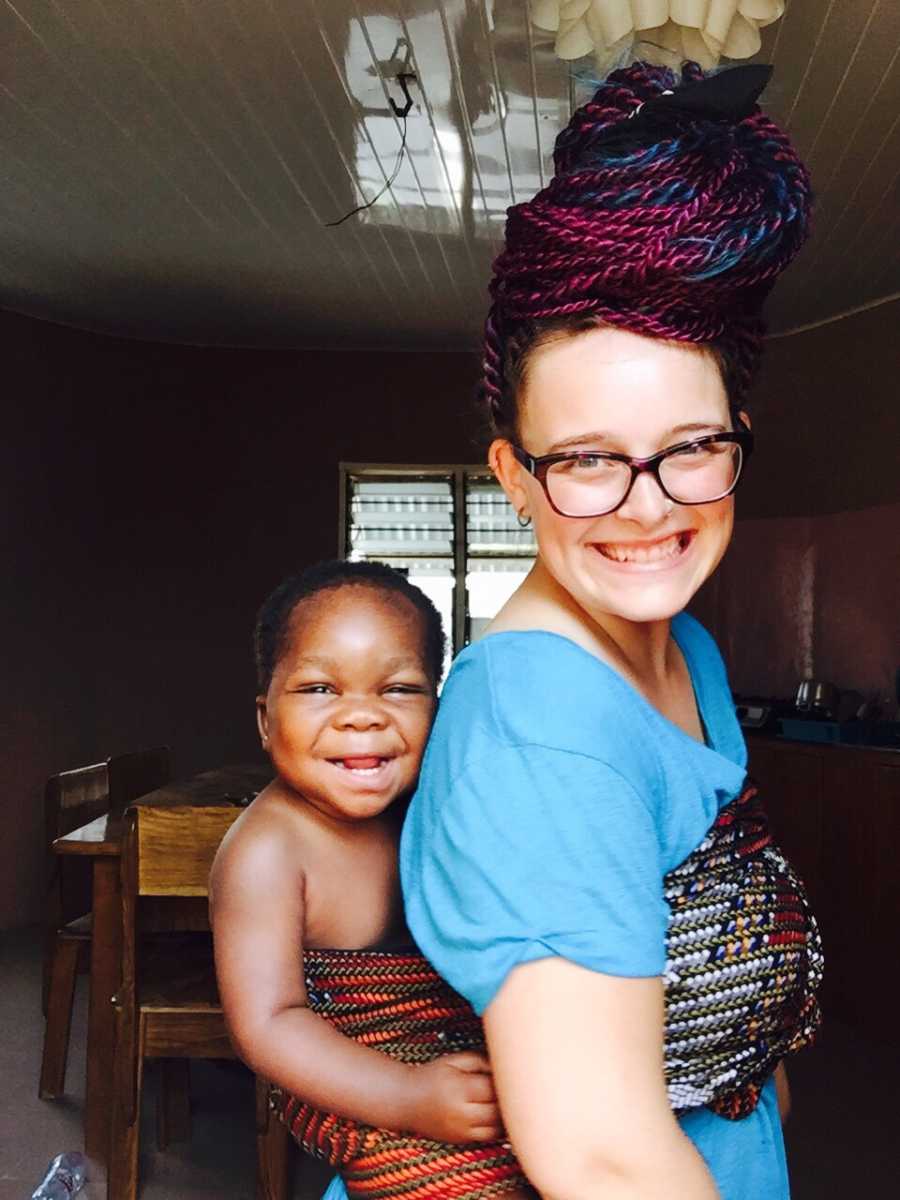 We watched our bank account dwindle, and accepted the generous offer from friends and family to move all of our belongings into a storage unit since we couldn't afford our rent payments in the US. We also sold our car to cover living expenses in Ghana, and later pay for our plane tickets home. We spent our days growing our tiny coffee company – Level Grounds Xpresso, listening to audiobooks and podcasts, homeschooling Wella, and making YouTube videos. So many people blessed us financially, through coffee sales, and prayer.
After 590 days of living in Ghana, Wella was FINALLY issued a United States visa! We booked our flights and on June 23rd, 2018, landed on U.S. soil with the clothes on our backs, $200, and weary hearts full of love and relief. We were tearfully and joyously greeted by our families who lavished Wella with gifts and kisses for the first time.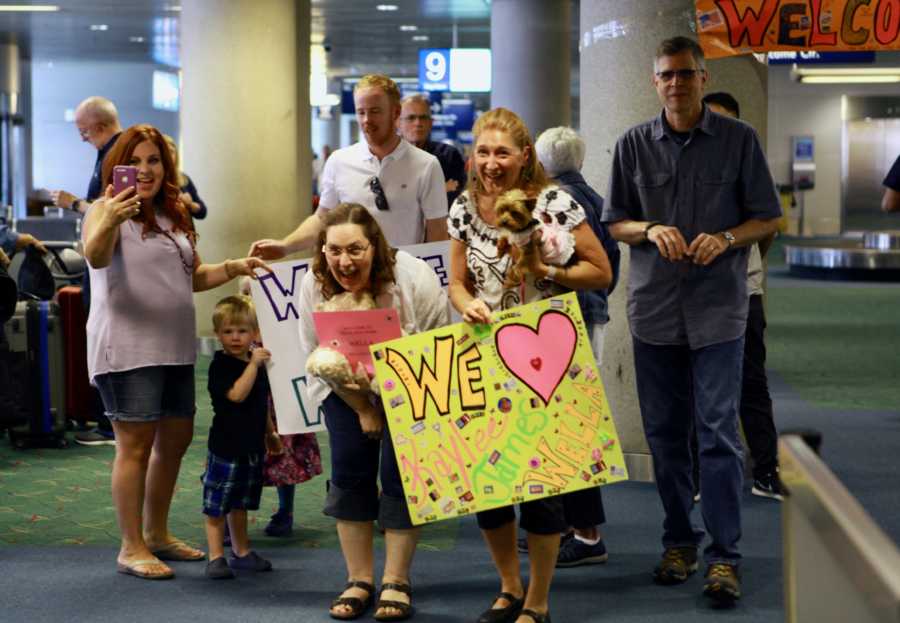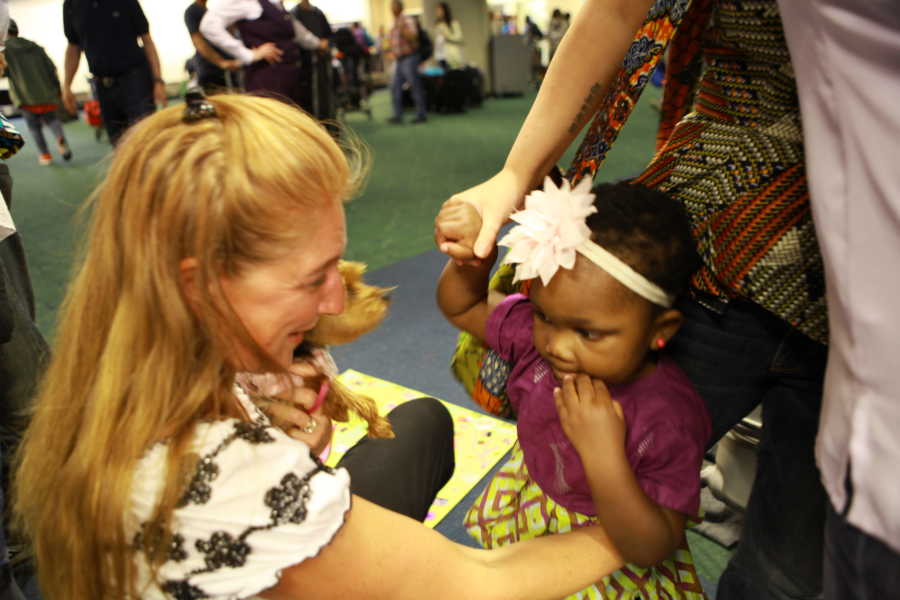 I started seeing a trauma counselor and began healing from the repercussions of Ghana. Wella was thriving from the extra love of grandparents, aunts, uncles, cousins, and friends. James learned how to breath in public again, knowing that no one was coming after us.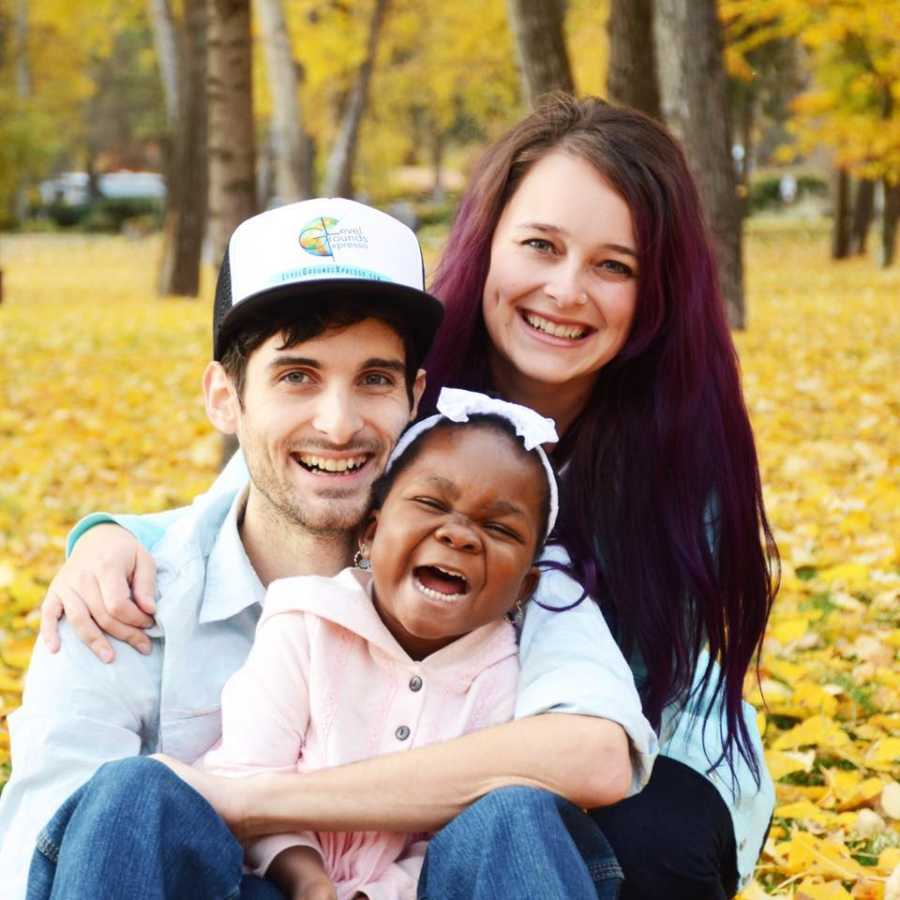 After 6 months of adjusting back into American life we started to talk about a sibling for Wella. Adoption was in the cards but God said too soon – ha! Maybe we should try and get pregnant? BAM – Morning sickness!! We knew it must be God's perfect timing.
Here we are – May 2019 – Almost one year after landing in America, and we're preparing for the arrival of our little girl, Harriette!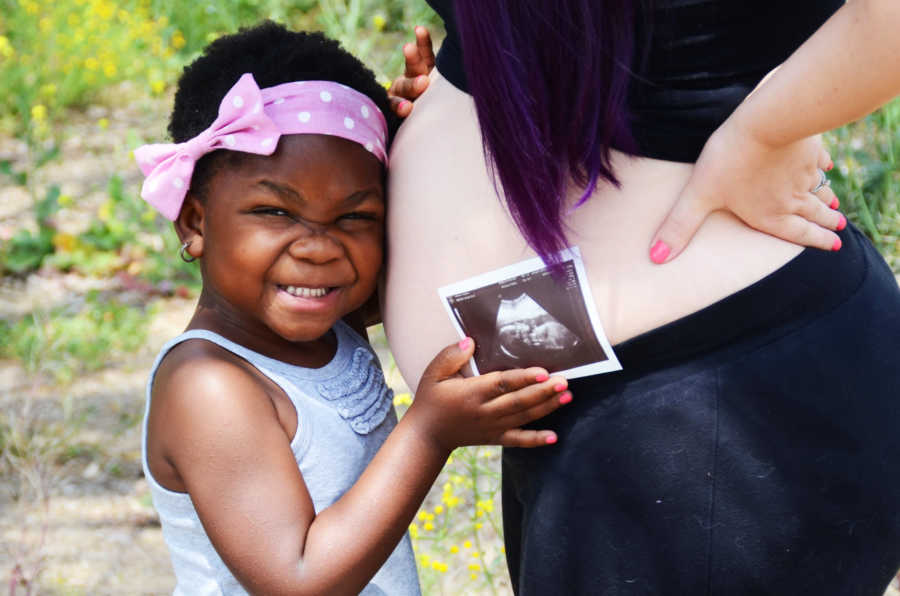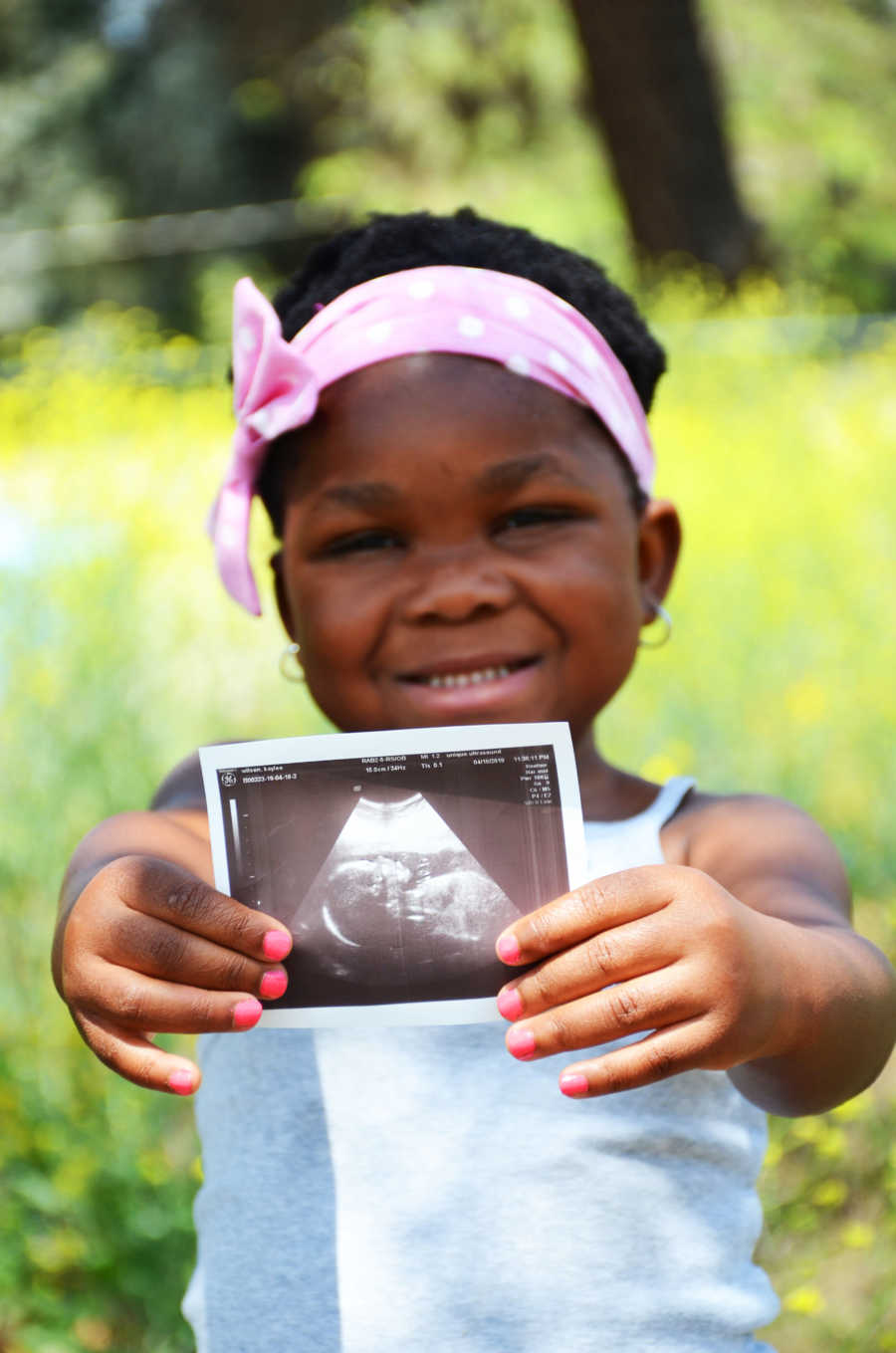 Wella's journey into our family was filled with loss, grief, miracles, sacrifice, heartbreak, and a redeeming love story. Harriette's journey so far has been safely growing in my tummy, completely protected from the outside world. She will never experience the deprivation and suffering that Wella had to go through to join our family.We're in awe of how God has chosen to bless our family with children in such uniquely beautiful ways. It doesn't matter how a child joins a family, God puts them there on purpose. Both of our girls are miracles and will have their own, equally amazing stories to tell."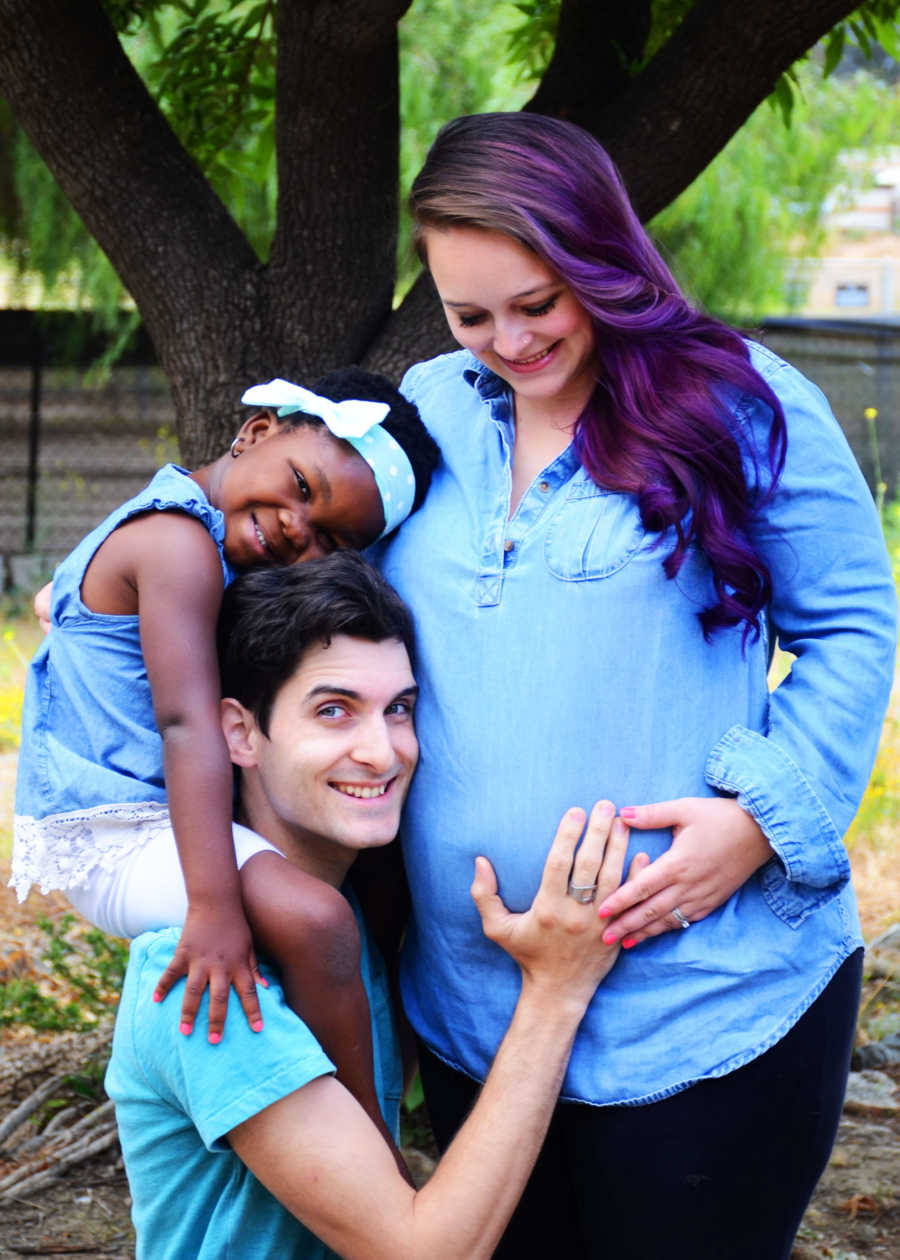 This story was submitted to Love What Matters by Kaylee Wilson of Temecula, California. You can follow her journey on Instagram and Facebook. Do you have an incredible adoption story? We'd love to hear your journey. Submit your story here, and subscribe to our best stories in our free newsletter here.
Read Kaylee's inspiring adoption backstory here:
'We knew she was HIV+ which wasn't a big deal. We wanted to adopt a child with this 'special need.' She was so beautiful.'
Help us show compassion is contagious. SHARE this beautiful story on Facebook with your friends and family.