"#AutismAcceptanceMonth starts today, and what better way to start than with a picture of the one who first taught me about autism?
This guy amazes me every day. He is compassionate, smart, sweet, loving, a hat thief, sarcastic, animal obsessed, and a wonder. He brings me so much joy every day.
The green tablet you can see on the side of his lap is his AAC device. We work with it every day, because those are his words and his main source of communication. With it, he has started to show his humor, and he is sooooo sarcastic.
The first time, he was playing with his speech therapist, and he looked at Rob, then his device, then back at Rob, then he clicked on the button that said, 'I love you.' We were all having that sweet awww moment when he then clicked, 'Just kidding.' He then started giggling and ran away. The next day, he did he same thing to his OT and his dad.
But, even at the age of five, he has already experienced the adversities being autistic will bring him. When we first moved to NM, he was put into the wrong developmental pre-K class. We moved to a different class, but not before he got bullied.
I remember being floored that three- and four-year-olds were bullies. And one of them was a peer model for the class. They were taking his device from him and hiding it, and when the teacher wasn't looking, they would push him down.
I found out when another kid from the class told his mom, and she told me the next day. By then, he had moved to the other class.
That day, I went home and cried. My husband raged, and we both felt a bit defeated. The last week he was in the first class, he didn't want to go to school.
I had asked the teacher if something happened, and she said she didn't know. We were hit with the reality of his limitations. He couldn't tell us what was wrong because we hadn't worked on words like that. We didn't think we needed to worry about bullying yet. And we were wrong.
Bullying is a learned behavior, and it starts with us as parents, aunts, uncles, cousins, friends, etc., to teach this younger generation kindness. We have to teach them to accept others, including their race, gender, sexual preference, and neurodiversity. #RedInstead"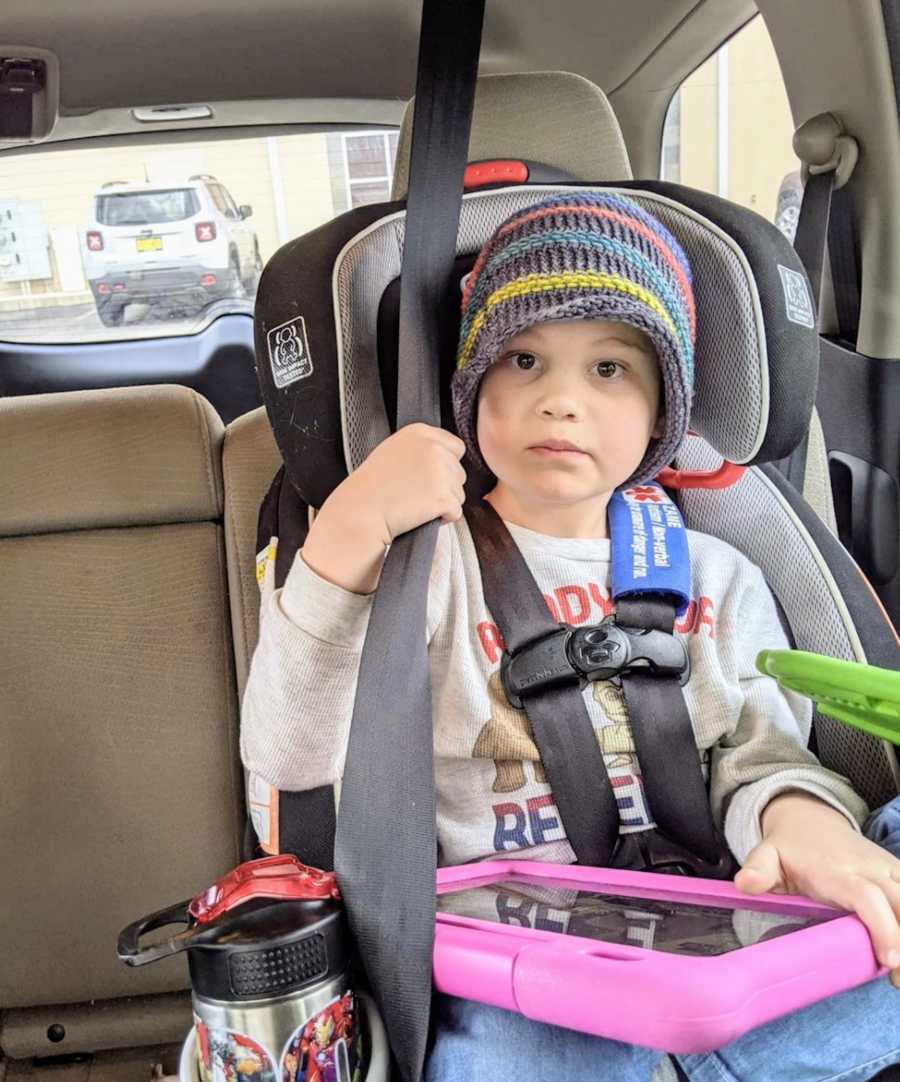 This story was submitted to Love What Matters by Laura Beth King. You can follow their journey on Instagram. Submit your own story here, and be sure to subscribe to our free email newsletter for our best stories, and YouTube for our best videos.
Read more powerful perspectives from special needs parents:
'His teacher handed me a whiteboard covered in symbols. 'He's writing in Japanese.' We were mind-blown.': Mom describes son's autism journey, 'He's different, not less'
'It's so easy to get caught up in what life could have been. Autism wasn't a death sentence back then and it isn't now.': Autism mom pens open letter to kids, 'I promise to always fight for you'
'He gave up visions of Little League for IEP meetings and speech therapy. He avoids the stares, holding his teenager's hand, and his entire heart.': Woman pens appreciation letter to Autism Dads
'I loved him when he had words, and when he lost them. Through the sleepless nights, endless screaming, and walking in circles. I loved him even when he couldn't say, 'I love you.': Mom to son with autism urges 'all you need is love'
Give other parents strength and courage who are continuing to learn about their children with autism. SHARE this story on Facebook.