"'The baby was born in his bed.'
This was the text message I received on November 1, 2015. It was a relative of mine, and we knew this child was coming, but not like this. I was on a mission trip in Kenya, Africa, visiting a children's home that my church supported. I knew her mom was not full term, and was instantly filled with fear and concern for this sweet child's life. After making an urgent phone call to a family member, I learned that the baby was breathing, she was 2 pounds, and was in the ambulance on her way to the hospital. When I got off the phone, I grabbed two friends and we prayed. We prayed for safety for this little baby girl. We prayed for wisdom for the doctors. We prayed that wherever this baby would end up, she would be well cared for. Then we resumed our day serving the children at Rehema Instep Children's Home (now Rehema for Kids). It's amazing for me to reflect on all the ways God was moving during this time. He was stirring up a desire to serve orphans before I even knew there would be a need for me to take one into my very own family.
Nataleah's life began with a lengthy 101 day NICU stay. At that time, I had never really been exposed to the foster care world. When it was determined that she would need to be placed in a foster home, I was quickly immersed into the emotional roller coaster ride that is 'foster care.' I didn't meet Nataleah until she was 4 weeks old, but I fell in love with her instantly. I attended the first shelter care hearing because I wanted to be informed about what was going to happen with her. I couldn't imagine her being part of another family.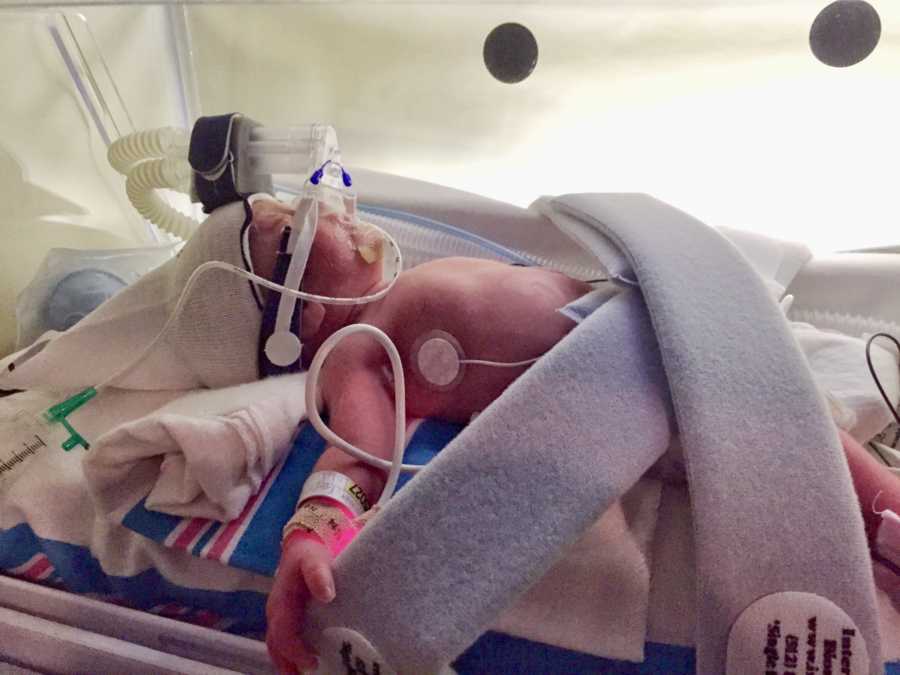 I had just turned 21, was single, the thought of raising a baby seemed insane, but the desire wouldn't leave my mind. I had a ton of excuses as to why I couldn't take placement, but it wasn't long before each excuse and circumstance that I thought would prevent placement was eliminated. It became so evident that this was the path God wanted me to take. It was clear that God was paving the way for this to happen. So, I prepared my house for a walk through with the social workers. The Monday following court, the social workers came over and quickly approved me as placement. Coincidentally, I had just gotten my fingerprints and background check done for a friend who needed respite care. I feel that this was just one of the many ways that God revealed His plan for me to help raise this little girl.
When Nataleah was 6 weeks old, I officially became a relative placement. I started visiting her in the NICU daily. I remember the first time I went, I held her and I was terrified. She was so small, so fragile. She had a tube in her nose that delivered formula to help her grow.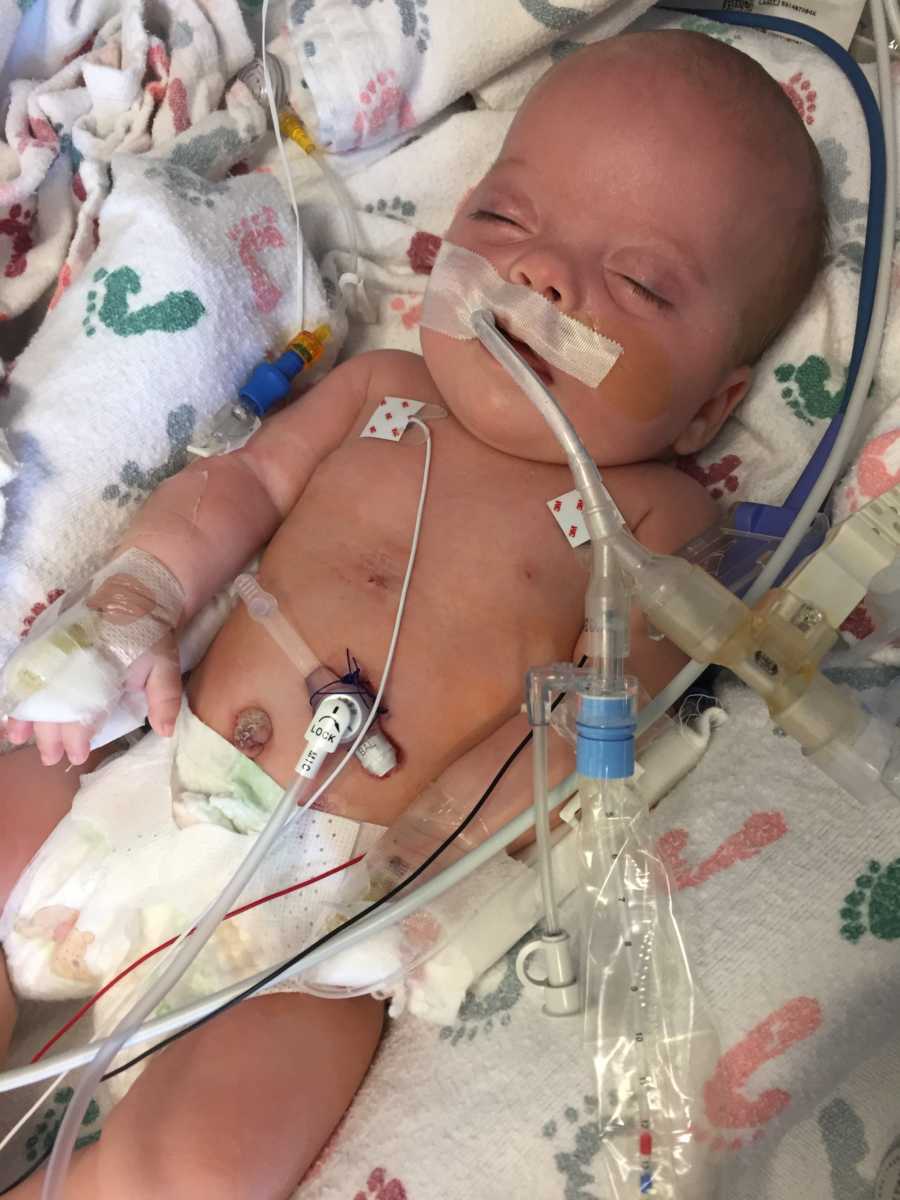 Shortly after I received placement, we started working on oral feeds. She struggled with the usual fatigue and with mastering the 'Suck, swallow, breathe' coordination. They told me she was still young and that the 'light bulb' would come on. As the weeks went by, we continued our efforts. Each day with little to no improvement. Again, they would say that this 'light bulb' would come on. There's a curve, but not every kiddo falls at the same place on the curve. Finally, when she was 3 months old, they determined that she likely had a neurological reason for not eating. She was transferred to another children's hospital where they placed a Gastronomy tube. They also said she had severe reflux so they performed a Nissen Fundoplication, which is wrapping the upper part of the stomach around the esophagus to prevent vomiting and reflux. I remember being so devastated but also so relieved. This baby would finally be able to come home. After 101 long days, Nataleah came home. I was naïve to think the 'preemie days' were behind us. This was just the beginning of her medical journey.
The first night home, Nataleah screamed for hours. I felt so helpless. She was a sleeping angel in the NICU. In desperation, I started crying. I remember rocking Nataleah, with tears streaming down my face and I said, 'You tricked me.' I was so overwhelmed. I was in over my head. How was I going to do this alone? As the days went on, I was filled with supernatural strength. It was so evident that God's hand was over us.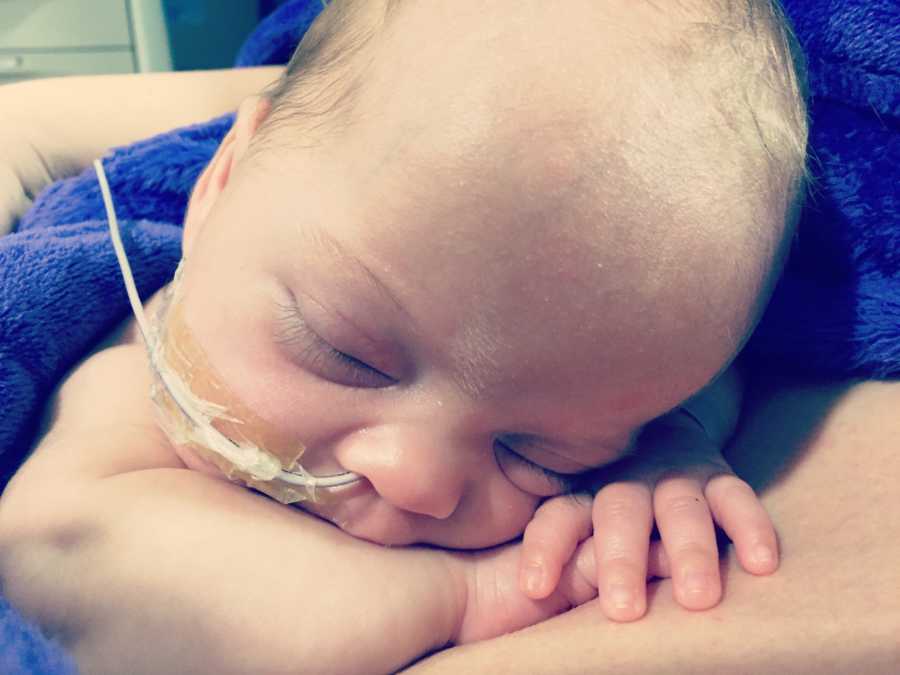 Nataleah's Nissen fundoplication did not fix her need to vomit, it just prevented her from vomiting. As time went on, her gut symptoms worsened. We saw a GI doctor who was rude and dismissive. I felt hopeless. Nataleah retched (dry heaved, throw up secretions and phlegm) up to 20 times a day, she cried inconsolably, and she ended up vomiting past her fundoplication and aspirating on her vomit. At 7 months old she had a Gastrojejunostomy tube (GJ tube) placed. We saw a new GI, Dr. Zherebetsov, who listened to my concerns, witnessed Nataleah's pain, and sought answers. We all hoped that the GJ tube would be our answer. Unfortunately, her inconsolable crying continued. I called the GI's office crying and asked, 'What's the point of all these appointments if nobody can help us?' The next day our GI called me and told me to pack my bags. Nataleah was admitted for testing.
Dr. Zherebetsov never gave up. She ran every test and validated my concerns. She was a life saver. Nataleah was diagnosed with Celiac Disease and hyperalgesia (something that I later learned is common in drug exposed infants). We started her on a new medication which dramatically changed her life. She still retched several times a day but the crying lessened. As one problem got better, another worsened. As Nataleah got older, her growth stopped. Nataleah was 17 pounds at 1 year old and 20 pounds at 2. We didn't know why she wasn't gaining weight. Nataleah was referred to a motility specialist at Seattle Children's Hospital, Dr. Ambartsumyan.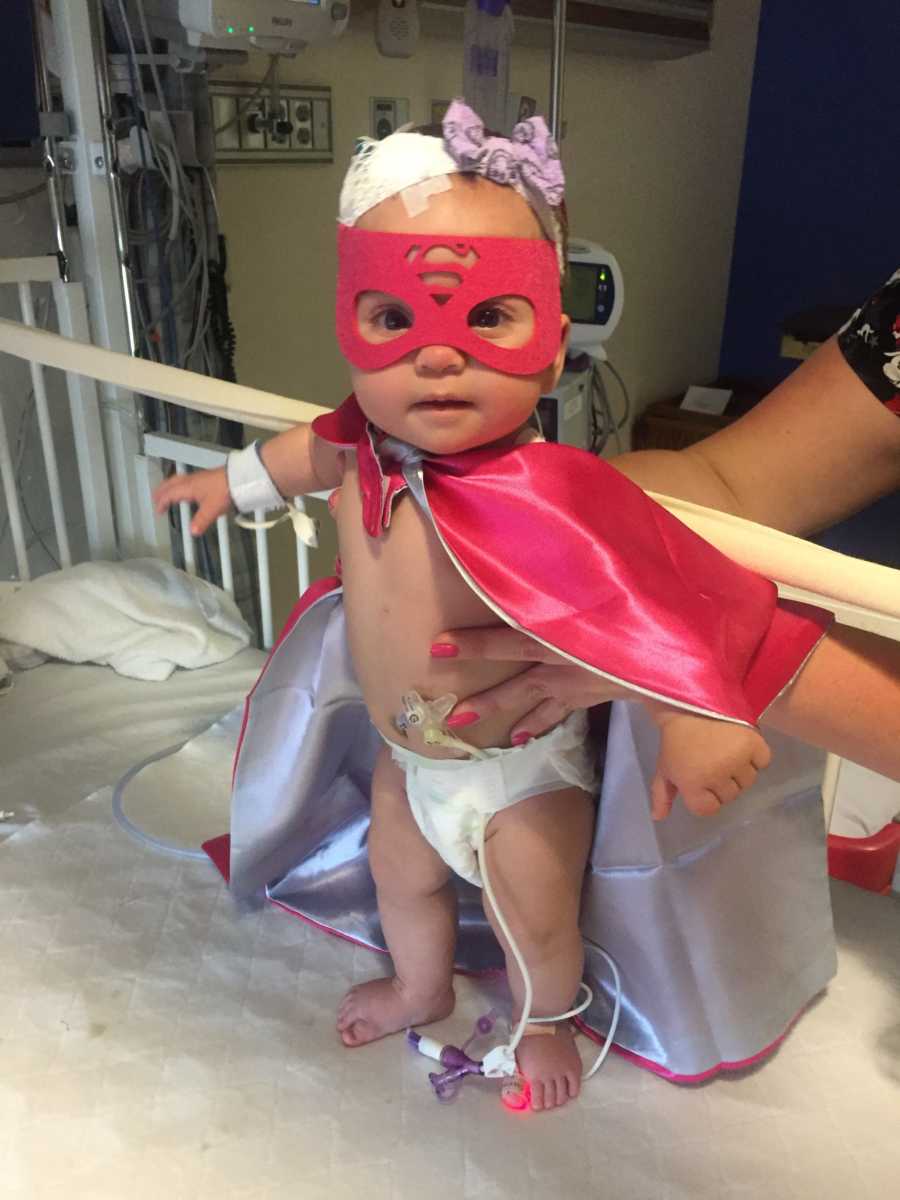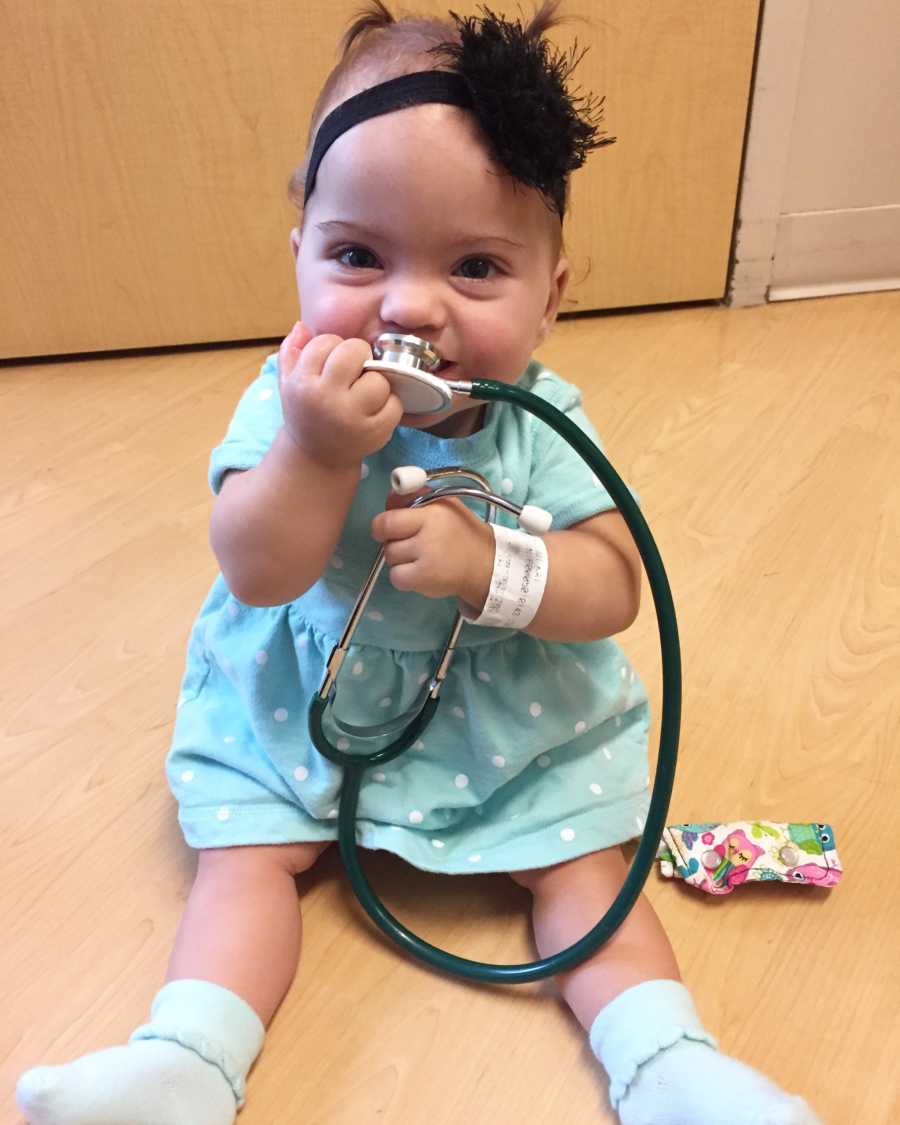 On July 27, 2017, Nataleah's adoption was finalized. I wish I could say what an amazing day it was. While I was overjoyed to be her legal mother, FOREVER, the day was not a great one. Nataleah had what we later found out was an ileus. She had cried all night. On the way in to the court house, her GJ tube almost got completely yanked out. Nataleah was fussy throughout her adoption hearing. The judge joked that there was no 'give backs' or returns after the adoption. We laughed and I swore to love her and raise her as my own. We spent the next day in the ER receiving IV fluids then continued the weekend on gut rest. It was quite the adoption weekend. Little did I know that this was just a small glimpse of what would be in our near future.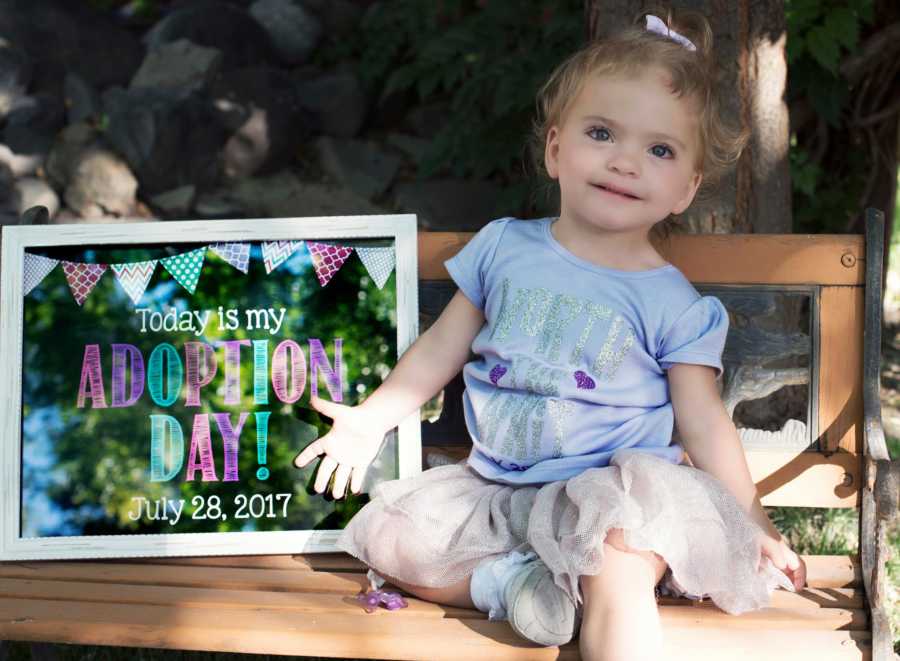 When we saw the Seattle specialist, 'Dr. A,' I quickly realized that she was absolutely brilliant. She offered us hope and gave us several things to try. When those failed, we moved forward with a more invasive test- antroduodenal manometry. At age 2 we got our answer: Intrinsic neuropathy of the small intestine. We finally understood why.
Shortly after the testing, Nataleah had a couple back to back viral illnesses and her gut shut down. Her GI doctor admitted her following a clinic appointment and had a PICC line placed, then, on December 17, 2017, Nataleah started receiving TPN (Total Parenteral Nutrition). Once again, I was devastated.
Nataleah was admitted in the hospital 8 times during that 2017-2018 viral season. I had hit my rock bottom. I was so alone. I had given up everything to be there for this child who I loved more than life. My job, my autonomy, even dreams and desires were put on hold. It was during that season that God showed me that I really could do all things through Christ who strengthens me.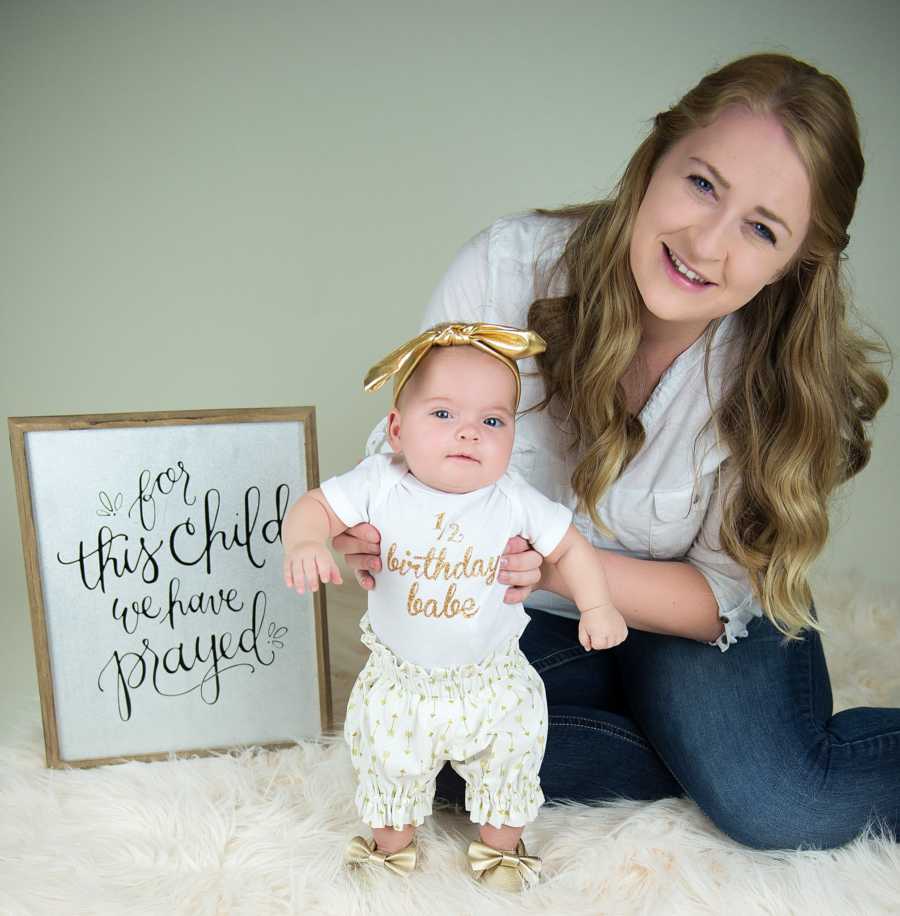 What began as a 2 week gut rest on TPN has turned into 12 months on TPN. While I am often saddened by this, I also can't forget to recognize the amazing growth that Nataleah has experienced as a result of receiving adequate nutrition.
This wasn't the life I had imagined. In the first 2 ½ years of her life, Nataleah had been admitted over 10 times. We had therapies 4+ times a week, weekly pediatrician appointments, weight checks, specialist appointments, social worker visits, and CASA visits. Asthma, Chronic Lung Disease, Intestinal Dysmotility, Celiac Disease, Developmental Delay… I was so overwhelmed. Am often overwhelmed even now. But God has brought us on this journey, has never left our side, and for that, I will always be thankful.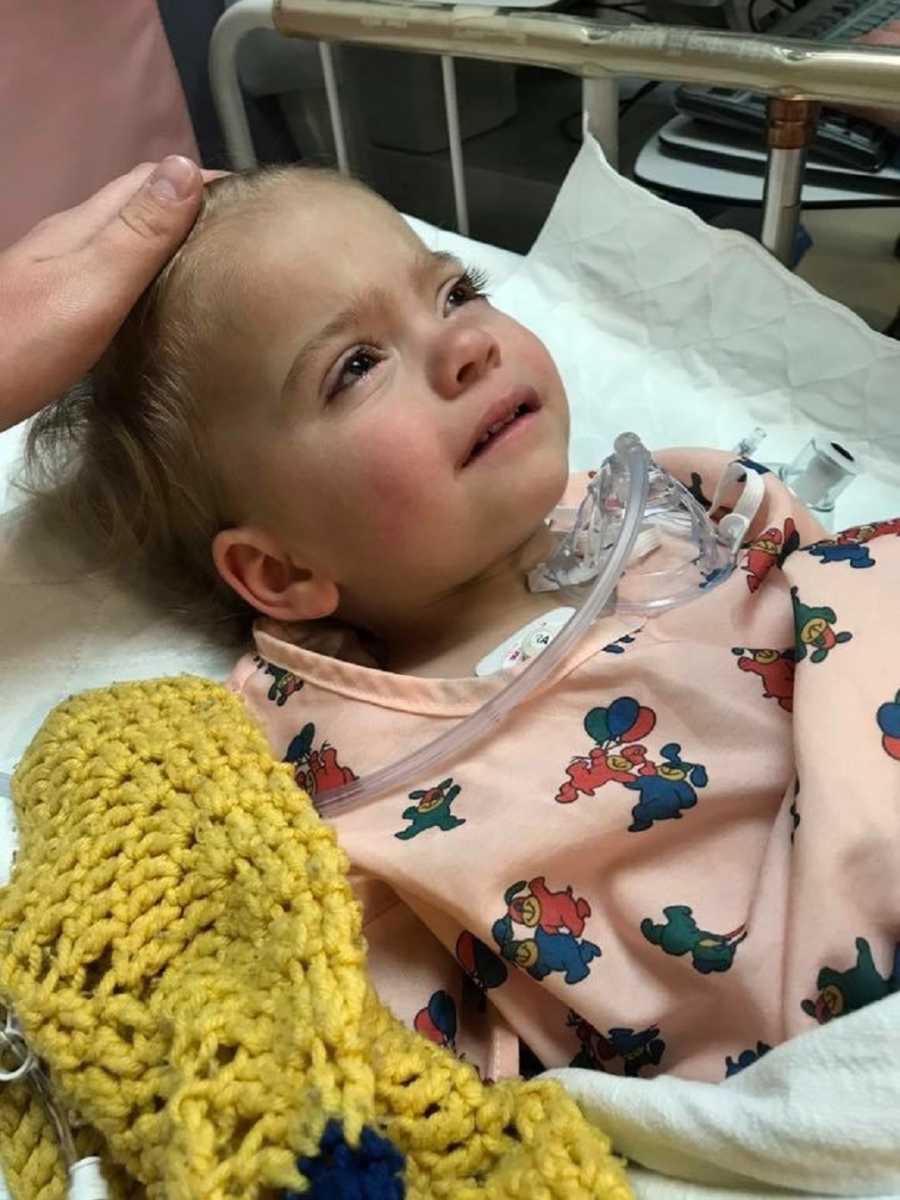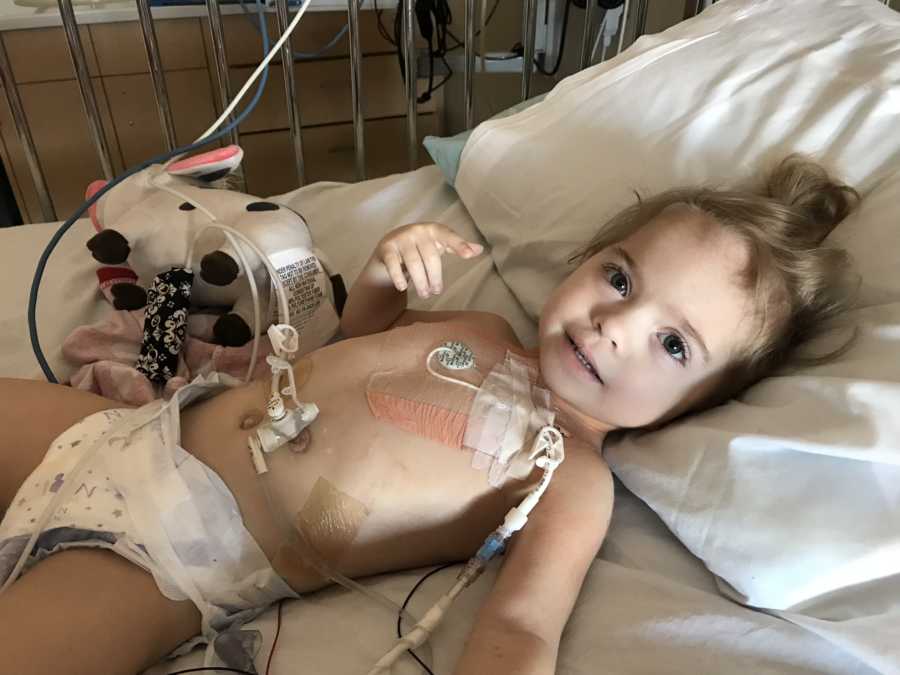 Nataleah is now a 29 pound 3-year-old. She has made leaps and bounds in her development. She is active and so much healthier. She is full of life, laughter and love. She has a spirit that I have never seen in a child. I try to let her live as normal a life as any other toddler. She's in preschool, loves riding the school bus and has even tried soccer. She is everything that excites her. Nataleah also lives in chronic pain every single day. The intestinal dysmotility as a result of a nerve injury in her small intestine has caused quite the turmoil in her little body. Every day she complains that her belly hurts. Every day she retches and throws up. This has become our normal.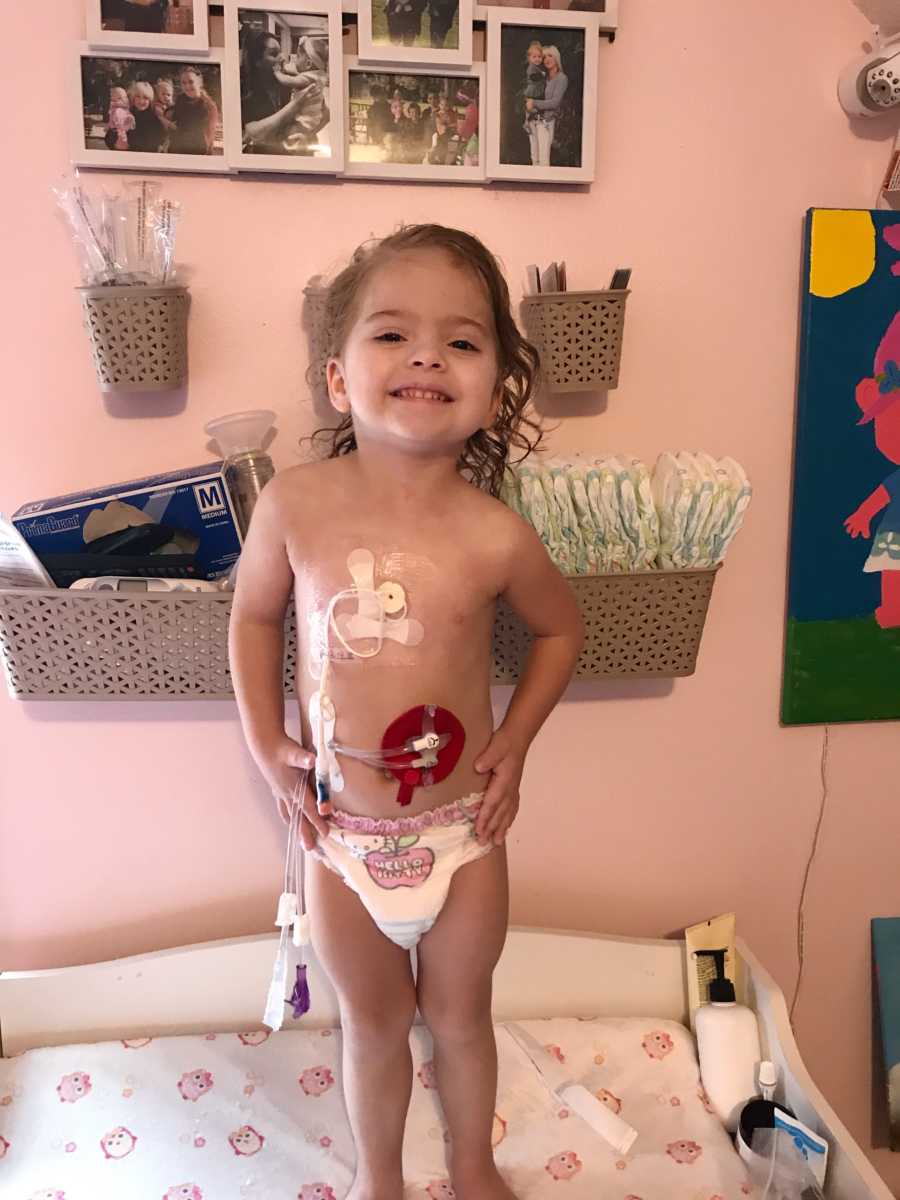 Foster care is hard. Medical needs are hard. But I'm here to tell you that these kids are worth every single sleepless night.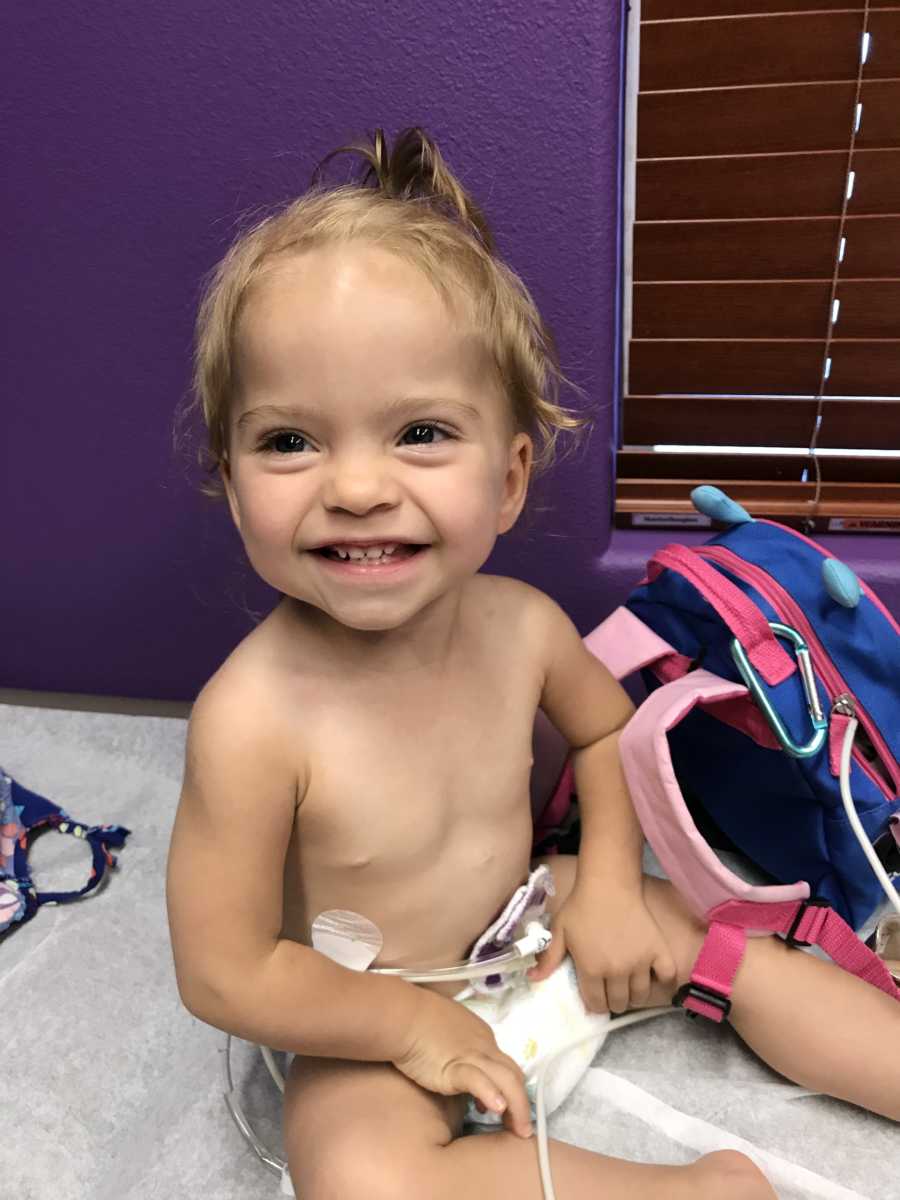 It has been a long 3 year journey for us but every step of the way, Nataleah has been, will continue to be, will always be, worth every single sacrifice."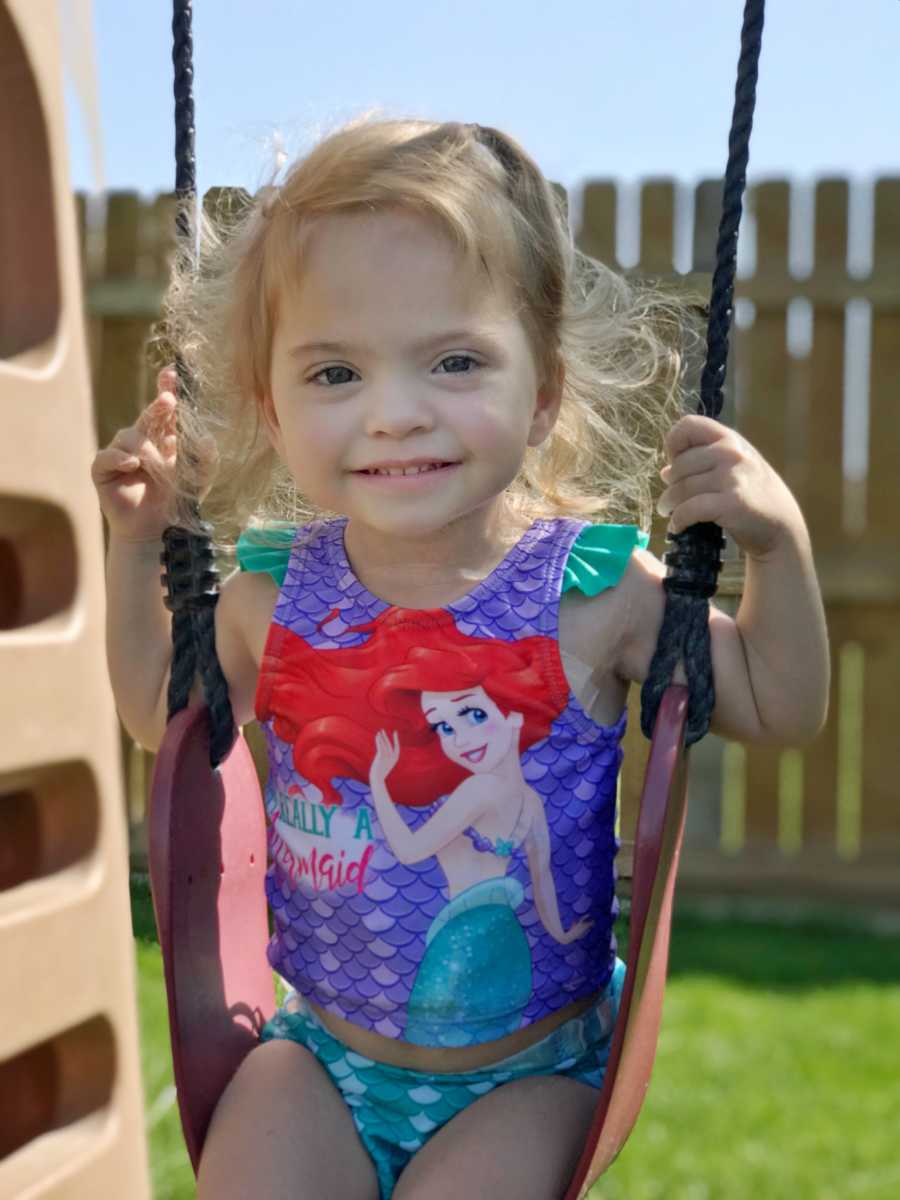 This story was submitted to Love What Matters by Nataleah's mom, Madeline Crawford, of Kennewick, Washington. You can follow Nataleah's journey on Instagram.
Read more stories like this: 
'We were called to foster a sweet 3-year-old for a weekend. That weekend turned into a week. That week into months. Those months into years. That little boy is now our son, Michael.' Mom reunites brothers in emotional adoption journey
'They called for another baby!' Henry and his twin brother were born micro preemies. Sadly, his twin passed away. Henry was put into foster care. I stood there staring at the message.'
'What about me?' He sees all the babies getting adopted. He deserves a family too. Our answer was a shaky, scared 'yes.': Foster mom on the 'trauma' yet 'joy' when you 'Say yes to an older child'
Help us show compassion is contagious. SHARE this story on Facebook with your friends and family.