Pregnancy Journey
"Last year my husband, Jordan, and I were enjoying our second year of carefree marriage. We always knew we wanted children and the time was coming soon but were both too scared to make the decision to try. On Mother's Day we found out the decision had been made for us and we were expecting our first baby. Jordan was excited immediately; my excitement came with fear and anxiety. I quickly became aware of how little I knew about pregnancy and babies. Regardless, I was overjoyed to be carrying my first little blessing.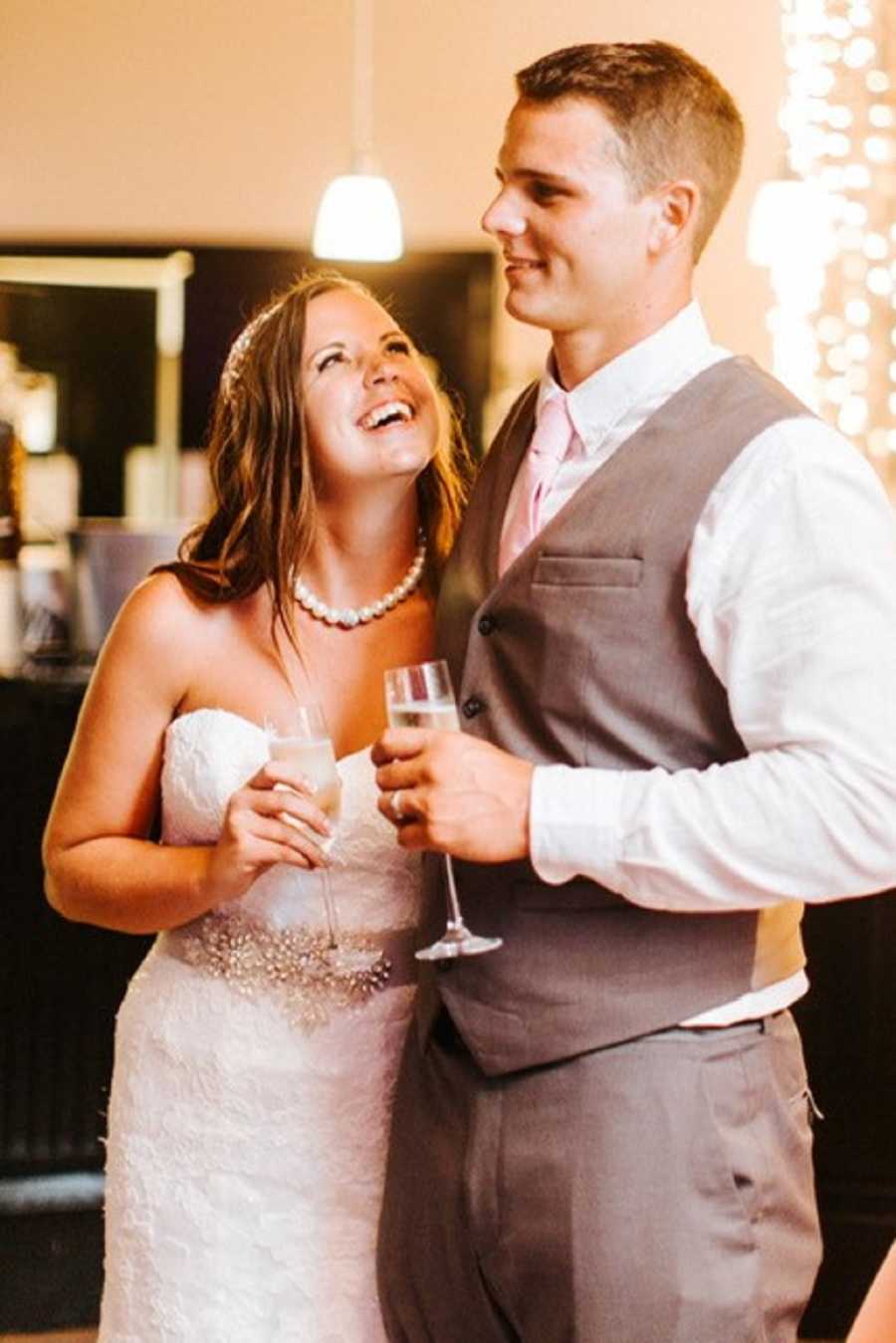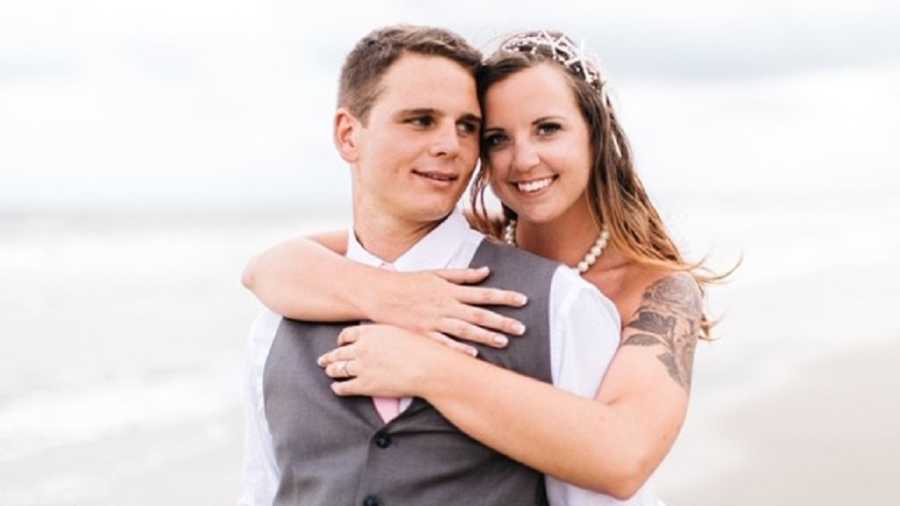 Avery's pregnancy was somewhat uneventful. I had my first ultrasound on my birthday in June and everything looked great. A few days before Jordan's birthday in August it was time for our 20-week anatomy scan. We found out within seconds of our sweet babe popping up on the screen that we were expecting a baby boy. The look on Jordan's face is one I will never forget as he realized he was the father of a son. He was still growing fine and I innocently believed I had nothing to worry about.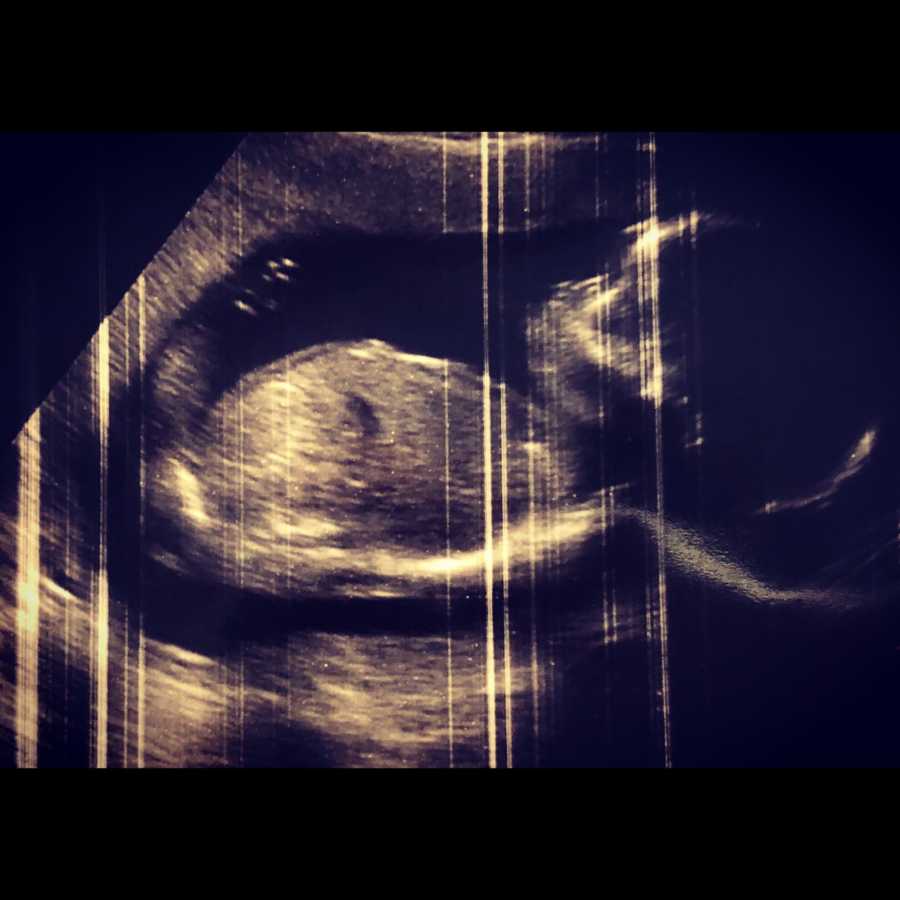 We kept our huge gender secret for a few weeks until we could make the trip home to our family for a 'Putters or Pearls' gender reveal party. Jordan and I both grew up in Pennsylvania and we were living in Georgia at the time. Surrounded by a large group of our friends and family, Jordan hit a golf ball that exploded into a blue cloud of smoke and it was such a wonderful way to celebrate Avery's life.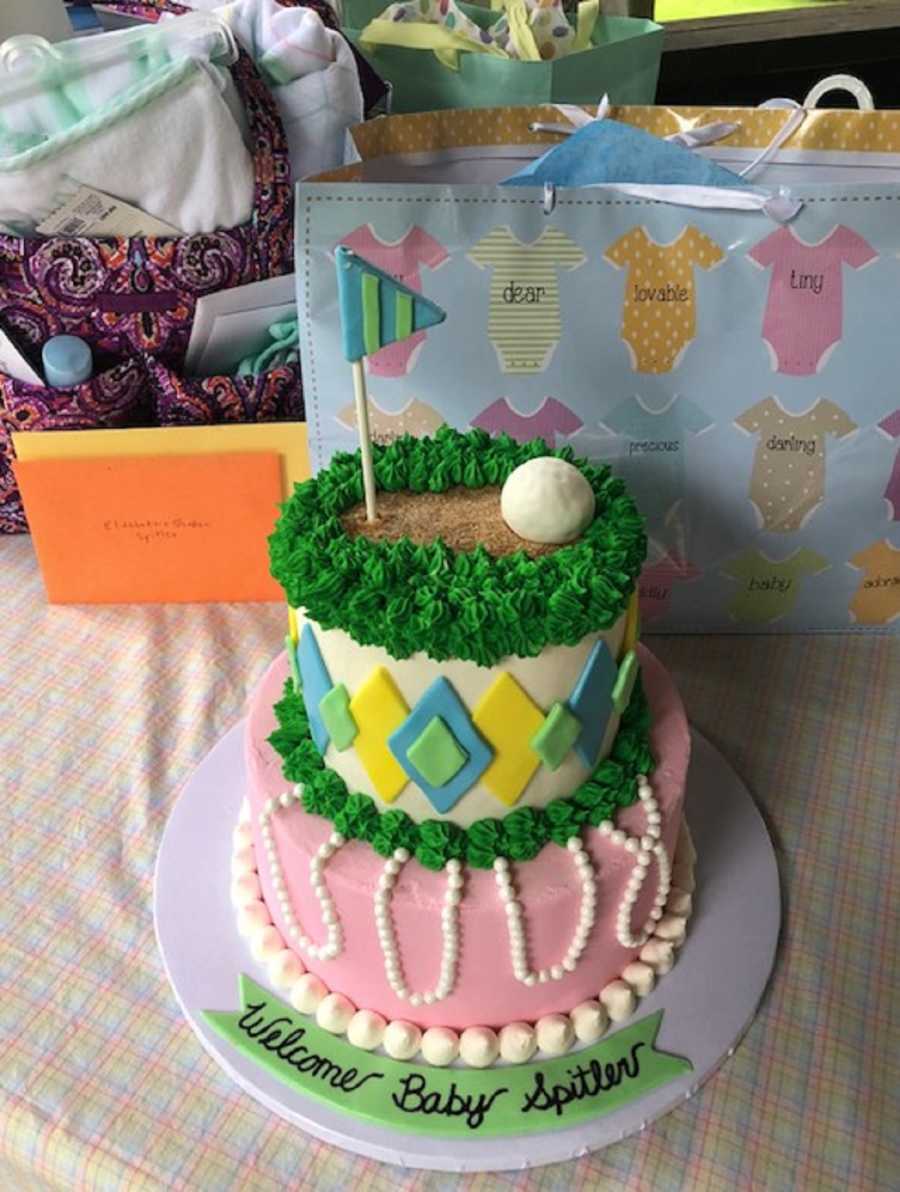 When I was 26 weeks along, the doctor raised his first concern that, based the ultrasound and my fundal height measuring several weeks behind, our boy was small. He brought me back two weeks later for another check and claimed his growth had picked up again. This was my last appointment. By November, we were just finishing renovations to the first house we bought. We had taken several classes at the hospital we would be delivering at, the last one the night before his birthday. The nursey was set up. I knew it was a bit early to be ready at only 33 weeks, but I've always liked being prepared. And I was, at least I thought I was.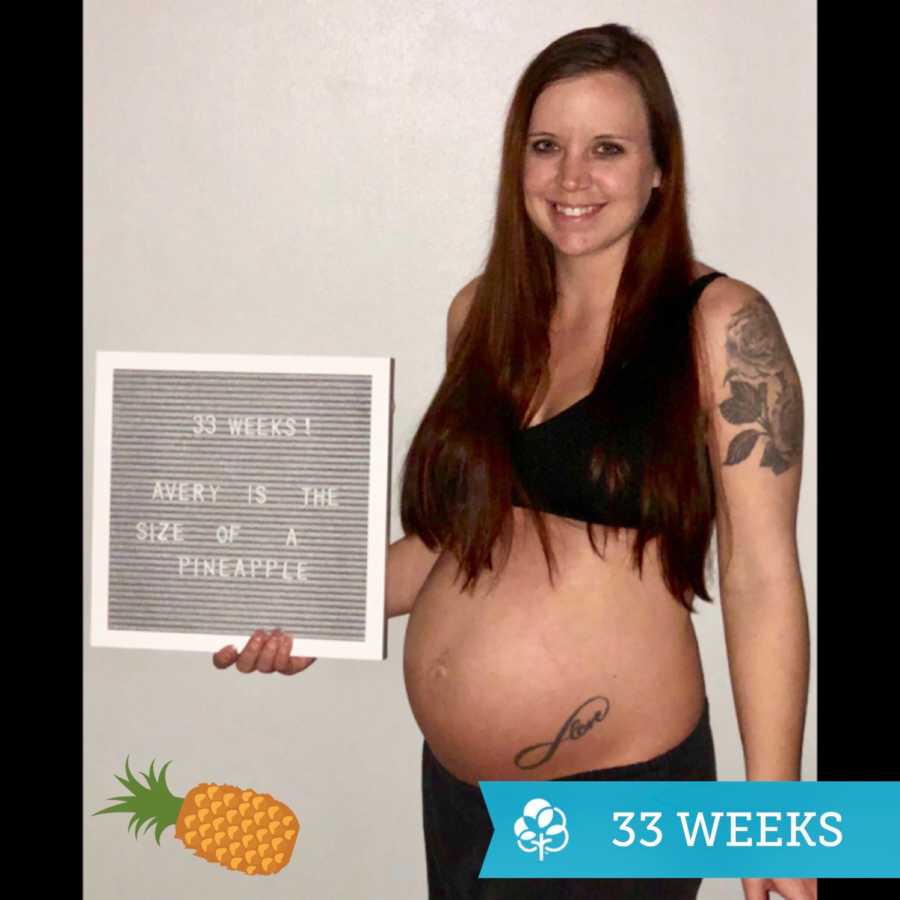 Placental Abruption
On Friday November 9th I went to work as usual. During the late afternoon I started to feel uncomfortable and just thought it was from being at my desk all day. I had a couple hours left when my discomfort was replaced by pain. Still I was in denial that anything could be seriously wrong. Being my first pregnancy, I thought it could be Braxton Hicks contractions or normal third trimester discomforts, however the pain was consistent and never let up. Shortly before 5 I left work early, thinking if I could just get home and lay down I would feel better. I am still in awe that I made it home that day given the pain I was in. I laid down on the couch and Jordan got home shortly after. It didn't take us long to make the decision to go to the hospital, and as I stood up, I started bleeding badly.
A part of me knew on the way to the hospital that our sweet boy wasn't going to survive whatever was happening to me. We rushed into the emergency room where a nurse got me into a wheelchair while Jordan checked me in. She rushed me up to labor & delivery while trying to reassure me that 33 weeks wasn't 'all that early' to go into labor. The events that happened next took place so fast I didn't have time to think – but as I look on it now, the initial care I was given makes me so mad and sad. Jordan was stuck checking me in for what seemed like forever. The ER nurse told me to get into the bed without an offer of help as if I could stand on my own, then left me alone saying someone 'would be in shortly.' I was bleeding so badly at this point I thought I was going to die right there in the hospital alone.
It was seconds that felt like years until an L&D nurse came in and once she realized the severity of what was happening to me, she ran for backup. Then it was as if the whole floor was in the room hooking me up to a monitor or IV. I knew he was gone, but it wasn't until the OB came in to check the ultrasound and confirm for me he had no heartbeat that I let myself admit it. I screamed, cried, and lost my mind, everything you expect a mother to do when she is told her baby just died. My life felt over in that moment, I wanted to follow him right up to heaven and I begged God to take me too. The physical pain paled in comparison to the emotional pain of my heart being broken. My sweet boy, who I spent the last seven months talking to and preparing for, had died.
It's common to go into shock during traumas such as this and that's exactly what I did as my brain tried to accept what was happening to me. I was so tired suddenly and wanted to go home to bed, for this nightmare to be over. One of the many aspects of pregnancy I never gave mind to before was the fact that you still give birth to your baby if she or he dies in your womb. I was given a significant amount of morphine, but the pain wasn't going anywhere. The OB on-call from my office came in and explained to me that I'd had a placental abruption, meaning my placenta had detached from the wall of my uterus.
'The pain can be compared to having an internal third-degree burn,' she said.
Placental abruptions are rare, affecting only 1 in 100 pregnant women, and can either be partial, where a mother can be put on bedrest and deliver a healthy baby, or complete (total) as was the case with mine. The doctor wanted me to delivery vaginally, but my labor wasn't progressing fast enough, and I was bleeding into my uterus too badly. Soon after speaking with her I was getting an epidural and they were taking me in for a C-section.
Stillbirth
Avery Jordan Spitler was born at 10:53 p.m. at 33+4 weeks weighing 3 lbs 6 oz and measuring 16 ½ inches long. The OR was silent and not hearing him cry broke me. Jordan saw him first and I vaguely remember a nurse bringing him to me, but I was sedated then. I still only remember that night in pieces. I called my close family and friends, our moms made arrangements to fly down the next day. It was by far the longest night of my life and I listened to moms labor in rooms next door as my husband and I took turns trying to be strong for each other.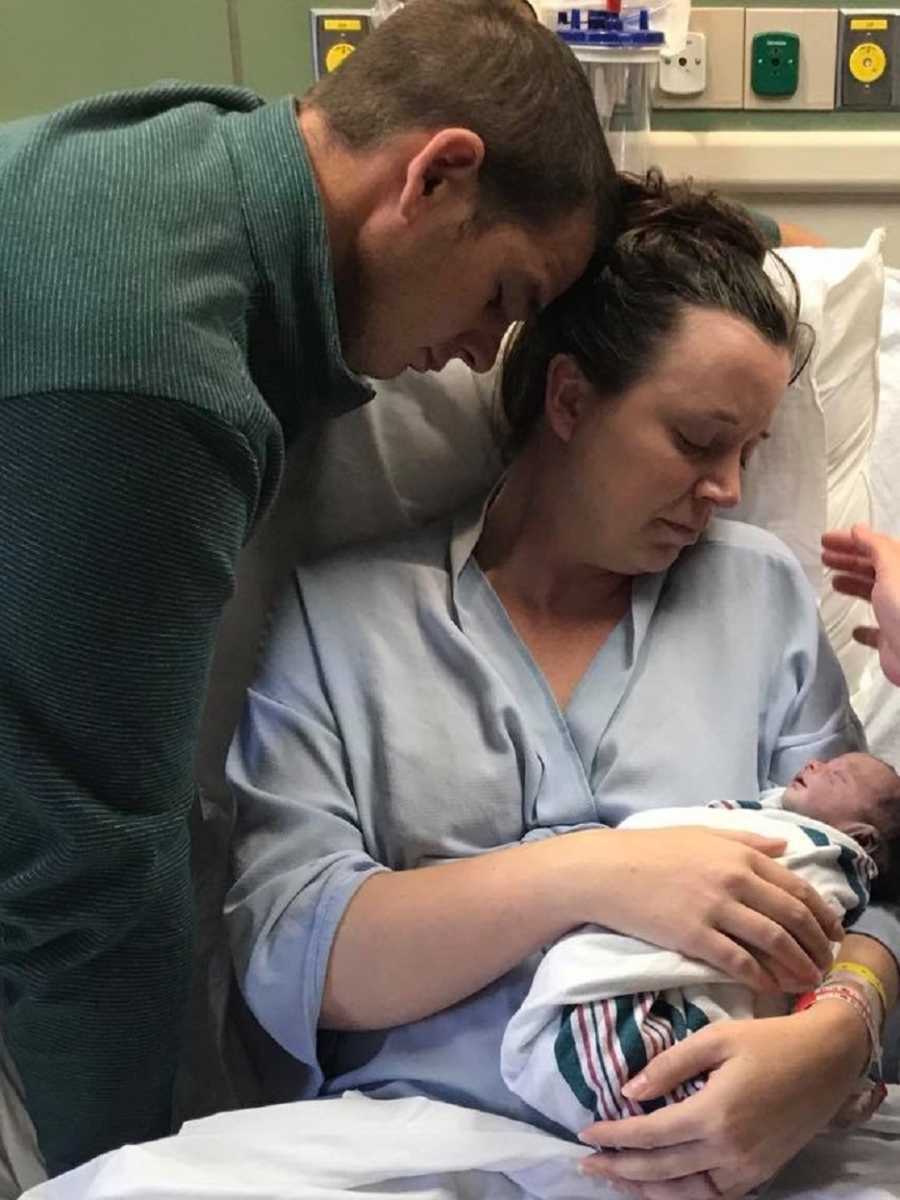 Overall, I needed two blood transfusions and am lucky I didn't lose my uterus too, if I can even say lucky after losing so much. My friends came to visit in the morning and passed the time until the moms came around lunchtime. I was stuck on bedrest recovering from the C-section. By afternoon I felt strong enough to be moved to a chair.
'Will you bring Avery to me?,' I asked.
He was truly the most perfect baby. I remember thinking I will never do something this hard in my life. For the next few hours I rocked, kissed, cuddled, and sang to him. Looking back now it'd be easy to say I regret not asking if he could stay in the room with me, bathing him, reading to him or dressing him, but I had no experience with losing a baby and no idea how much the time I spent with him would matter to me. I did the best I could at the time and I've come to peace with that. I am thankful for the pictures I took and the time I spent with him.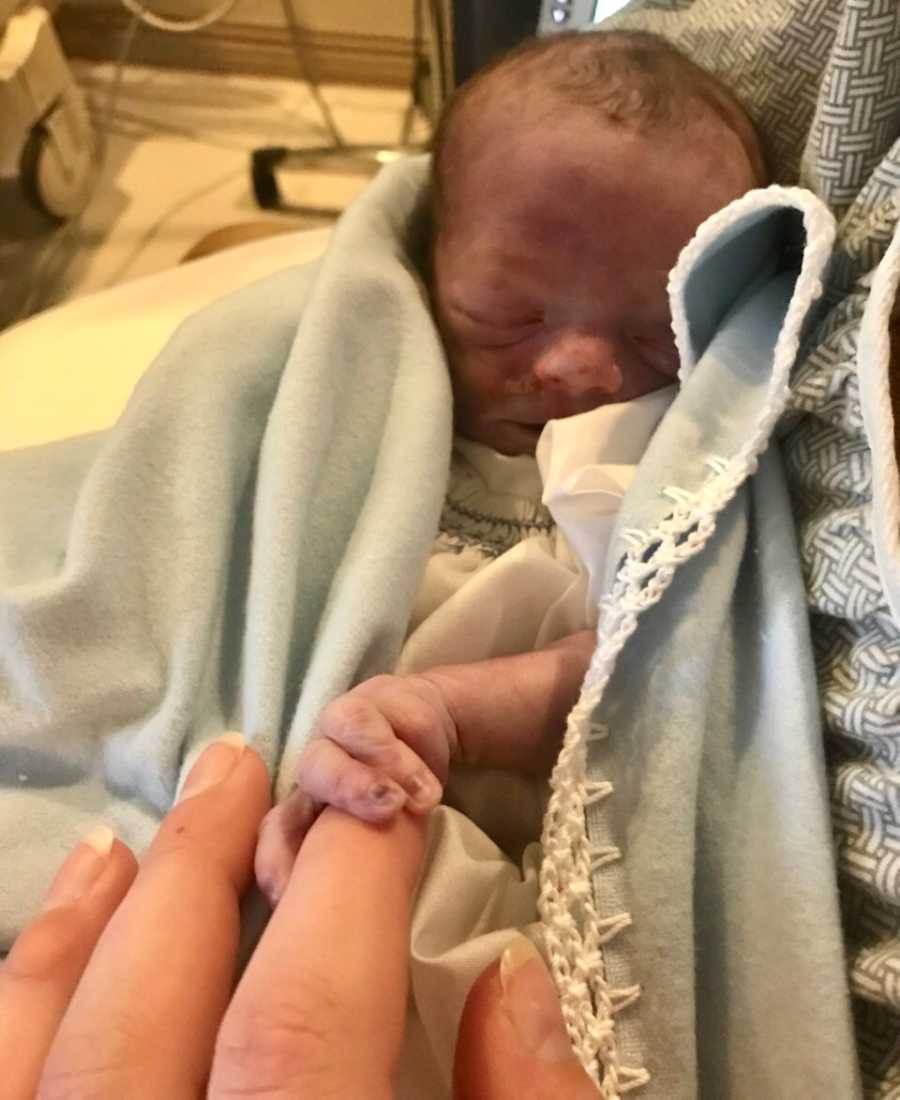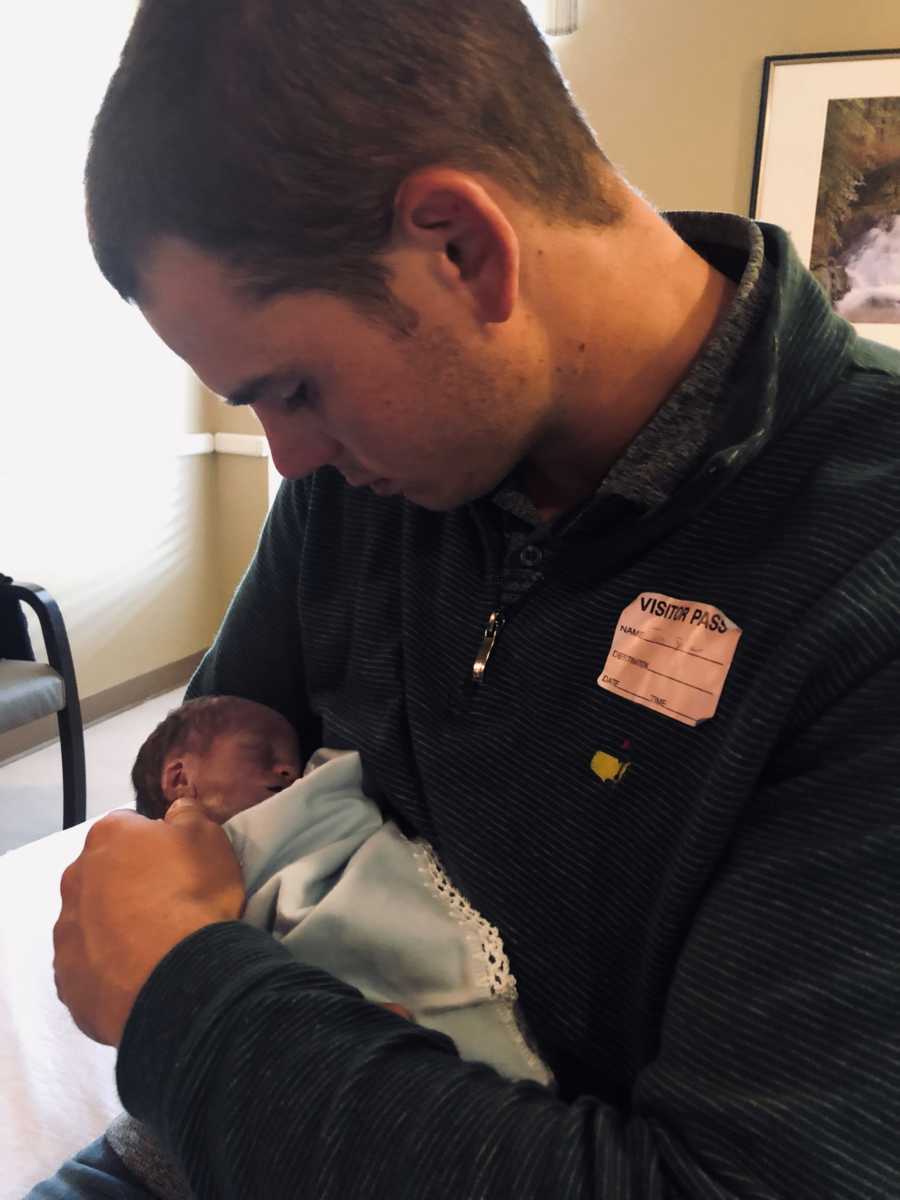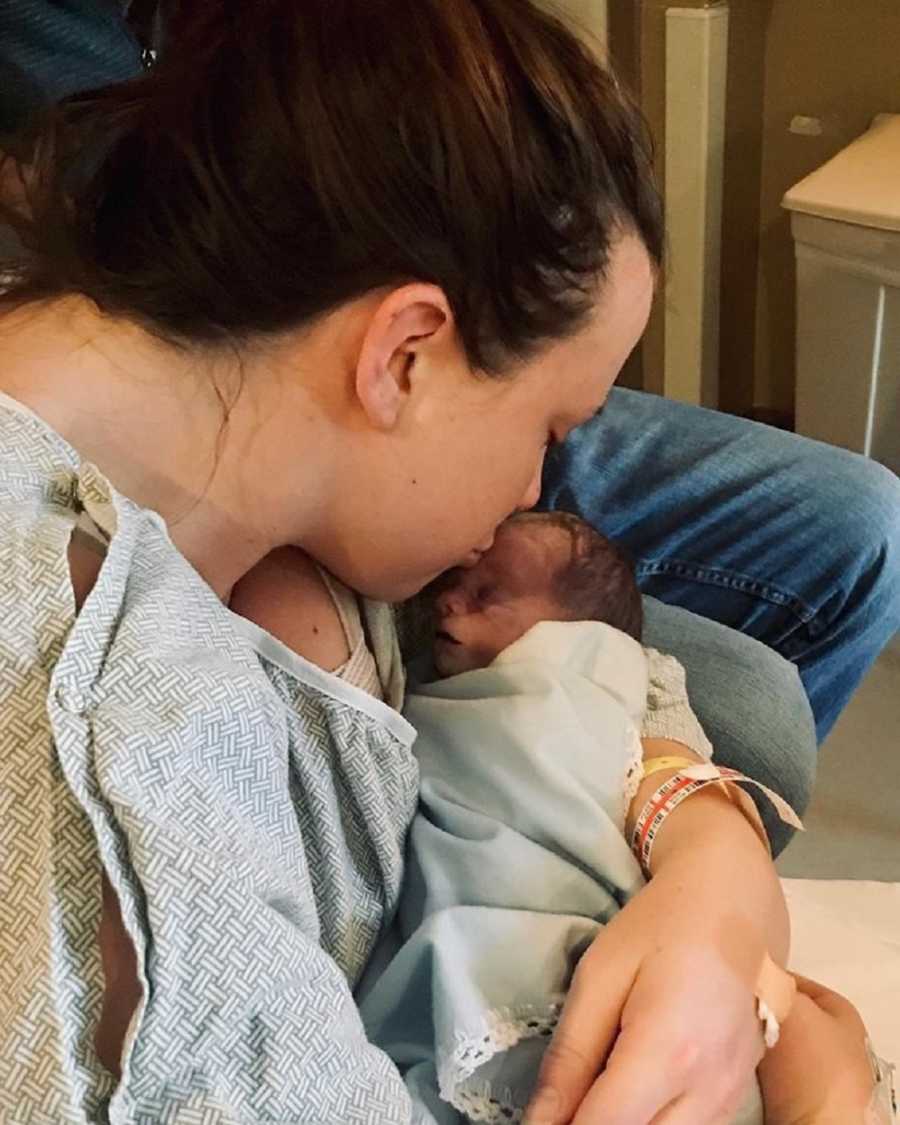 Grieving Childloss
Saturday night was another night of nearly no sleep and I knew I needed to get home if I was going to start healing.
'If you're able to walk around and shower tomorrow, you can go home,' the doctor told me.
I was up early Sunday morning cleaning my room. I survived a painful shower.
I then asked, 'Can I see my boy for one more goodbye?'
We had him baptized and I held him while a nurse gave him his first and only haircut. We made arrangements to have him cremated and I left the hospital without my boy and most of my heart.
Avery's due date was Christmas Day, so I felt like I was in a sort of holding pattern for the holidays. Initially my work told me I didn't qualify for maternity leave and told me to apply for short-term disability. After explaining that I am still a mother, even though I didn't bring my baby home, and needed the time to not only recover from the C-section but also grieve, they reconsidered and gave me the three months. I was beyond thankful for my husband, my family, and the support of those around me who understood because I couldn't meet my own basic needs on my own. My family arranged for a support basket from Sweet Grace Ministries to be delivered when I arrived home which brought comfort. The RN who taught our baby classes offered her sister-in-law to go to the funeral home and take imprints of Avery's hands and feet. I was gifted so many beautiful mementos that told me no one was going to forget how precious my son is. Avery's ashes live in a baby block urn that lives with all of his things. I found a home for them in the corner of our living room which became Avery's Corner and gave me the idea for his social media pages where I connect with others who are facing the world without their children. What started as platforms for me to share my son with the world turned into so much more than that and messages thanking me for helping mothers grieve their sweet babies never fail to bring tears to my eyes.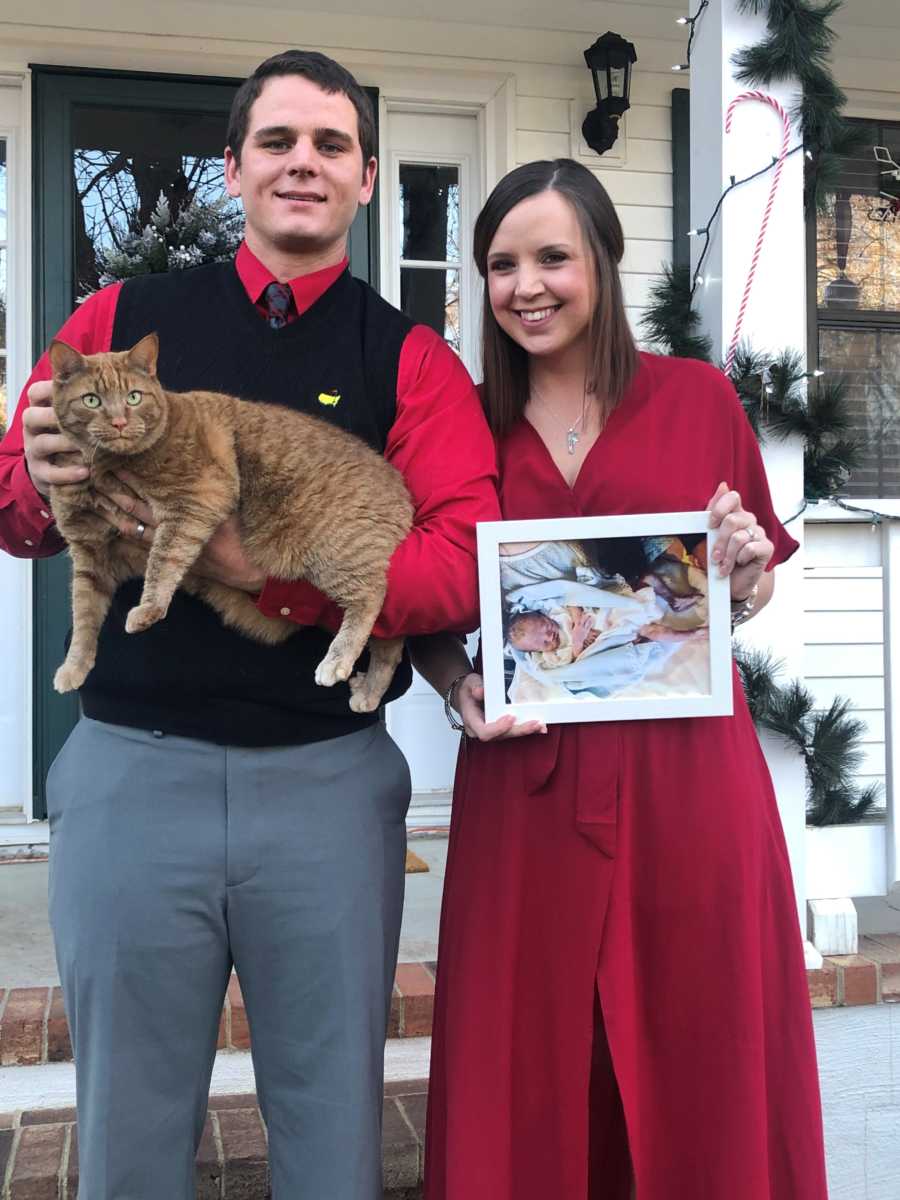 In January I was sent to a maternal fetal medicine doctor to review Avery's pregnancy. She ordered blood tests and determined I have Factor V Leiden, a genetic blood clotting disorder. A daily aspirin was prescribed, and she advised me I will need to do Lovenox (blood thinning) injections for future pregnancies. We did some travelling that month and it helped to get out of the house and start to feel alive again. I can always count on Jordan to push for what is best for me even when I don't see it for myself. In February I went back to work and slowly life started to fall into a new normal.
Relocating After Pregnancy
Spring brought us yet another surprise when we found out we were once again pregnant. Being scared when I found out I was pregnant with Avery was nothing compared to how I felt this time around. The morning sickness was worse, the anxiety even higher, but I strive every day to be present carrying our sweet baby girl. I know the worst can happen but have to give everything I have to hoping for a better outcome.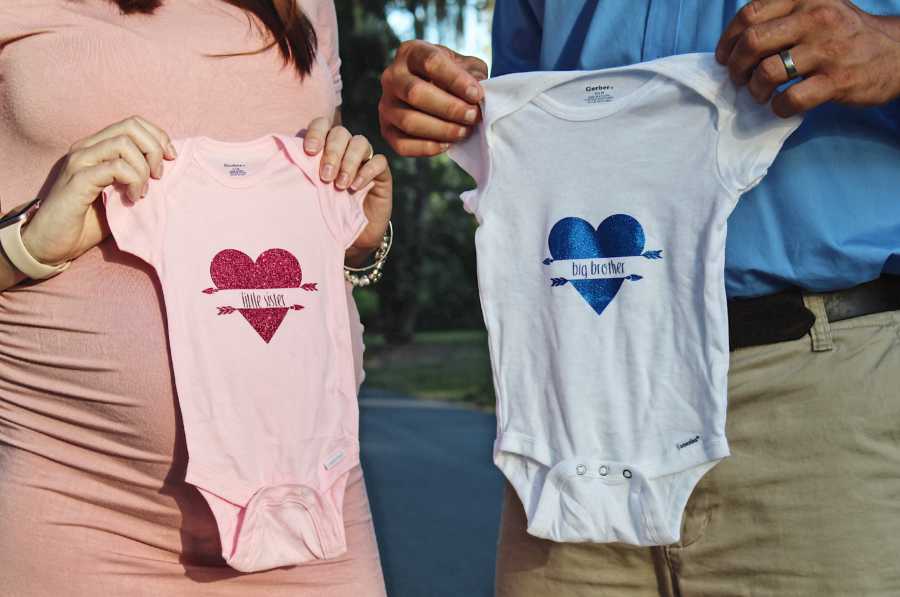 We have since relocated from Augusta, Georgia, to Beaufort, South Carolina, so I have new doctors where I feel so much better cared for. I see maternal fetal medicine specialists at MUSC in Charleston. After reviewing my medical chart and redoing some blood tests, they aren't convinced the Factor V Leiden disorder caused the placental abruption and Avery being IUGR (intrauterine growth restricted) was more to blame. They support me continuing the Lovenox injections but once I deliver baby girl, want to run some more tests and create a better plan for future pregnancies. I've learned so much about carrying babies, how frequent and strong kicks should be, how big they should measure and when, that it's easy to be hard on myself about things I missed during Avery's pregnancy. But in the end, I know God had a different purpose for him and I am the best mother I can be.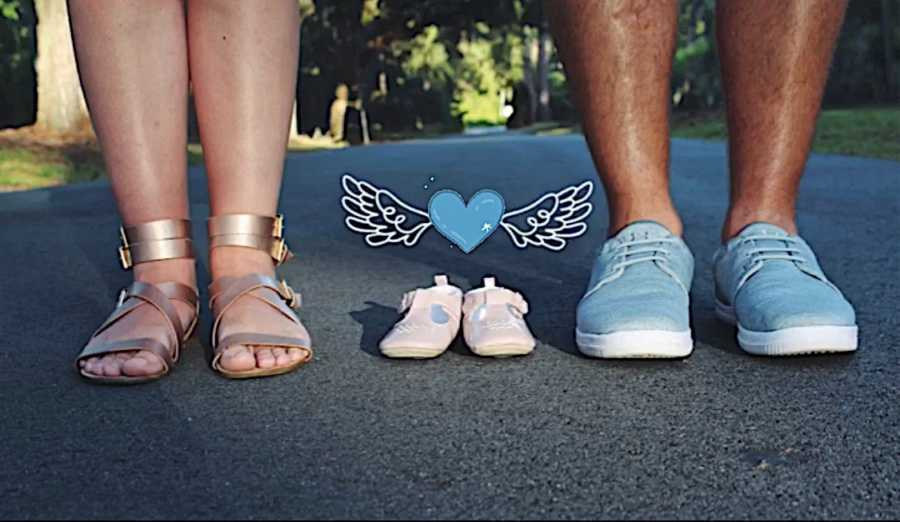 Having Faith
Right now, I am 29 weeks with my daughter and they will deliver me at 39 if I make it that far without going into labor on my own. She is a big girl with much stronger and more active kicks than her brother. It's one of God's blessings to give me this girl, knowing carrying another boy in my first pregnancy after loss would be yet another emotional feat.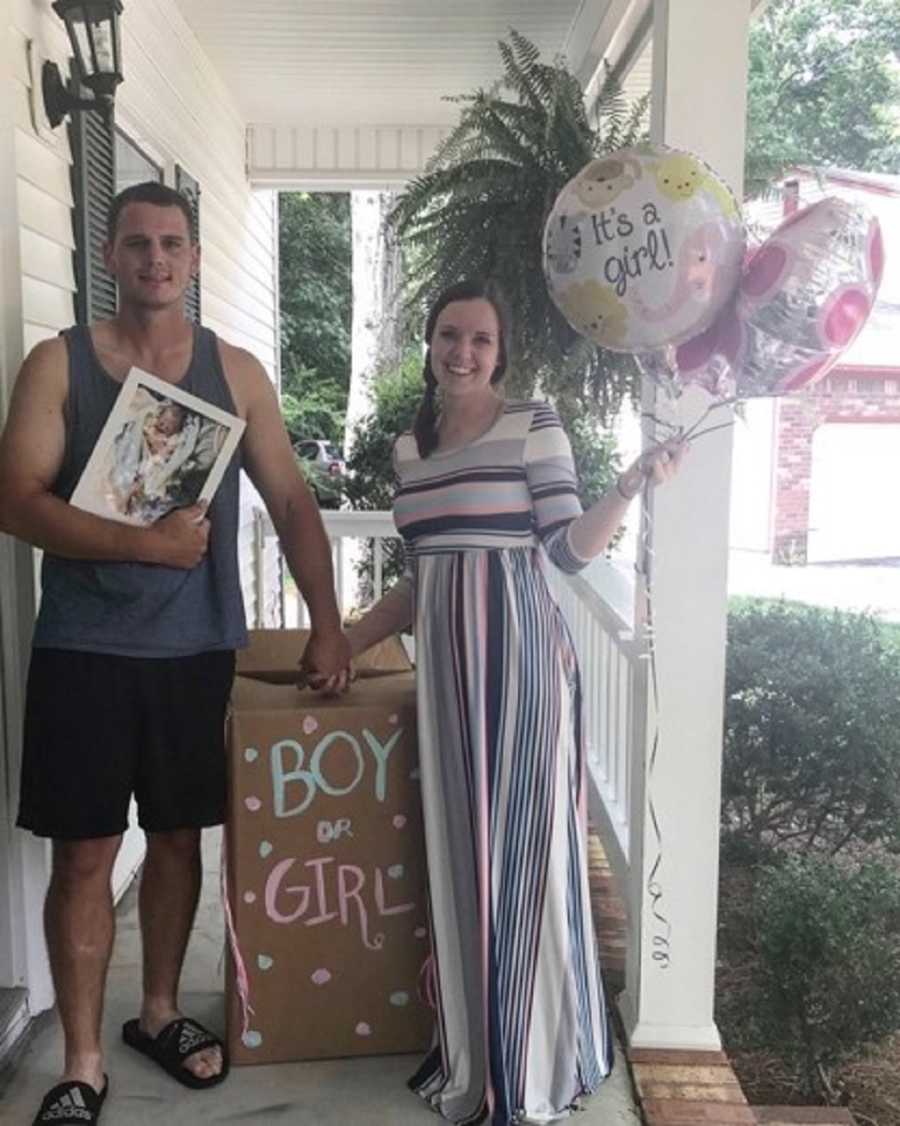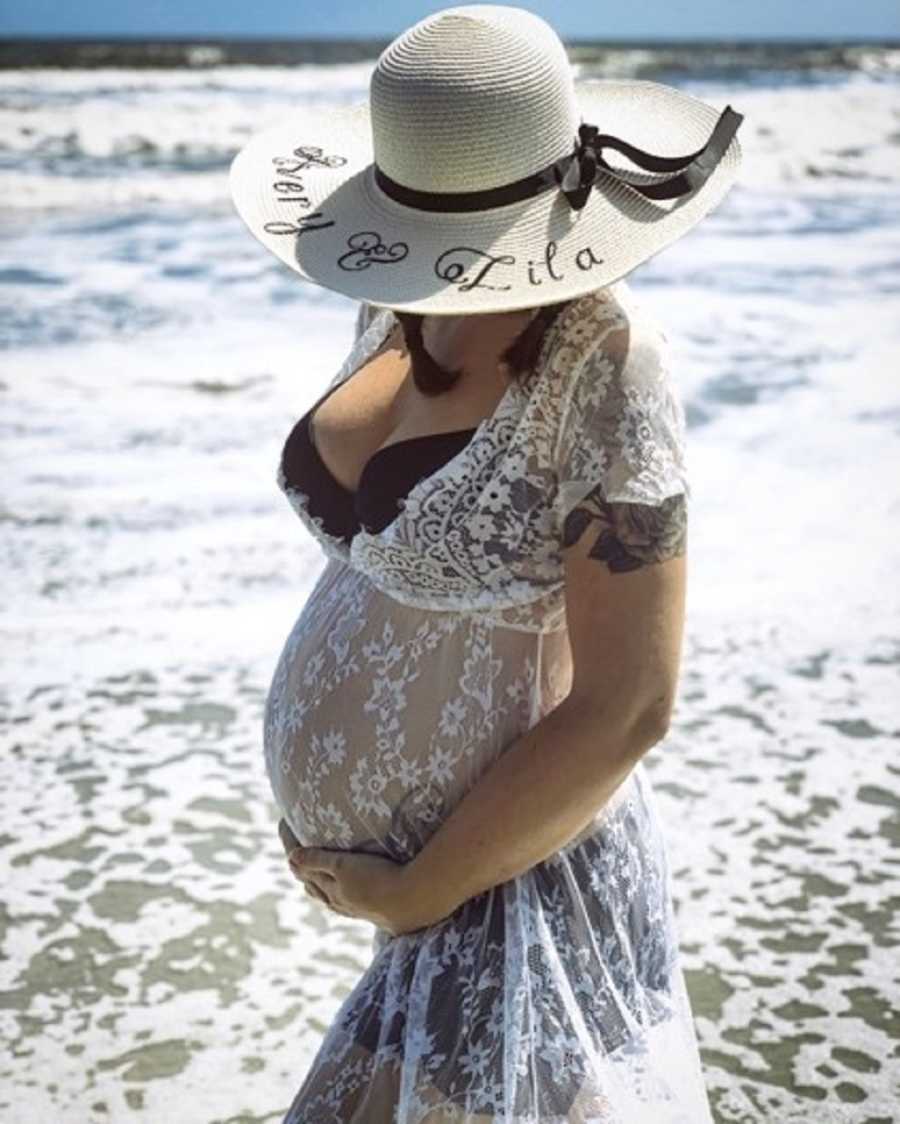 Avery's death has taught me many things, but most of all it has taught me about faith, that putting my life in God's hands doesn't mean bad things will never happen to me, but I can trust I will be okay even when they do. I think of Avery every day and when strangers ask me if this baby I'm carrying is my first, I smile proudly and say no, this is my second. My first is in heaven, and I'll meet him there someday."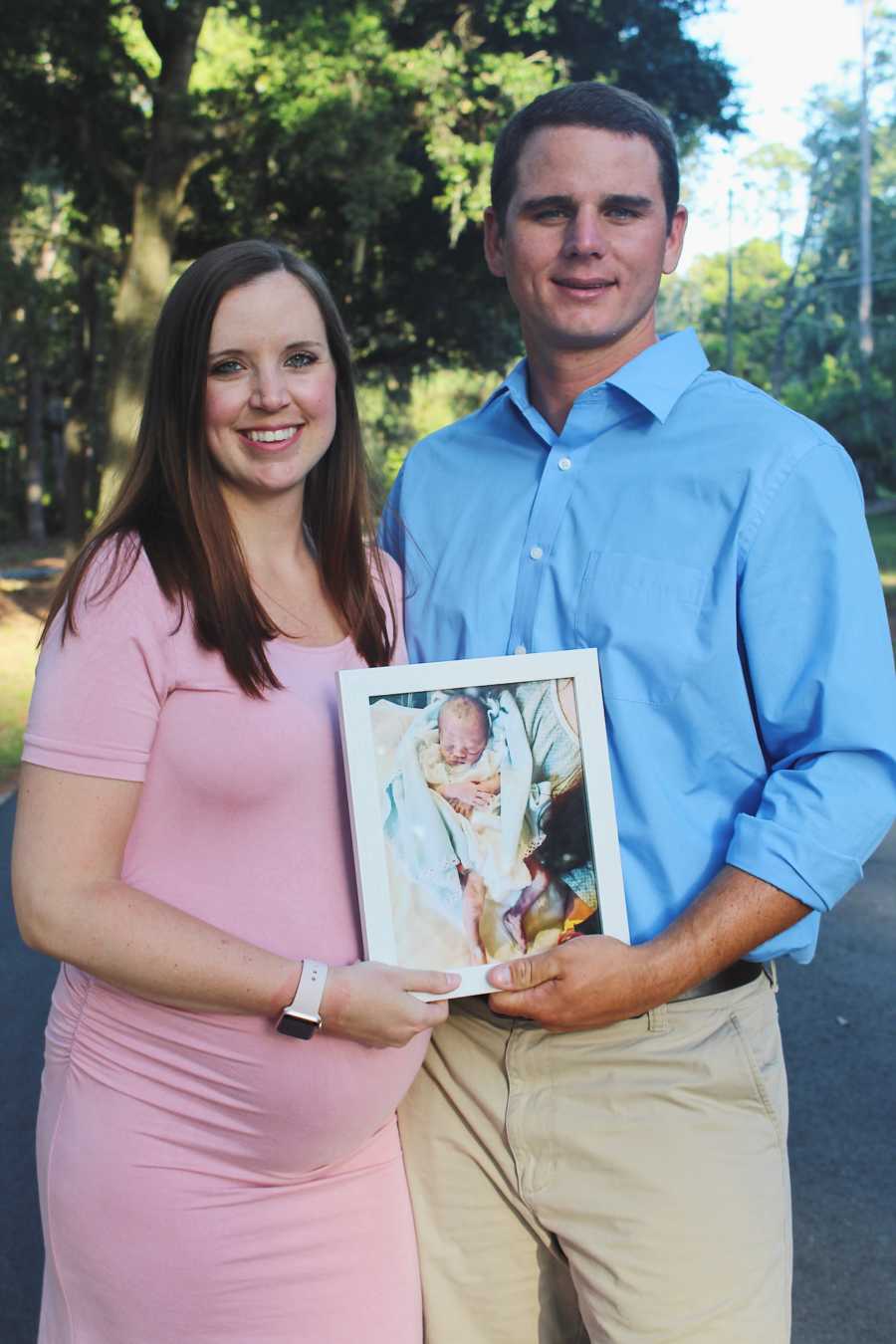 This story was submitted to Love What Matters by Elizabeth Spitler of Beaufort, South Carolina. You can follow her journey on Instagram. Do you have a similar experience? We'd like to hear your important journey. Submit your own story here. Be sure to subscribe to our free email newsletter for our best stories, and YouTube for our best videos.
Read more powerful stories like this:
'The OB dropped my newborn. 'It's OK, you're young. You'll have more.': Mom appalled by preemie's treatment in child birth, hopes other child loss parents 'never feel alone'
'We begged her to let go. She kept fighting to stay with us. 'We'll be together soon. You need to go home,' we said.': Mom says daughter suffering from CHD 'passed peacefully in my arms,' is 'finally at peace'
'Her 17-minute life was filled with nothing but love. Dads, you are allowed to cry, too.': Couple shares 'life-shattering' moments their preemie daughter is born, dies in their arms
Do you know someone who could benefit from this story? Please SHARE to let them know a community of support is available.