Foster Parent Journey
"I walked into the spare bedroom; it was lifeless, cold, and blank. I crashed my knees to the floor as an act of reluctant surrender. I whispered through sobs, 'Fine, God! I'm giving up! I won't be a foster mommy anymore. I won't keep trying. It was a stupid dream, anyway. I know I'm too weak, and You are clearly showing me the journey is over.'
After three and a half years of being a foster mom and enduring multiple heartbreaks, I thought it was over. I was tired of the system, I was tired of getting my hopes up for placements that fell through, I was tired of seeing kids be moved around, and I was tired of wondering if I was a terrible person for desiring to help 'other' kids when we had children already. We first became foster parents because of a student in my class. I was an English teacher, and I had bonded with one student in particular, a girl with a poetic heart who loved to write stories.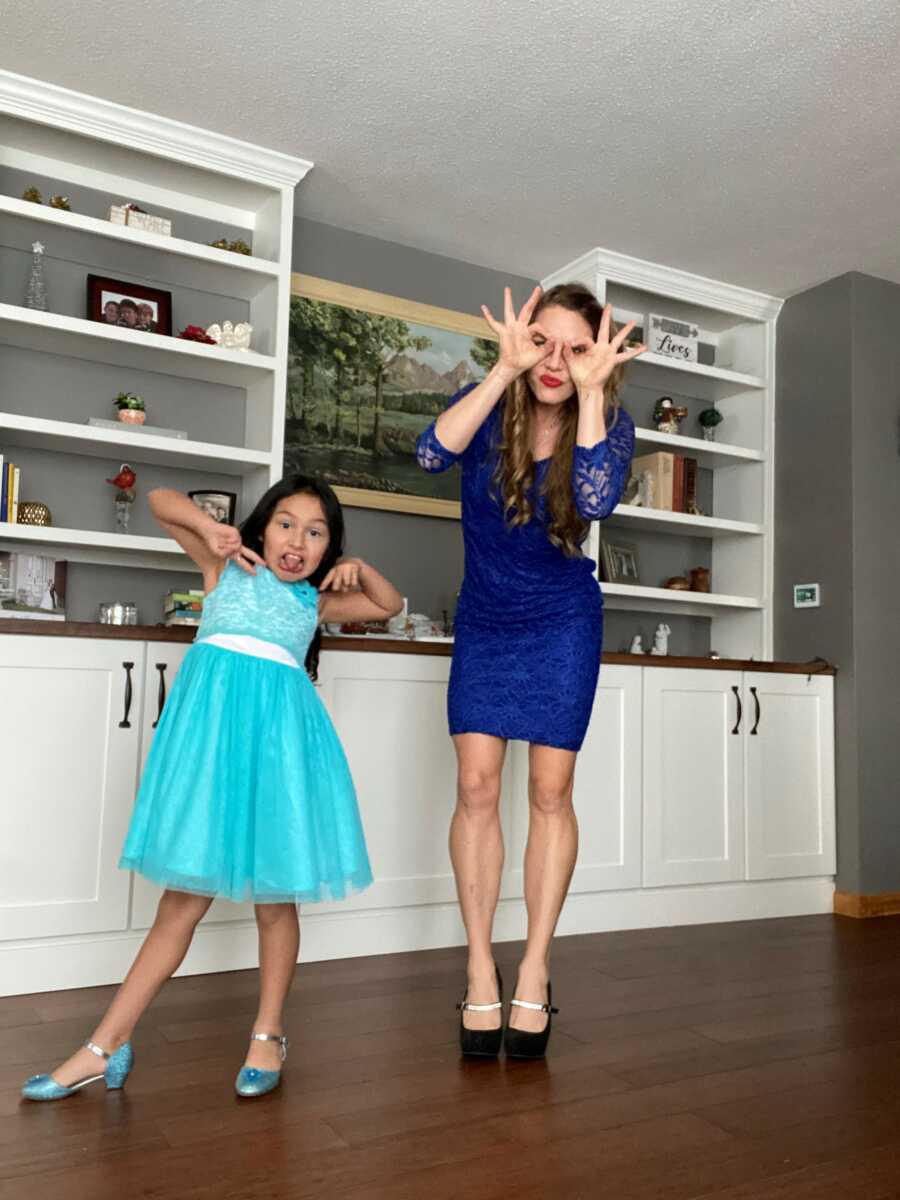 I learned at the end of the school year she and her two little sisters needed a forever home. My heart was leaping when I spoke with her foster mom like I knew this girl was meant to be in my family, or else why would we have bonded so deeply?! I called my husband with a shaking voice and proposed this wild, beautiful idea. We had four boys at home, and it would be tricky to make our four-bedroom house work, but we both felt called to try.
I will spare you the details, but it didn't work out, even though we did everything we were told to do, including getting our foster care license. My student and her sisters were placed with a family they didn't even know, and the adoption process began with them before I could even plead my case to the social workers. I was devastated, and I felt foolish. But…we were licensed. Our licensing social worker knew the delicacy of my wounded heart, and yet she carefully and lovingly asked if we would consider other foster placements. We said yes, and we waited without much expectancy.
Within a month, we had our first placement, the oldest and youngest of a sibling group of five: a 13-year-old boy who was laid back and kind-hearted, and a 21-month-old girl who had both sass and intelligence. We loved them, and we will always love them. Big E*, the 13-year-old boy, became quick friends with our 10-year-old son. They played so hard and laughed so loud and ate WAY more food than I thought possible – they drove me absolutely crazy in the best way. He started 8th grade, liked his new school, and was very much a part of our family with our four other boys. Little E* called me 'Mom' within a week. It was both a privilege and devastation, a depiction of both how she saw me and what she lost. She woke up nightly with night terrors, so we spent many moments rocking and singing worship songs at all hours between twilight and early dawn. Needless to say, we were bonded.
Foster Placements
Months later, we got a call that made my knees so weak I fell. They were moving the kids. We had only two days. They found a different family to take all five, an option we were never even given! I begged, I argued, I even got angry at the end of the call. How was I going to tell Big E? And what would Little E think?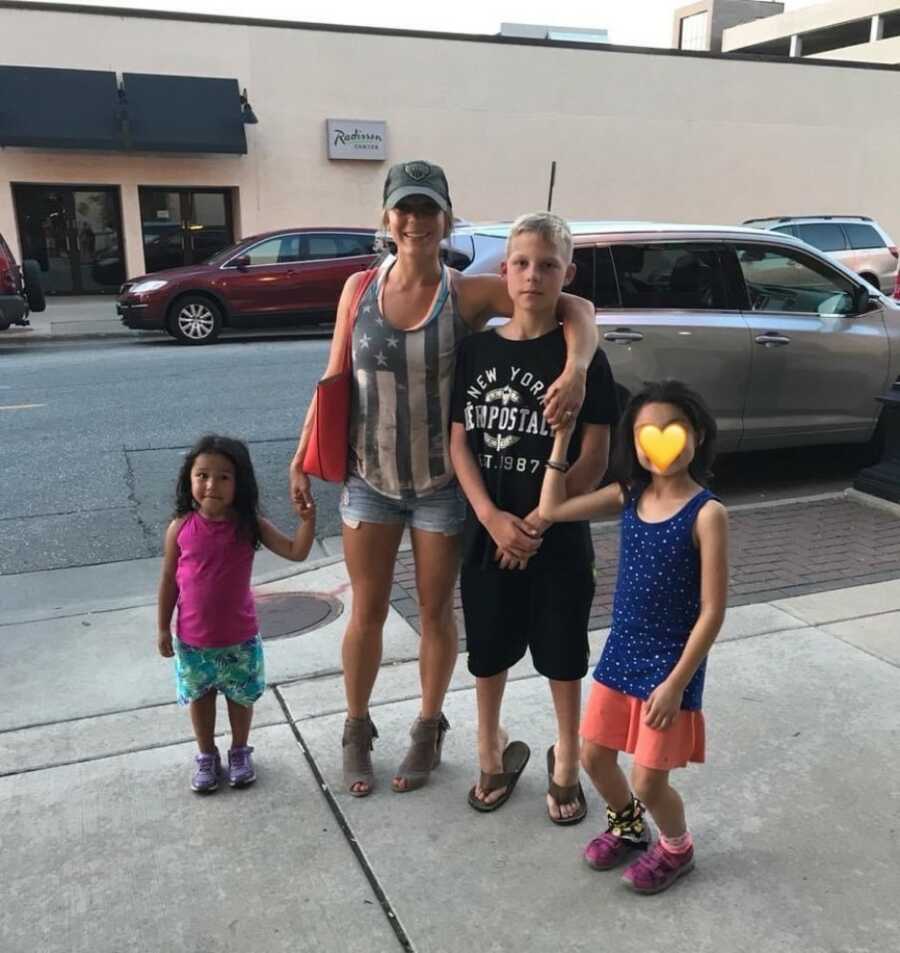 On the day a social worker came to pick up the kids in an old van, I could barely hold myself together, but I had to for the kids. Big E was crying huge tears and saying he didn't want to leave. His glasses fogged up, and I hugged him with a goodbye I never wanted to give. Little E was cranky; she did not want to get in the van. The social worker, someone I'd never seen before, was acting as though ripping off a bandage – stone-faced, rushing, answering none of my questions. (Looking back, I'm sure she was trying to protect herself, us, and the kids.)
When the van drove away, I told my husband I was done. I was never doing this again. I kept Little E's wooden rocking chair on the front porch for months. I couldn't move it. But then winter came, and I put the chair away and cried.
'Hi, Cherie. How are you and the family doing? I have a potential placement if you guys are open to it, two little girls. I understand if you're not ready. Just let me know if you would like more information.' This email came from our licensing social worker, Michaela, who is truly an angel sent from heaven. Many days I sincerely wonder if she is; I've never seen someone work so tirelessly for a cause, and always with a warm heart.
My husband and I talked it over, we read the descriptions sent to us, and we said yes. One morning, soon after Christmas, two girls walked into our front door, one nine and one three, sisters who had been through unspeakable things. The nine-year-old, L*, looked around timidly and asked a few questions; she made it clear she was scared and wasn't sure if she wanted to stay.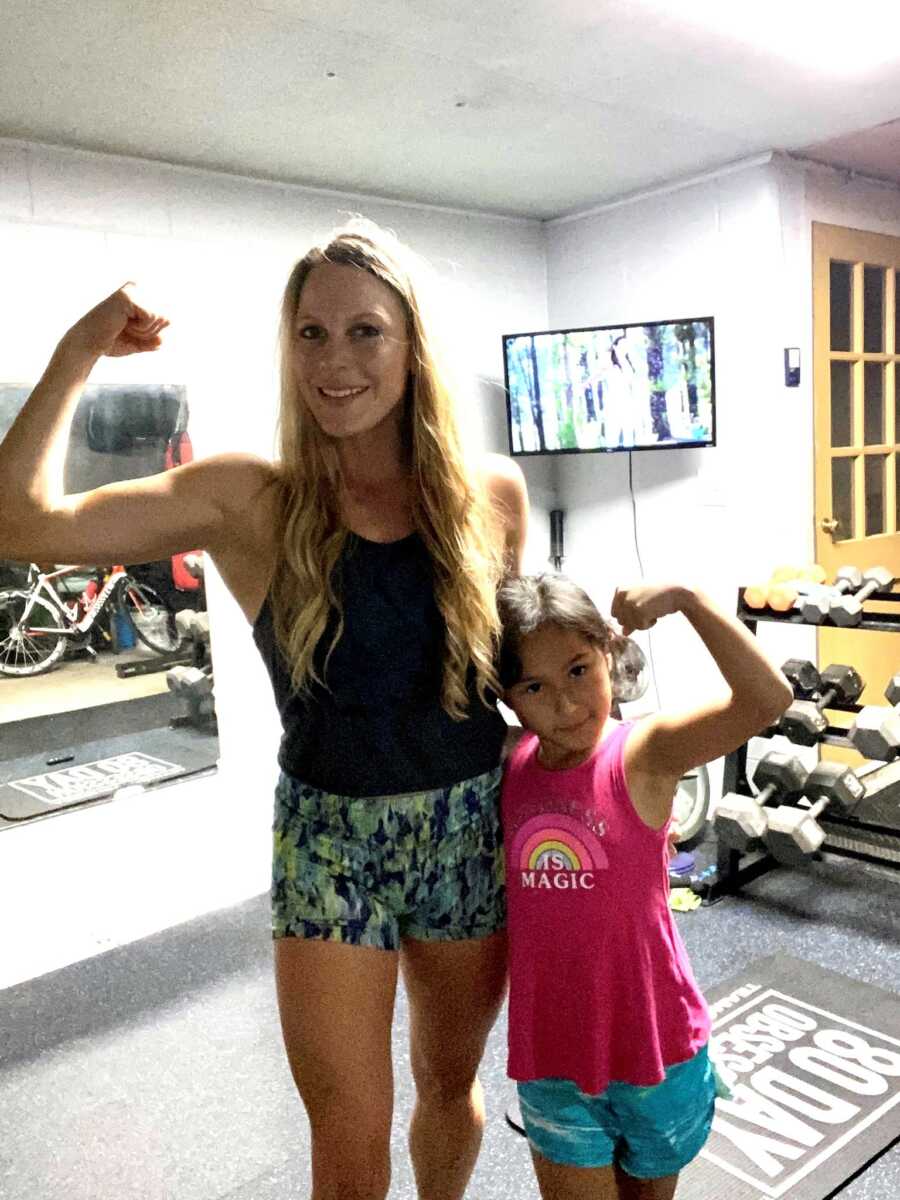 'Is this your house? Do you have both a mom and a dad living here? Are Sophia and I staying together?' I wanted to make everything better for her, but I knew it would take time. She was an old soul, I could tell from the moment I met her. The three-year-old, Sophia, crawled right into my lap and started telling stories about the ride to our home and friends they left at the kids' shelter. Her black ringlets danced close to my face, and I was smitten.
This placement was a crash course on life with someone you love who has PTSD. The girls' pain became my pain, and I walked around feeling like a gaping wound. I prayed for healing, I earned their trust over and over – two steps forward and one giant step back. Every time we turned a corner, a new demon emerged. But I fought for them, and they fought, too. Our entire family took part in this delicate, swinging dance. And we loved more deeply, understood more fully, grew more wholly.
Again, the children were to be moved. The biological mom was making some progress, and the nine-year-old's dad (the girls have the same mom, different dads) had made significant strides and they were going to try for reunification.
We dropped the girls off at their new home, closer to the biological parents, on one of the worst days of my life. Our nine-year-old screamed in the driveway as we pulled away. I sobbed uncontrollably as my husband drove. I prayed I would see them again.
Within a year, we completely lost touch with the girls and were not allowed to know where they went, per privacy rules. Even our licensing worker was not informed, and so I wrote a goodbye entry in my journal. 'I hope I live a life that is worthy of you girls. I hope I make you proud. You are always in my heart.'
Respite Care
We did only respite care for quite a while, taking foster youth into our home for a weekend or week at a time, in order to give foster parents some R & R. After a potential placement fell through that I had finally opened my heart to, I had that crashing-to-the-floor moment, where I told God I was giving up. I surrendered the entire idea of foster care and adoption at His feet. I closed the door…but you can't close a door God wants to remain open. I got a text one day, 'Hi, Cherie. My name is Maggie* I have a 12-year-old foster son, and we really need some weekends free. Could you do respite for us?'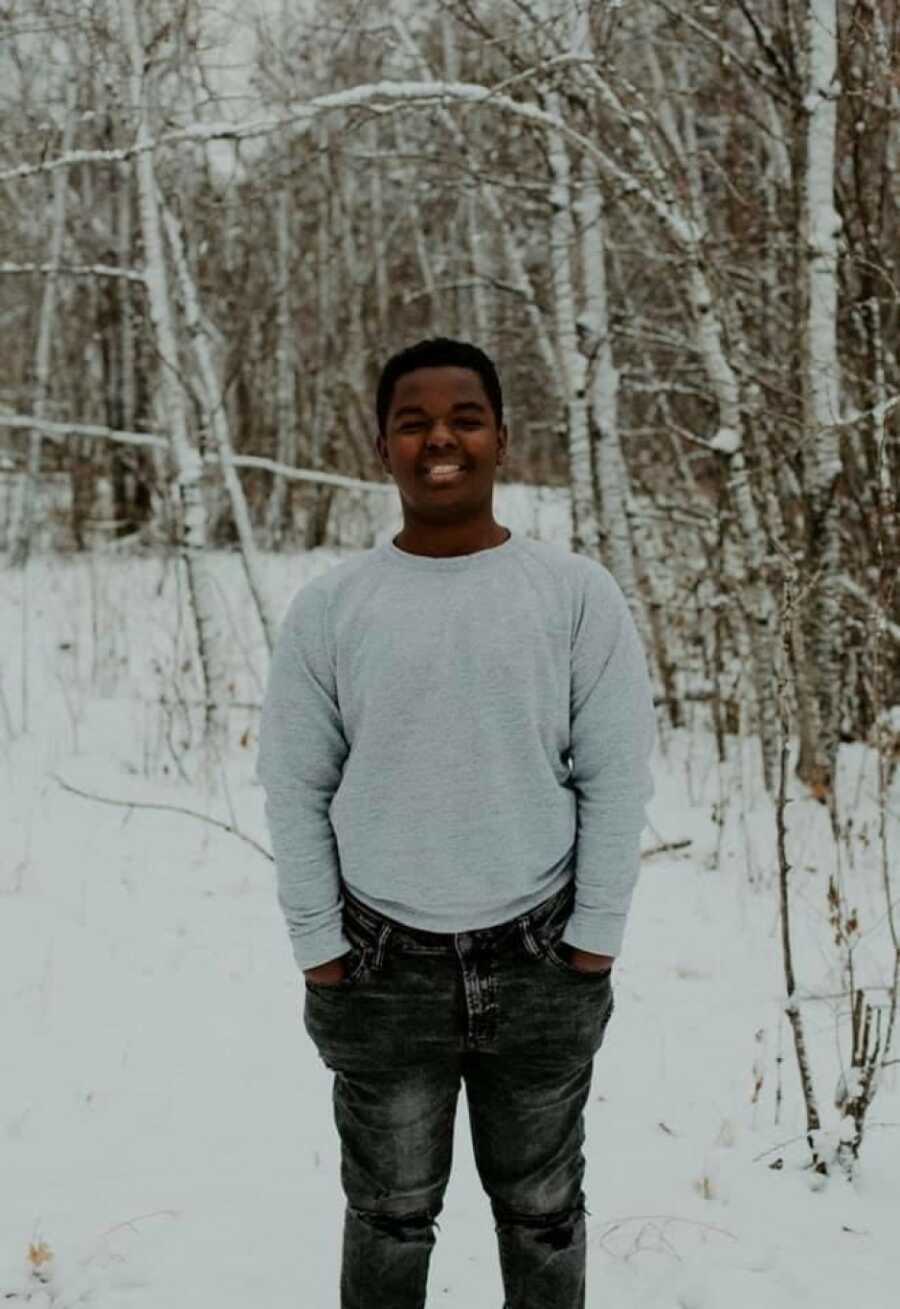 I asked my husband, he said sure, and within a week I was picking up a quiet, handsome, and athletic young man named Andre – but he prefers 'Dre.' He stayed with us for a weekend, and it went well. Two weeks later, another weekend. A week after that, it was a full week. He just kept coming back, and we loved it.
We were told by his social worker and foster mom Dre was going to be put on the MN Adopt website soon, as his former adoptive family (whom he lived with from age 3-11) had voluntarily given up their rights. If you are like me, you can't even imagine this. It's a heartbreak we live with daily, but we also see healing and beauty from those ashes. So, the county was seeking an adoptive placement for him. Unless…we would consider?
My husband felt very clearly that God told him Dre was to be in our family. After we both prayed, we said we would absolutely love to be his parents if he will have us. Within five months of signing an 'intent to adopt' document, Dre was adopted into our family. December 18, 2019 – our family grew, and I became a boy mom to five handsome young men. Blessed indeed. I didn't know another miracle was in store.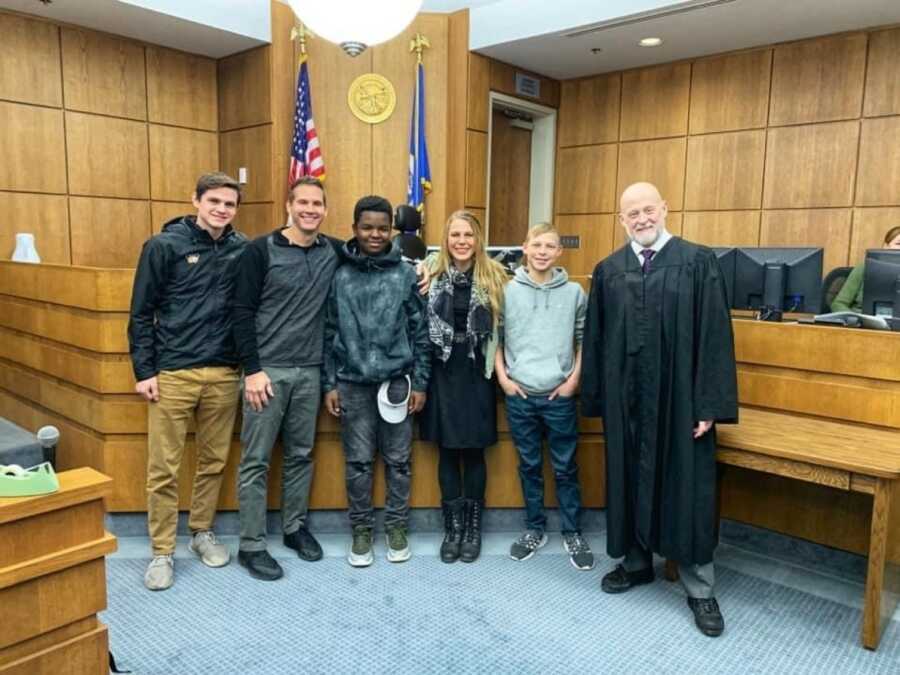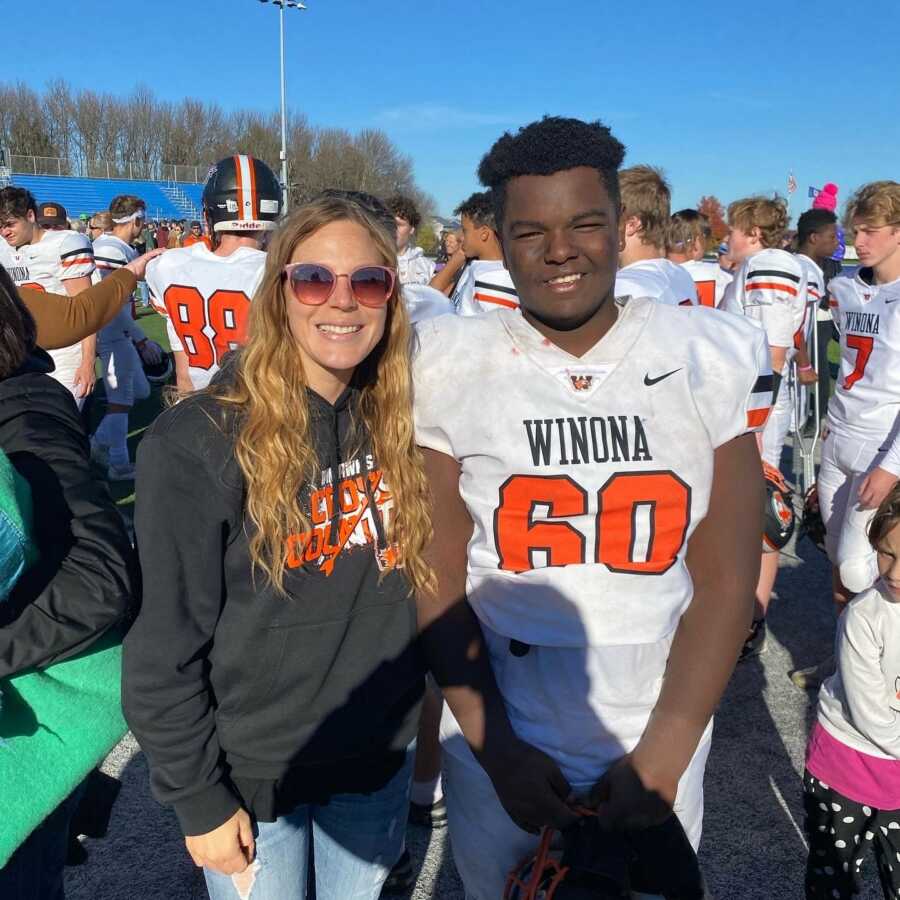 We found 'L,' who was with her biological dad and thriving. She told us where our sweet, ringlet girl, Sophia, was. She was not with her biological mom, but in her fourth foster home after a few failed attempts at reunification (this means the court gave multiple chances for the biological parent to have their child/ren back, and they did not keep the child/ren safe). I thought I would never see her again, but God, once again, had different plans.
Adoption
We were given the chance to visit her at her foster home, as her therapist thought she might find healing in familiar loved ones. Sophia, once an energetic little girl who bounced around with songs and joy, was shy and quiet and scared. Her foster parents were extremely loving and patient and incredible human beings, and they welcomed us back into Sophia's life, thank God. As I sat on the couch in their living room during that first visit, I looked at Sophia and prayed, 'God, if it's meant to be, will You please bring Sophia to us forever? Can we please be her parents if she can't be with her biological mom? Help us to restore her joyful little spirit. Help us to help her heal. I trust You.'
On Sophia's sister's birthday – by coincidence, if you believe in such a thing – we got a phone call. Sophia's social worker said the court was terminating the biological mother's rights, and they were wondering if we would consider adopting Sophia. I fell to the floor in a different way this time. I cried out, 'Thank You, God, that Your plans are better than ours!'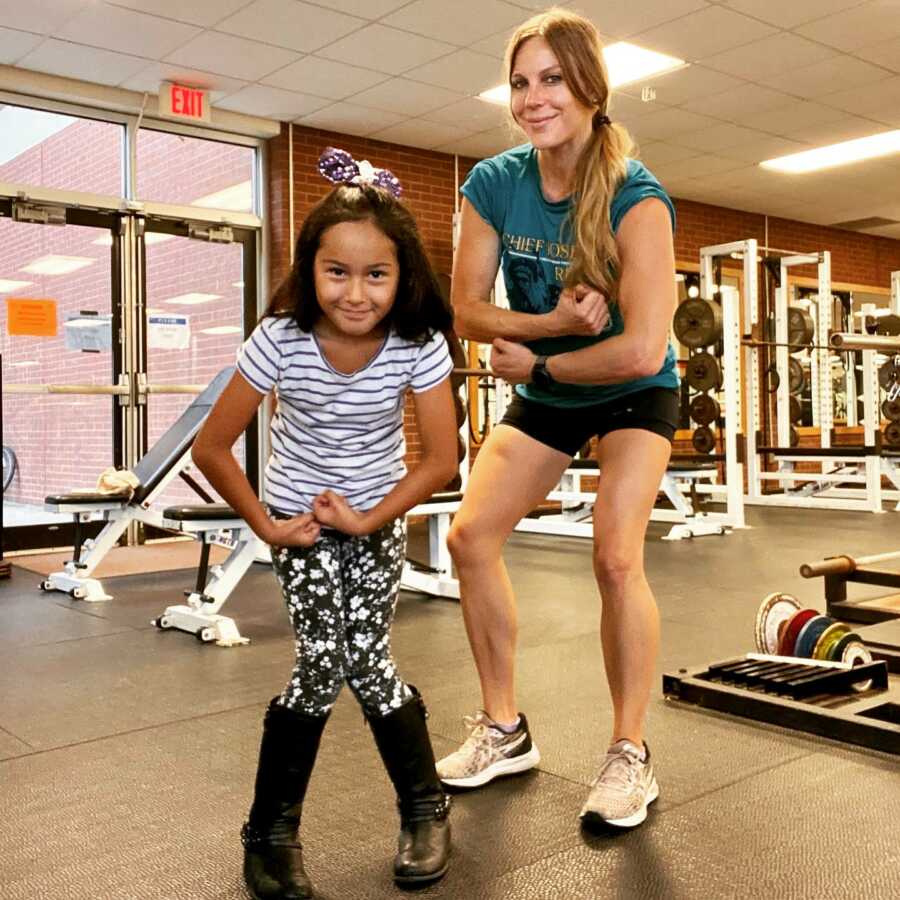 She moved in with us at the very beginning of the pandemic, we signed paperwork for the adoption, and we waited. During the waiting, we built the word 'forever' into Sophia's vocabulary, we attended therapy sessions, we kept (and still keep) in touch with her older biological sister 'L,' and we prayed A LOT. Sophia and her big brothers did school at home and learned to fight like real siblings (haha!), and we became a family.
On May 13, 2021, it was official. Sophia was adopted into our family. She danced around all day and sang one of her favorite songs by Maverick City Music that goes like this:
'I've got miracles on miracles. A million little miracles.
Miracles on miracles, count your miracles. 1-2-3-4, I can't even count them all.'
Truly, I have lost count of the blessings. My oldest three stepsons are all grown up, blessing the world with their talents and work ethic. My son Julien is 16 soon, a three-season athlete and outdoorsman, witty and hilarious. Dre is a freshman in high school who made the Varsity football team, wrote about his life for his Honors English class, and makes friends easily.
Sophia has her joy again, excels in school, and has a faith bigger than almost anyone I've seen, despite what she's endured. Oh, and she occupies the room that was once lifeless, cold, and blank, and has filled it with life, color, and beauty.
Miracles. My children are my miracles. "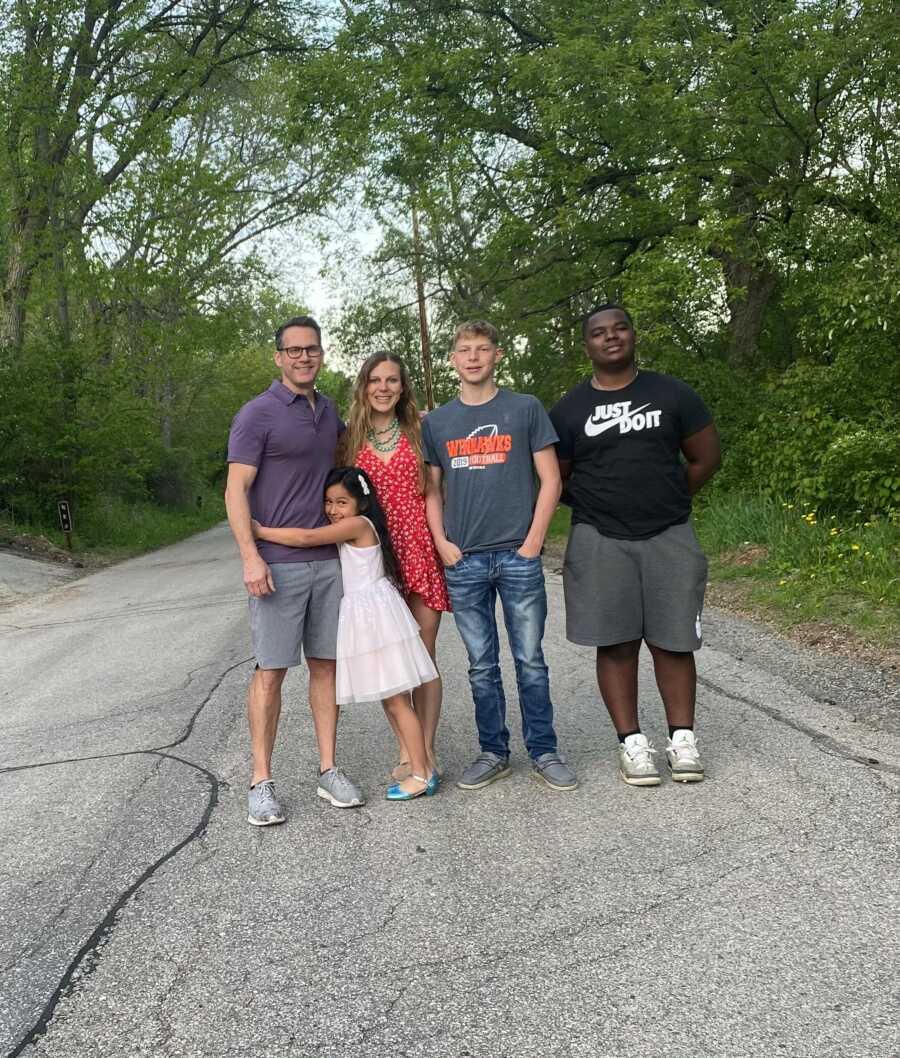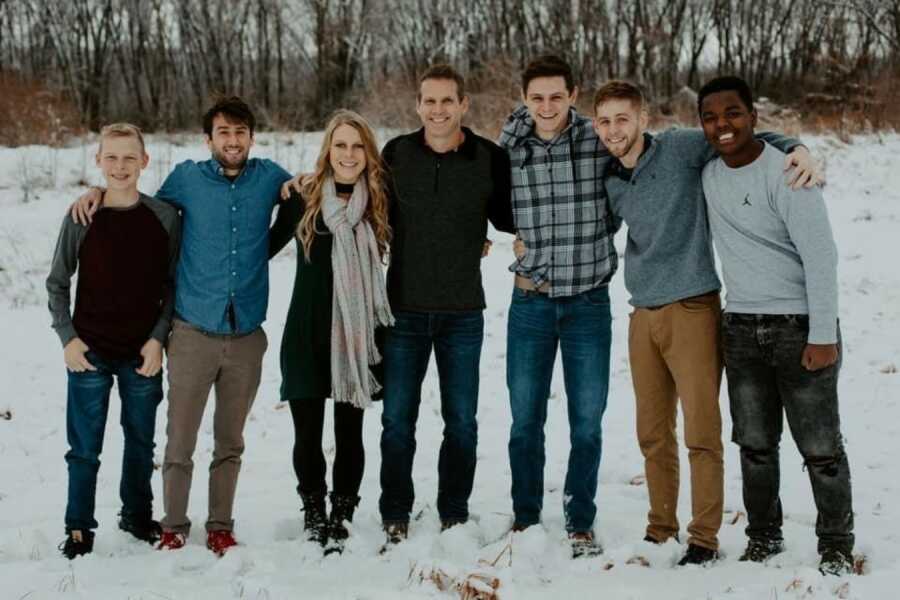 This story was submitted to Love What Matters by Cherie Johnson. You can follow her journey on Instagram accounts. Submit your own story here, and be sure to subscribe to our free email newsletter for our best stories, and YouTube for our best videos.
Read more stories like this here:
'We have a 3-day-old baby with drugs in his system and no family to take him. Can you get to the hospital in 2 hours?': Family of 5 adopt son from foster care
'Weighing just 2 pounds, we tested positive for crack cocaine.': Twins adopted by abusive family overcome childhood trauma to advocate for kids in 'broken' foster care system
'You need to place our child for adoption.' How could he ask me to do that? I was totally alone.': Birth mom becomes part of son's adoptive family, 'The moments we share are priceless'
'The nurse came in and said, 'Her new parents are ready for her.' Only 15, I kissed her soft baby cheek, and placed her into the arms of her mama.': Teen mom embarks on 'beautiful' open adoption journey, 'I couldn't have picked better parents'
Do you know someone who could benefit from this story? SHARE this story on Facebook to let others know a community of support is available.