"I spotted the piece of paper from the other side of the room.
A page ripped from my daughter's notebook, tucked underneath two hearts, the urns of our two children who died after birth. I unfolded the paper and read the note through a cloud of tears.
'Dear Parker and Abby, You are going to be okay. Love, your sister Peyton.'
I sat down on the couch, my fingers carefully tracing each word my surviving triplet wrote. There is no handbook for those of us who balance parenting between Heaven and earth. There is no right or wrong way to parent a child who is alive when her brother and sister are not.
It's something I have to remind myself often.
I've been shamed for talking about my children who died. I've been told to concentrate on the living child I have in my home, not the two who are no longer physically in my arms.
But in our home, the names 'Parker and Abby' are said often and with love.
Our lone survivor loves to see pictures and videos of her brother during the NICU days, and she openly wonders what it would be like if they were alive today. And we don't shy away from the difficult conversations about why she is with us, yet her brother and sister were too sick to survive.
But through those difficult discussions, our daughter has blossomed into a strong and caring young girl who wears her heart on her sleeve, and who is wise beyond her years.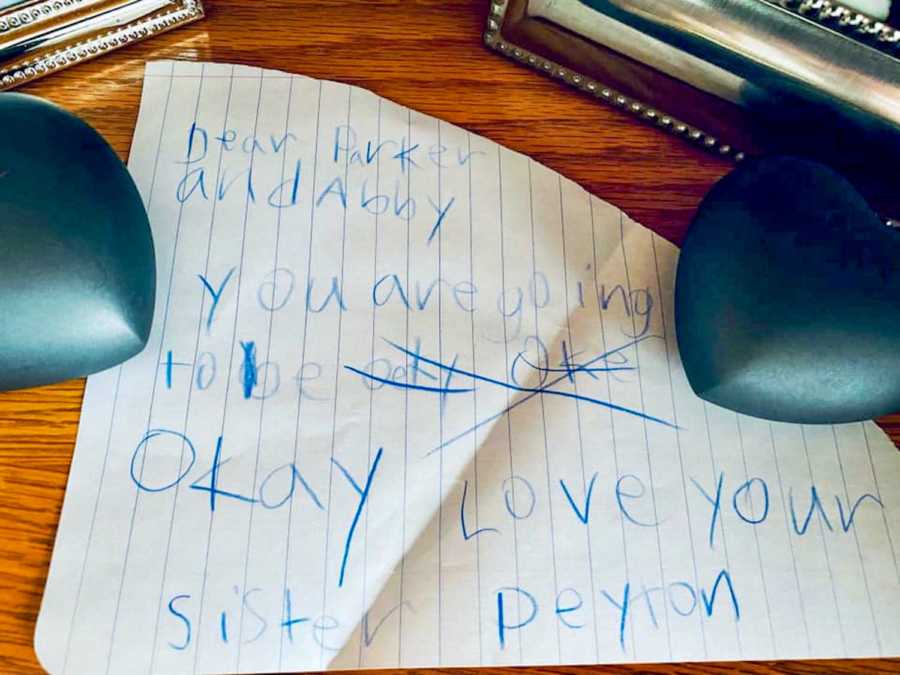 As I wiped away the tears, my 7-year-old sat down next to me. I asked her about that special note, handwritten with so much love.
'I wanted to give them a message in Heaven,' she said. 'You know mom, when I see them someday.'
I gave my daughter a tight squeeze and whispered that I love her so much. I folded the note and returned it to the bookshelf, a message of hope protecting her brother and sister above.
Leave it to a 7-year-old to remind us all—no matter how difficult life may seem, you are going to be okay.'
This story was written by Stacey Skrysak, an award-winning television journalist based in Illinois. You can follow her on Facebook, Instagram, and Twitter. Do you have a similar experience? We'd like to hear your important journey. Submit your own story here. Be sure to subscribe to our free email newsletter for our best stories, and YouTube for our best videos.
Read more powerful stories from Stacey:
'I was sobbing. Pregnant at 40 was the furthest thing from my mind. I was scared. 2 of my babies died within 2 months of birth.': Mother of child loss says 'bonus baby' was 'biggest surprise,' now thrilled for surviving triplet to have a sister
'A woman stole my picture and used it on Facebook, saying it was her own son who died. This sweet child who passed in my arms, was stolen.': Grieving woman victim to social media theft urges 'child loss is real'
'I cried today. One moment I'm hugging my daughter, the next I'm yelling because she hasn't finished her school work.': Mom says 'knowing I'm not alone keeps me sane'
Provide strength and encouragement for other parents. SHARE this story on Facebook with your friends and family.