"I moved across the country to Boise, Idaho, when I was 21. I transferred to the college there to start the athletic training program. I knew this is what I wanted to do with my life and I was excited to start this journey.
A few weeks into school starting, I decided to sign up for Match dot com. I really didn't want to find my soulmate or anything like that. My intentions were to meet some people and hopefully extend my friend circle since I didn't know a single person in Idaho outside of the roommates I just met. I'm a pretty social person so I thought meeting people would be the best thing for me to get over my homesickness.
The first one I matched with was this really cute and athletic guy named Tim who was too cheap to actually pay for the service. He had instructions of how to find him on Facebook, so I went out on a limb and sent him a message. He responded really quickly and after some back and forth, we exchanged numbers.
A few days of back and forth through texting lead him to invite me over to meet him and hangout. Now in hindsight, this decision to meet as his house could have been one of the dumbest and worst things. I knew the rule of 'meeting in a public place' and yet, I still met him for the first time at his home. Don't do that. Always meet at a public place. My story could have ended way worse had this man been anyone else than who he is.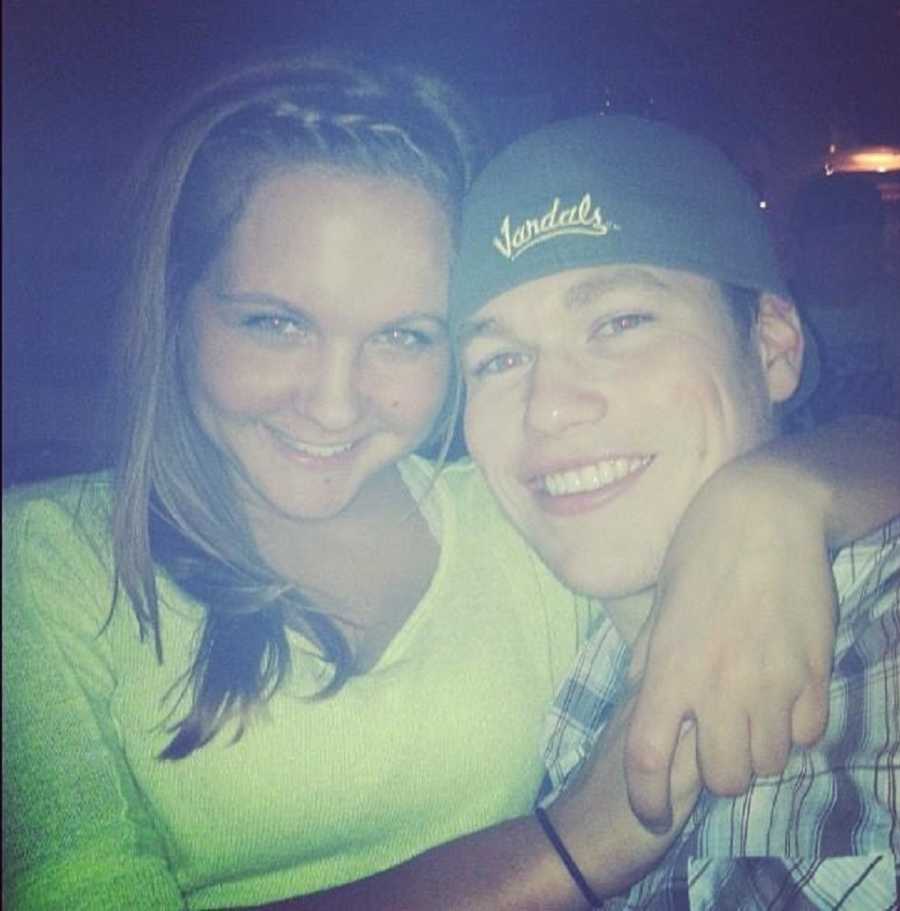 Tim opened the door and in that moment, my soul found its home. I never believed in love at first sight. But I knew in an instant this would be the man I would marry. I wasn't even trying to find him, yet there he stood. It was one of the most unbelievable moments. My future husband was standing right in front of me. I try to relive that moment over and over in my head because I never want to forget January 21, 2012.
The night went off without a hitch. From that moment forward we were completely inseparable. If we spent nights alone it was very few and far between for the next few weeks. One morning, sometime towards the end of February, we went to the store to get the morning after pill. While we stood in line at the pharmacy, pregnancy tests a little off to the right caught my eye. Something kept forcing me to look at them. The longer we stood there, the louder this voice in my head screamed to buy one. Finally, I told Tim, 'let's buy a pregnancy test instead. Then we can come back for the morning after pill if it's negative.'
He must have thought I was crazy! I even thought I was crazy. A pregnancy test? Why? I was on the depo birth control shot that you get every three months. Did I miss a shot? Crap, when was the last time I even had the shot? There's no way. I'm pretty sure I had one right before I moved. Right?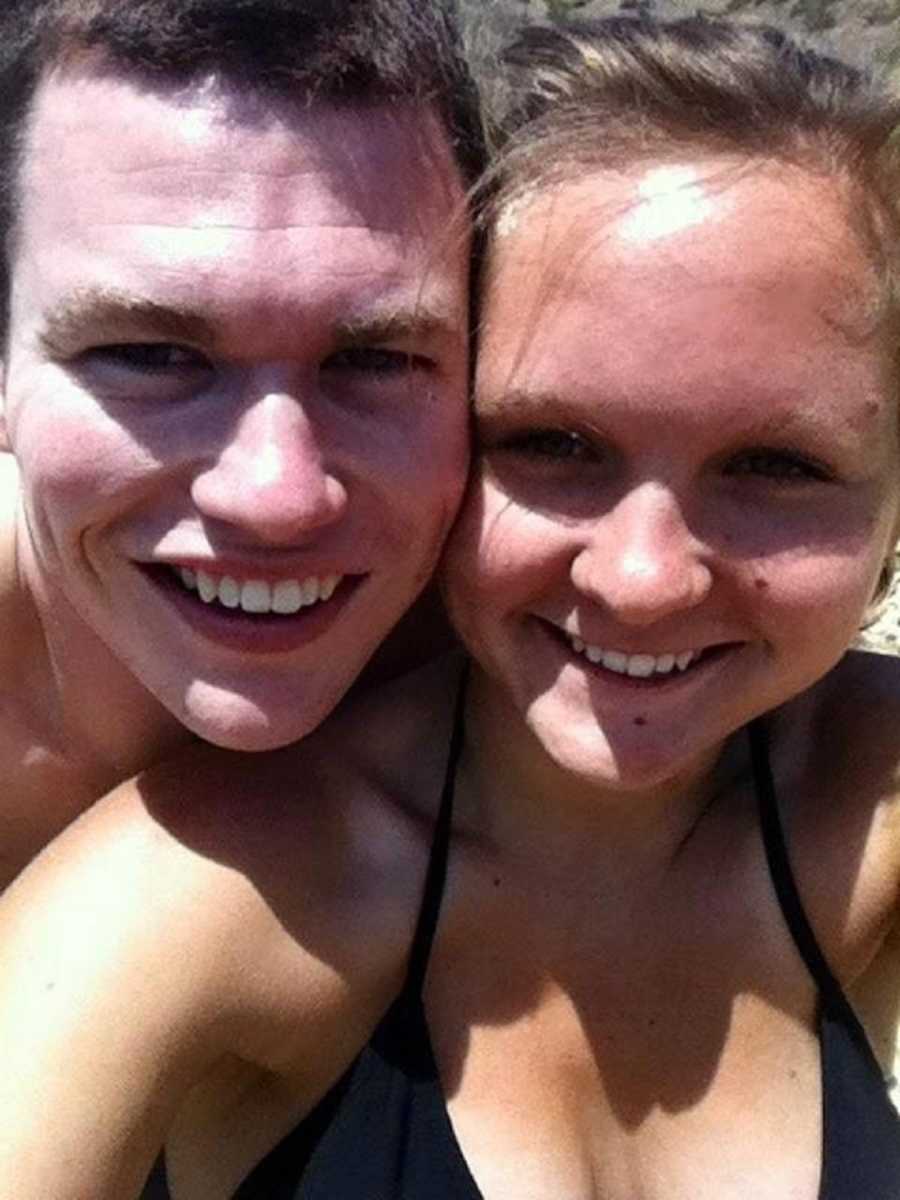 At this point in the game, I honestly thought you could get a positive pregnancy test from having sex the day before. I really had no clue that once you finally get a positive pregnancy test, you're (technically) already 4-5 weeks pregnant. I wasn't even close to understanding how that all worked. Naïve Molly, at your service.
But there I was, peeing on a stick in my best friend Rachelle's apartment with her in the bathroom with me while Tim sat on the couch in the living room. It turned positive pretty quickly. Rachelle just started bawling and the only thing I could do was laugh. Her reaction was definitely more appropriate at the time, but I took the comedic 'this isn't really happening' route. My younger 18-year-old sister had JUST announced she was pregnant. My parents were going to DIE that I was too. And I mean…DIE! Even the thought of having to tell them terrified me to my core.
It definitely made sense, though. I had been so sick and had constantly been feeling so nauseous. Looking back, I was basically a big ole idiot for not assuming I was pregnant sooner. But I guess it just goes to show how far naïve-ness can take someone.
I walked out into the living room and handed Tim the test. I don't remember much of his reaction other than sitting there contemplating what we do next. After a little while, the three of us decided we needed to see if it was actually real. We googled 'free ultrasounds' in the area and landed on Planned Parenthood. I wanted to go somewhere that I didn't have to use my health insurance since my dad was the subscriber and would surely see that bill with pregnancy written all over it. I immediately called and got into their schedule for a few days out.
I can't even remember who tagged along for this appointment, but I do remember getting an ultrasound and then sitting in a room with people explaining my options to me. Abortion, adoption, keeping the baby. They explained to me I was 10 weeks along. The math in my head didn't add up. I didn't even know Tim 10 weeks ago! It took a lot of explaining to both of us that mathematically, this baby was his. I mean, I knew it was his. But when you don't understand how pregnancy weeks work, it's very easy to assume I could be lying. Poor Tim! How confusing all of that was for him.
After a few days of beating all options to death, we knew we wanted to keep it. We were definitely not in the best place in life to bring a baby into this world, but we fought hard to figure the logistics out.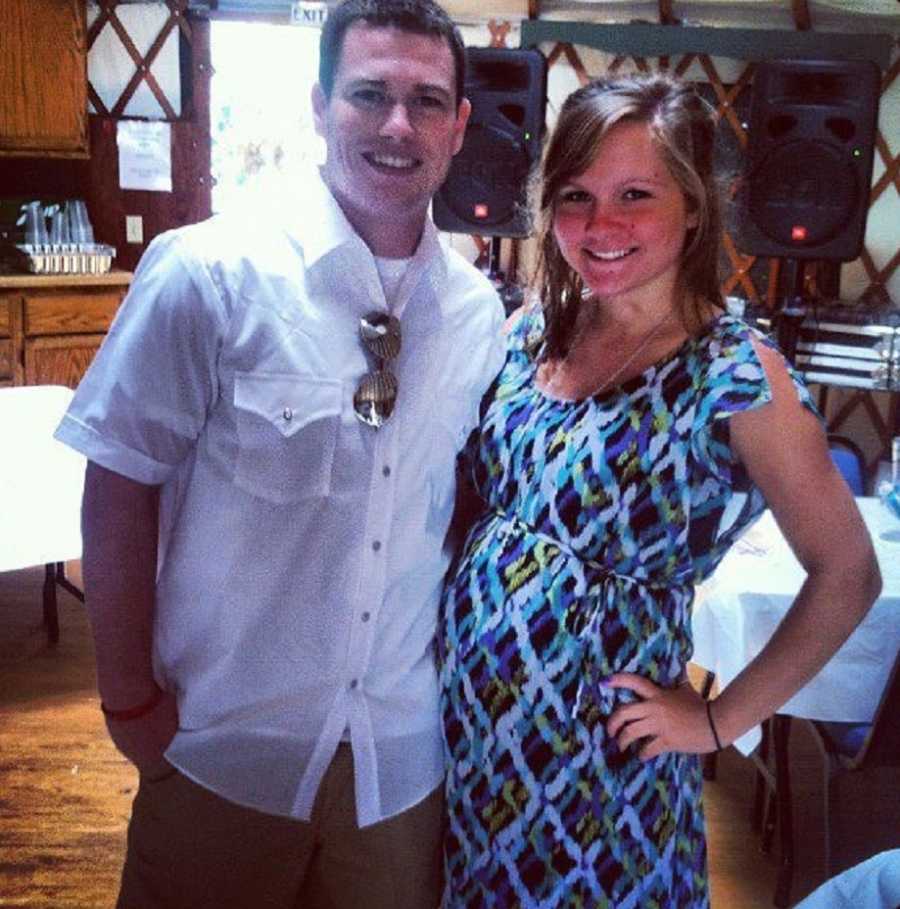 My dad flew out for a visit and I told him the news in his hotel room. It was awkward, but now it's one of my favorite memories. He took the, 'Tim does realize he's responsible for this baby for 18 years right?,' road. He never acted upset or angry. But he definitely wanted it known that Tim was still going to be responsible, regardless of how our relationship worked out. I called my mom the next day and she was more shocked than anything. My 18-year-old sister was going to have a baby just a few weeks before I was. She definitely didn't think she'd be a grandma at 45 to two kids so quickly.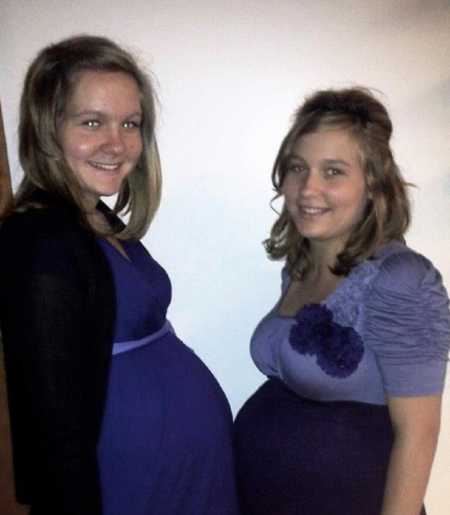 The odds were totally stacked against Tim and me. We moved into a tiny two-bedroom basement apartment that we struggled to afford. We relied a ton on family buying us our baby gear as well as all of the hand me downs we could get our hands on. But somehow, we made it through. As cliché and ridiculous as it sounds, sometimes love does prevail all.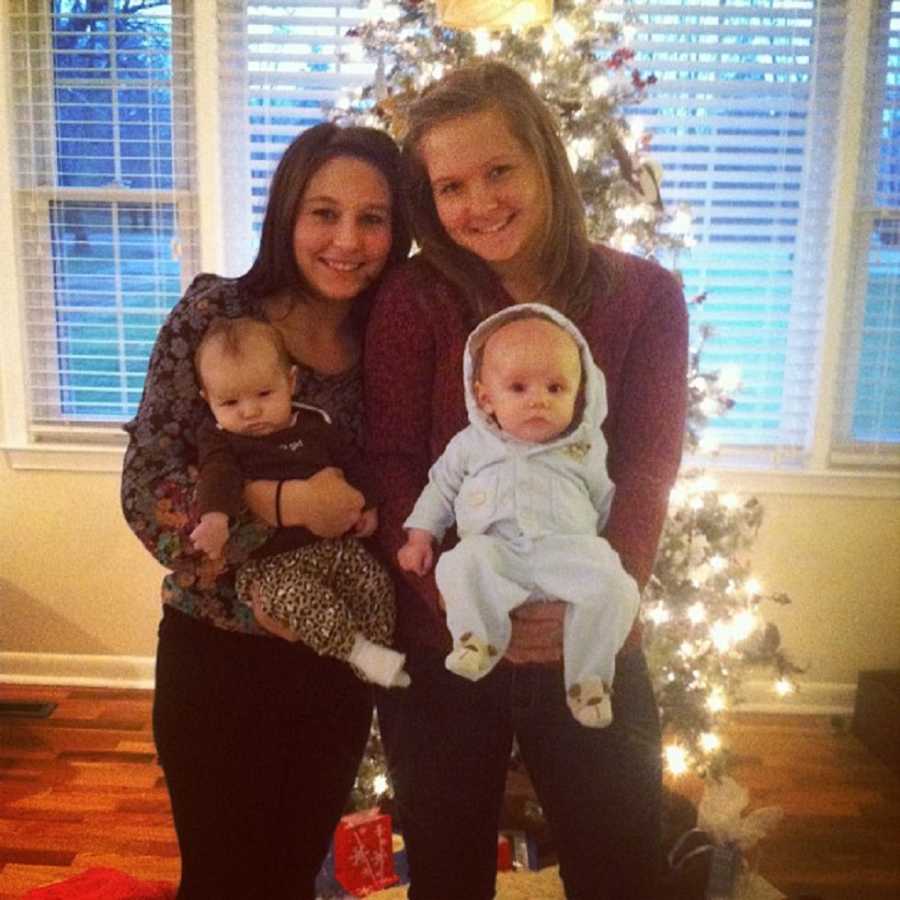 We eloped to Kauai while we were freshly pregnant with our second. We welcomed twins shortly after that. Then we adopted my brother when he was 2-years-old. We somehow survived having five kids under 3 years old, which I think has totally been blocked from both of our memory. Our 'we will never have any more kids, ever again' comments have been laid to rest since getting pregnant with our sixth, whom we will welcome in a few weeks.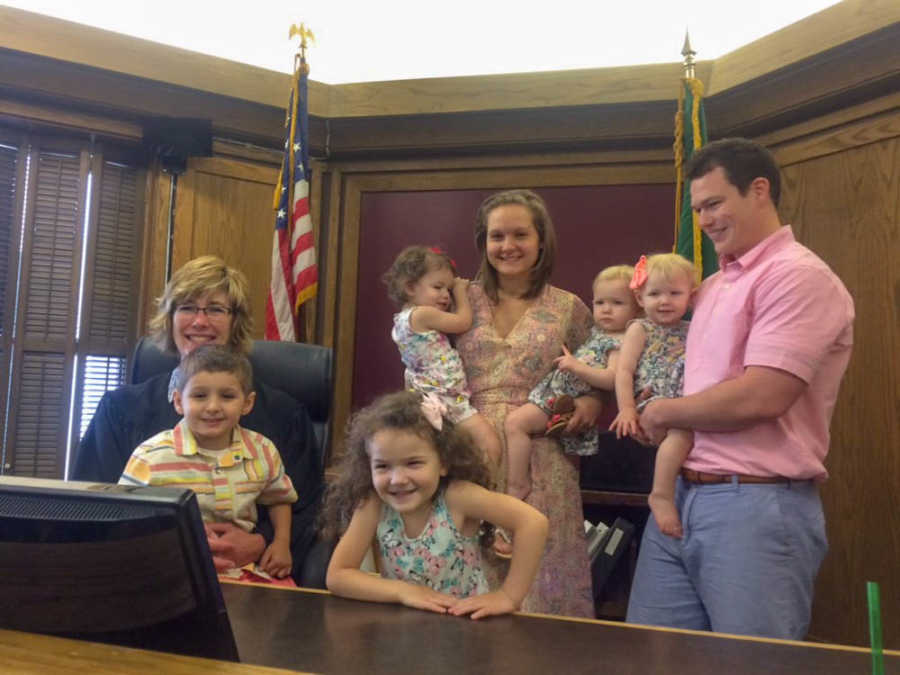 Neither of us ever thought we'd have six kids by the time we were 28 and 30, but here we are! It's exactly what we never knew we wanted or needed. Being married to Tim has been one of the easiest things I've had to work at. The amount of mutual respect has never gone unnoticed and our marriage has always stayed so strong and true throughout the ups and downs.
Stories like ours typically don't end like ours does, and it's never been lost on us how grateful and thankful we are to have found each other the way we did. I believe we would have stayed together even if we didn't have our first daughter so quickly. But by having her, she quickly forced us to get our life together… together."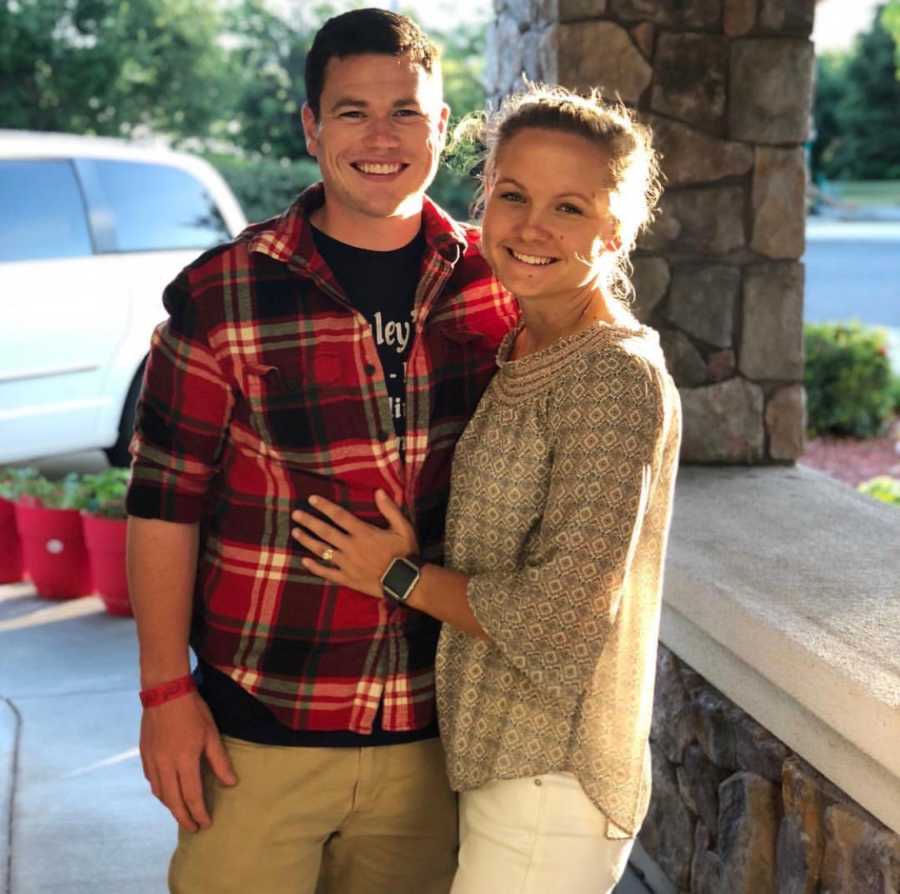 This story was submitted to Love What Matters by Molly Schultz of Tried and True Mama. Submit your own story here, and subscribe to our best stories in our free newsletter here.
Read more from Molly here:
'Before he died, he requested to be cremated. It seemed like a no brainer. You know, 'Easy peasy, I'll get to keep a part of him forever and I'll be thankful for that.'
'I bawled to my husband, 'I came in for kidney stones. Now I'm praying we don't have a micro-preemie in the NICU in California when we're moving to Colorado in 3 weeks.'
Provide beauty and strength for others. SHARE this story on Facebook with your friends and family.