"Two months before our wedding, we were surprised to find out we were expecting. Pregnancy was never really part of our plan, as we expected to struggle with infertility. We were both thrilled and shocked by the news. We had our dream wedding on the beach and were excited to go home, begin house hunting, and preparing for parenthood.
The call we had been waiting on quickly came after we returned home. 'You are going to have a healthy baby girl,' the nurse told me on the phone as she read the results of the genetic testing we had done. Everything looked perfect. We named our daughter by that evening and were taking pictures with pink balloons and a sign that read, 'Kinley Mae is on her way.'
I immediately started filling the nursery closet with all things pink and began dreaming of our sweet girl. We went in for our routine anatomy scan at 20 weeks. Kinley was very active that day, and the ultrasound technician couldn't get all the images she needed. They wanted to send us to a specialist but assured us we had nothing to worry about.
A few days later, we went to our follow up appointment. 'Yep, that looks like Hypoplastic Left Heart Syndrome… hang in there champ,' the doctor said to me as he quickly looked at the images of Kinley's heart before rushing off. They wanted to see us back in a few weeks. At 24 weeks pregnant, we found out there were several other signs now pointing to a fatal chromosomal disorder. We declined further testing and decided to wait until Kinley was born to have definitive answers.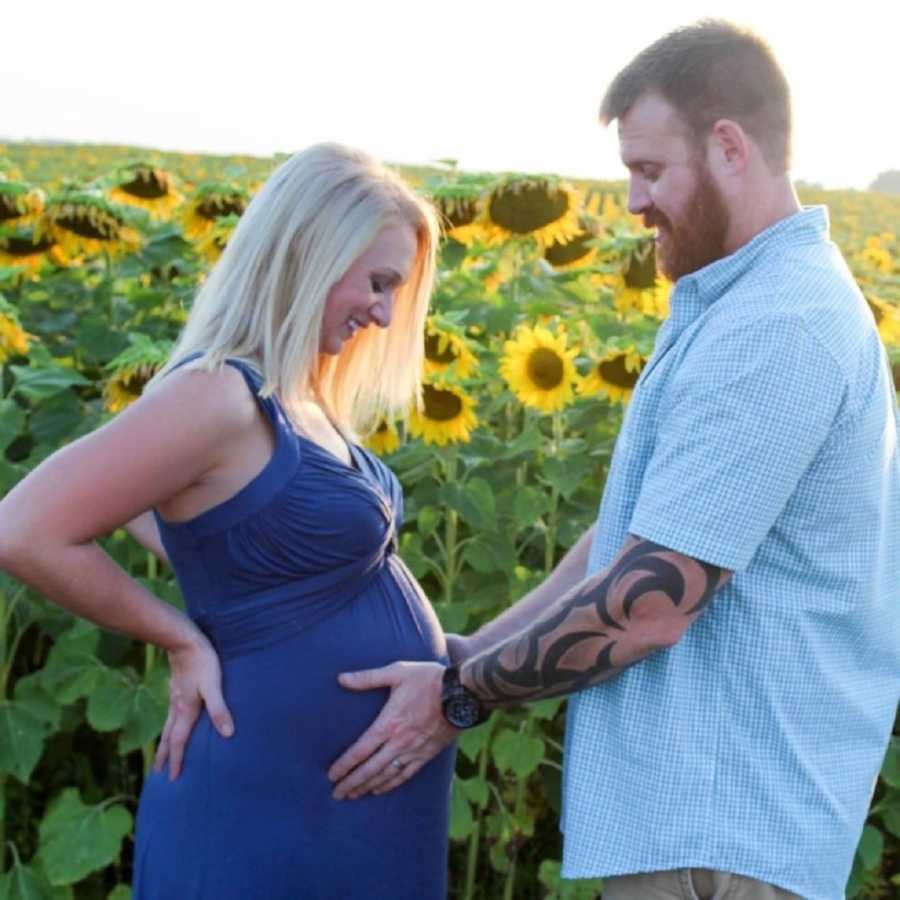 The months to follow were filled with tears and prayers. I remember begging and pleading with God to heal Kinley. I also remember beginning to accept it may be God's plan for us to lose Kinley. At that point, our prayer was to be able to meet and hold our daughter and get to make joyful memories with her. All the research I did online made me realize it would be nothing short of a miracle for us to carry Kinley full term and get to hold her alive on this Earth.
At 30 weeks pregnant, we began to have one ultrasound and one stress test per week. We wanted to continue to do what was best for Kinley and were prepared to deliver at any time.
'I'm having a hard time finding her heartbeat,' the nurse said at our 37-week appointment. They moved us to an ultrasound room and about six nurses we had gotten to know came in the room and were all holding hands and standing around us as we looked for Kinley's heartbeat on the screen. It was in sync with mine, which is why they couldn't find it previously. This also meant it was too low, and it was time for an emergency C-section.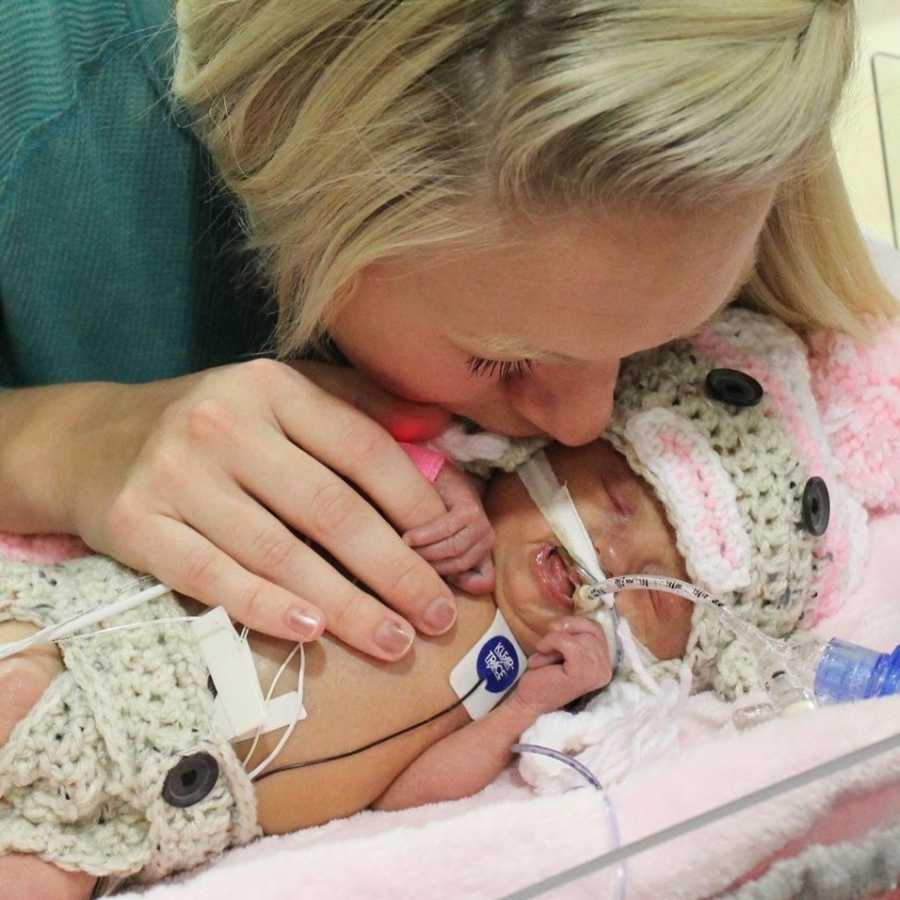 God gave us our miracle that day when Kinley Mae was born weighing 4 pounds and 12 ounces. God gave us 10 precious days with our sweet girl. It was confirmed when she was 3 days old that she did have full Trisomy 18, which is fatal. In her 10 days of life, she brought us immeasurable joy. She taught us that joy and grief can exist at the same time. God also used Kinley to teach us to be present, focus on the joy, and not be buried in anxiety about the future, three lessons that would be extremely important in our journey as foster/adoptive parents.
About a year after losing Kinley and a significant amount of healing later, Justin and I began to talk about having more children and what road we would take to get there. We decided to see if we could get pregnant again. However, it only took a few months of trying for us to both feel like God was calling us in another direction.
In December of 2016, we decided to pursue our dream of adoption. We knew there were a few different routes we could take. After a lot of research, prayer, and discussion, we landed on foster-to-adopt for several reasons. One of those reasons being that the need is so high for foster and adoptive parents in the U.S. foster system right now. (Did you know there are over 500,000 children in foster care in the United States?)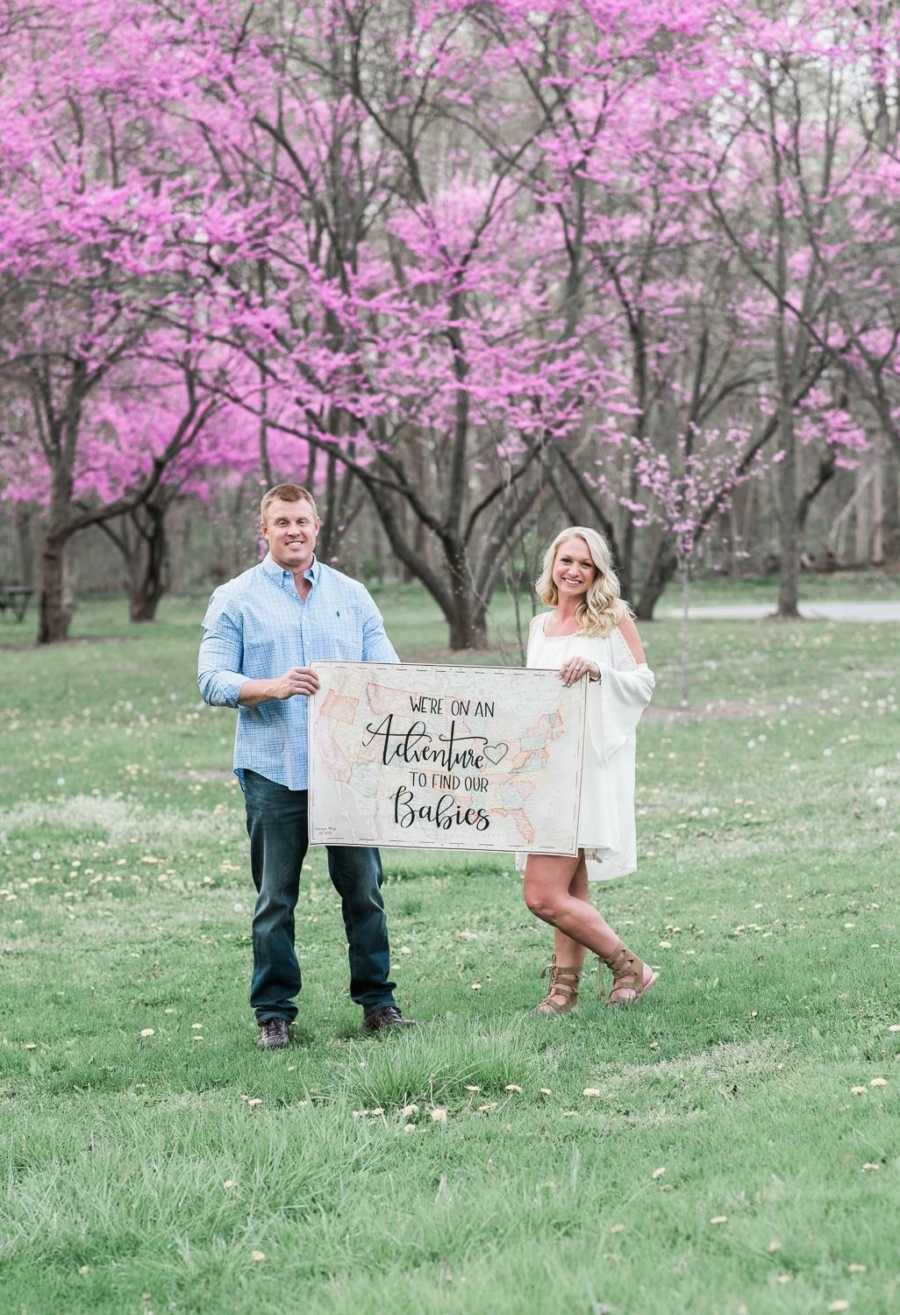 Fast forward 6 months of classes, training, and paperwork, Justin and I received the phone call that we were officially licensed! The following day (yes, that quickly, the need is HIGH) we received a call from our agency. 'I have a 6-week old baby girl in the NICU, she is ready to be discharged. There is a friend of the mother pursuing adopting her from another state. Out of state placements fall through a lot, so I would encourage you all to take this. It looks like she will need an adoptive home if that placement falls through." We quickly said yes, and were on our way to the hospital. We fell head over heels in love with Baby A. She was so sweet and beautiful. Our love for her was no different than our love for Kinley Mae. We were in awe of this little bundle God was entrusting us with, for however much time he had planned.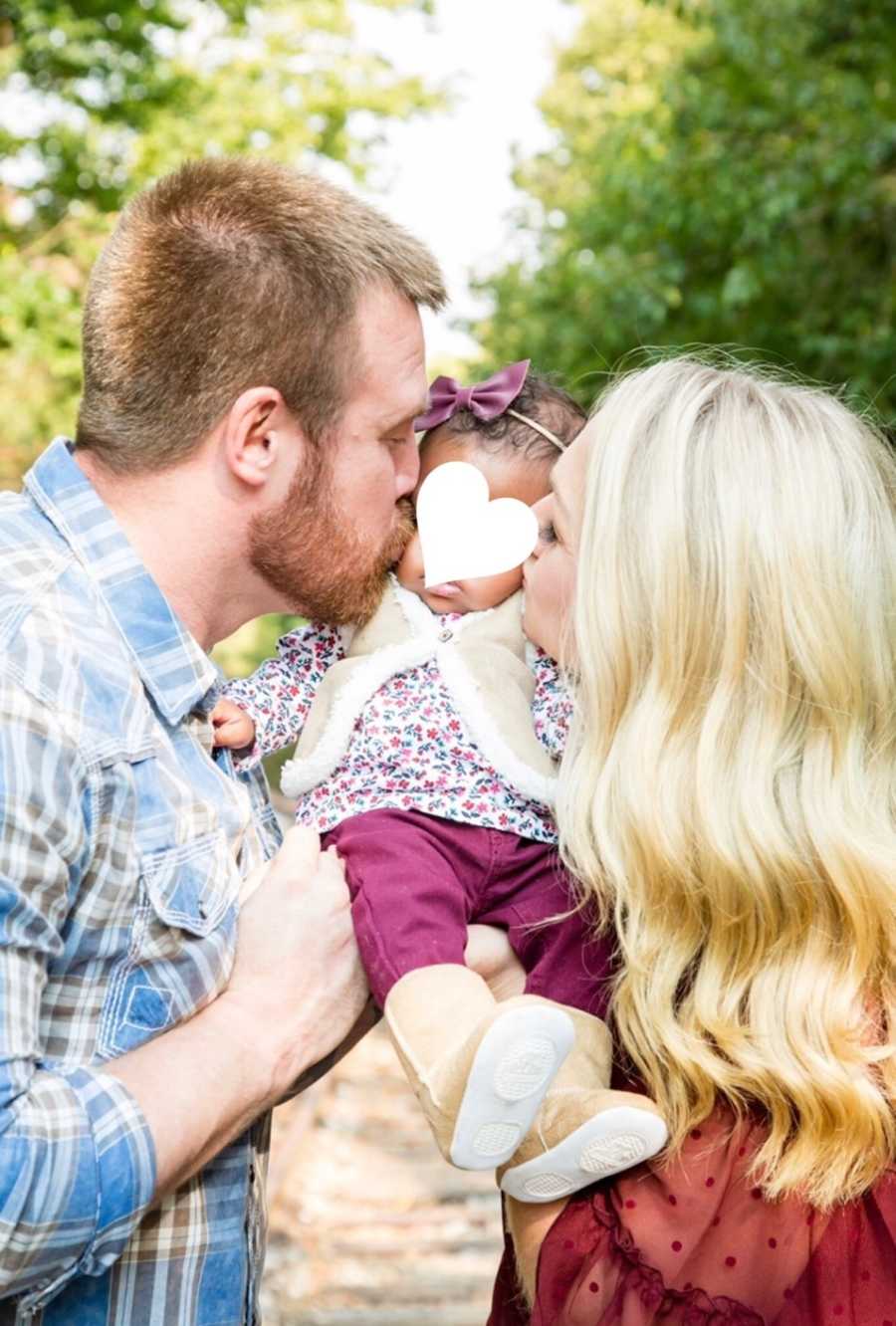 After 5 months of loving Baby A like our own, we got a phone call that crushed us. 'The bio-mom is signing over her rights to her friend, and the judge ruled for us to move her. She will be there in an hour to pick her up.' The court ruled to honor her bio-mom's request, and Baby A was sent to another state. She was sent to her forever home. This is the point it would have been easy to back out of this whole adoption journey. Losing another daughter, breaking down to ugly tears for days after she left when her little clothes would appear in the pile of laundry I was folding, or another pacifier would be found in the car or another bottle in the dishwasher… but this was when we remembered those important lessons God taught us through Kinley. We chose to focus on the joy. Baby A learned love and attachment because of us, which would allow her to attach quickly and easily to her adoptive mama. She also was already in her forever home at just 5 months old. She went to a loving family, and she also brought us a lot of healing after losing Kinley.
God did not bring us to the struggle of losing A without amazing planning. The thing is, 3 weeks before Baby A had to leave our home, God brought us our forever daughter, Chloe. We had known about Chloe for 9 months. She was actually our adopted nephew's biological sister. (My brother adopted her brother before she was born.) When we had heard she needed a forever home, we contacted her caseworker out in Colorado. Never in our wildest dreams did we think we would actually be chosen to be her forever family, but God is SO good and his plans are greater than ours. Chloe finally came to us as her adoptive placement, when she was 15 months old.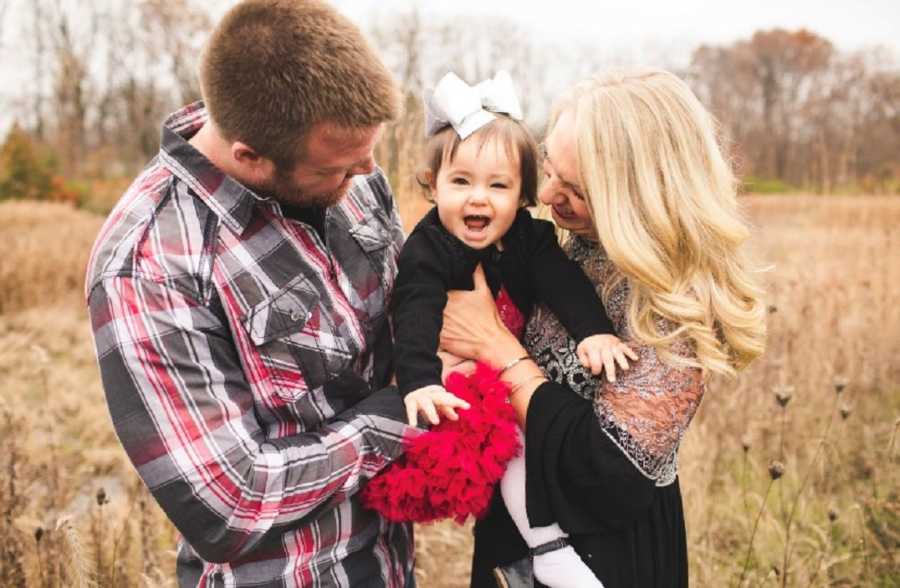 We spent the next 7 months bonding with Chloe and healing from the loss of A. We had to prepare our hearts again before taking another placement. In May, I texted our agency to let them know we would like to be back on the call list. We were ready to grow again. The very next day at noon, our phone rang. It was our agency. 'I just saw that you were back on our call list this morning, and I just had a referral come in for a 16-day-old baby girl in the NICU who is ready to be discharged…' There were a lot of indicators in her story that suggested her case may lead to adoption. But truth be told, Justin and I had agreed we would not take another infant. NO WAY would we put ourselves in a situation to experience infant loss… AGAIN. We had 5 minutes to decide if we would take placement of Baby K before they looked for another family. In those 5 minutes, we came up with so many reasons to say no… a big vacation just 3 weeks away, having two children under 2, the list goes on… after all, we already agreed infants were going to be an automatic no. BUT, in those 5 minutes, our hearts were heavy and we heard God reminding us this sweet baby needed attachment more than we needed to be protected from it. We said yes and by 5 o'clock, Chloe was meeting her little sister, Baby K.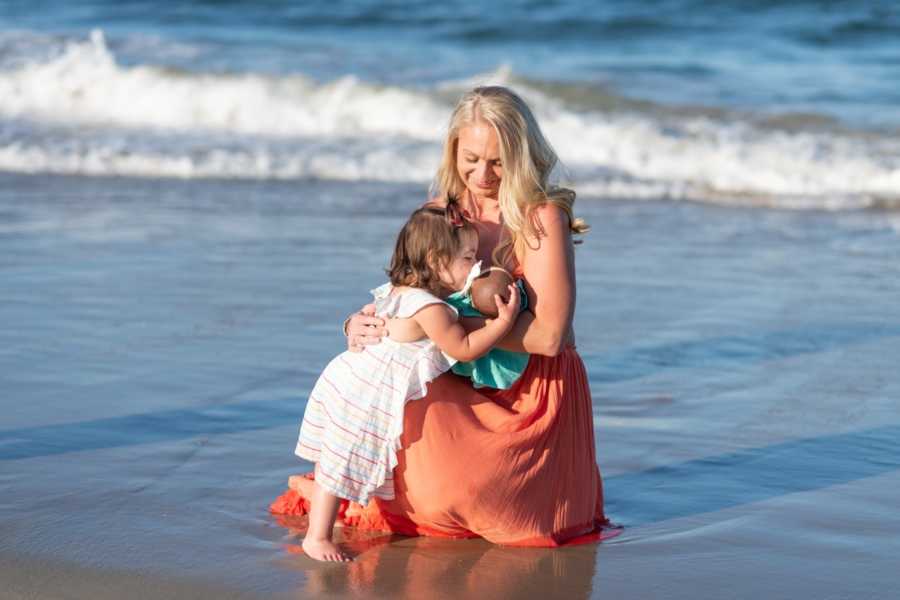 Prior to being placed with K, Justin and I had talked a lot about it being on our hearts to take an 'older' child who specifically needed an adoptive home. We had dreamed of getting a forever sibling for Chloe, maybe a 3 to 5-year-old. However, when the call came about Baby K, we figured God had other plans. Two months after being placed with K, we were not even on the call list for placement and God's plan still prevailed. A foster mama friend of mine had heard of a sweet almost 3-year-old who needed a forever home. She told the girl's caseworker about us, and we were saying yes to her placement a few short days later.
Having three children under 3 years old was never our 'plan,' but God had put that desire on our heart for months to adopt an older child, making it a clear decision for us on growing our family again, so quickly. Over one weekend, Sweet M transitioned to our home. She came to us at almost 3 years old and began calling us Mommy and Daddy almost immediately. I will never forget the moment she looked at me on her third day in our home and said, 'You're my MOMMY!' with pure joy and excitement.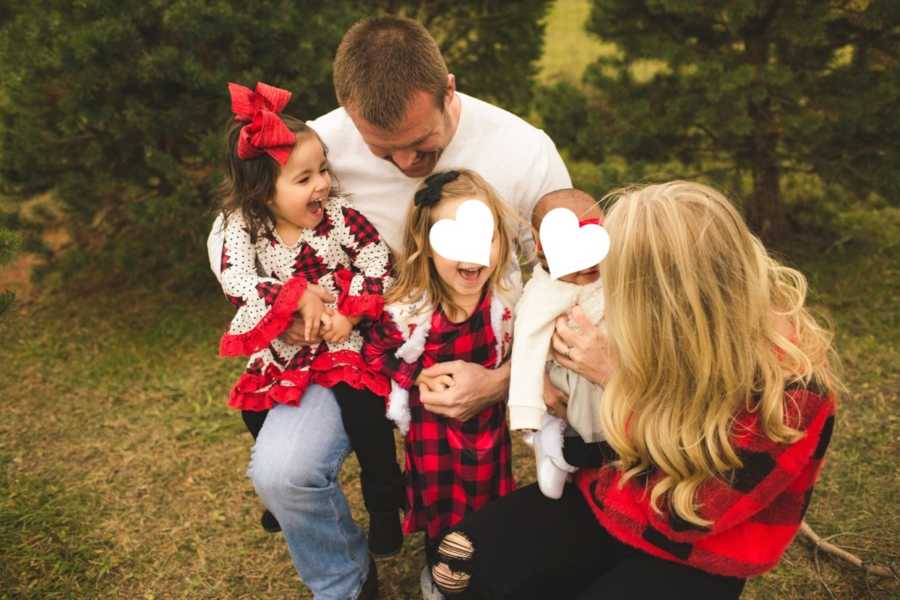 So if you have done the math at all, after 13 months of being licensed foster parents, we became a family of five, with three beautiful girls under 3 years old. Our life quickly became busy, messy, beautiful, and full of joy. After M joined our family, we spent the next 6 months attaching, growing, and healing as a family as we waited on fulfilling our dream of adopting.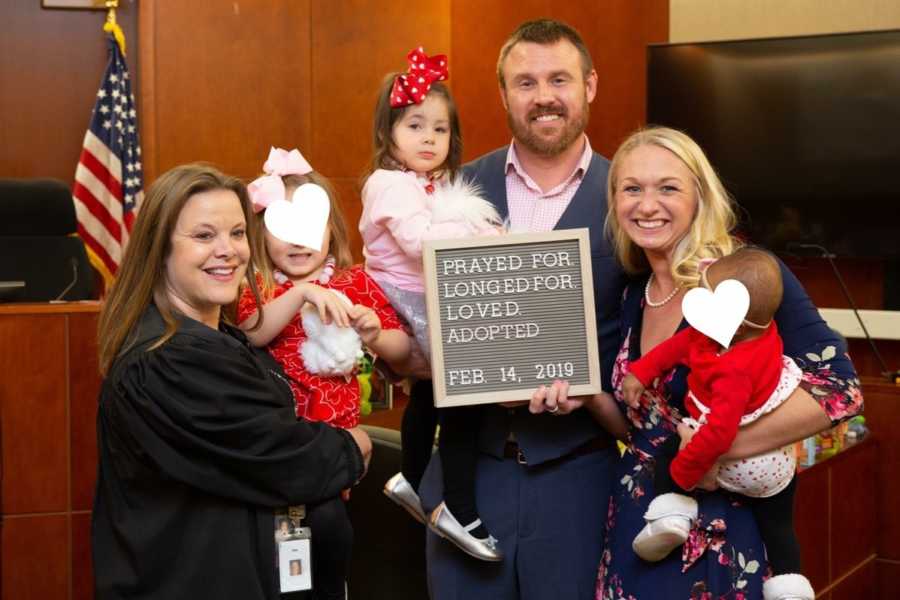 On Valentine's Day, 2019, we received an incredible gift and finalized Chloe's adoption. The day was perfect and filled with so much love and joy. Her adoption was out of state, and we still had over 30 people in the courtroom to celebrate with us. We waited so long and went through so much to finally have a forever child. It was a very emotional day. I was doing great holding it together. I blinked back tears as the caseworker and attorney spoke highly of how Chloe was doing in our home and how meant to be we all were for each other. Then the judge looked at my husband and I and said, 'Thank you for taking in a child in need.' Without missing a beat, my husband replied, 'We needed her more,' bringing me to tears. There is so much truth to that statement. We needed Chloe, and we are incredibly blessed to be her parents forever.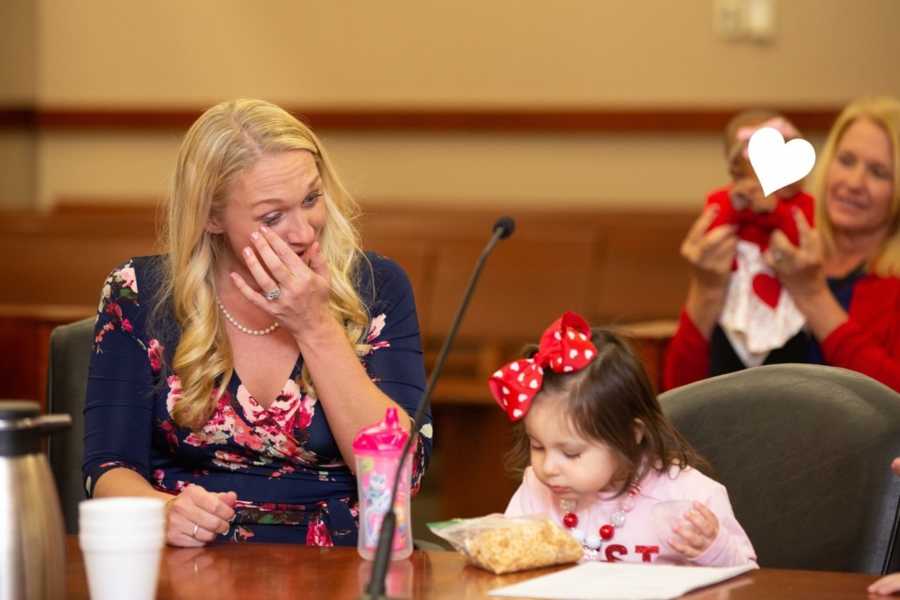 Another special part of Chloe's adoption was that both of her biological brothers and their adoptive families were there to celebrate with us. My brother adopted Chloe's brother, and we have built a friendship with the family who adopted Chloe's other brother. We are all committed to supporting each other while raising these amazing kiddos and keeping them connected for the rest of their lives. It is absolutely incredible to witness the three of them together and the natural bond they have.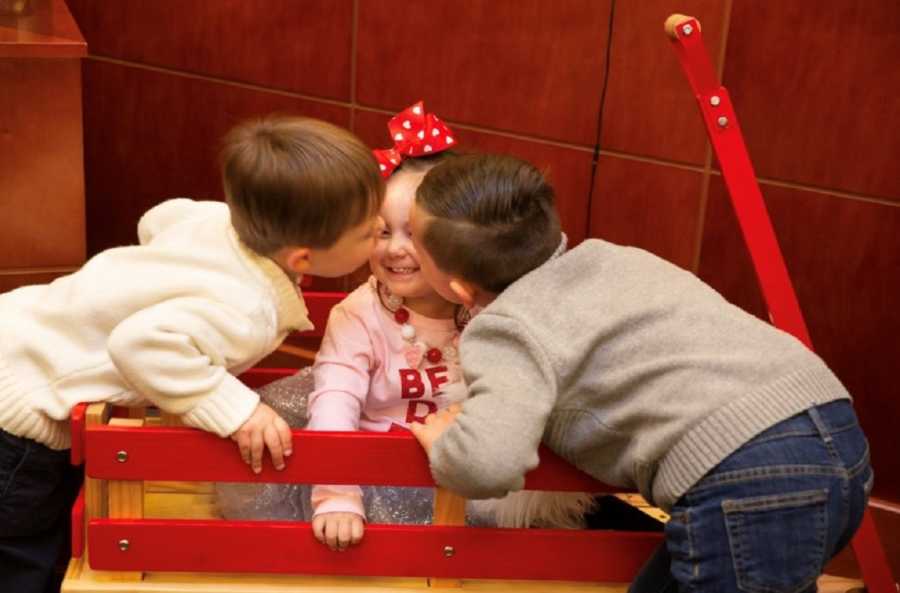 Though our story is long, it is still just the beginning for us. We are a few weeks away from M's adoption now and plan to continue growing our family through foster care and adoption.
My advice to any person going through a hard time is to always keep your focus on the joy and stay open-minded about God's plan for your life. Your life does not need to look like anyone else's for it to be full of joy and beauty. It would have been easy for us to fall apart over infertility, infant loss, or a failed adoption. Instead, we have chosen joy. We have trusted God's plan, and let me tell you, his plan does not disappoint!"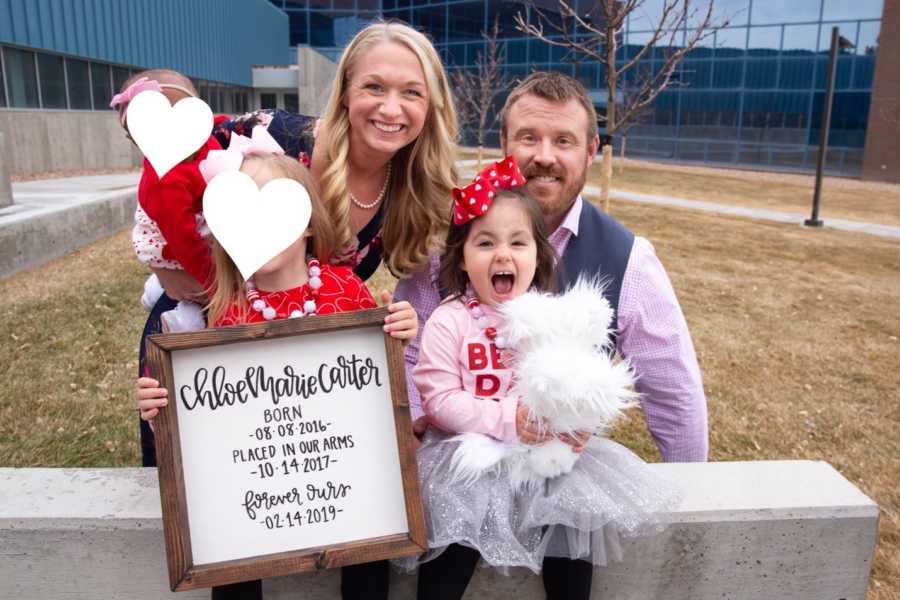 This story was submitted to Love What Matters by April Carter. You can follow their journey on Instagram. Do you have a similar experience? We'd like to hear your important journey. Submit your own story here, and subscribe to our best stories in our free newsletter here.
See more beautiful adoption moments:
'Would you be willing to adopt a baby girl?' The day we matched, we saw two blue lines of our own. We were terrified.': Woman surprised with pregnancy during adoption, becomes first-time mom to 2 newborns
'This boy is never going to be up for adoption. Don't get too attached.' It was too late. I was in love with him.': Foster mom fights for her adoption journey, 'This is what I waited for, prayed for'
Are you or someone you know looking to adopt? Please SHARE this story on Facebook to make them aware there is a community of support available.