"Our journey of less than five years has been quite the adventure. We were married in Katie's hometown of Longview, TX, population of about 100,000. Less than a year into our marriage I started to feel a strong calling to be a pastor, and Katie agreed. We started praying about it, and sent resumes to a few places, but nothing serious ever came up. But in Christmas 2014 we were heading to my hometown in West Texas, and a retired pastor in that area asked if I would be willing to preach for him at a little church in O'Brien, TX. I preached, and the search committee asked us that day if we would be interested in coming, or at least considering being the pastor there. As the lady was asking, Katie was in the background shaking her head, 'no!' But after a lot of prayer, we knew it was the open door for us, so we packed up and left Longview (population 100,000) moving five hours west to O'Brien, with its population of 100.
But before leaving Longview I had gotten involved with Buckner, and had been working with them on some local ministry projects in poorer neighborhoods and schools. Katie also became involved, and we began to see the needs for children, realizing many had difficult home situations, and many had been removed from their homes by CPS. Buckner also licensed foster parents, and so before leaving Longview for O'Brien we had started the long process of becoming a licensed foster-to-adopt home with the State of Texas. We were able to see the needs of children in Longview, and their need for good homes, and while we were still a young couple, we decided we could provide a good environment for a child in need.
When we transitioned to O'Brien we had to transfer agencies as Buckner did not license in our new area of Texas, and so as we moved towns, we also moved agencies and restarted the process with an agency out of Abilene, TX called Christian Homes.
On Friday, December 11, 2015, we were the perfect placement for our son. Jett was two months old, and had been care flighted from Abilene, to Fort Worth, to Cook Children's Medical Center. Jett had been born with methamphetamines in his system, so he was a very small and sick infant, but now he had also suffered a broken femur. So when our agency called, they literally asked us: 'There is a two month old baby at Cook's in Fort Worth, who is suffering from meth withdrawals, and has a broken femur; would you be willing to take him?' I didn't really think there was any way he could have been in worse condition. And to top it off, Katie and I were pretty convinced that we were going to take in older children, at least around 2 years old. So here we had a call for an infant, but not just any infant, a very sick infant. We were pretty floored with the call.
Neither of us had any lengthy experience taking care of babies, and this baby was so sick, that CPS was actually breaking protocol and asking if we would be willing to drive the 3 hours to Fort Worth ourselves, so we could be instructed by the nurses themselves as to 'how' to take care of this infant. There was an old quote, often attributed to John Wesley, but no one is sure where it originated, and it was one that had been going around in my heart and mind recently, and I had shared it with Katie off and on, but at this moment it seemed to fit perfectly. The quote is this: 'Do as much good, to as many people as you can, today.' After hearing the situation of this child, I just remember telling Katie, 'this little guy could use some good, and we could do that for him.' So, we agreed to take the placement, and as fate would have it, CPS was actually looking for a placement about twenty miles from us, because that is where the investigators had come from. For the first time we were actually the ideal foster home because we lived in little O'Brien!
The experience at the hospital was pretty overwhelming. At first, we were hardly allowed on the NICU floor, because Jett was listed under a fake name since he was a victim of child abuse, and the one nurse who knew our names was not currently on the floor, so the nurses weren't even going to let us see him! Looking back, we are so thankful of their procedures, and their willingness to protect him. That night we really saw the baton handed, as they had cared for him for a couple of days and were now entrusting his care to us. We probably didn't engender too much hope in their eyes. Every question the nurse asked us about feeding a baby, changing a baby, or really 'anything' with a baby was 'no.' So not only had I never changed a baby, but here was a baby in a full body Pavlik harness, who I was going to have to change over the next couple of months.
I tell everyone that changing his diaper with that harness on was like trying to diffuse a bomb. It was literally the game of Operation only played out in real life. The harness wrapped around both legs, but then was connected to his chest with straps, which also went over his shoulders. And again, he's in the harness because his right femur is broken, so imagine them telling you to change his diaper but 'not' to touch his leg; impossible. So for those first two months just about everything a baby does, he did with extraordinary pain. He was able to take very small doses of Tylenol, but that was all the pain relief he could have, as he was only about 8-10 lbs.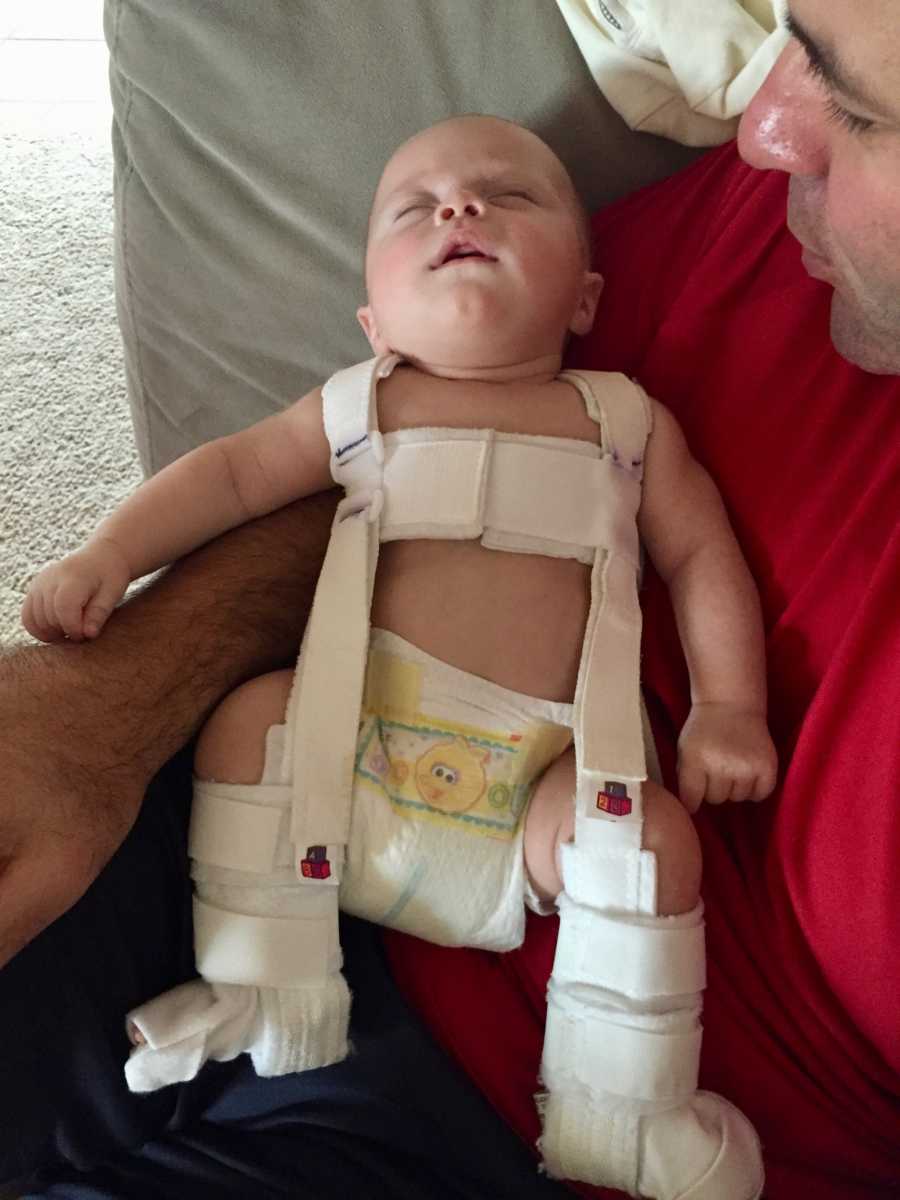 Those first few weeks were hard. Not only was he a crying baby, like every other two-month-old, but he had severe injuries and had experienced quite a bit of trauma. But we made it through and it wasn't long before his eyes were brightening, and his leg was healing.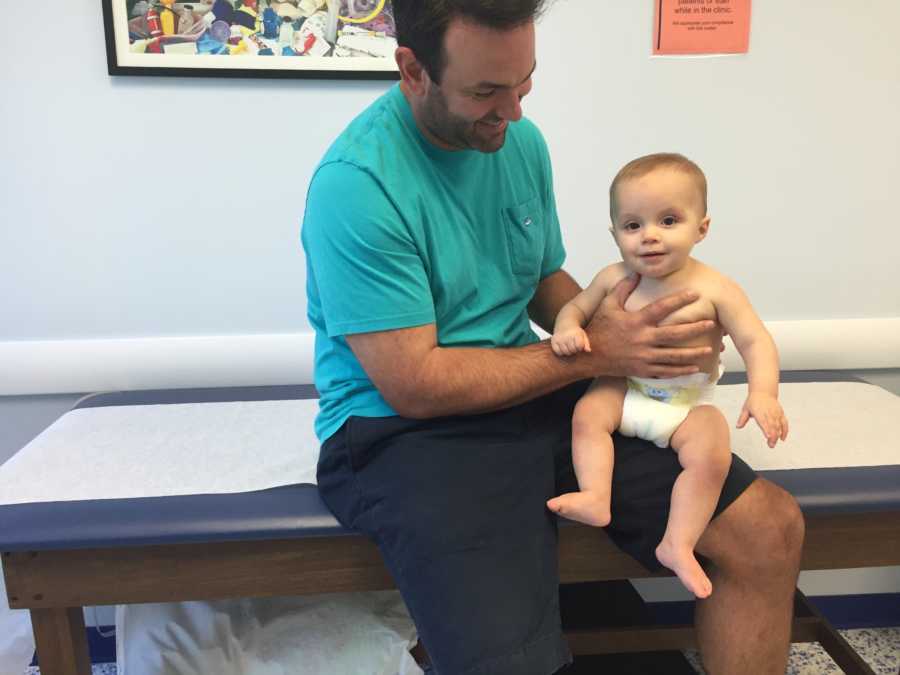 Jett was a foster child, so after having him for a couple of weeks and trying to nurse him back to health, we had to start taking him for visits to his family. He was in the care of his family when his leg was broken. Both his parents checked into rehab a few months later, and off and on we continued to take him to visits. Nothing really happened at all, for probably the first six months to a year, there were hardly even any court hearings. But after about a year CPS began to say that parents had finished rehab, and they were both asking for custody of him back. At this point we asked CPS what investigations or charges were pending against family members for his abuse, and CPS had no answer. I began making phone calls myself to both the district attorney and the local sheriff, and neither had done any type of investigation. Somewhere between CPS and law enforcement there were claims of one or the other dropping the ball, and to this day I don't really know which one is at fault. Things continued to just stay at their original course with visits every other week, until the case had been going for around 15 months. At that point, permanent decisions have to be made and CPS has to have the case dismissed by 18 months. Parents were again asking for custody, but without any type of explanation of how his leg was broken, we continued, and CPS agreed, that him remaining with us was in his best interest. Parents and extended family continued to try and get him back, and eventually, CPS requested a jury trial to determine 'where' Jett would be placed.
The past 18 months had been difficult, between his healing and the not knowing where he would end up, but week of trial was perhaps the most stressful week we had ever endured. We had hired our own lawyer, so now we are not only emotionally invested but we are financially invested as well, and again, believing in our 'do as much good as you can.' We certainly didn't have the money to pay for this type of legal proceeding, but we had determined long ago we would always do what we thought was best for Jett. Arguments at trial lasted for 5 whole days, with CPS resting on the next Monday morning, and the jury being given the case around 4pm that Monday afternoon. They told us that a good rule of thumb was that for every day of trial, you could probably count on two hours of deliberation, but the way the case had gone, we knew it should be a pretty easy open and shut case if the jury saw the facts the way we did. And sure enough, after two hours (which we hoped it wouldn't take that long!), the jury came back and delivered a verdict which terminated his parent's rights to him and gave us full custody.
His paternal grandparents had also been parties to the lawsuit and were also seeking custody, in addition to both parents. We certainly felt that it may finally be over that day, but over the next six months the attorneys for both the parents and grandparents continued to file motion after motion, trying to overturn the jury's verdict, and we found ourselves back in court at least 2-3 other times for hearings, and again, further adding to the mental and emotional toil, as well as the legal bills. But about six months after the jury's verdict their appeals were exhausted, and we were finally free to adopt Jett Brien Shira. His case was finally closed on January 11, 2018. After spending 821 days in foster care, all with us, and literally 820 days after we picked him up from the hospital with his broken leg, he was finally a permanent and legal member of our family. It has been the longest and most excruciating journey you can possibly imagine, but also the most rewarding ending we could have ever imagined.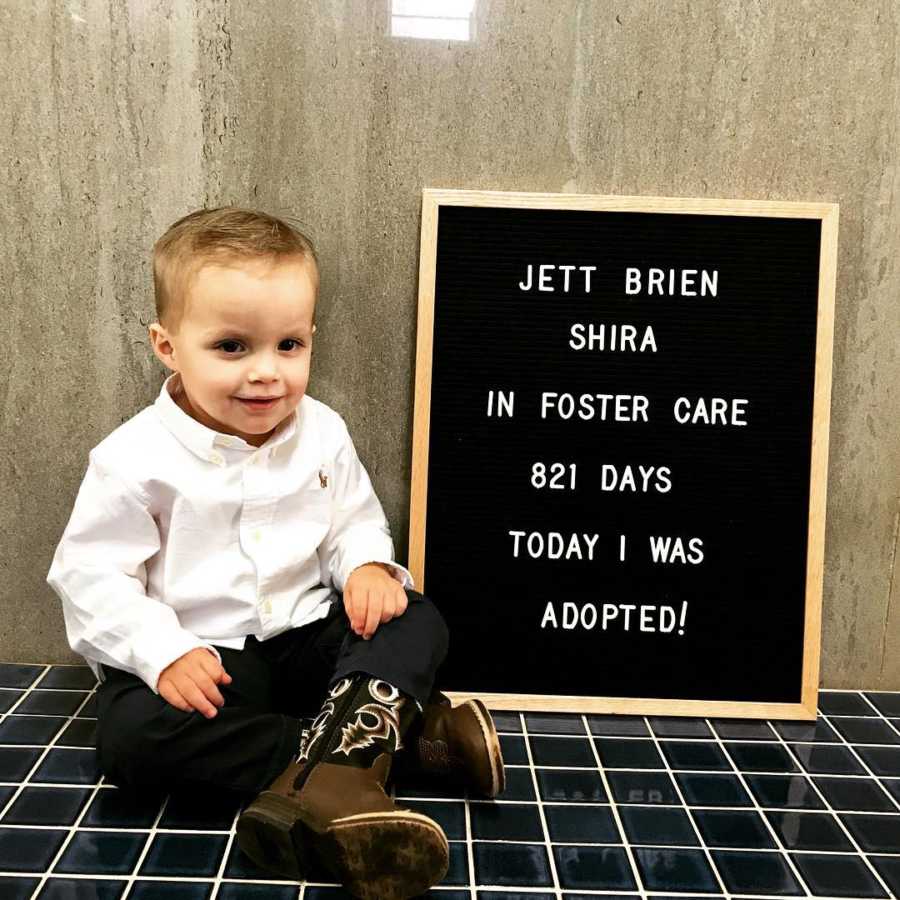 Today we are a family of 3, although that could change at any moment because Katie was due with our fist biological child on May 2nd!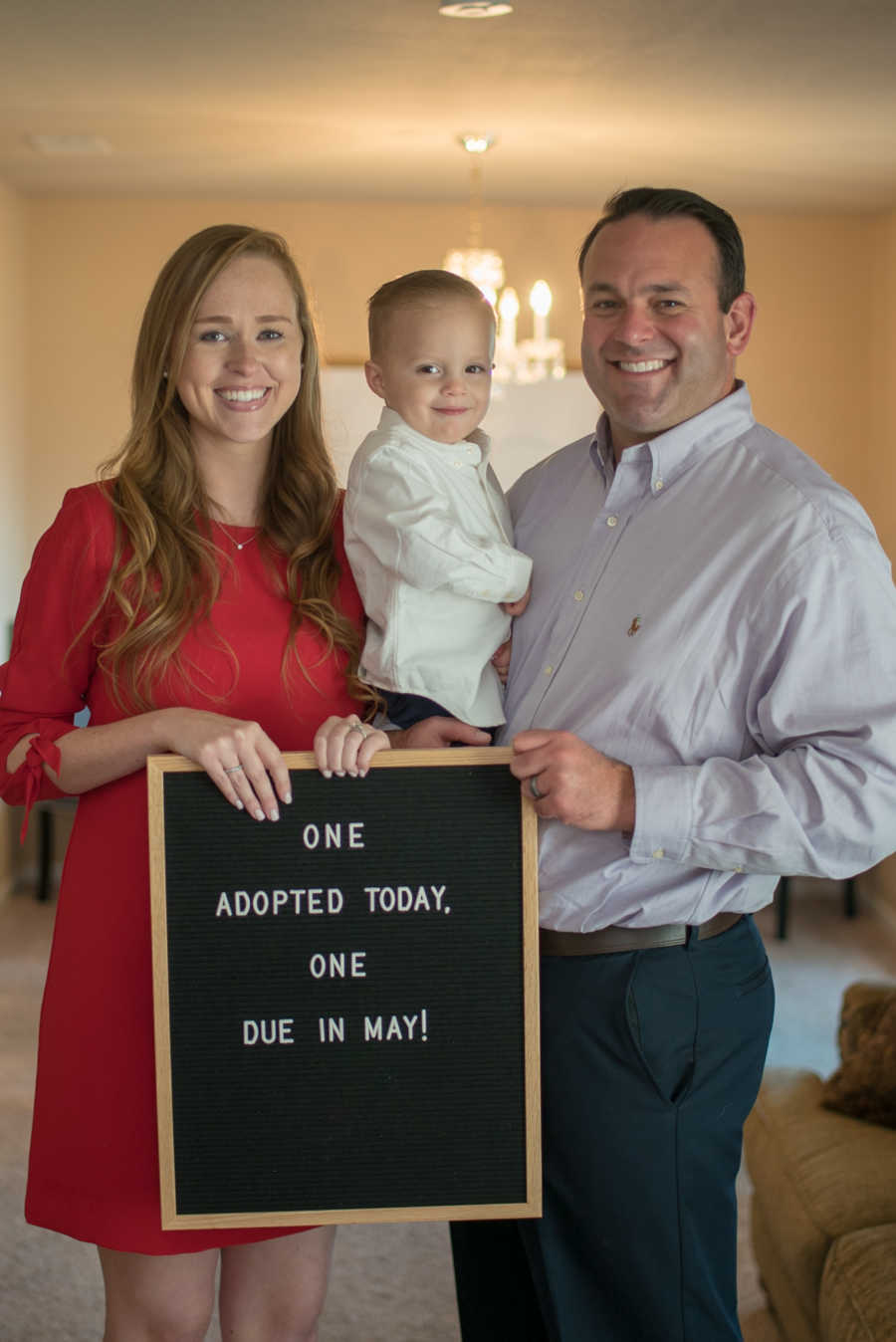 We also no longer live in O'Brien as a church in Coleman, TX called me to be their pastor in April of this year. So today we are in a new home, a new town, and a new church. You'd be hard pressed to find O'Brien on any map of Texas; it's small. And some have always asked us how we ended up in such a place, and there are many reasons why, but one of them has to be, that this was the little town only 20 miles from where CPS would someday be looking for a placement for a very injured little boy. The church's love for us and for Jett is why we decided to have his middle name be spelled Brien, like the town, in which he came to us.
The folks there walked through the struggle with us, and even saw other children who lived in our home come and go over our three years there, and some, even after Jett was adopted, have asked us why in the world we would get involved with that process again. Our plan, once the new baby arrives and is sleeping through the night, is to once again become active foster parents. Even as I type that, it's not something that excites me; I know the difficult journey that lies ahead. The journey that either has a child come into our home, and then leave, or even the journey that ends with them staying with us. Both journeys involve pain. But both journeys also involve love. And I can't imagine having a loving home, and having room for a child in that home, and not opening the door and welcoming them in.
So often people say they love children too much to open their home and then see them leave, but I find it hard to use the argument of having 'too much love' that forces you to keep that door closed. Life is really, really, short, and I'm not sure what I will accomplish during it. But every day I can come home and see Jett, and know that at least for one small moment in my life, my wife and I did something good. Foster care and adoption is one of the most tangible ways in which we can truly love one another. I know many say that they can't imagine serving in this type of role, but honestly, we can't imagine not serving in this role. I don't think anyone who has ever met Jett could ever say, they would have closed the door if someone asked them to take care of him. Honestly, he is just that adorable! Everyone loves him! And the only reason we get to experience the joy of raising him, is because we were willing to do as much good as we could.
We hope Jett's story inspires others to take the chance in foster care and adoption. While the journey is long and hard, it's always worth it when you choose to love others, especially children in need. We hope everyone who hears his story is inspired to answer the phone and say 'yes' when someone calls with a child in need. Those children are out there, they're just waiting for someone to open the door to their home."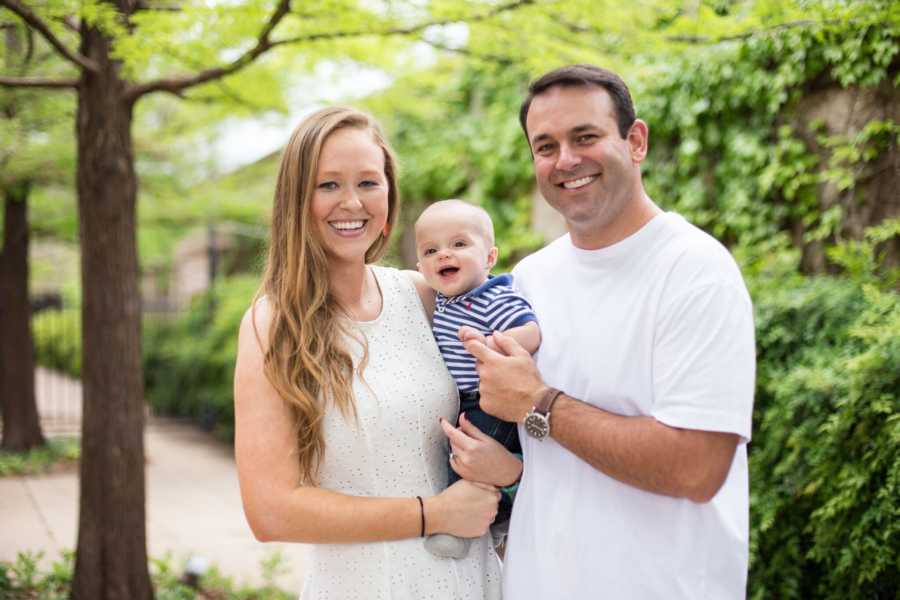 This story was submitted to Love What Matters by Chas & Katie Shira, of  Texas. You can follow their family's journey on Instagram here.  Submit your story here, and subscribe to our best love stories here.
Read more stories like this: 
'Four years ago, he had 35 children in his care. Two weeks ago, he had 58. Today he has 62. Sixty-two children to feed, clothe, protect and most of all, love.'
'When I was a tiny 5-week-old baby my biological dad became angry at me for crying. He shook me violently and threw me against a wall.'
SHARE this story on Facebook or Twitter if you believe in the power of love to overcome adversity and heal.
SaveSaveSaveSave
SaveSaveSaveSave
SaveSave