"Jake and I first met at a singles' activity for members of our church. We were lined up in the church gym following a martial arts instructor. I was new to the area and anxious to meet new people. The teacher cracked a joke and everyone busted up laughing, looking around at each other. Mine and Jake's eyes connected. We introduced ourselves, and in my awkward search for something cool or funny to say, I broke eye contact. When I turned back 10 seconds later, Jake had turned his back to me completely, leaving me isolated against the wall. Younger me would have been offended, but my instant reaction was, 'Well fine, I'm too good for you anyway.'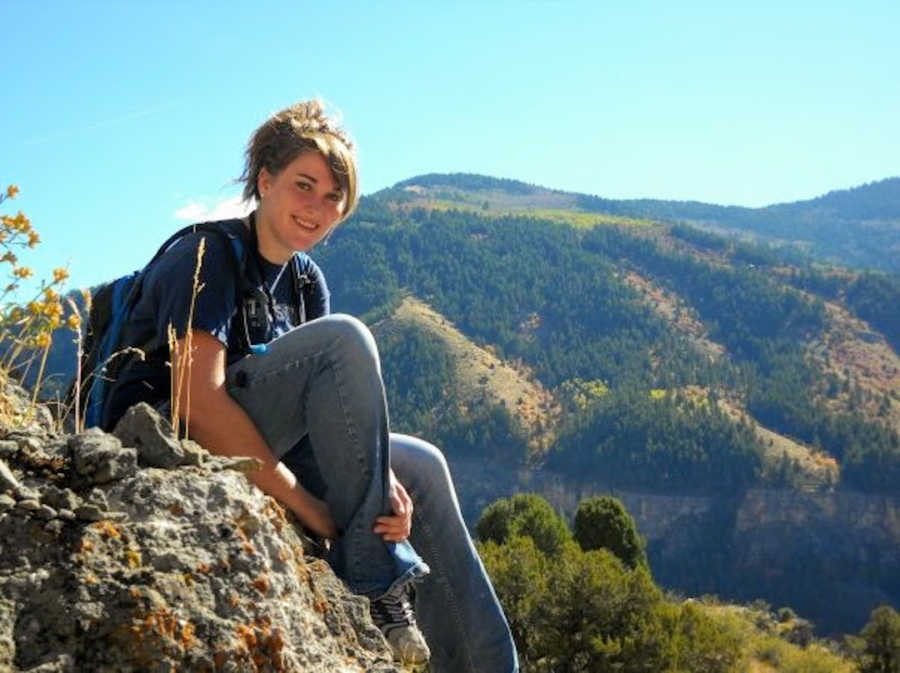 A few weeks later, mutual friends were hanging out at Sport Zone in Aurora, Illinois, which is equipped with batting cages and go-karts. Baseball being the last thing I'm inclined to do, I was hesitant to go, but I went anyway. Shortly after I showed up, the group transitioned over to go-karts and everyone started trash-talking and joking around. The instructor gave us strict instructions not to bump the karts together, as they would stall out. Being an immature bunch of 20-somethings, of course we didn't listen. We all found it absolutely hilarious the way the karts would spin out and die in the middle of the course if we tapped each other. Little did I know, Jake was there as well! On one particular moment, my kart halted to a stop right when Jake's spun out, and our karts ended up nose to nose. We were both hysterically laughing and I remember feeling my wall come down and thinking, 'Okay, maybe he's kind of cool.'
After go-karting, the group was getting ready to grab ice cream at a nearby shop. I happened to notice Jake heading for a motorcycle and his likability jumped up 10 points in my book. I excitedly asked, 'Is that yours?!' I asked if he'd give me a ride sometime and he of course said yes! To my disappointment, we had to take our cars out of the Sport Zone parking lot gate, so we all met up at the ice-cream shop. Once I had ordered, I sat next to a friend in a circular booth and we started chatting about my plans to return to Utah at the end of the summer for school. Jake overheard me say I was looking for housing and jumped in, saying, 'Wait, do you go to Utah State? I'm headed there this fall!'
At that instant, I heard a voice clearly instruct, 'GET TO KNOW HIM.' I've only ever heard what I attribute as the voice of a divine spirit speak to me twice in my life. And this was the first. My guard completely fell. I was so shocked by this revelation and knew I needed to follow the admonition. To my delight, Jake swept me away on the back of his motorcycle that very night. I was so nervous, excited, and scared all at the same time. At the end of the night, we spent about an hour and half talking in the parking lot. I was so intrigued and impressed by him, and could have spent the whole night talking. But it got to be really late so we said goodnight. The next day I couldn't stop thinking about this guy.
The two years of my life before I met Jake were full of mistakes with men. I felt like all they ever wanted from me was my body, and I was tired of being valued that way. I wanted to be valued for my thoughts, personality, drive, etc…So, at this point in my life, I was determined to take time away from dating and focus on developing myself. But then there was this guy. And this voice in my head giving me specific instruction to get to know him. I wanted to text him so badly the next day, to say, 'Hey,' and talk more, but as we all know, a next-day contact seems to send a bad message. I did not want to seem so needy, so I pushed myself to wait. I waited. And waited. And waited. Finally, on the fourth day or so, I shot him a text trying to play it cool, but secretly freaking out about his lack of communication. We made plans to hang out the next night and I was ecstatic!
The two weeks after Jake and I had our first spark were full of adventures with mutual friends, late-night talks, and all the best parts of the beginning of a relationship. One morning we were set to meet at a mutual friend's house to carpool to a meeting, and before Jake arrived, they started quizzing me about our connection. When they learned we hadn't kissed yet, they started freaking out, saying I was going to be in the Friend Zone! This completely stressed me out. When another friend arrived, I snuck out to the back porch and broke down in tears. I wanted so desperately to keep seeing this guy and exploring our relationship, but I didn't want to rush the physical aspect and once again be used instead of valued. I said a quiet prayer for help.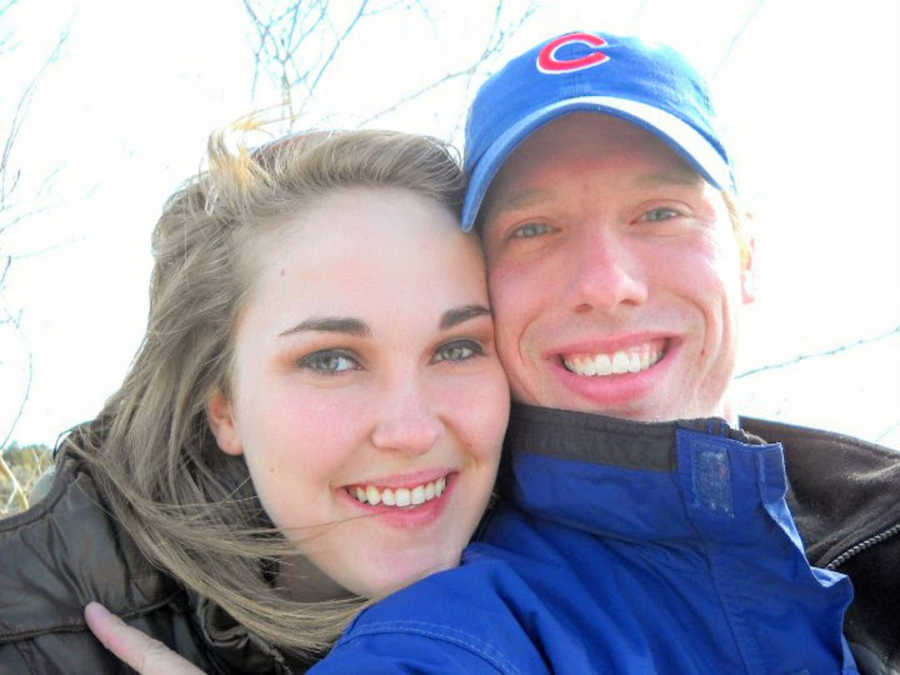 The next moment, Jake came out onto the back porch to find me wiping tears away. I played it cool and we went on with our day. That evening, he and I ended up in his parents' backyard, watching a movie on his laptop next to a fire. He took the opportunity to ask me what had upset me earlier and I mentioned the concern about getting into the Friend Zone. We shared a laugh over it and Jake kissed me for the first time. It all goes fuzzy from there. I had kissed a lot of guys, but I have never felt the butterflies I did when he kissed me. It took my breath away. That kiss and every kiss after for a while gave me the biggest case of the butterflies and I loved how special it felt!
At the end of the summer, Jake and I shared a U-Haul and drove back to Utah to start school at Utah State University. Returning to Logan held a lot of bad memories, broken connections, and a sordid past I didn't want to revisit. I think I was feeling really insecure about going back, and felt incrementally insecure when Jake started making new friends and building a life in a place I had no desire to be. All I ever wanted to do was to hang out alone, but we spent a lot of time with his roommates, friends, and church group. I was too young and insecure to speak my truth, so I went along with it. I sought out friendships with his friends, neglecting my own so I could entrench myself more in his life. Thinking back now, I think I was worried he would forget about me.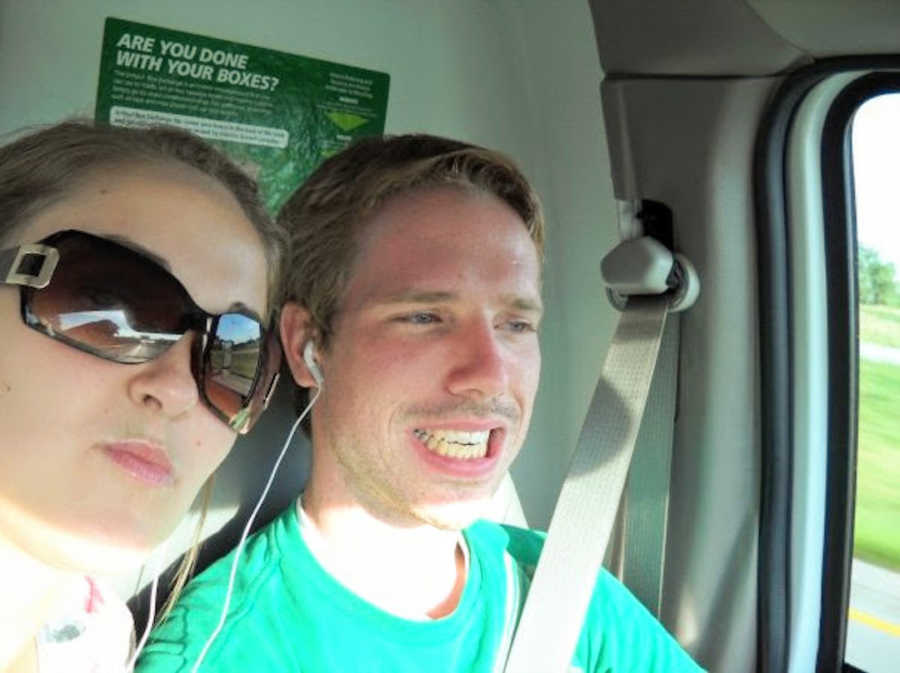 Our relationship carried on this way for the next three years. Knowing what I know now of Jake's inwardly quiet, reserved, and private personality, I wish I could go back and tell myself to relax about it! It has taken years of pushing and some therapy to get him to openly communicate his thoughts and feelings. I genuinely did not know how deeply he cared for me until the birth of our oldest, our son. But I'm getting ahead of myself. The first true sign to me Jake wanted to be with me for the long haul was when his work was talking about moving him to Denver, Colorado. I was working in Salt Lake City, which was 1.5 hrs away from Jake at the time, and the thought of him moving felt like it would be the end. In a nervous and careful conversation one night about it, Jake told me he didn't want to move without me. This was magic to my ears! A sign he wanted to marry me! I was overjoyed!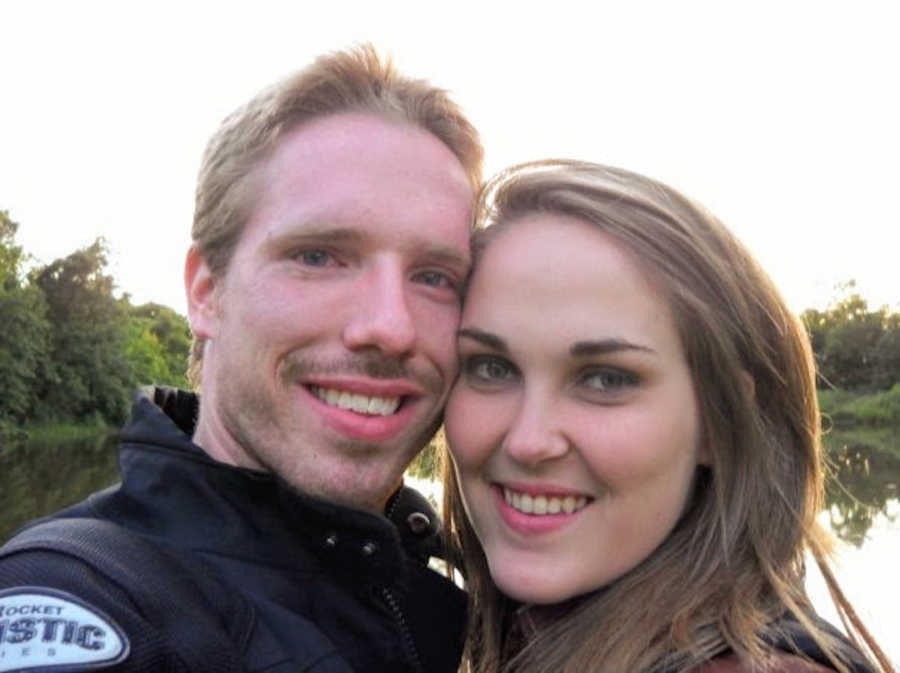 Jake proposed with a ring we had picked out together in the summer of 2013. He surprised me at work, on the back of his trusty motorcycle, flowers in hand. He had arranged with my boss to get me out of work early, and he once again swept me away for adventures unknown. As we drove down a main highway, I kept wracking my brain with ideas of where he was taking me. But we kept passing every single place I could think of. We finally arrived at the marina of Utah Lake and found my parents' ski boat on the dock, decked out in construction-paper hearts and banners. We quickly jumped in and drove out to the center of the lake, where Jake pulled out his guitar and serenaded me with 'You and Me' by Lifehouse, 'Then' by Brad Paisley, and an original he wrote just for me. (I wish I had the lyrics and music recorded, but oh well.) He then got down on his knee and popped the question. I was so happy this amazing man wanted me to be his wife!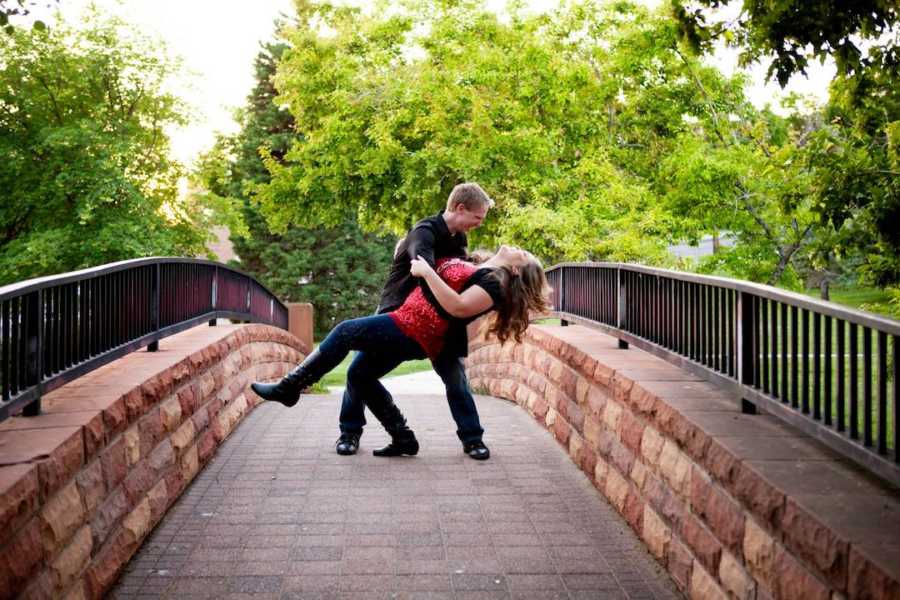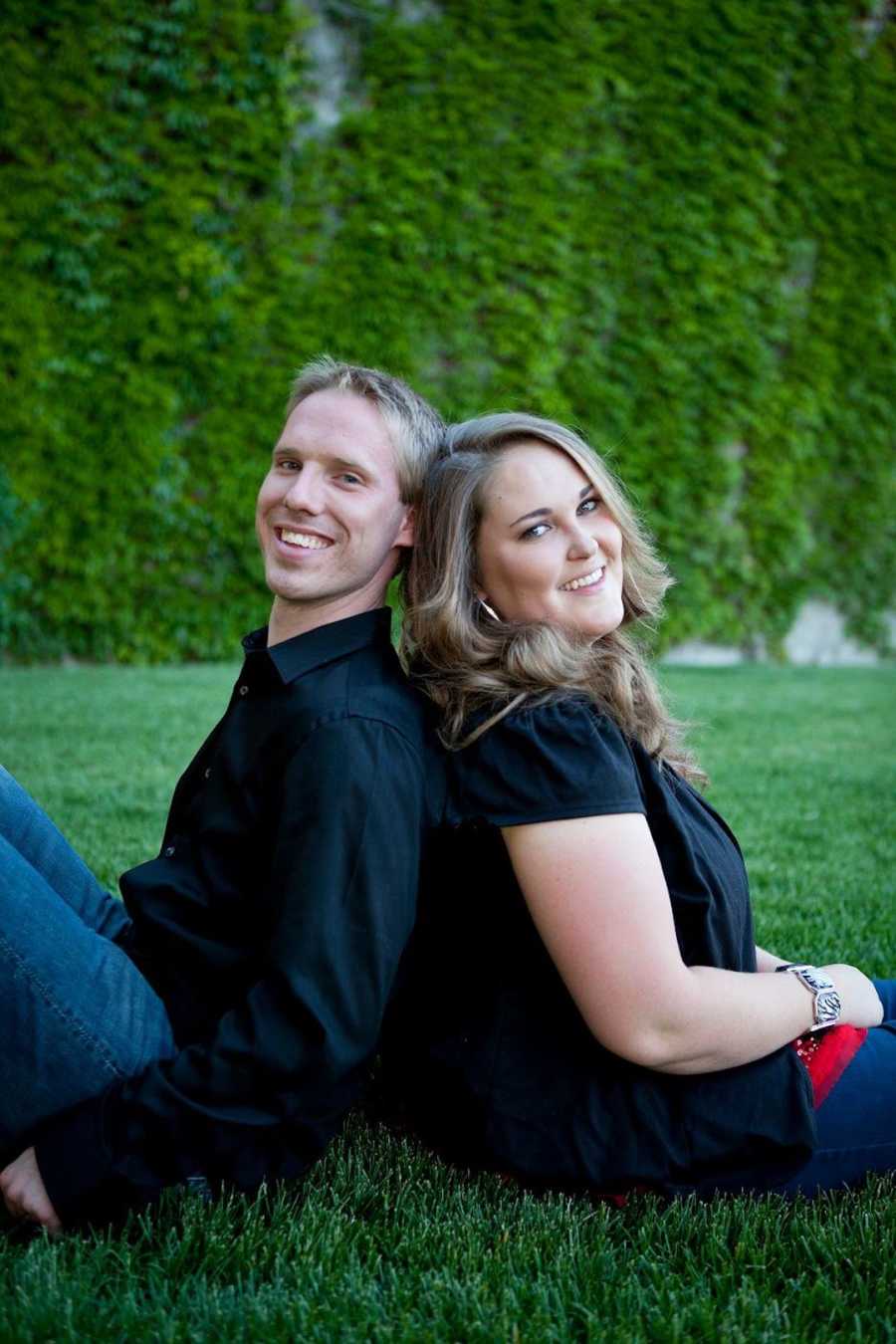 Everyone talks about the first year of marriage being the hardest. This wasn't the case for us. The second year definitely tested our resolve. But our most difficult challenge by far came after the birth of our second child—our fifth year in. Jake's job was creating a lot of stress in his life at this particular point. Add to it a colicky baby and only getting four hours of sleep; it was the perfect storm. Jake and I both really struggled with thoughts of suicide, feeling empty, and feeling worthless. The dark cloud of depression was practically visible in our home. It was so hard for me to see Jake walk in the door after work, completely dejected, and not the least bit excited to see our two-year-old son. Or our brand-new baby. My heart ached for him and for our kids, not knowing what to do to help restore Jake to his normally-happy self.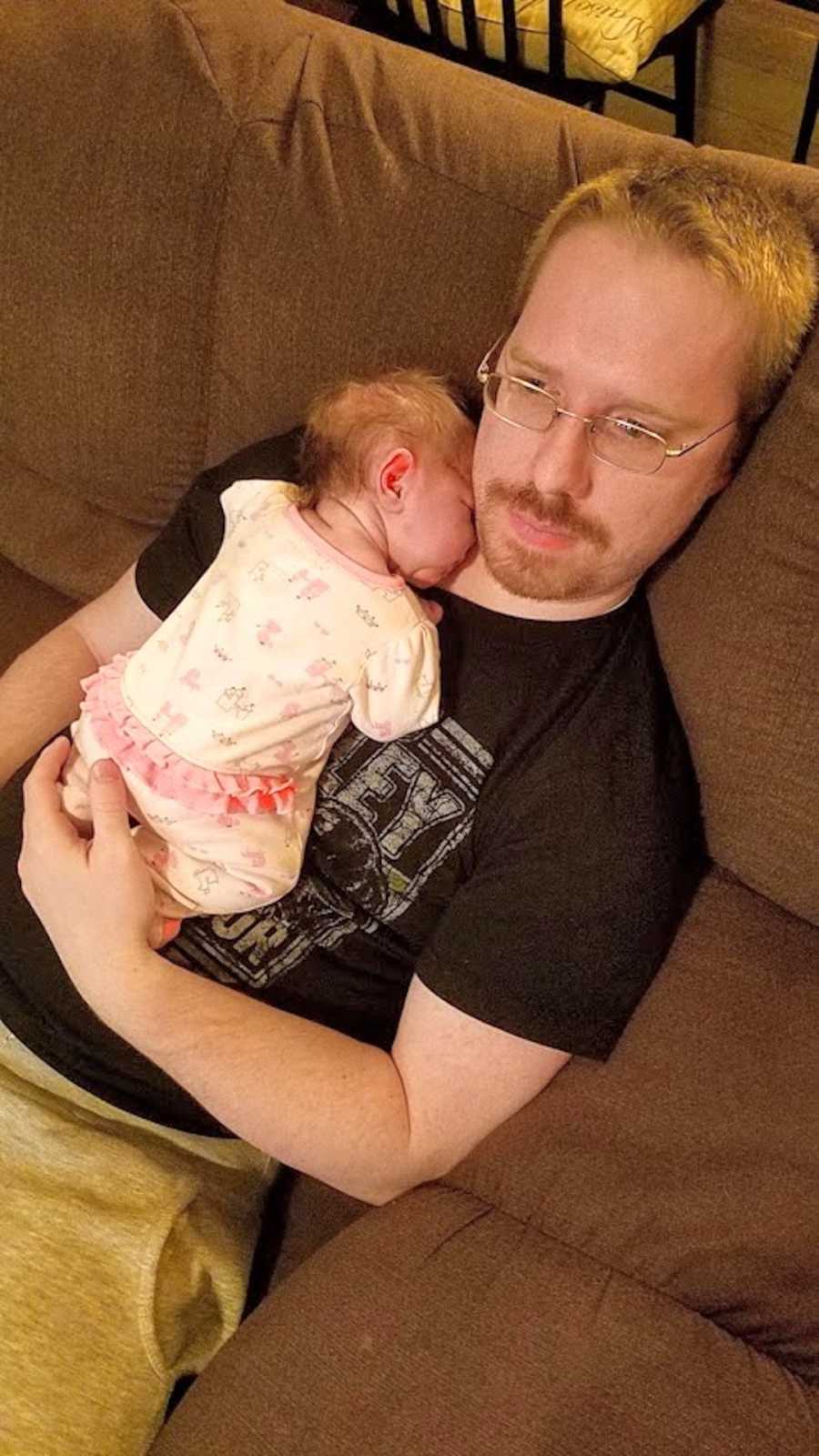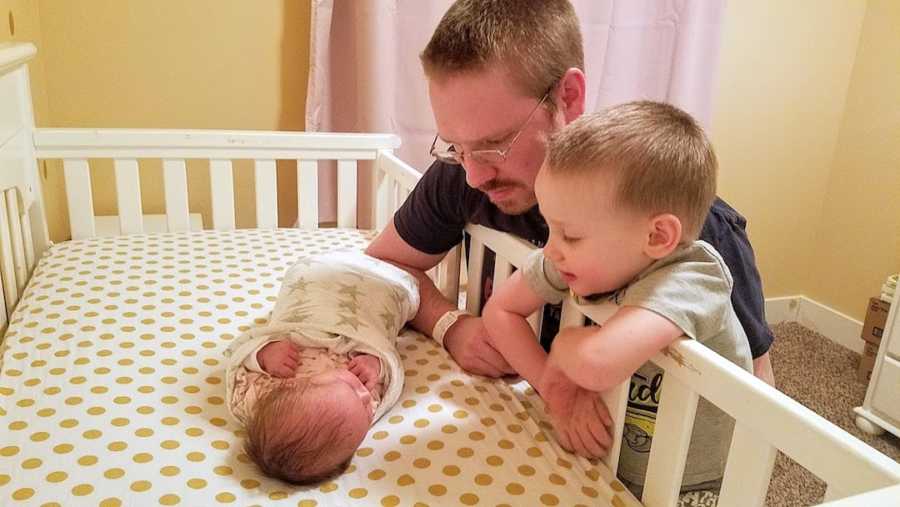 I knew I had to push through and hold it together for everyone. But it wasn't until I begged Jake to go to therapy, if not for himself then for me or our son, that he got the help he needed. I am so grateful for resources in today's world which help us work through our demons and gain the tools we need to overcome them! Therapy saved our marriage and the relationship between the love of my life and our children. That's not to say life is always rainbows and butterflies. We have our challenges just like every couple. But I think what sees us through is our determination and commitment to each other. After seeing Jake go through therapy and the wonderful change it brought about, I knew our marriage needed more.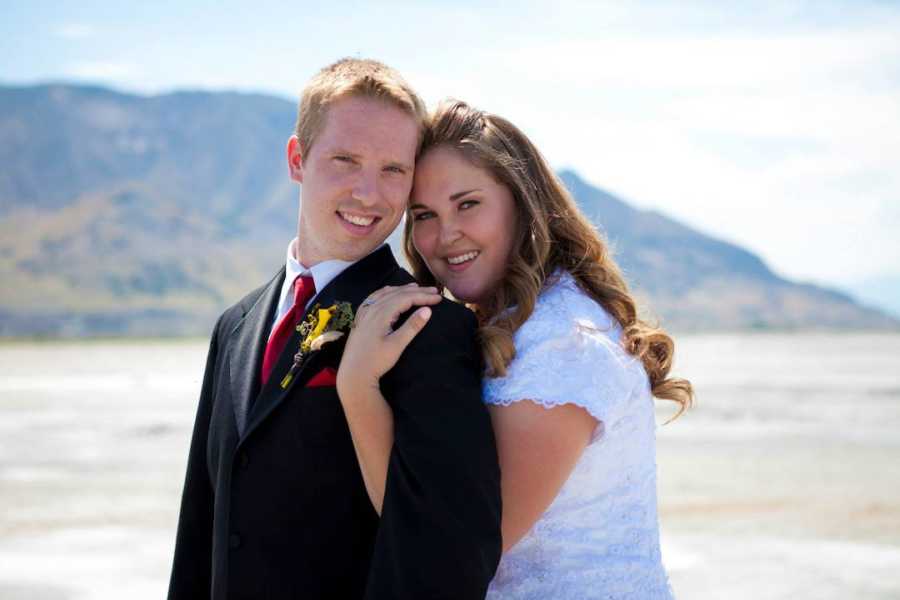 We were offered the opportunity to go through a marriage class centered around the book Hold Me Tight by Sue Johnson. It helped us recognize, name, and voice our deepest fears about our relationship—not only to ourselves, but to each other. Our relationship reached a whole new level of vulnerability, love, and support as we shared these things and saw each other through them. It's a constant process still, but I am so grateful we have been able to reach such a deep and real place in our marriage. I know that no matter what life brings, I have a man by my side who loves me for me. A man who values me and cherishes our children. A man who is more than I ever thought possible for myself. He is everything to me, and I wouldn't trade him for the world. I love you, Jake. XOXO."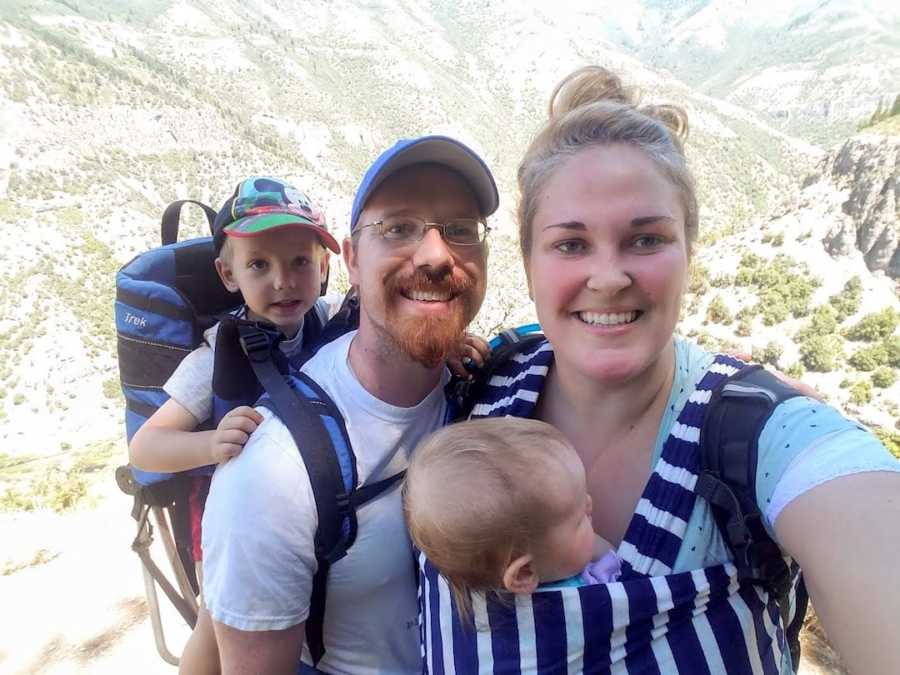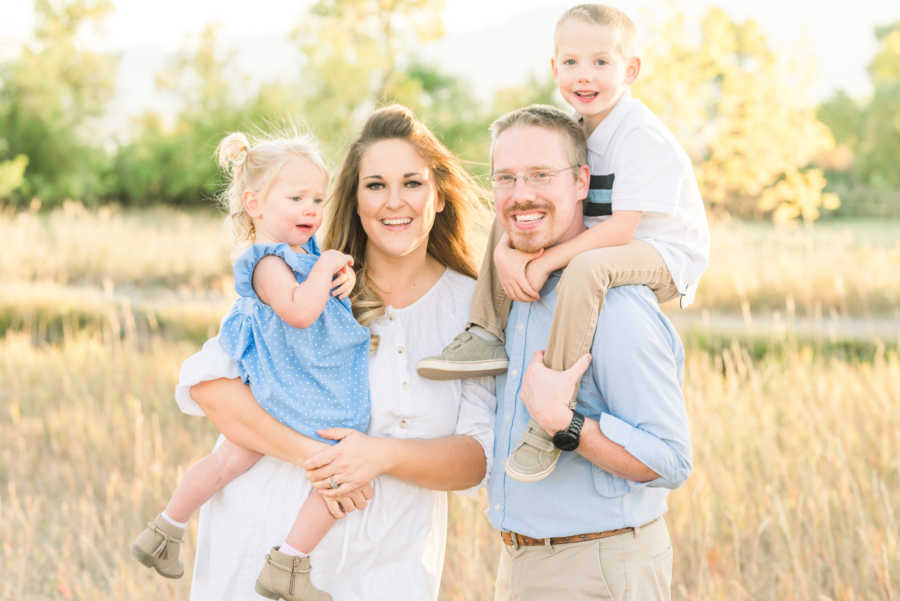 This story was submitted to Love What Matters by Jake and Taya Burzlaff of Logan, Utah. You can follow their journey on Instagram, Facebook, and on their website. Submit your own story here, and be sure to subscribe to our free email newsletter for our best stories, and YouTube for our best videos.
Read more stories like this:
'I'd ask you out if you weren't wearing that wedding ring.' Newly single, it was the first day of the rest of my life. I had to act swiftly.': Woman divorces after 22-year marriage, finds soulmate in Kmart
'I was declared infertile. 'If we need to part ways, I get it.' I thought for sure this was the end. Instead, my partner got down on one knee. 'Will you marry me?': Woman battling infertility thanks husband's unrelenting kindness
Help show it's the depth of the love that matters. SHARE this beautiful story on Facebook with your friends and family.