"The bright sun illuminates the sky as the sounds of summer fill the neighborhood pool. Giggles can be heard echoing off the water while music blares from the speakers above. As I soak in the scene of this 'All-American' afternoon, I spot my husband and my daughter off in the distance. At four-years-old, she's adventurous and a little too confident, still needing assistance even though she insists that she can swim. As I gaze at my family, my eyes begin to wander, casually scanning the pool looking for other families I might recognize.
At the far end of the pool, my eyes fixate on a father and his son. The little boy looks to be about my daughter's age, his smile infectious as he swims towards the man. His father scoops him up and tosses him the through the air; giant splashes of water explode as the little boy's body breaks through the surface into the pool below. I can hear him with sheer excitement saying, 'Daddy, again! Again!' It's at that moment when a familiar lump forms in my throat. I wipe away the tears rolling underneath my sunglasses as I watch this beautiful bond between a father and his son. It's a bond my husband will never experience. And that thought breaks my heart.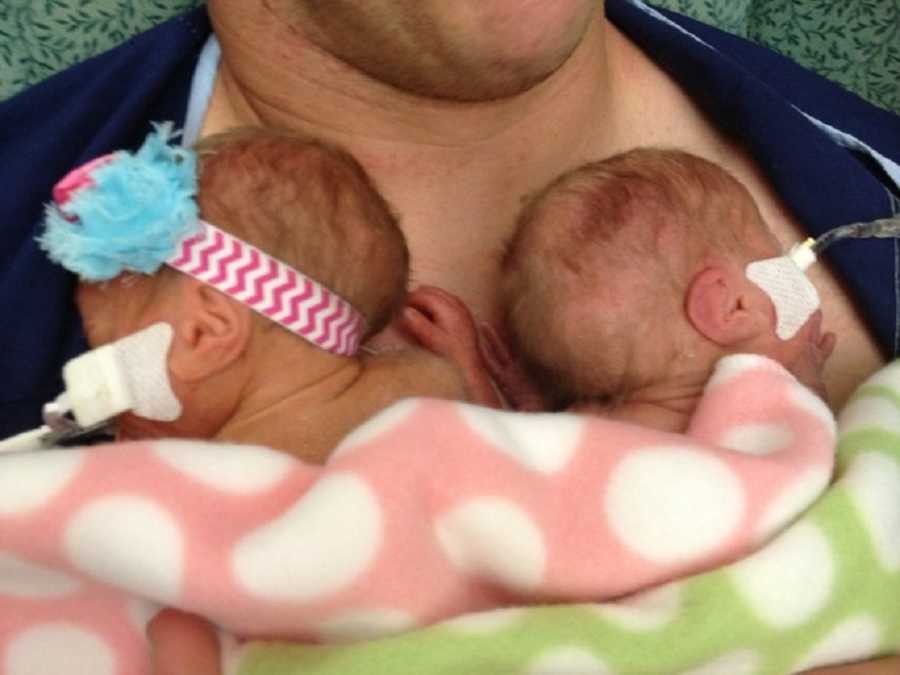 I always knew my husband would be a great father. His muscular, athletic build is simply a mask for the soft teddy bear that is in his core. Children have always been drawn to him; he truly is a big kid at heart. So, I was ecstatic when we finally became pregnant with triplets, two identical girls and one little boy. During my pregnancy, my mind often wandered to the future. I pictured my husband never saying 'no' to our daughters, his heart melting as they had him wrapped around their little fingers. I pictured a special bond between my husband and our son, a father's love for sports being passed down over the years. But, that picture perfect future never panned out. Instead, we were faced with the unimaginable.
Within two months of their premature birth, two of our children passed away; our little girl the same day they were born, our son two short months later. In those final days of our sweet boy's life, I remember watching our dreams shatter to pieces. My son was very sick. For the first month of his life, we were optimistic. As I watched my husband hold Parker, I daydreamed of him coaching his son's baseball team and teaching him to ride a bike. We talked about our future once Parker and Peyton grew stronger, curious if our son would have my husband's athletic ability, or whether he might be clumsy like me. Unfortunately, our life came to a halt as we learned our son was gravely ill. He may have appeared to be growing, but looks can be deceiving. Our son suffered a major brain injury and his weak body was barely hanging on. 55 days after he was born, our only son joined his sister, Abby, in heaven. In a matter of weeks, we were left with one surviving triplet.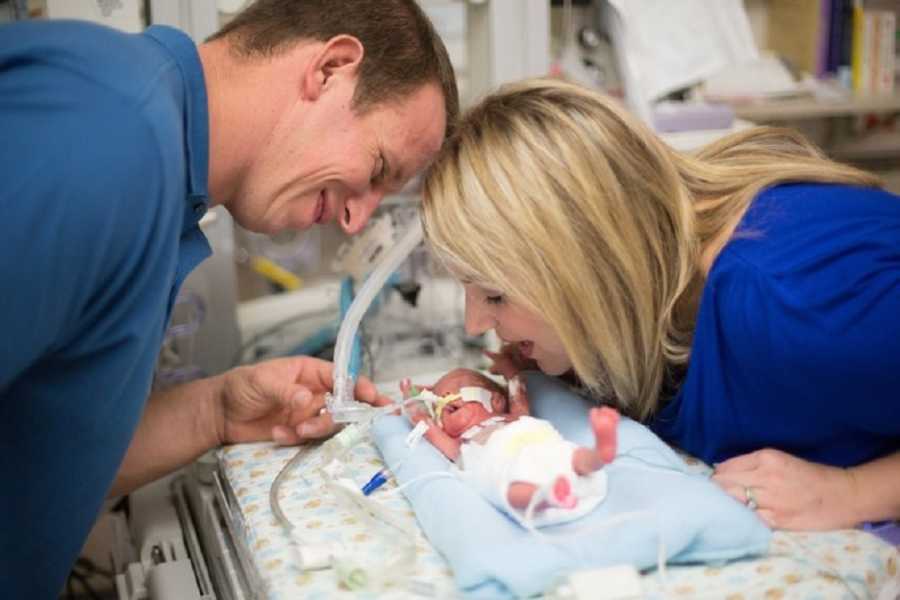 As I lay on the lounge chair, the sweet sound of my daughter's voice snaps me back to reality. My soaking wet little 4-year-old appears in front of me. Her wide eyes sparkle as she eagerly shares her new accomplishments in the pool. As we pack up our belongings and head to the car, my husband can tell something is off. The moment we get into the car, I break down and begin to sob. Life is hard as a parent of child loss. The grief arises without a moment's notice and there are always little reminders of what could have been.
As I begin to describe to my husband the beautiful father-son duo I spotted, I tell him how sad and guilty I am that he doesn't have a son to play with. His eyes become glassy as he looks at me with a small smile forming across his face. 'I'm OK. I have a son,' my husband responds. Four little words is all I need to comfort me. My husband has a son, and he will always have that special bond. It may just look a little different, for he holds that bond in his heart."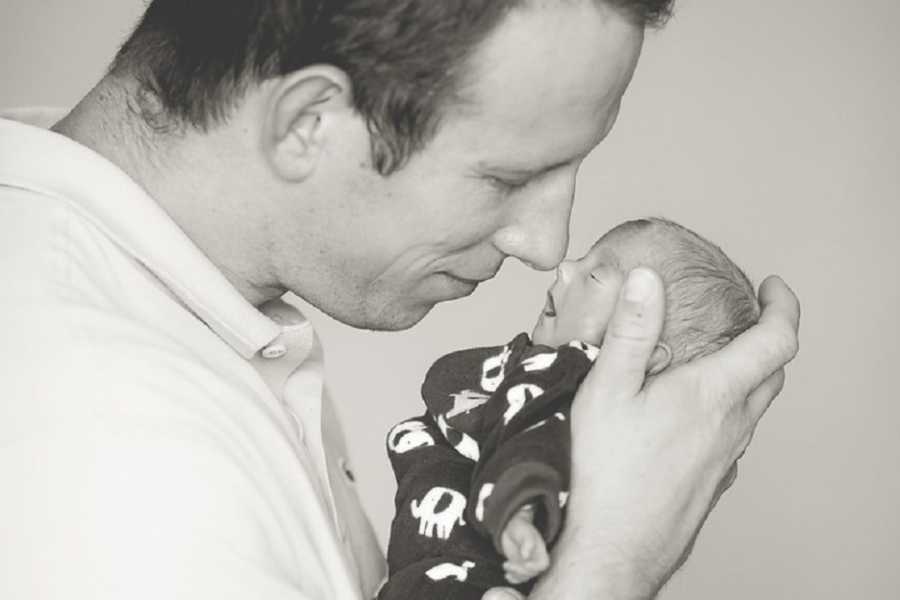 This story was written by Stacey Skrysak, an award winning television journalist based in Illinois. You can follow her on Facebook, Instagram and Twitter. Submit your own story here, and subscribe to our best stories in our free newsletter here.
Read more about Stacey's triplets:
'I'm not attached to my baby. There, I said it.'
'I received a message. My entire body began shaking. To the woman who called me SICK for talking about my children who died, my heart hurts for you.'
'I walked into my daughter's room and instantly spotted that paper from the past. Seeing the 7 digits and extension took my breath away.'
Provide comfort for someone struggling. SHARE this story on Facebook with your friends and family.