"I'm not attached to my baby. There, I said it. It's a harsh reality to admit and it's a comment that is sure to get a few gasps, but it's the honest truth. And I know I'm not alone—it's a feeling that many of us moms who have lost children understand.
As I look at this ultrasound picture, my belly growing by the day, I can't help but feel a pang of guilt as I admit this. I was deeply attached to my unborn children in my previous pregnancy, when the excitement of becoming a mother for the first time was new and untarnished. But, the loss of a child changes you forever and I find myself figuring out ways to protect my heart.
The thought of losing this child is always on my mind with this pregnancy.  I worry when I don't feel her kick. I feel anxiety when I go weeks without a doctor's visit. And I shrug off the compliments from strangers when they share their excitement about my baby on the way.
The reason? This is my coping mechanism. This is how I survive each day of this pregnancy after loss. It's not that I don't love this child any less. I just can't bear the thought of getting my hopes up, only to be crushed if tragedy strikes again.
Here's the thing—it doesn't matter if we reach certain milestones, if we make it to full term. It doesn't matter if people tell us to have faith, to believe that God will guide us through. There is no safe zone when it comes to pregnancy after loss. We have already been through a parent's worst nightmare. It's completely normal to find ways to get through pregnancy after loss…even if that means disconnecting from that tiny baby growing within you.
Just because you are welcoming a new baby into this world doesn't mean that the grief and heartache of your previous losses go away. It's something that only people who have gone through an unfathomable loss can truly understand.
But as the weeks pass by, I find a glimmer of hope creeping deep within me. I find little bursts of excitement as my husband and daughter feel the baby kick for the first time. I find myself day dreaming about holding a healthy little girl in my arms. And I find myself feeling more optimistic as I get closer to welcoming this baby into the world.
The loss of two of my children may have taken my innocence, but the hope outweighs the pain. This baby is already so loved, and my protective shield is slowly coming down with each passing week."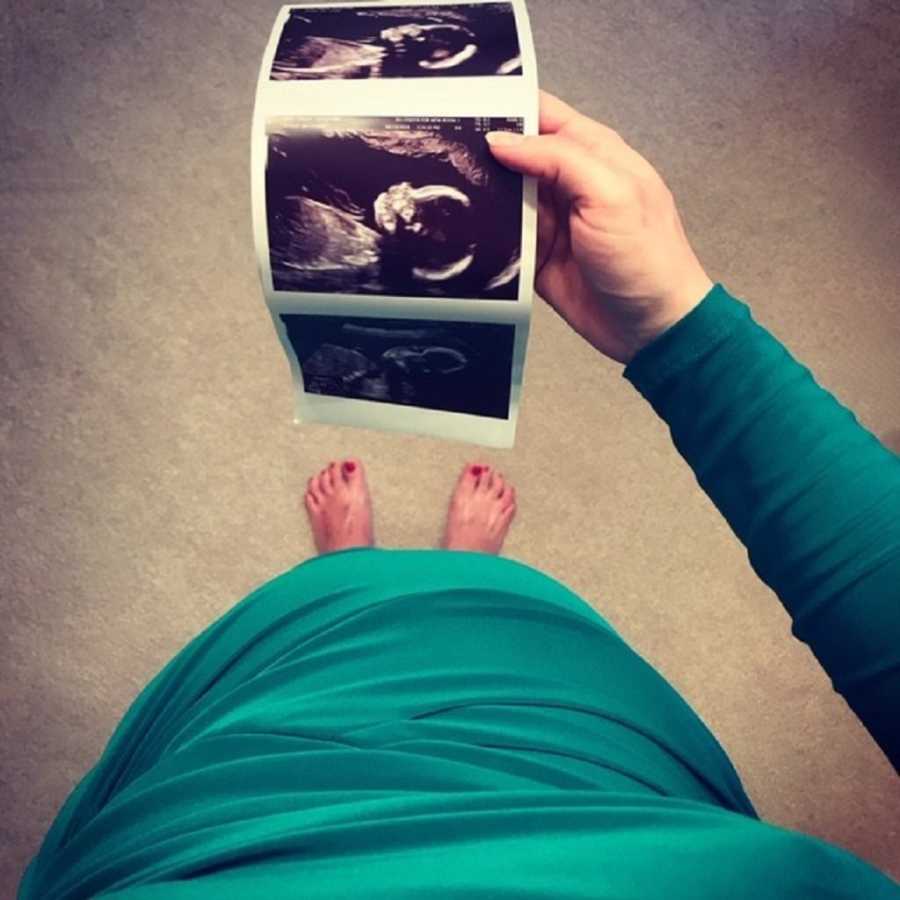 This story was written by Stacey Skrysak, an award winning television journalist based in Illinois. You can follow her on Facebook, Instagram and Twitter. Submit your own story here, and subscribe to our best stories in our free newsletter here.
Read more about Stacey's triplets:
'I received a message. My entire body began shaking. To the woman who called me SICK for talking about my children who died, my heart hurts for you.'
'I walked into my daughter's room and instantly spotted that paper from the past. Seeing the 7 digits and extension took my breath away.'
Provide comfort for someone struggling. SHARE this story on Facebook with your friends and family.