"When you lose a baby, you also lose a sense of comfort around you. Nothing feels safe or sure anymore. You may feel lonely and isolated as everyone around you goes on about their lives. But one thing I learned through our pregnancy losses, is there is actually a whole circle of women (and men!) who you might not see at first, but slowly come out of the shadows of their own losses and journeys to accompany you in yours. When you lose a baby, you truly gain an army.
This group of women of all ages, they've been there before. They have had a different paths, but they understand the frequent stops of heartache you're going through firsthand. These women have deeply impacted me during my loss and TTC (trying to conceive) journey. Women of all ages, pregnancy loss types, fertility struggles, you name it. What these ladies all have in common is they continue to build strength and hope to persevere. They've tapped into their faith and loved ones to rise up and keep pushing forward. And I am so blessed to know them. Our babies may have been taken from us, but God has brought us together to form a special bond in honor of our losses."
Tara Moyer – Bucks County, Pennsylvania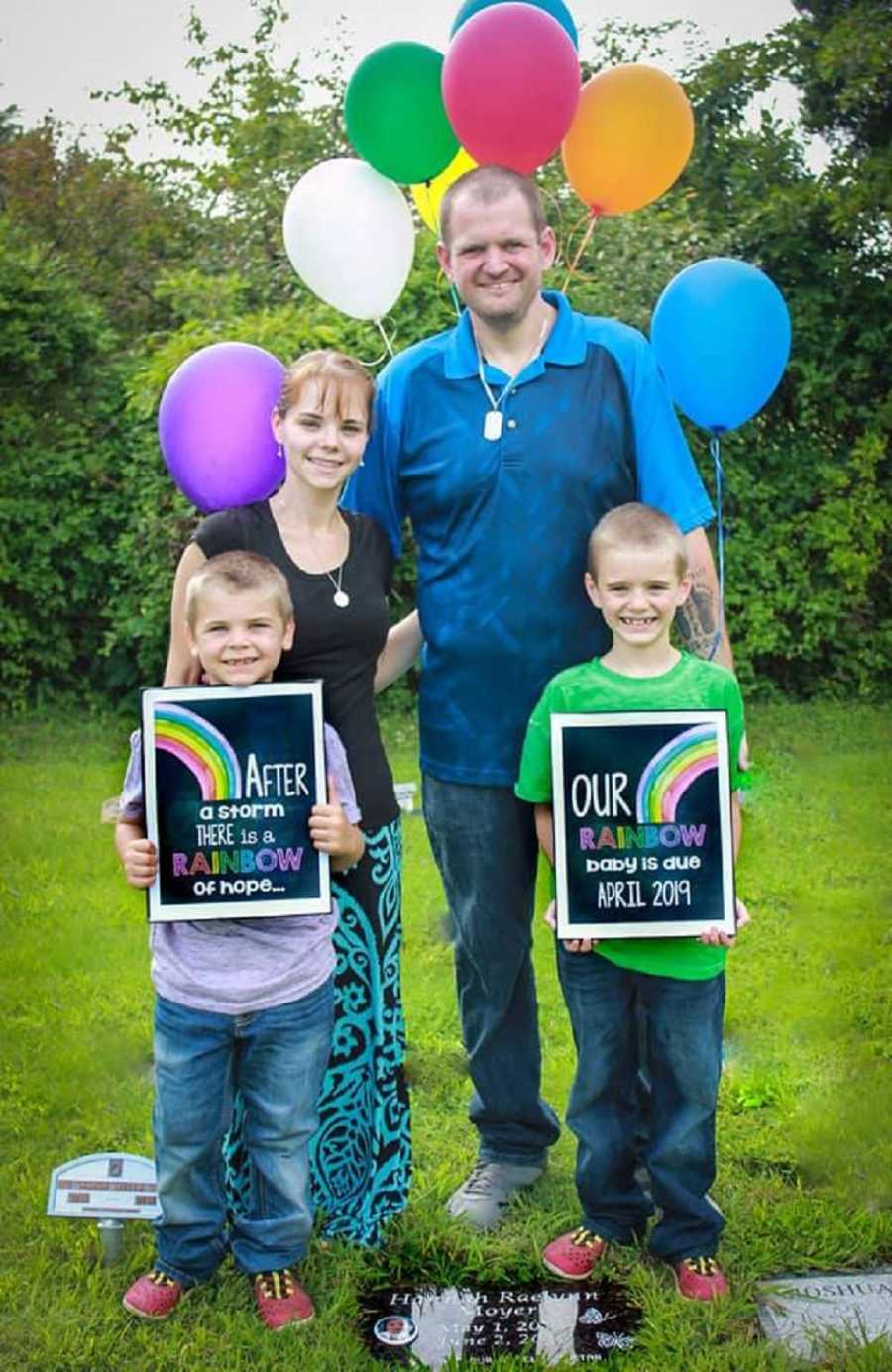 "June 2, 2016, our family experienced a tragedy we will never heal from. Our daughter, Hannah Raelynn Moyer, passed away in her sleep during a mid-afternoon nap. After many, many months, extensive testing and research, we were left with no answers. She was given a diagnosis of exclusion and her death falls into the category of Sudden Unexplained Death in Childhood. Which is closely related to SIDS, except the children are over 1 year of age. Since her passing, our family has been on a journey to find our new normal.
The day Hannah passed we had visited close friends and family. We came home for a nap and to get ready for her older brother's tee-ball game. Chase (5) and Blake (4) were both home when Chris found Hannah unresponsive. I immediately started CPR and called 911 while Chris tried to keep the boys and dog out of the area. Things escalated quickly and before I knew it our road was blocked by police, volunteer firefighters, and an ambulance as all these people lent us their hands in attempt to save our daughter. They did everything they could. We were soon rushed off to the ER where we were met by the Charge Nurse who attempted to get us to go to a quiet area. As soon as she said that, I knew Hannah was gone. I begged until they finally let me be in the room with her while they continued to work on her. The doctor finally turned to Chris and I, and explained everything they tried – and we would not be leaving with our daughter. The ER was flooded with family and friends that came to show their love and support. Hours later we made it home and had to tell our sons that their sister was now with Jesus.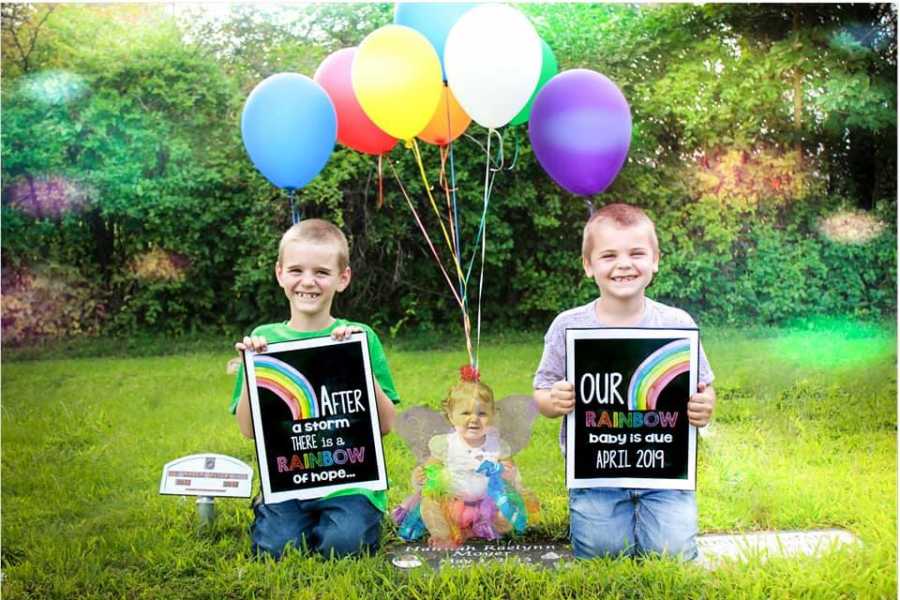 Three weeks later we moved and have made every attempt to find a new normal. We have learned how to live again and to keep moving forward for our sons. They struggle with understanding, and even more so with accepting their baby sister died for no reason. Our hope is as they grow older and our family's faith grows stronger, they will find comfort in knowing that we will see her again one day. Recently our family felt like we have so much love to give and decided to grow our family again. We found out we were expecting and were so excited to share the news, we had photos taken for the announcement. A few short weeks after we had announced the pregnancy, we received the devastating news that we miscarried. Once again, we have no answers, we don't know why this happened. Telling Chase and Blake, now 8 and 7, was extremely difficult and they ask questions every day.  Child loss is a long scary journey that I would have never thought I would be on.
It is now two years since we lost Hannah and I can honestly say it does not get easier, you just get stronger.  Nothing about losing a child will ever make sense or be easy. Through all of this Chris and I have refused to stop living life. Chase and Blake are our reasons to keep going. In the last two years as a family, we have held fundraisers, networked with families, formed unbreakable bonds and are starting a non-profit in honor of Hannah. Hannah will continue to live through us and our memories."
Tracey DeWitt – Bucks County, Pennsylvania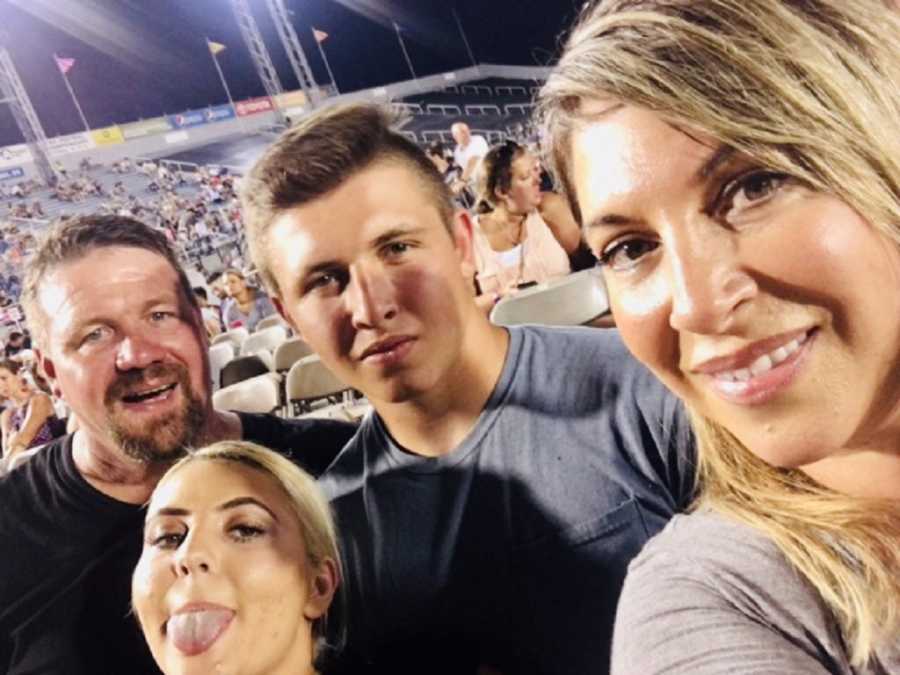 "On November 19, 1999, at Doylestown Hospital we delivered a precious baby girl named Chelsea Lynn DeWitt. Weighing 7 lbs 4 oz., dark brown hair, fair skin and large midnight blue eyes, she instantly was a sweet, bright edition to our family. The next day we wrapped her up and gently placed her in the car, excitedly traveling to her new home in Perkasie, Pennsylvania.
Anxious to see her reaction to her newly renovated room, however not impressed, she embraced the love and attention that we doted upon her. Hitting her three-month milestone for her health assessment evaluation, our family doctor and I were eager to find out her new substantial growth. Dr. Davis intensively listened to her heartbeat over and over – troubled by what he had heard, he shared with me his concerns. We immediately raced to Doylestown Hospital, where they ran an EKG detecting an abnormality in her heart. We were then transferred to St. Christopher Hospital, where the specialized cardiologist care team awaited us. They proceeded with extensive testing. Discussing the major complications of her congenital heart defect, we realized the severity of the situation. Immediately dropping to my knees in despair, we moved into the hospital and cared for her daily.
Knowing each day was a gift, we still wrestled with heartache. The day of her surgery, family members met us at the Hospital to pull together for emotional support, praying for a hopeful outcome. After surgery they wheeled our Chelsea into a recovery room where we could visit her. So fragile, but yet so strong, our little bundle was fighting for her life. Later that night she went to be with the Lord. We love you Chelsea, our chosen little angel.
One year later, our family was blessed with a healthy baby boy, named Dylan, who is currently in his senior year in high school."
Brianne Meyer Polis – Florida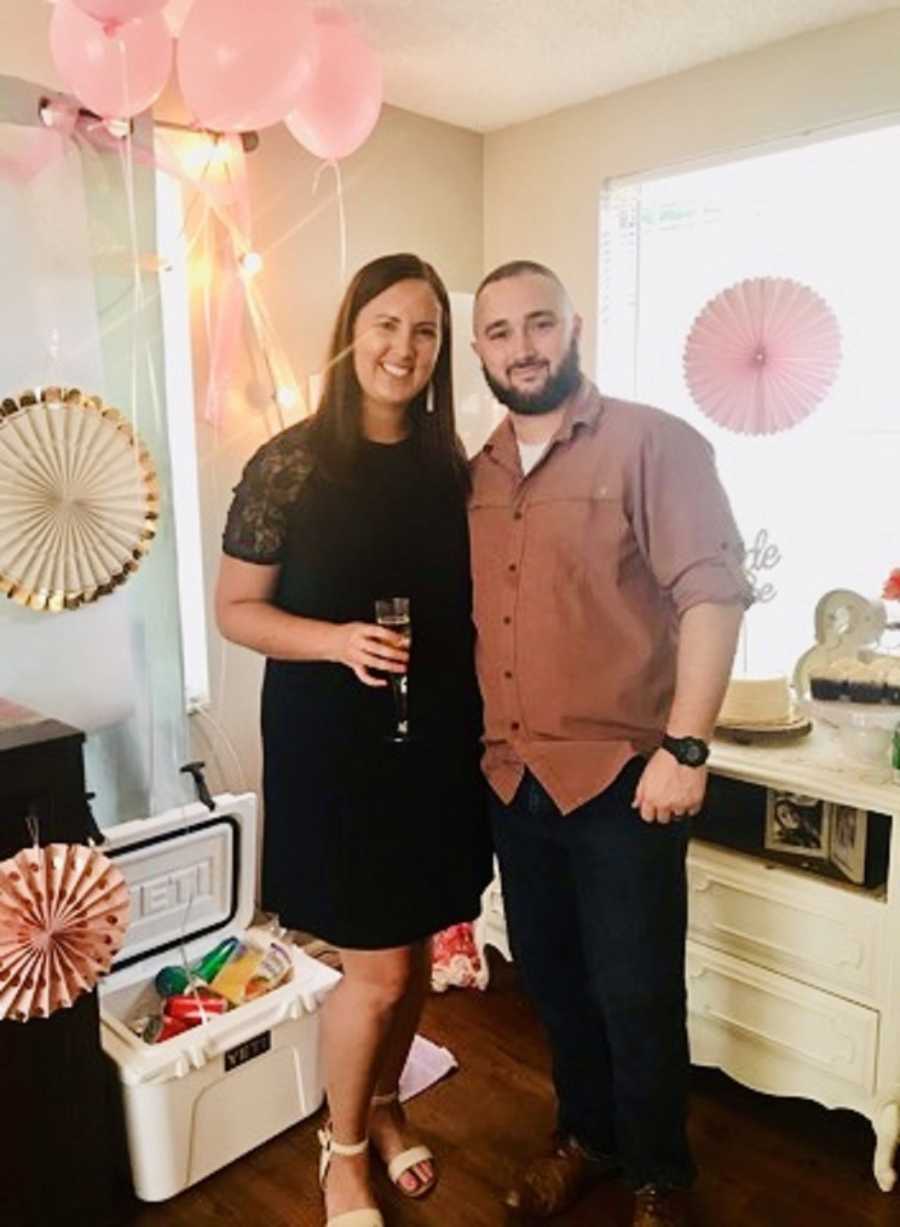 "I am 28-years-old and I've been on this TTC journey for 3 years. My husband Peter and I have been married since May 2015, and we have a sweet fur-baby named Zoey. She keeps us sane when we have our crazy moments – the ones where you want to scream, cry, and rip your hair out every time you realize you're NOT pregnant month after month. I know we're not alone in that boat! It's okay to not be okay in this journey, and 'Zozo' is always our rock in those moments. Her fur has absorbed quite a bit of our tears.
Truth is, we have a lot of practice being not okay. We tried to get pregnant for over a year, and we were not okay during that stressful time period. We finally got pregnant, but had two miscarriages in the past year, and we've been not okay because of them. Now, a year after we found out about our first pregnancy, we are trying again for the third time. Really emotionally, physically trying. We are completely invested as a couple, taking our vitamins, tracking our days and attending doctor's appointments to get a grip on this whole infertile adventure. It took a lot for us to get to this point. I was in denial for a long time so I wouldn't make the doctor's appointment I knew I needed to make. I wasn't ready for the answers, I was questioning God's path that He's got us on. Satan was in my head, telling me I wasn't good enough to be a parent, I'm not fit to be a mom. And I whole heartedly believed it for a while.
After our second miscarriage, I even said in my head, 'What's the point? Why am I even here if I can't have kids?' That's a scary thought to have. It freaked me out, and it was like a reality slap in the face. God put us on this earth for a purpose! Even if we can't naturally have children, I know we are destined to be parents. I know my husband is going to make an AMAZING dad one day. God put scientists and doctors in our world so we may take advantage of the medicines to help us get pregnant. If we decide not to go that route, there are so many other options like surrogacy or adoption. I will be a mother, I will be a mother, I will be mother. I'm putting it out there for you all to read and I am CLAIMING it to be my future title.
Recently, Pastor Tom Goodlet at Harborside Christian Church in Safety Harbor, Florida, stated in his sermon, 'We want the promise, but we don't always like the process.' How true is that for our fearless community of TTC women? We often hate the process of trying to become pregnant, but it's God's will for us to go through in order to receive the promise of being parents. Who are we to question that or try and make our own paths? If the dream is delayed it does not mean it is denied. There is a reason God doesn't give us what we want earlier. It's incredibly frustrating to sit here and wait on answers, I know. Rejoice that God chose his timing over our own. Take advantage of this community. Make new friends, lean on each other and support each other. Lift each other up. These people are put in your lives for a reason. And while you wait, celebrate."
This story was submitted to Love What Matters by Kailey Clymer, on behalf of the women she's met through her own child loss grief journey. Do you have a similar experience? We'd like to hear your story. Submit your own story here, and subscribe to our best stories in our free newsletter here.
Read similar powerful stories here:
'Why the last 365 days after delivering my son silently sleeping were the worst and best days of my life.'
'I had a miscarriage at age 18. Someone told me, 'It must be because you're not married.''
Provide hope for someone struggling. SHARE this story on Facebook to let them know a community of support is available.