Disclaimer: This contains details of miscarriage, suicidal thoughts, and abuse that may be triggering to some. 
"September 6, 2014, was a day I will always look back on— not with any malice or any joy, but as a day that changed my life for the better. I had just turned 19, and this was the day I found out I was pregnant. The relationship I was in was not a good one. It was abusive and extremely toxic, to the point I had considered taking my own life because I believed it might be the only way out. I'm so grateful now I am still here and I have had the opportunity to experience the things I have in this life, even the hard things.
As a 19-year-old, I was terrified at the thought of being a mother. And in December of 2014, the fear only grew as my relationship ended, and I now faced the prospect of being a young single mother. I found myself falling back to my family and their unconditional love and support. I made the decision since the biological father of my child was not interested, the best thing I could do would be to move away and start over. So, I packed up my few belongings and moved 3.5 hours away to live with my recently-widowed grandma in a tiny town (population 500) on the Utah/Idaho border. I got a job at a local resort, had a car, and a whole new life. It was such a good time in my life for self-discovery and for learning to love who I was.
During this time of independence, I found myself coming to terms with what my life looked like and I had decided I would rock this single mom life forever! I was in such a good place, I guess I just assumed nothing else could go wrong. But, in the blink of an eye, my carefully curated tower of perfection and happiness came crashing down. I was due with my little girl on May 7, 2015, but on February 19, I was at the only local pharmacy with my dad, picking up a prescription for him. I sat down at a blood pressure kiosk and almost laughed at the machine when it came back at 147/92. If you're not familiar with medical stuff, that is really high blood pressure. I thought the machine must be broken. I actually took a picture of it to show my grandma, who was a retired EMT, because I thought it was funny. However, things took a more serious turn that night when I realized my feet were so swollen I couldn't even get sandals on them.
Concerned, I decided to talk to my grandma about it. We decided to take my BP again, and it was even higher. At this point, we decided to go to the local hospital, which was about an hour away. I was only 27 weeks pregnant at this point, so I thought I would be given some medicine and sent on my merry way. Turns out, that wasn't the case. I started having seizures after my third unsuccessful dose of blood pressure medication. It was at this point they decided to send me to a larger hospital in the Provo UT area that would hopefully be able to stabilize me and if not, maybe give my daughter a fighting chance at life. I was airlifted to Utah Valley Regional Medical Center, only about 15 minutes from where I'd grown up, and where my family was. My mom and dad met me at the helicopter pad when I landed and my mom spent the night with me at the hospital. That evening, they were able to stabilize me and after visiting with the OBGYN the next morning, I thought I was in for a very long hospital stay. I was wrong.
Maybe an hour later, a nurse ran in out of breath and told me I was having my baby, now and via emergency c-section. I had what was called Pre-Eclampsia and HELLP syndrome. They don't know what causes it, and there is no known cure, other than to deliver the baby. I remember going into the operating room, I remember being strapped to the table, and I remember the moment they started cutting. It hurt. It hurt badly because apparently, the spinal block hadn't taken on both sides. I remember screaming in pain and the anesthesiologist pushing medicine into my IV, and then everything went bright white. I could still hear the voices of the doctors and nurses in the OR, but I couldn't open my eyes or move my body. It was an intense experience.
I remember them telling me I would feel pressure as they pulled her out, but I didn't feel anything. I remember the NICU team that was in the room calling codes. I just laid there, praying and hoping and listening. But she never cried. The NICU team left with her, and I was afraid I had lost her. In that moment, I felt true deep dark despair and everything went black.
I woke up, which in itself was kind of surprising to me, to fighting. The biological dad and his mom were fighting with my parents about me waking up so they could go to the NICU. I looked at my mom and asked the question that would either save me or destroy me: 'Is she alive?' My mom looked at me and said, 'Yes, but she's little and very sick.'
I didn't care about anything else at that moment. I just wanted to see her. I asked a nurse to take me to her, and since I couldn't sit up or walk, they took my whole bed up to the NICU. The first time I saw her was incredible and incredibly hard. She was 1 pound, 14 ounces. I named her Mia. She took my middle and last name (her bio dad was NOT happy about that). Mia would spend the next 2 months in the NICU recovering and growing. Her bio dad was not around much and once again, had lost interest in being a parent.
I stayed with Mia in the NICU every day for the first month. Having a baby in the NICU is an intense experience that hits you like a giant slap in the face. Then waits for you to shake it off, and dropkicks you in the stomach. Not only are you heartbroken and terrified, but you're also desperate to see them grow and eventually be able to come home. You are also on the very edge of losing your mind completely from the stress, worry, and exhaustion of all the emotional ups and downs. After the first month of the NICU, reality set in I was now a single mother, and Mia would eventually come home and when she did, I needed to be able to provide for her.
So, I did the responsible, gut-wrenchingly hard thing and went back to work on the weekends. I had to leave my baby and drive 3.5 hours on Thursdays. I would work Friday, and Saturday and drive the 3.5 hours back on Sunday. One weekend on Saturday, I got a message on Facebook from this guy asking me if I would attend a group activity for young single adults the next day. I reluctantly said yes. The next day, I met him at the church for the activity. His name was Carlin and he was tall, with dark hair and dark eyes. I remember thinking how handsome and fun he was to be around. We only got to spend an hour or so together though, because I got a call I had been waiting for. Mia was ready to be discharged the next day and I needed to get to prove to do a room with her ASAP. I told him I would talk to him later and ran home to get my grandma and a few other things. Then we hit the road and drove to Provo.
That last night in the NICU was the strangest. I slept in an armchair next to my 4-pound baby's crib and took care of her with her home equipment all night. It was the first real-time I got to be her mom, alone without all the incredible doctors around. The next day, we did hours and hours of paperwork and training and then finally, we did it. I took my baby with me, on her monitors and oxygen, and left the NICU.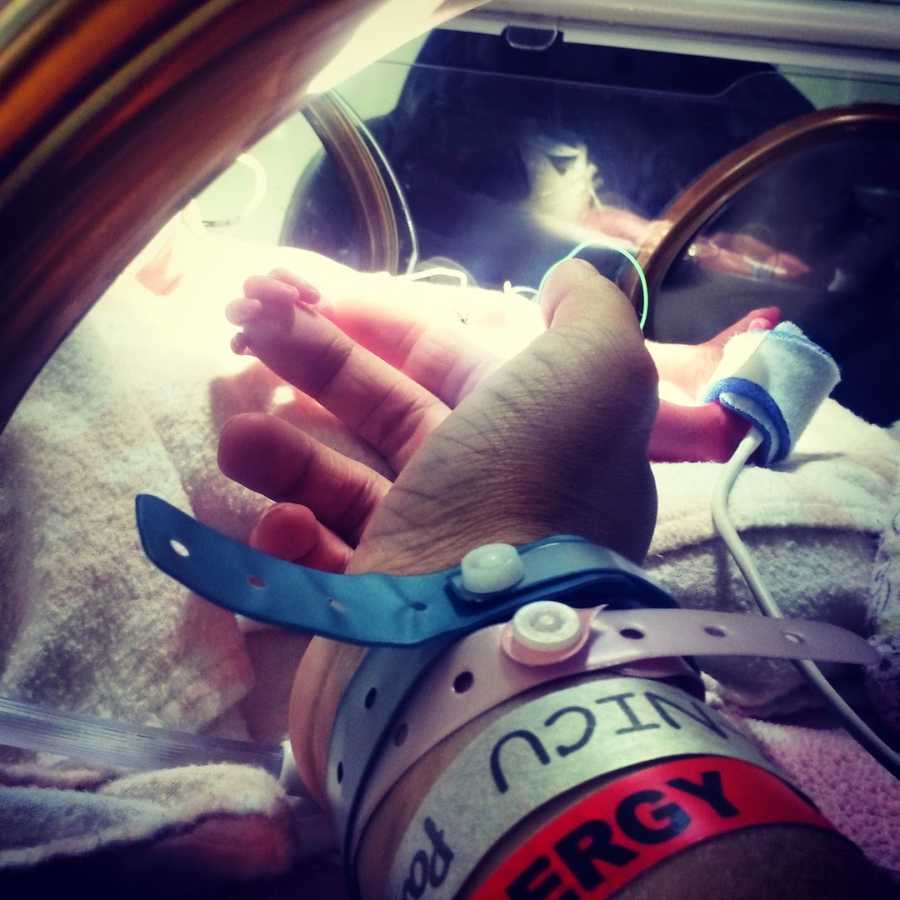 Carlin and I had been chatting throughout the previous night and all day while I was working on discharge. I asked him if, when we got home, he wanted to meet Mia and maybe come watch a movie with us. That night, he showed up with flowers in one hand and diapers in the other. From that moment, I knew he was special and my heart loved him. 2 days after, he invited me to go with him on a date to a little town in Wyoming. We would be going with his parents, which was a scary prospect. The plan was I would come to their house and we would make breakfast and then head out. I remember pulling up to the little yellow house, being scared out of my mind. It turns out I didn't need to be scared because Mark and Natalie are two of the most awesome people ever!
On that date, Carlin asked me to officially be his girlfriend. It was also the first time both of us said, 'I love you.' People ask who said it first, and I think in this situation it's kind of debatable. I was laying on his shoulder and used my finger to write it on his hand then he leaned down and whispered in my ear, 'I love you too.' So you be the judge! Only 9 days after we'd met for the first time, Carlin asked me if I would marry him, and the crazy part? I said yes. Now, I know the whole controversy, you can't marry a man you just met, but it didn't feel like I'd just met him. We originally planned to get married in September (we got engaged at the end of April) but that changed when bio dad found out I was engaged and filed for paternity in late May, after having no involvement since Mia's discharge.
We decided the best thing we could do would be to get married right away. So, we planned our wedding in a week and 37 days after our engagement (46 days after we met), we got married. We did a small ceremony on the beach at Bear Lake on June 5, 2015. We were surrounded by love and family. It threatened to rain but did not.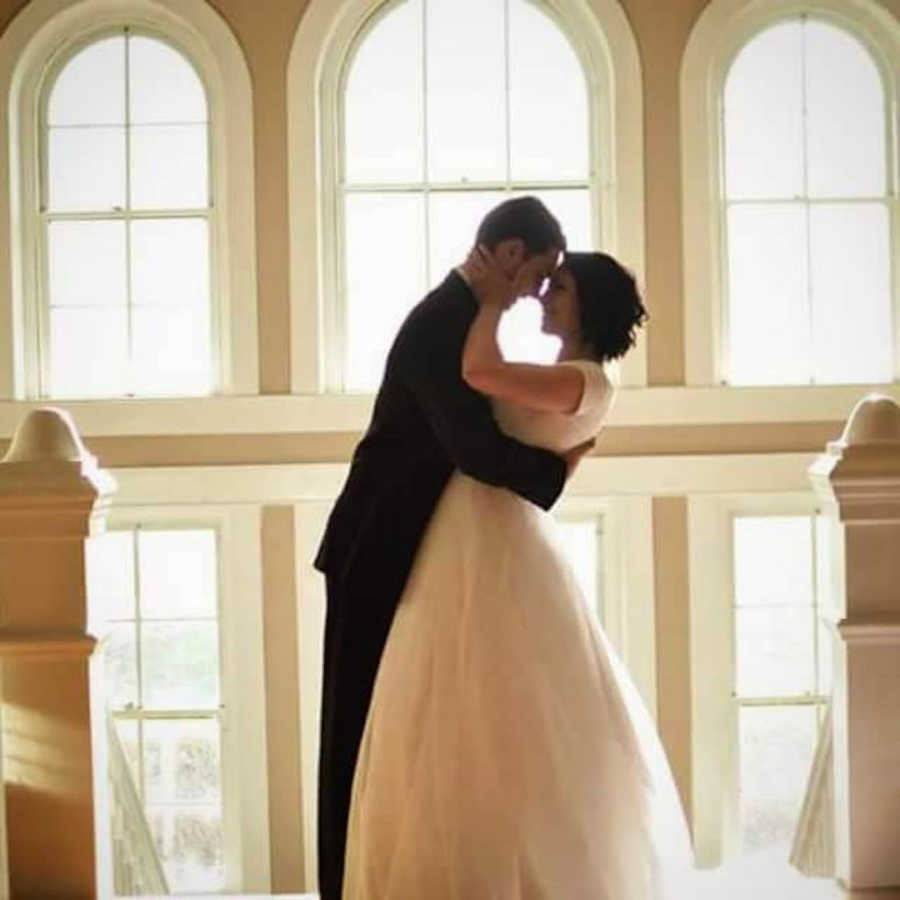 A few weeks later, we went to court for custody and were given full legal and physical custody. Her bio dad would have visits one weekend a month, on alternating holidays, and for 2 weeks during the summer. This was a hard pill to swallow for me because Mia wasn't even 6 months old yet. But for the next 2 years, that's what we did, and we hated it. He would only take some of his time and yet, he kept asking for more time. He never paid any of the court-ordered child support and was extremely hard to work with and co-parent with.
When Mia was about a year old, we decided to grow our family and I found out I was pregnant with our second daughter. My second pregnancy was high risk, because of Mia's birth, and a heartbreaking miscarriage a few months before. It was hard emotionally and physically. But, it paid off and at 39 weeks, on January 4, 2017, I had my second C-section and gave birth to our beautiful little girl, who we named Brielle. Her birth came with its own set of complications. She inhaled meconium while she was being born and thus, became my second baby to go straight to the NICU after birth. Luckily after about 6 hours, she was discharged and brought to me. Brielle was the most beautiful baby, and she still is. She had a ton of dark hair, and dark eyes, just like her daddy.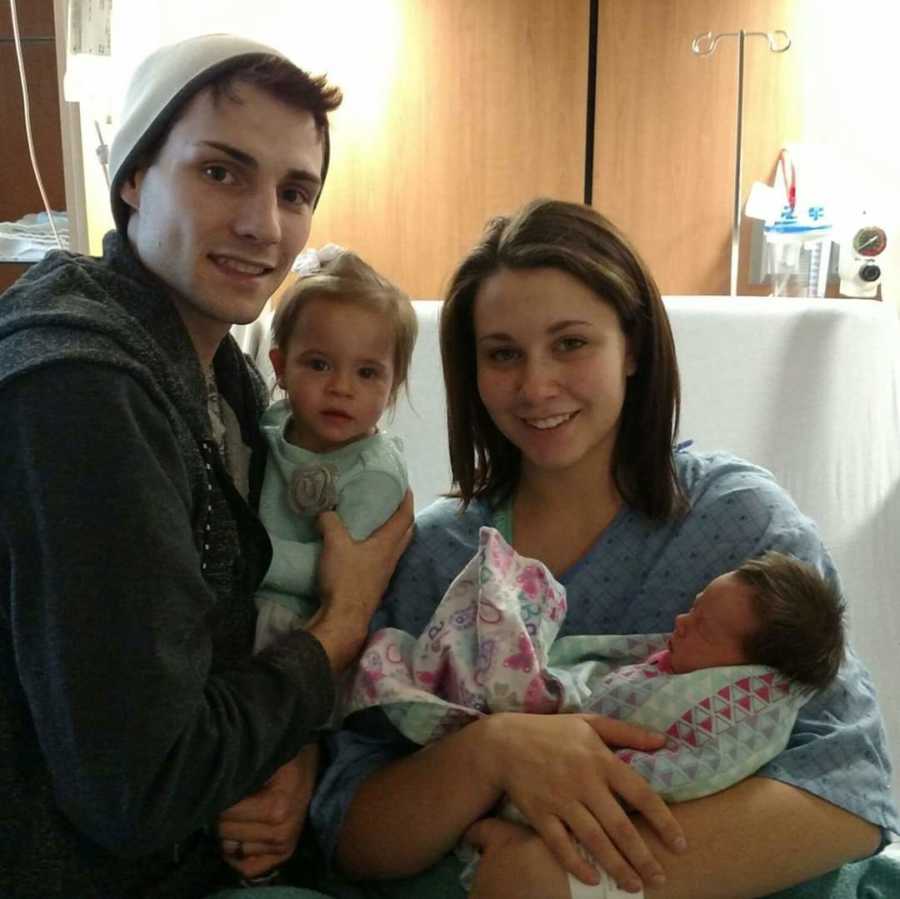 Watching Mia and Brielle grow and become best friends was a treasure. It was hard for us to watch Mia go on visitations, but watching her sister miss her was even harder. At around this time, we started realizing Mia was losing weight every time she would go on a visit. She would also come back in a dirty diaper, unbathed, and in smelly clothes. Her pediatrician became concerned because her head stopped growing and she was severely malnourished, despite us doing everything we could to get her to grow. It was eventually determined her bio dad's visits were what was causing her so much pain and hardship. DCFS got involved at that point and started an investigation. They suspected him of physical as well as medical abuse and neglect.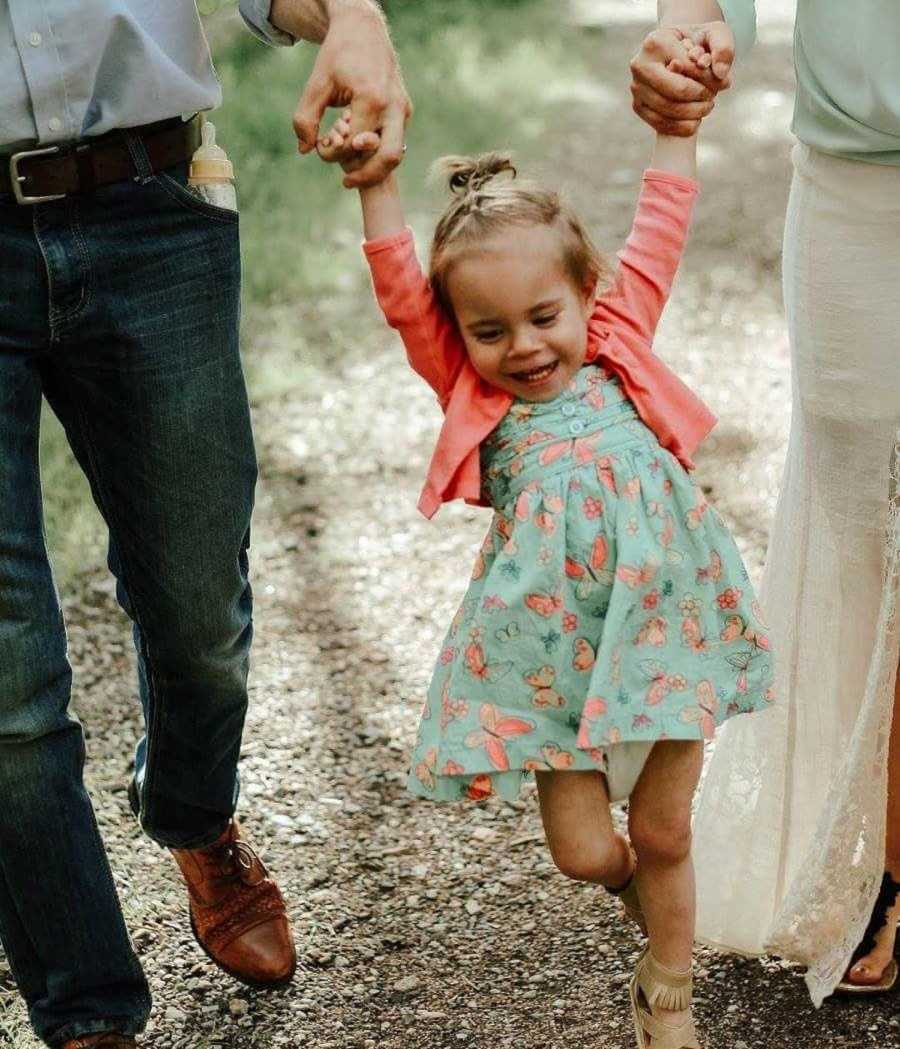 A few months later, the DCFS conclusion came to us and he was found guilty of both medical and physical neglect. We went to court, thinking something would be done to protect her. We couldn't have been more wrong. The judge decided I was just trying to alienate him from bio dad and gave him another weekend every 4 months. It was devastating, and at this point, I lost faith in the legal system. I remember sobbing because I don't understand what kind of person would put a child in the position where they were being neglected or abused. So, we kept sending her because we didn't have a choice. Around this time, bio dad started taking less and less time though. It was strange because he'd just fought to get more time in court.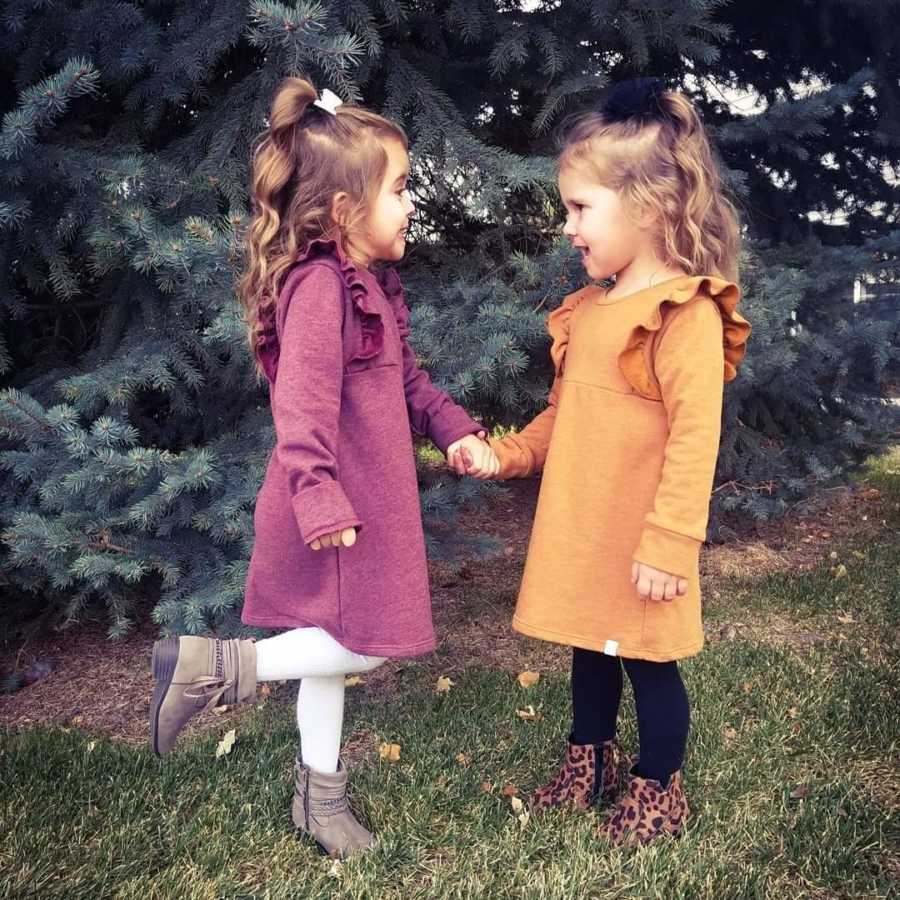 Shortly after Brielle turned one, we got the biggest shock ever when we found out I was pregnant again, but this time with twins. I was so excited because since I was little, I've always wanted twins! However about 11 weeks into the pregnancy, we lost one of our sweet twins. We thought we'd lost them both, but our son, Ryker, survived the miscarriage and was born at 37 weeks, On October 20, 2018. He was my third and final emergency c-section and I also had a tubal ligation done during the c-section. Ryker was my biggest baby, by a half-inch, and one ounce. He was also born with a full head of hair, but he was very, very blonde! I was so surprised but I shouldn't have been. I'm the oldest of eight kids, and my sister and all six of my brothers are VERY blonde! I'm the only one with dark hair. We adjusted to having three kids and celebrated by getting a mini schnauzer puppy named Milo.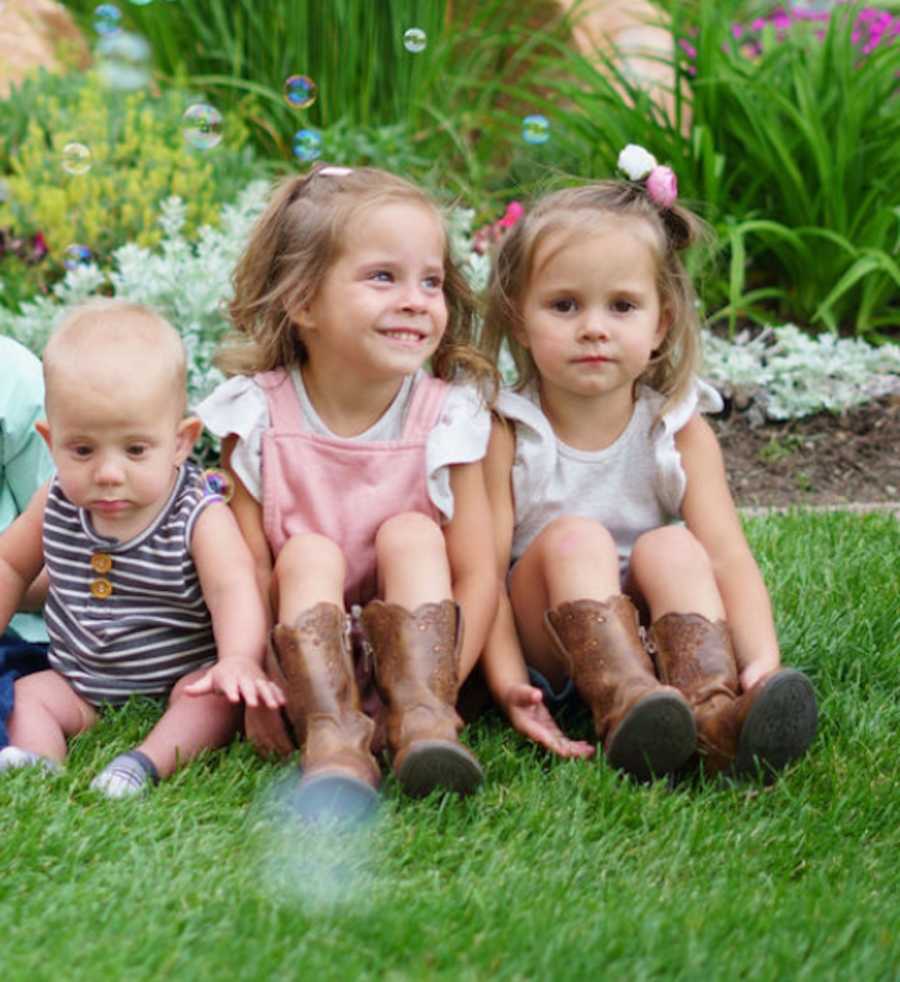 Things kind of settled into a rhythm in our family. Mia had not been on a visit in a while (since the weekend Ryker was born) and it was now June of 2019. On June 5, 2019 (our 4th anniversary), Mia was about 48 hours into what was supposed to be a 2-week summer visit when we got a call we never saw coming. Her bio dad called and asked us to come to get her. So we did. When we got there, he told us he didn't feel like she loved him and he wanted her to be happy. We took her home, and that was the last day we ever had any contact with him. In the state of Utah, 6 months with no contact is considered abandonment. We waited about 10 months and in March of 2020, we met with an adoption attorney and filed for a step-parent adoption. We wanted Carlin to have the legal rights to match the love he'd given Mia over the last 5 years since the day she came home from the hospital. Carlin had stepped up to fill the shoes of being a father where it wasn't required because he loved me so much.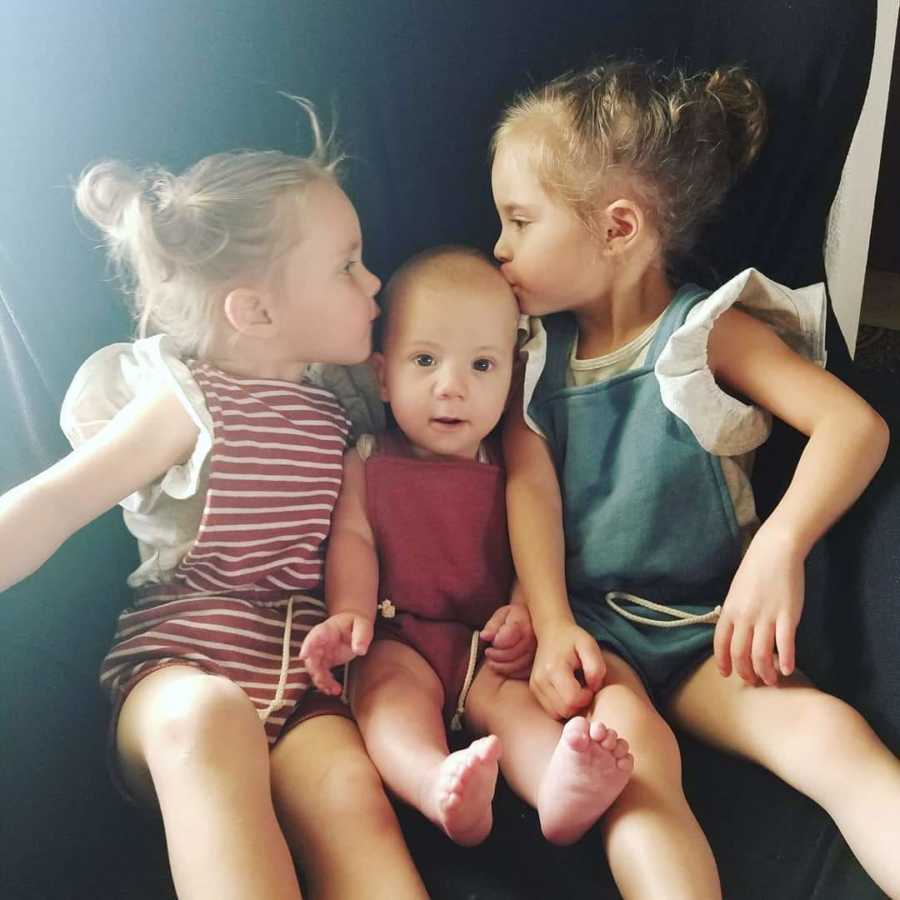 On June 1, 2020, in the middle of a global pandemic, the adoption was finalized. That morning, we sat around our kitchen table, with our three beautiful kids and family members and the court joining us virtually. It was one of the most incredible moments. The judge asked Carlin if he would love Mia as his own for the rest of his life and his answer was perfect: 'I've been doing it for the last 5 and a half years and I would love the chance to love her and take care of her for the rest of her life.' Mia told the judge how much she loved her daddy and how excited she was to have the same last name as the rest of her family. And then, the judge terminated her bio dad's rights and gave those rights to Carlin. She changed Mia's last name and declared us a full, legal, family.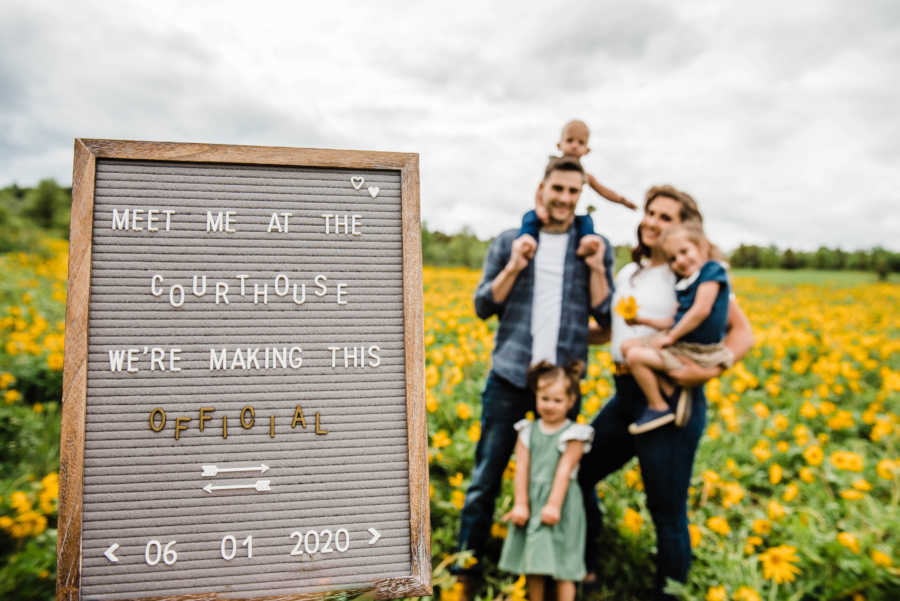 As of today, February 25, 2021, we live in a small town called Logan in Northern Utah. Carlin has a job he loves, I am a mom right now and hope to go back into the medical field when Ryker starts school. Mia is 6 now and in kindergarten and is healthy and thriving. Brielle is 4 now and is starting at home preschool. She is the sweetest kid and loves animals. Ryker is 2 now and hopefully will potty train someday. He is definitely the biggest tease in our family. Milo is the 'goodest boy' and loves all the tummy scratches."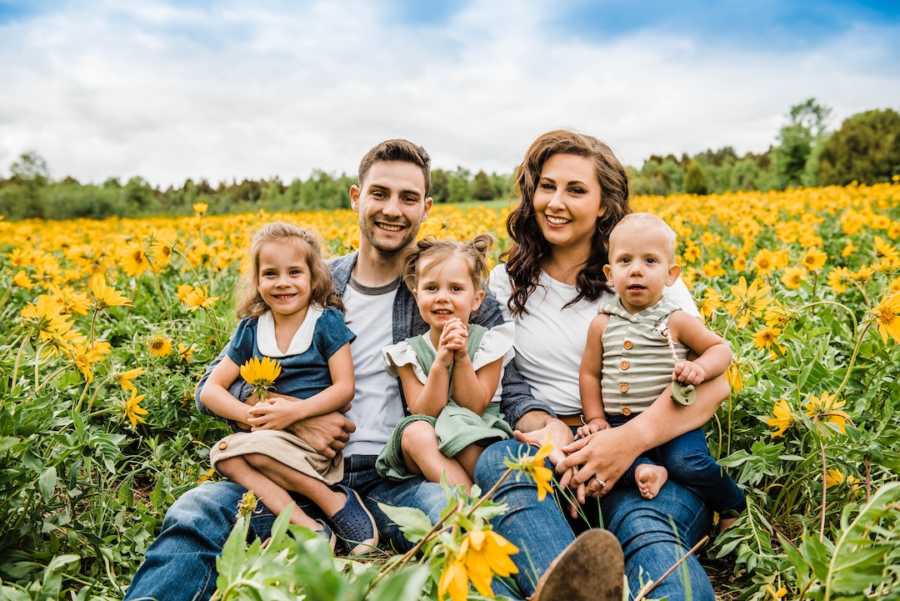 This story was submitted to Love What Matters by Chelsey Nye from Logan, Utah. You can follow their journey on Instagram and Facebook. Do you have a similar experience? We'd like to hear your important journey. Submit your own story here. Be sure to subscribe to our free email newsletter for our best stories, and YouTube for our best videos.
Read more stories about blended families here:
'When it comes to the size of our family, we're always laughed at. What they don't know is we love our chaos!': Mom of 6 shares journey as blended family, 'We were made for this'

'Are they ALL yours?' What do I say? 'Yes, these 4 are mine, but those 3 aren't.' Being a step-parent is THE thankless job.': Mom discusses ups and downs of being a blended family'
Let's give this a go, shall we?' The first time we met, I can't even tell you how nervous I was. It's about giving up control.': Moms co-write blended family journey, 'Life is humbling and messy'

'You were adopted.' My world stopped. I investigated their faces as all of them started to cry. I became their mother.': Mom of blended family says 'blood doesn't mean anything'
Provide beauty and strength for others. SHARE this story on Facebook with friends and family.