"My husband, Pat, and I have been together forever. We met in middle school, dated on and off throughout high school, and committed solely to one another in October of our freshman year of college. We were married at 26 years old in June of 2014. I've known this man was my everything, past and present, for as long as I can remember. We were friends first, and on that base of friendship grew trust, respect, and vulnerability. I have told him my deepest, darkest fears and my boldest hopes and dreams. He has seen me, against my better judgement, stuff myself full of pizza and drink an entire bottle of Malibu – and he still held my hair back when I vomited for hours on end. We've weathered familial deaths, illness, and many of the other tribulations that are included in the package of matrimony. We weren't, however, remotely prepared for the years that lay ahead.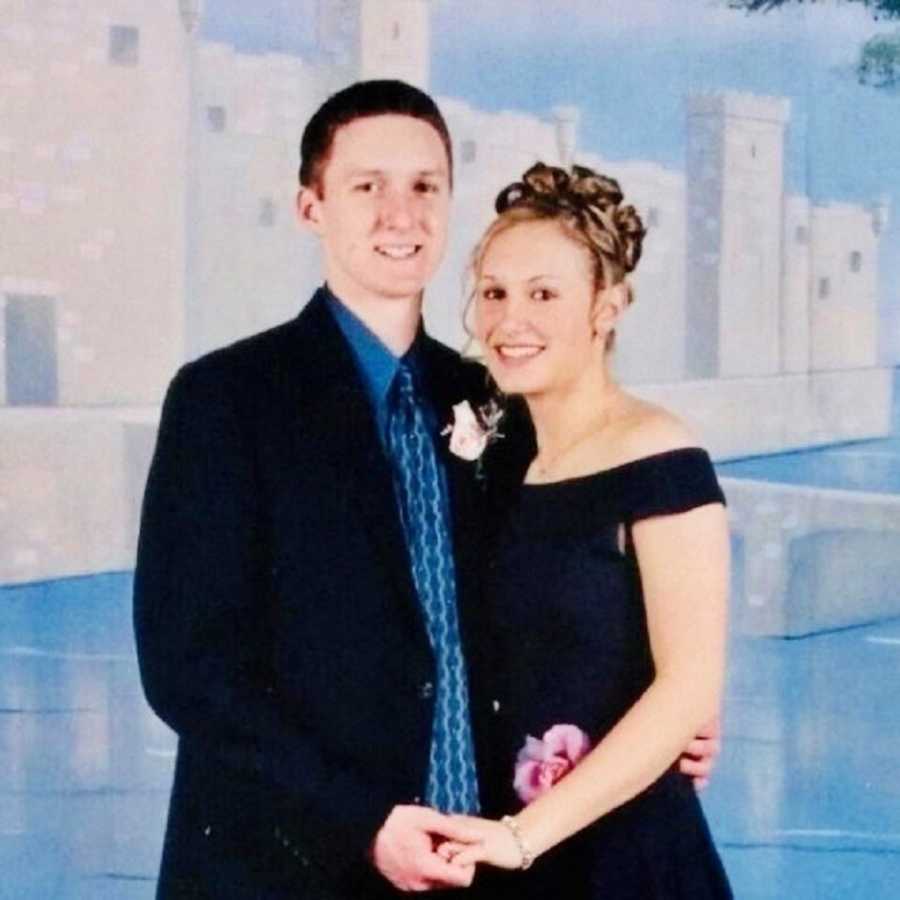 There is a history of infertility in my family. Heading into family planning, we knew it was a distinct possibility that I would suffer the same fate – PCOS (polycystic ovary syndrome). Sure enough, after months of trying on our own, and months of trying under the direction of our OBGYN, we got nowhere. Each cycle was met with more disappointment than the last. I was slowly unraveling – other peoples' pregnancy announcements on Facebook made me cry. I couldn't handle being around pregnant women, seeing babies in public filled me with rage, and hearing that our friends were trying to get pregnant made me feel wildly jealous. Throughout all of this, Pat was calm, rational, and optimistic. He would lay with me on the floor as I cried, red-faced from Femara's hot flashes, and tell me that we would get there. He would come home with little treats and find ways to make me feel beautiful, despite my growing feelings of inadequacy. During this time I felt as though I couldn't do much for him emotionally, mentally, or physically, but he was the rock that got us through. Finally, 12 cycles into our treatment, we saw our 'two lines' and a few weeks later, our two embryos.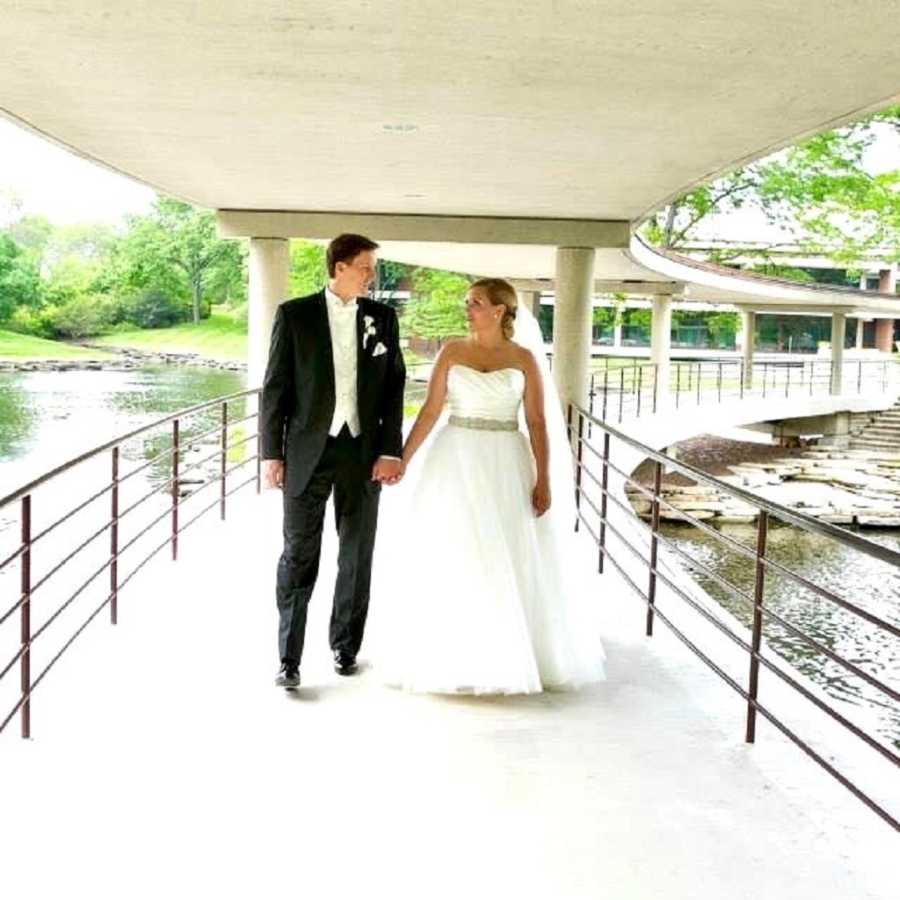 We were told something was wrong at our 20-week anatomy scan. Our babies were measuring very small and were not receiving proper blood flow. At exactly 24 weeks, we went in for an umbilical scan – what had been our routine in weeks prior. I sat in the chair as our ultrasound tech quietly scanned the babies. Pat and I both knew what the silence meant. I can still close my eyes and immediately transport back to that darkened room, holding Pat's hand as we stared, our hearts shattering into a million pieces. Our Baby A had died. I was admitted and hooked up to machines to monitor Baby B, who we named Lily. Pat didn't leave my side for the four days between admission and the girls' delivery. It was unlikely that Lily would survive birth, but we laid together crying and trying to remain hopeful as she stayed strong inside of me. Pat knew exactly what to say to bandage my aching heart throughout those days. Whatever happened, we would face it together. I was the vessel that carried our children, and he was their champion. If Lily died, we agreed to sell all of our belongings and move to a beach in Hawaii, disappearing until we felt strong enough to return – but Pat knew that Lily was strong enough to survive. I had intense, terrifying thoughts racing through my head, but he did everything that he could to keep me intact. Our one remaining child was the center of our world – we fought so hard for her and her sister, but the love between us couldn't guarantee their survival. The night before the girls' birth, we worked together with our team to create a birth plan and Pat was ready to make sure that they carried out our wishes.
Together we chose not to see our Baby A, and I chose to wear headphones from the minute I entered the theater because I did not want to hear what was going on. Pat stood by my head to keep me distracted and to filter what he chose to see. I adamantly did not want to see Lily because I was afraid that she would die. I couldn't live with the image of her lifeless body for the rest of my days. Throughout the entirety of the operation, I kept my eyes affixed on my husband as he watched the surgical removal of our children from my failing body. I watched him as he saw our beautiful, living daughter enter this world. The years of work that we had put into our marriage culminated in that moment, and with all of the trust I had in the universe, I agreed as Pat encouraged me to remove my headphones and look at my 1-pound daughter lying in her isolette. He knew exactly what I needed, even when I didn't, in the most harrowing moment of my entire life.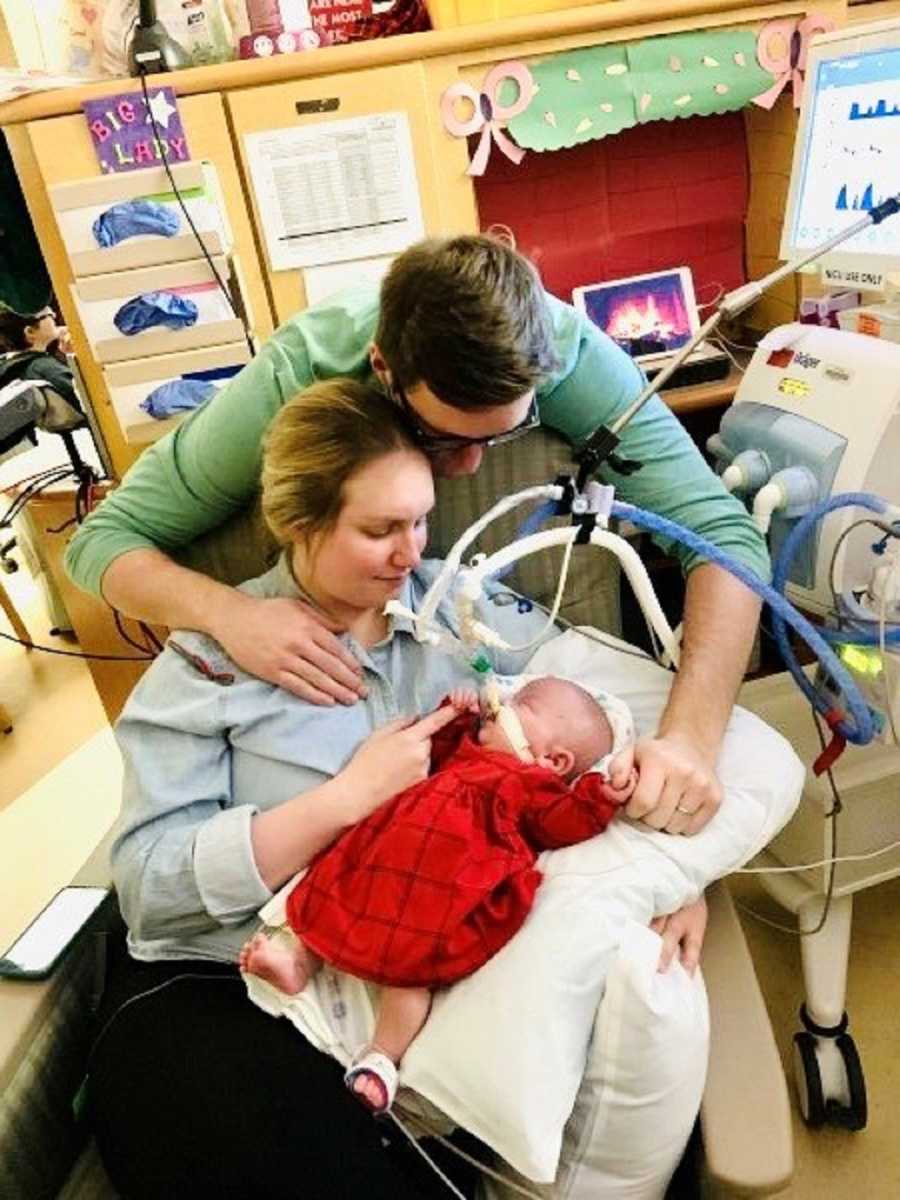 Lily spent eight months in the NICU. The early days brought about periods of fear, uncertainty, and guilt. I was struggling greatly with anxiety, the beginnings of posttraumatic stress disorder, the grief of losing my child, as well as the physical recovery from a cesarean section and effects of days on a magnesium drip. I was extremely vocal about my emotional and physical pain, while Pat handled his grief in a very different manner. He spent quiet afternoons at his workbench, planning projects for the child who we were uncertain would come home. While we sought comfort in different ways, we made our evenings a priority. We would return home from the NICU and spend our time cooking, watching television, and just being together. There were nights that we chose not to process, nights that we argued about inconsequential nonsense, and nights that we spent researching and preparing for rounds the following day. Throughout our stay, other parents would stare, horrified, at the medical interventions that our child required, but we faced each procedure, alarm, and emergency with the strength that she deserved. We did not ask for this, but we were going to do exactly what we agreed upon on the days leading up to Lily's birth – we would do it together.
Lily has been home for five months. We are by no means 'out of the woods,' as complications stemming from her premature birth are ongoing. Our home has been transformed into a mini ICU and we are responsible for 100% of her care and emergency response. We have experienced several scary moments and handled each one with immediate response, stellar communication, and thorough debrief. Our processes are iron-clad and we move in sync throughout our daily routine. We have been able to face adversity – from managing Lily's sporadic illness to weathering the changing relationships with family and friends around us – together as a united front. There are days where we act as 'ships in the night' as we don't have consistent nursing and Lily requires 24-hour care. We briefly high-five and exchange report at 3 a.m., when one goes to sleep and the other wakes for a shift. We are grieving the loss of our twin daughter in very different ways – I attend therapy, and Pat takes quiet time for reflection to process on his own. We are respectful of our different ways to process, but find time to come together to celebrate her whenever we're emotionally able.
Despite the immense curveball that has been thrown our way, I am extremely proud of our continued resilience. The foundation that we worked so hard to build before the unthinkable happened has served us well in our unpredictable life. This is not what we anticipated when we took our vows, but we have made the decision to face each day together. We have come so far from stupid teenagers breaking curfew for five more minutes together, but if they could look ahead, I know they'd be pretty damn proud of us, too."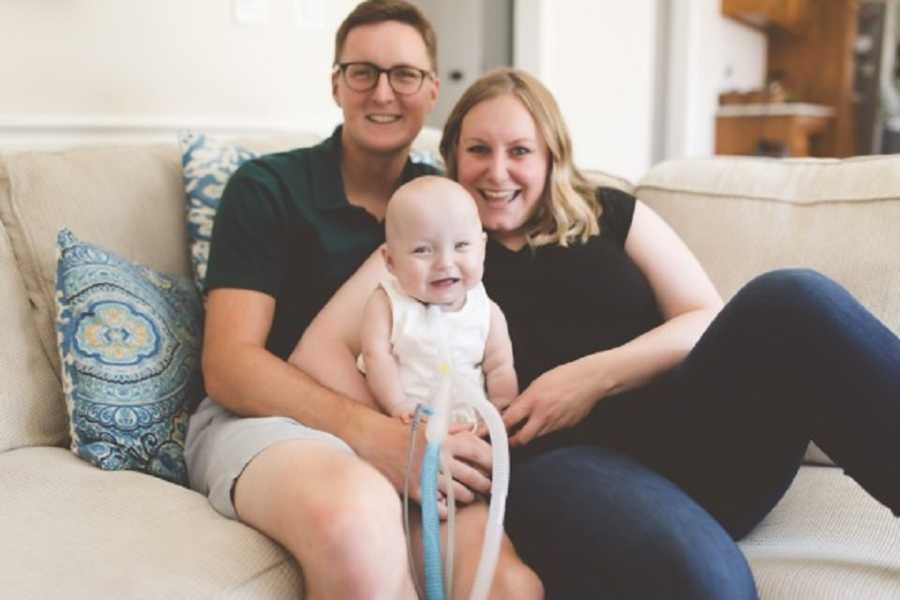 This story was submitted to Love What Matters by Jessica Wolff of Illinois. You can follow Lily's journey on Instagram. Do you have a similar experience? We'd like to hear your important journey. Submit your own story here. Be sure to subscribe to our free email newsletter for our best stories, and YouTube for our best videos.
Read Jessica's powerful story of her surviving daughter:
'Millions of dollars later, we're finally home. I get to spend each day with the most amazing 14-pound child imaginable. Dammit, Baby B.': Family's amazing journey to overcome infertility
Do you know someone who could benefit from this story? SHARE this story on Facebook with your friends and family.