"'How many kids do you have?'
This time the person asking me the question was a 4th grader – one of my son's classmates. I was volunteering in their classroom for a day, and while I got to have all kinds of interesting conversations that day, this question made me pause for just a second, as it always does. I know it is not a trick question, and the answer is not supposed to be hard. I get asked this when I'm with my kids at the park, in the grocery store, and countless other places on a regular basis. This boy, just like most people who ask me this, is just wondering how many kids I have. And the easiest answer, the one they are likely looking for, is 3; two sons and a daughter.
The more complicated answer, the one that people usually are not looking for and will be downright uncomfortable if I give, is that I have 6 children. Six times my husband and I have known the joy of a positive pregnancy test – each of them an answer to our shared prayer that we be given the opportunity to raise a family.  And three times we experienced the miracle of holding our brand new tiny baby and listening to their first cries as they entered the world, with tears of joy and gratitude streaming down my face. Three times, though, there were tears of grief and heartache as we looked at an ultrasound screen confirming that our baby's tiny heart had stopped beating. Three times that we had to say goodbye long before we were ready, to babies that we already loved but wouldn't get the chance to hold.  And so when I get asked the question, 'How many kids do you have?' the answer my heart gives is 6.
A couple of weeks ago my two oldest kids, who are 9 and 7 now, were reading out of a children's devotional book as we do each night at bedtime. The topic of this particular devotion was why bad things sometimes happen to people that are hard or sad, even if they've done their best to be good people. Fortunately, my kids have not yet had a lot of hard experiences in their life yet, and so this was a difficult topic for them to wrap their heads around. 'Mom,' asked my son, 'Would this kind of be like when you and dad had babies that went to heaven before they were born?'
Tears stung at the back of my eyes. 'Yes, I definitely think that could be an example,' I said, remembering the absolute grief of those days. And things I'd never really experienced before, like bitterness and anger that boiled inside of me in an unfamiliar way, until a wise woman who had been through her own experiences of pregnancy loss offered the advice that although God may seem like the most likely target for our anger, ultimately He was the only one that could heal our hearts. 'Faith is the only thing that will get you through this,' she said.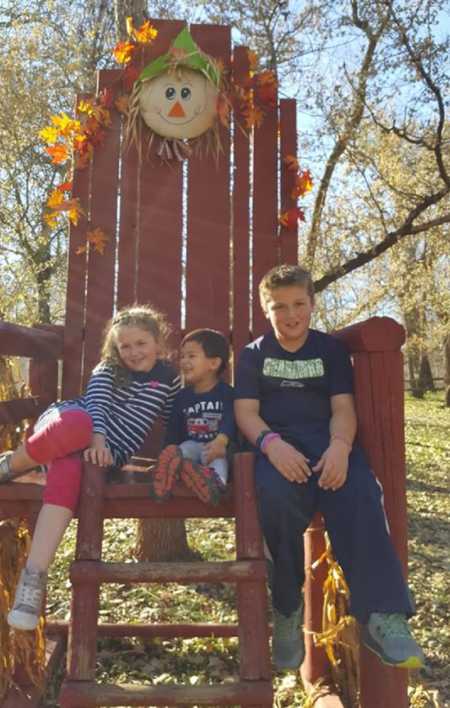 When we found out I was pregnant a second time, I felt hopeful – that although I didn't know the ending yet, I could trust the author. Although it was no less devastating the second time that we learned our baby's heart had quietly stopped beating sometime without us even being able to know it, this time I felt God's presence during the pain that followed. And by holding on to faith, my hope remained in spite of the heartache.
I condense these things a bit and tell my son and daughter about this, in answer to my son's question. I tell them that after our oldest son was born, during his baptism we also had a naming ceremony for our first two babies.  We named them Faith and Hope – lessons learned from those experiences, and beautiful gifts that our babies had given to us.
I think this is going to be the end of our conversation and I get ready to say prayers with them and tuck them in. But then my son asks, 'Mom, do you think if you and dad would have had the first two babies, you would still have us?' This question feels heavy to me, and I can see from the vulnerability in my son's beautiful hazel eyes that I have to get the answer right, even if I'm not sure what it is. But then I do.
I tell them both that the very best days of my whole life were the days that each of them and their baby brother asleep in the next room were born. That every single day I thank God for giving me each of them and trusting me to be their mom. I tell them about the verse in the bible that says, 'All the days ordained for me were written before one of them came to be.' In the days after our miscarriages I struggled with this verse, wondering how such heartache could be part of a plan and having to restrain the knee jerk reaction I felt whenever a well-meaning person would tell us that our loss 'was just part of God's plan.' I tell my kids it brings me such peace right now because it is a reminder that each one of them were part of God's beautiful plan all along. Even if I don't understand some parts of it, I fall asleep thankful every day that it included them. I tell them both, 'I am absolutely certain that the only plan there is has always included the three of you, and I can't even imagine a life without you in it.'
As I say these words to them, for the first time in over a year, I feel something new in my heart: peace.  My children don't even know we lost a third baby, our sixth pregnancy, last year in August. We hadn't yet told them about the pregnancy because our early experience with grief has cast long shadows. We wanted to protect them from sadness should this very thing happen again. Which I guess that we did, but it also meant that for a little while afterward I would get everyone into bed, and then quietly cry in the bathroom. I tried to talk myself out of the sadness I felt by telling myself I already had three perfect children, and that there was a time when we weren't sure we'd be able to have any. I reminded myself how lucky and how blessed we were. I tried to chase the grief out of my heart, for fear that it would somehow diminish the gratitude and joy that normally lived there.
But saying these words to my kids, I realize I might always feel some heartache when I think about the three children we never got to hold, right there alongside the overwhelming and genuine gratitude and love I feel for our three children, every single day. Loving fully the three kids here with me doesn't diminish the memory of the three that are not, and grieving our losses does not undermine my love for the children here with us.
It seems fitting that it is October, the month designated for remembrance of pregnancy and infant loss. I read on a photography blog that the best way to capture the colorful trees in the autumn is to take pictures on a day when the sky is overcast or cloudy, because the colors in the trees look even more vibrant in contrast with the darkness of the sky. Maybe grief is this way too, serving as the dark background against which our most beautiful experiences appear even more brilliant. As I watch the trees slowly change color each year at this time, I will remind myself that where grief exists, it means that love did too. Maybe I finally understand the way they complement each other, rather than compete.
After I tuck my kids into bed that night, my husband gets home from work and I tell him about the conversation at bedtime. His eyes shine with tears that mirror my own. We had put off giving a name to the baby we lost last summer, as we weren't yet sure what it should be. On this night we decide on the name Peace for our baby, our sixth beloved child. One more precious lesson, one more gift from our child whose memory will forever be carried in our hearts."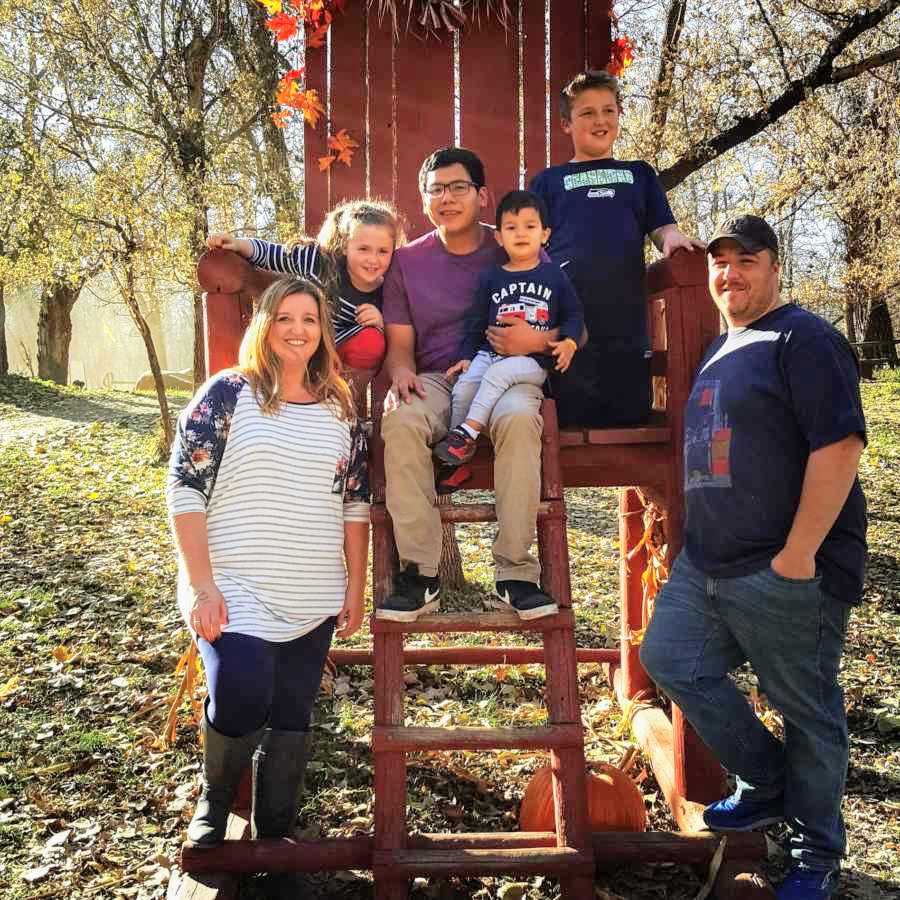 This story was submitted to Love What Matters by Katie Krukenberg of Bismarck, North Dakota. Submit your own story here, and subscribe to our best stories in our free newsletter here.
Read more of Katie's compelling story here:
'Who do you belong to?,' asked the wedding photographer, to our 19-year-old foster son.
'A man stepped out of the shadows where I was walking. He was wearing baggy, dirty clothes and old shoes. I took a step backward, looked into his eyes and said hello.'
Help us show compassion is contagious. SHARE this beautiful story on Facebook with your friends and family.