"I've never shared our story with everyone. So here I go. In 2015 I became addicted to pain pills. At first it was here and there, just a 'fun' thing. At this point I was still holding my job down and didn't feel bad without using pills.
Shortly after, within 3 months, I was hooked. And so was my boyfriend.
I never dreamt I'd be the girl who grew up and started doing drugs. I was raised well, in a good family. I was never around anything bad. I remember the first time I took a painkiller, I was taking some Advil at work because my head was hurting. This girl I worked with was like, 'Do you want something stronger?' I was like, 'Yeah, sure.' I always thought this girl was cool and I wanted to be like her so when I found out what it was I was scared to try it, but then again, I didn't want to look like a 'loser' so I did it.
Shortly after that, this girl was sharing pills with me daily at work. I didn't think I was getting addicted. But I was wrong. Within weeks if she couldn't find anything, my boyfriend (Dustin) would search for me. He began doing drugs at the age of 16, so he had connections. When we first got together I had no clue he had done drugs.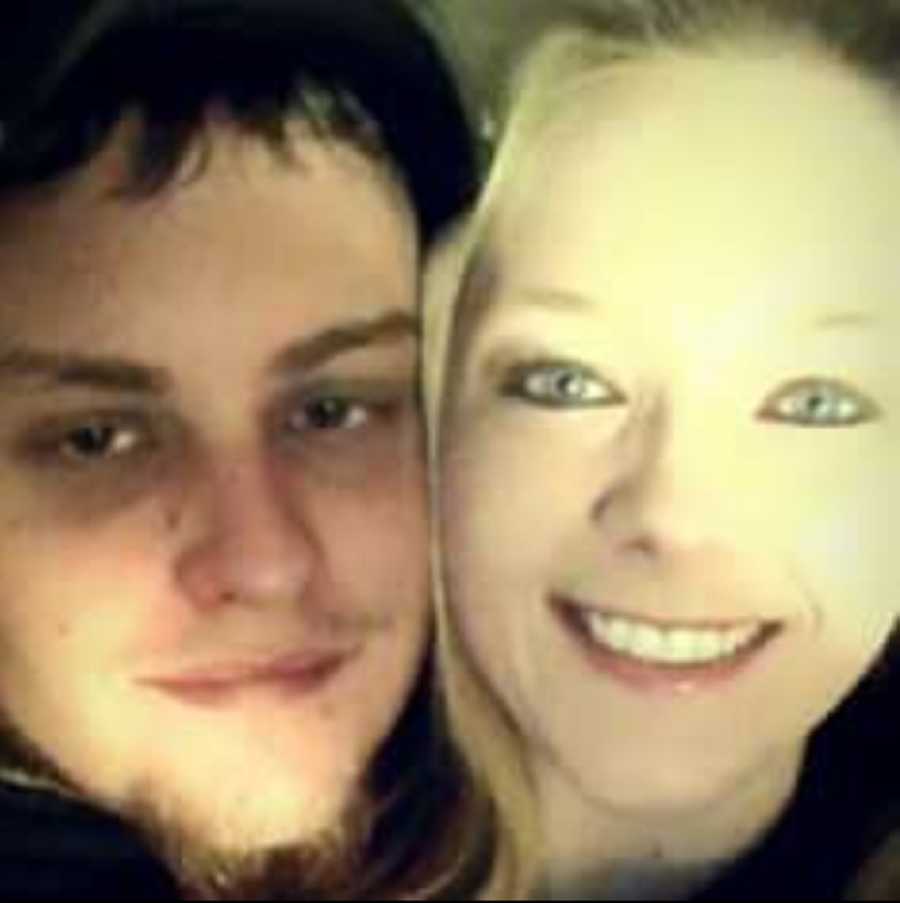 For a while we could always find pills. It got to the point where every single night we were going on a drug run. We were living in his dad's house, so of course we would bum 20 dollars here and there to get pills.
Within 3 months I was hooked. I quit my job. Found another job. I stayed with that job for a few months, then went back to my old job. I went through about 8 jobs within a YEAR. I couldn't hold a job because I couldn't go to work if I didn't have pills. I was so sick if I didn't have pills, I would lay in bed all day or be on my phone trying to borrow money from family or trying to find pills. My family caught on quickly – they could see a change in me.
About a year into my addiction I turned to meth. We had a guy who would front us whatever we wanted. I had never touched meth but the first time I smoked it, I was hooked. Meth is the devil. I enjoyed staying up all night and losing weight. The come down was pure hell. I would get so angry at everything I didn't want to be alive. Dustin would try to get me to go weeks without it and I would beg and beg until he would give in. We bummed money from whoever we could. I would drop 10 pounds a week. I slowly drifted away from my family and my friends. After I lost everything, I felt like there was no hope. I'd stopped praying every day like I use to. I lost God. Even though he was faithful to me, I wasn't faithful to him anymore. I remember counting out PENNIES to get gas. My brakes were grinding. But I didn't care as long as I had my fix.
Dustin ended up breaking into a family member's home to steal things to get money for pills. He went to jail and got 3 felony charges. I had no clue he had done this. He was so bad off he would write checks from his family without them knowing and he would steal anything and everything from ANYONE to get his fix. He would never tell me, but I eventually found out he was buying from a mutual friend. I would get mad because he wasn't sharing with me. I was always like, 'How could you know I'm at home withdrawing and you're off getting high?!'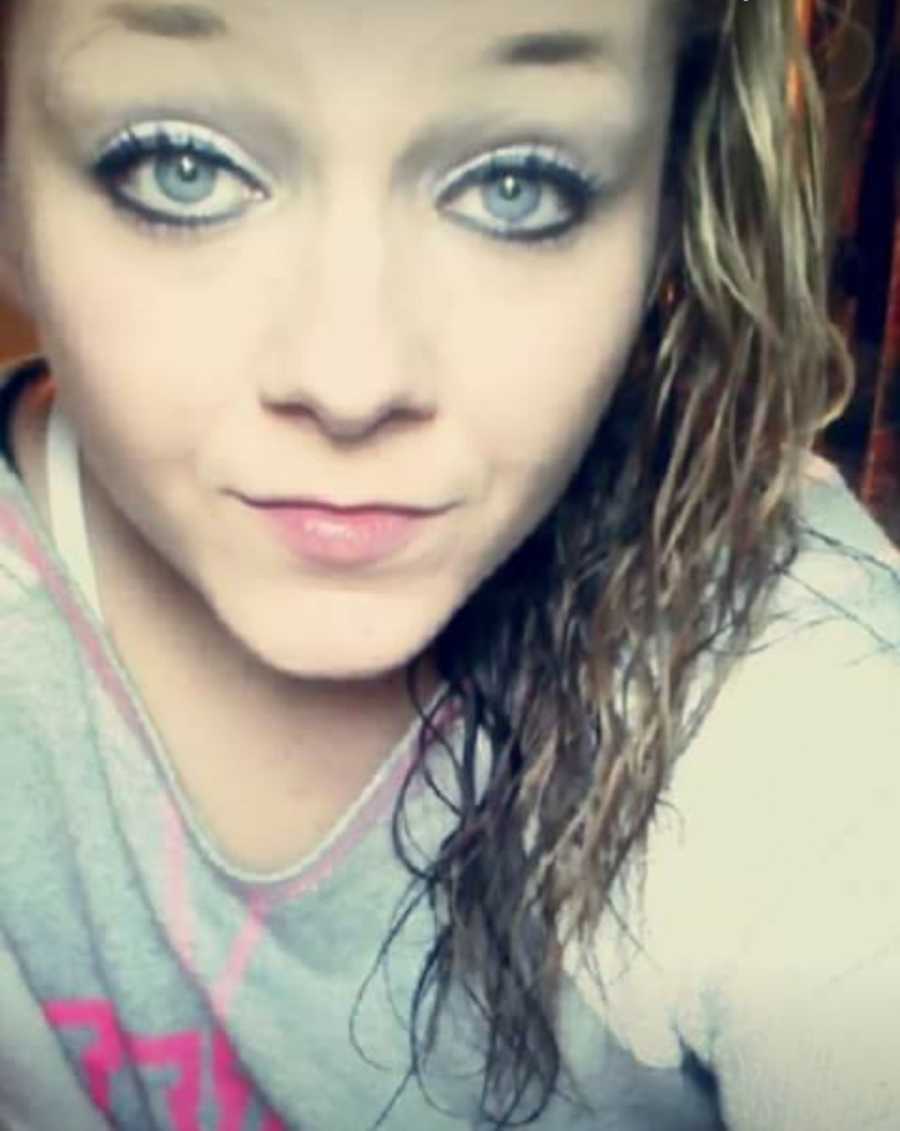 About 5 months later we had borrowed so much money from his dad, his dad was in debt. His power got turned off. We moved in with a pill connection for a few months that didn't last of course, so we moved into a nearby motel. We were hiding from the law. So paranoid to go outside. Our dealer just happened to live there too, so we had easy access. Finally we couldn't afford the room anymore. They had caught onto us being strung out, so they kicked us out.
That's when I realized we were at rock bottom. I remember getting checks I worked hard for, $1,400 dollars would be gone within 2 days. I'd buy $800 worth of pills. Anyone who knew the old me knew I wore makeup daily, kept my hair fixed, had my nails done, everything. When I was strung out, I didn't care what I looked like. I'd get so mad if someone would say I was addicted to drugs. I'd argue and try to hide it. I would avoid outings with family because I was either withdrawing or too messed up to go. I'd lay in bed, my legs would ache and jerk. I was weak. I wouldn't wish it on my worst enemy.
We went back to his dad's house. We would use the generator to take showers. The house had bats, mice, and at one time a huge 6-foot snake in it! By this time, I wanted so badly to give up. I didn't have a car, I had no money, I'd sold all my belongings to get drugs.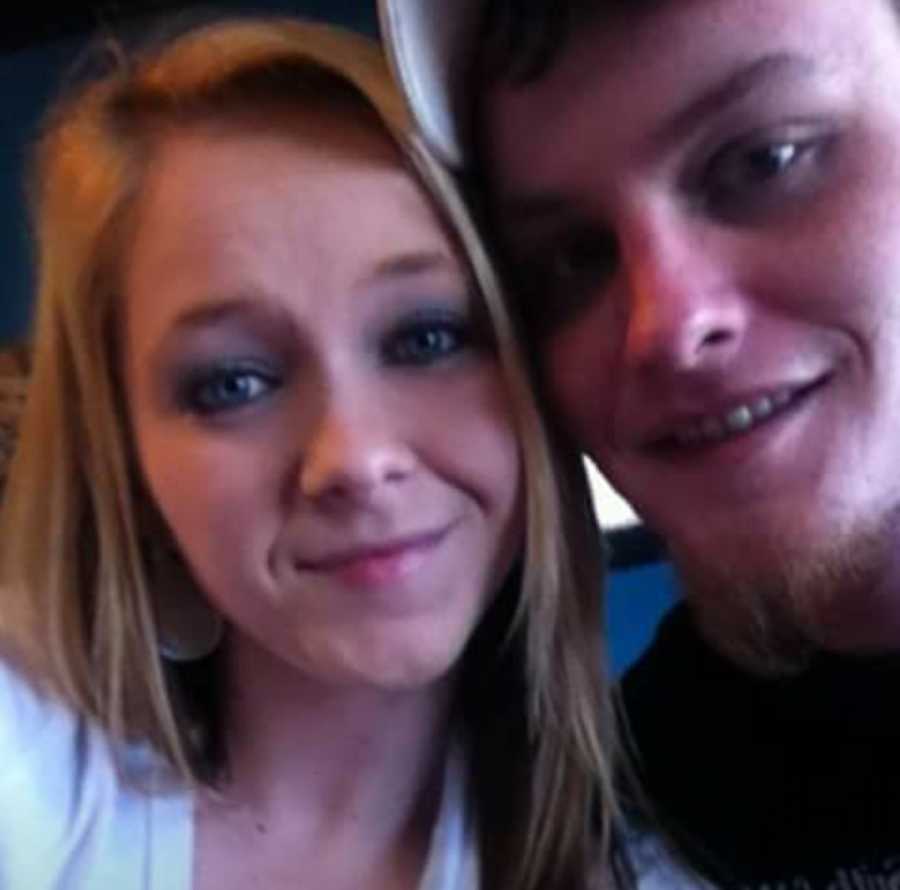 My mom and dad finally said, 'If y'all go turn yourselves in (we had a warrants out) and get straight, we will buy y'all a camper and give y'all a car.' So we did good for a bit. We got our camper because our court case got dropped. We had a vehicle. I was holding down a job. Life was looking up, right?
We slipped. We went back to doing meth on the weekends. Then every day.
One night I had gotten some different meth from a lady and I had a bad trip. I literally thought someone was outside our camper and I thought they were wanting to kill us. I was ready to call the cops. I ended up calling my mom and dad. As soon as they saw me, they knew I was on something. That was the worst memory I've ever had, because I let them down so badly and I knew it. I flushed all my drugs in front of my dad that night.
A month passed and the tables turned. Dustin wanted to go get meth, so we did. We also slowly started buying pills again. I'd been clean about a month, I was really moody one night so I took a pregnancy test. There was a tiny faint line. The next day my mom bought me a Clear Blue and it said pregnant! I was pregnant after trying for 2 years straight. I was finally pregnant. It was a shock because we had kind of just stopped trying so hard. I was nervous and scared, but I was so excited.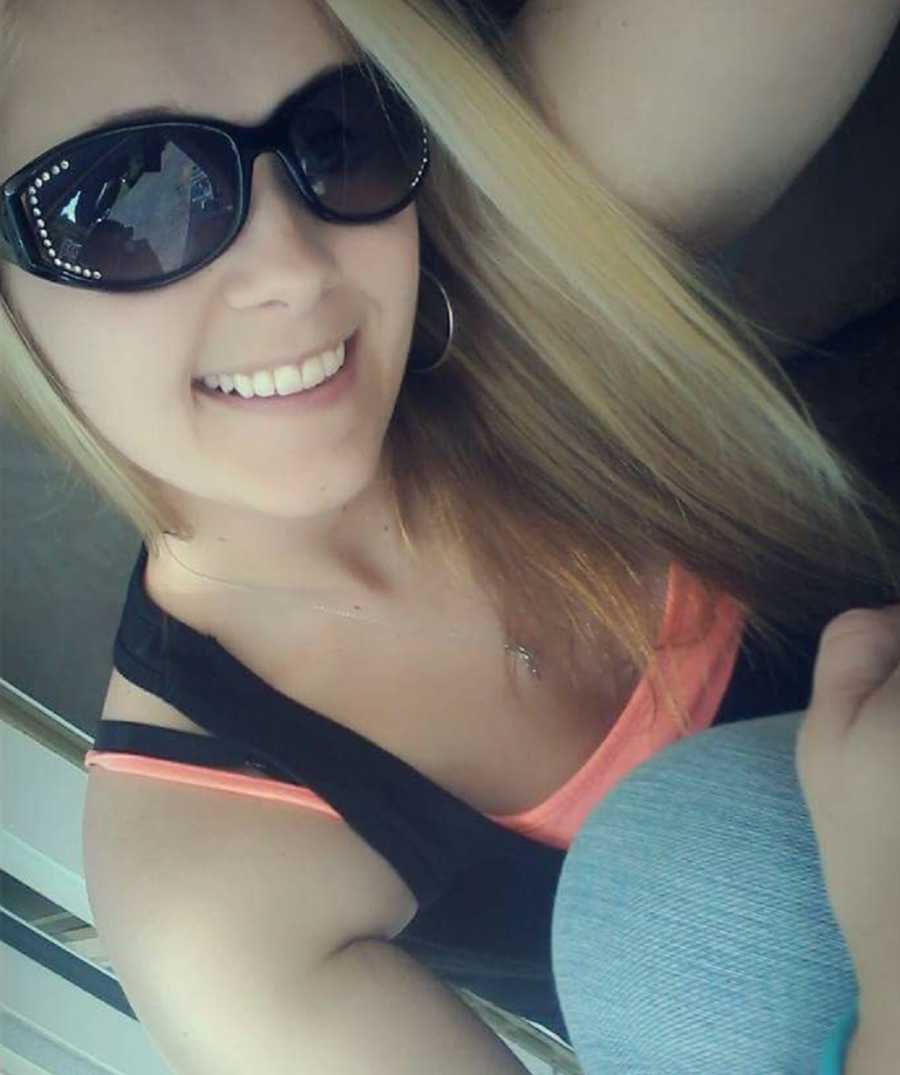 I quit drugs straight up, no problem. It never bothered me. I knew I had another life to take care of. I was so excited with buying baby clothes and listening to his heartbeat that drugs didn't cross my mind. And I was so scared after he came I'd get bad off again, but there was no way I was going to let someone else raise my baby. Dustin did awesome as well. He was so excited, and he worried so much about the baby. We used each other as support. Every night we'd lay down and listen to the baby's heartbeat. We worried if I got even a minor cold if it would hurt the baby. There was no way we could've done hard drugs.
The baby was due August 16th.  He came exactly a week early. My mom drove me to the hospital. I had been in labor for 2 going on 3 days, and hadn't realized I was in labor! When I got there they were like, 'You don't seem to be in enough pain to be in labor,' so they checked my cervix and I was 6 CM dilated! Five hours later they laid my baby boy on my chest. We were so in love. He's all we ever speak of. If we don't have him with us, we are a ball of nerves. He's never spent not even one night away from us because I am terrified of losing my boy. I couldn't imagine life without him.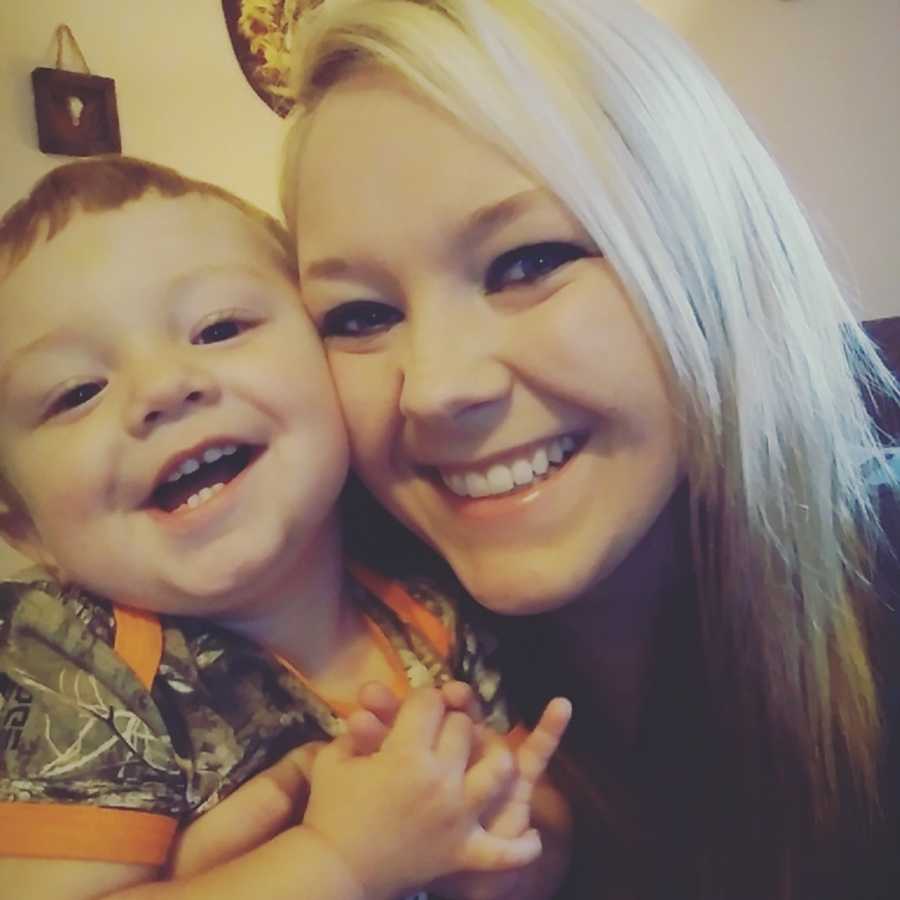 We both finally had jobs. 2 cars. We moved into our OWN FIRST PLACE! It was only a 1-bedroom apartment but to me, it was amazing. We welcomed our little boy last August. I was never so happy in my life. He's my saving Grace. He's always happy and so talkative.
As of today, we have a 2-bedroom home. We have a bed and power and food. We get to lay down every night and cuddle with our son. My little boy is running around on my porch talking away, my fiancé is at work. He is 14 months old now. He was born with PERFECT 10 little toes and fingers. A head of hair. He didn't have one issue.
No, we don't always have what we want, but we always have what we need. Dustin is the best provider for my son and me. He never complains. He is the sweetest person you have ever met. He's the best dad to our son.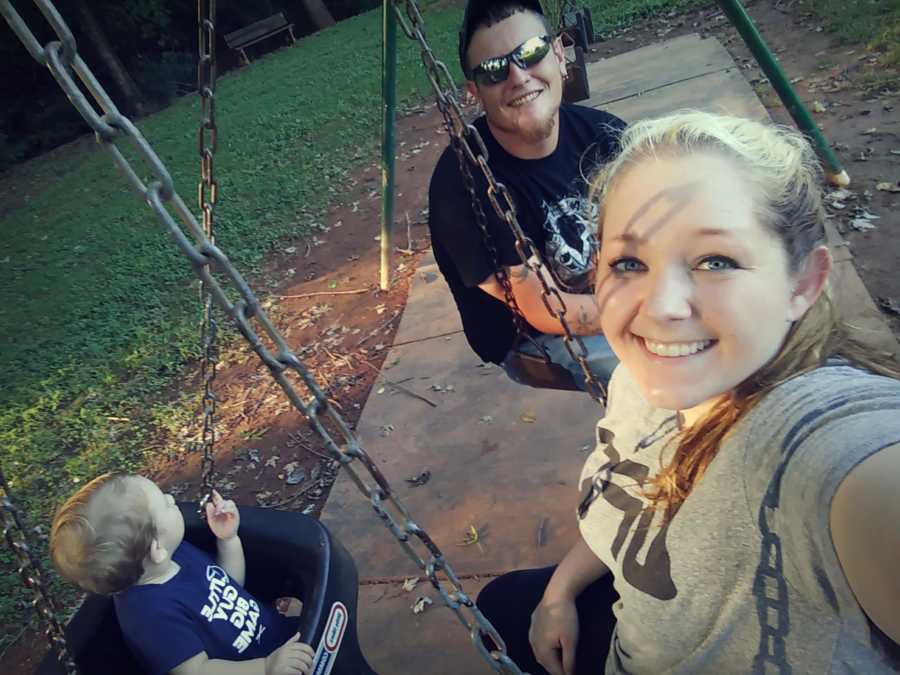 I just quit my counseling, I have been about 3 weeks without it. I feel great. I don't feel like I need to speak with someone anymore to keep me from doing drugs. Dustin and I can fully talk to each other about anything now without fighting like we used to.
As I wrote this I cried, because it is still hard to admit I had a drug problem. But if I can help ONE person get clean, I'm willing to share my past.
This is my story and I hope whoever reads this and is struggling, or has a loved one struggling, sees that it is possible to change. It's so scary now that I see our past 'friends' are in jail or dead from overdosing and I look at our lives and know God truly blessed us. He saved us. I thought drugs were awesome – they're not. But what is awesome, is that there was a light at the end of our tunnel, and our life now is AWESOME."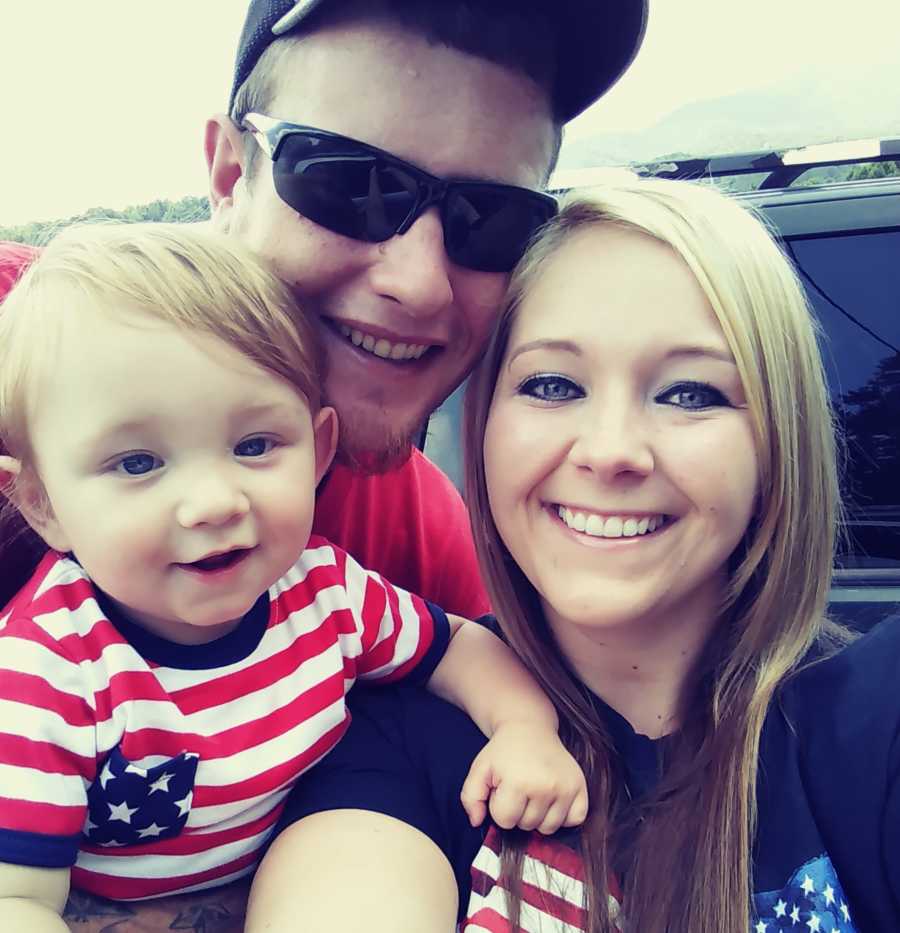 This story was submitted to Love What Matters by Angel Walton, 21. Do you have a similar story overcoming your addiction? We'd like to hear your journey. Submit your story here, and subscribe to our best stories in our free newsletter here.
Read more stories like this here:
'I woke up in jail, my hands and ankles handcuffed because I'd refused the breathalyzer test. My kids had been in the backseat.': Woman beats addiction after several years of drug, alcohol abuse
'I didn't know who the father was. I continued to use drugs, until I received life-changing news. I was not expecting one baby, or two.': Woman overcomes addiction, gives birth to triplets
'I used meth right before I went into labor. The first time I saw my son was the last day I chose drugs.': Mom overcomes addiction, regains custody of all her children with help from foster mom who 'never gave up' on her
'You're under arrest.' My HUSBAND called the police on me. I woke up in the back of a cop car.': Woman gets sober, delivers rainbow baby, 'I can't live my best life while drinking'
Provide hope for someone struggling. SHARE this story on Facebook with your friends and family.