"I have tried my hardest to find words to best explain our family, and the only one that can ever even come close is LOVE. I've been asked more times than I can count why I would want to adopt medically fragile children… why? Why would I risk having my heart broken, and why would I want to adopt a child who is completely dependent and will be for the rest of their life?? Why? The only answer that comes to me is because I love them. I love all four of my children who are not biologically related to me, but I would die for them in an instant. I love who they are, which is not just medically fragile. I don't see their feeding tubes or medicines, I see them, and I love them.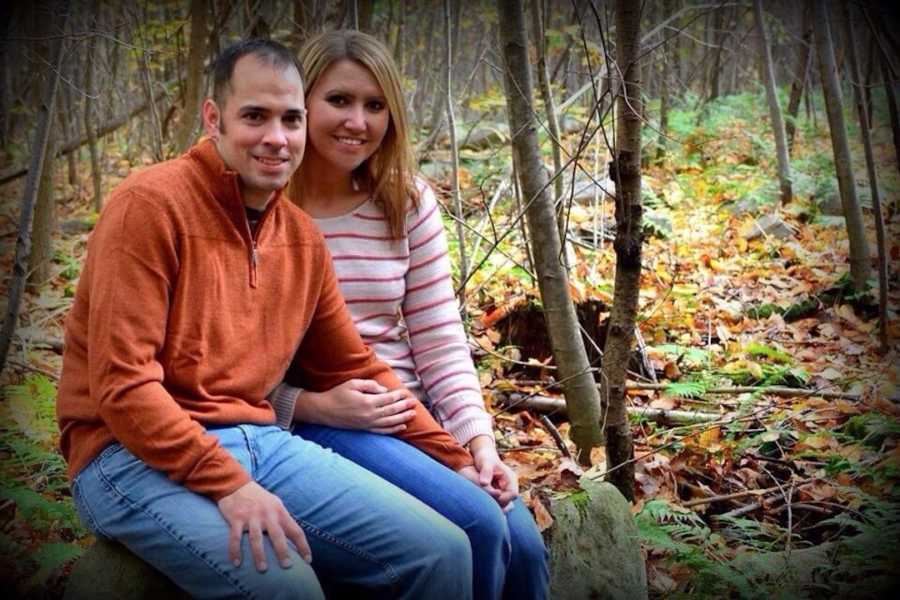 Jorgie was our first. I met him when he was just two years old and in his fourth (I think) foster home. He was severely abused at ten months old and it left him with many medical needs. I met him by accident, but not really. I know God had everything set up perfectly. My husband and I had been trying to conceive for over a year prior to meeting Jorgie. Month after month of negative pregnancy tests, we were given the devastating news my husband was sterile. Our only options were artificial insemination or adoption. I've always wanted to be pregnant. The complete miracle of carrying a life was just amazing to me, but I couldn't do it without my husband. I tried not to show my sadness, because I never wanted him to feel like I blamed him, but I was sad. Really sad. So, I prayed: I prayed hard to show us what to do. This cannot be it, and if it is please give me peace. I knew there had to be something, a reason why this was happening, but I didn't understand until I met Jorgie.
I remember seeing him for the first time and just feeling like I was meeting my son. I wish I could explain it, but there are no words that can. When we talked about bringing Jorgie into our home, we were met with a lot of doubt from lots of people. Why would you want a child who is so sick? With so many problems? Well, he deserves love, too. It made it so clear to me how God loves all of us. Unconditional, overwhelming, a never-ending love. That's what most parents feel for their children, right? Just because I didn't give birth or am biologically related to him didn't matter. We loved him and we brought him home. We became licensed foster parents to bring Jorgie home through The Bair Foundation, a non-profit social service ministry for children, youth, and families through Pennsylvania, though they have offices in several other states. We did months of trainings, home studies, and background checks, and soon we were a family of three.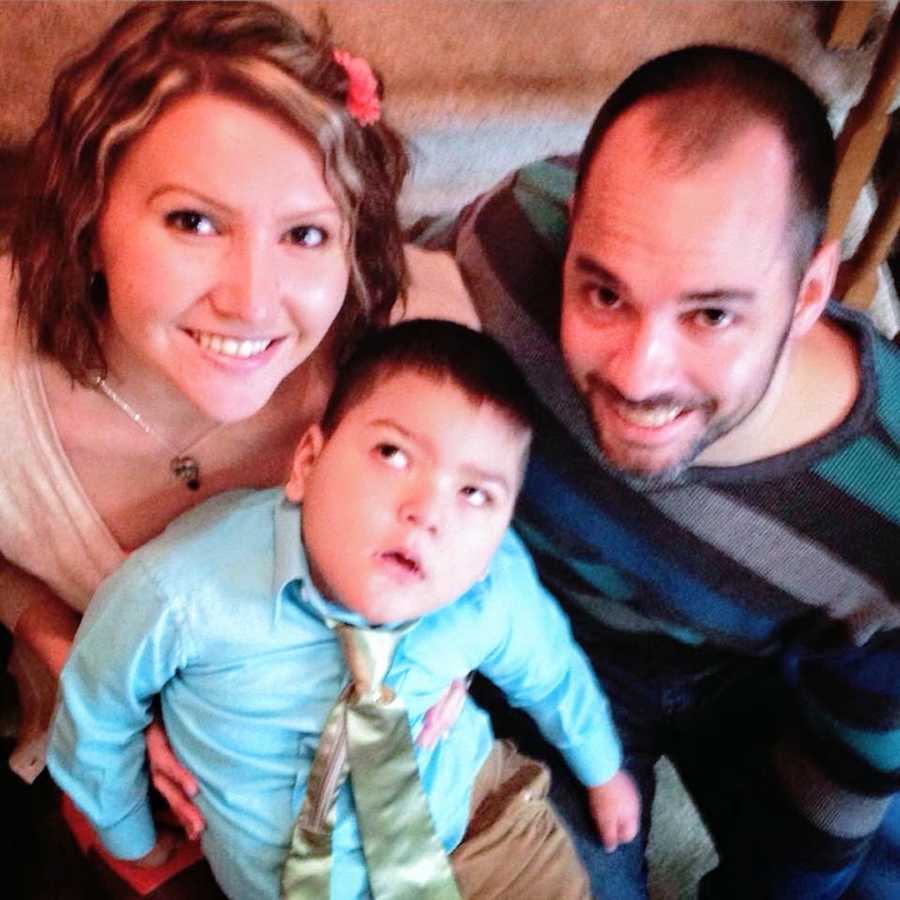 We were not only new parents, but new parents to a child with special needs, just getting settled into a routine and navigating our way through this new normal, when we received a call from Bair asking if we would consider taking a little girl with the same story as Jorgie. She had abuse that left her with many medical needs, just like Jorgie had been, and she was waiting patiently for her forever home. We brought our daughter, Taylor, who we lovingly call 'Lu,' home on our seventh wedding anniversary. My mom always told me if you want to hear God laugh, tell Him your plans. I quickly realized when you truly ask God to take the wheel in your life, you better hang on because you're going for a ride. We planned to stop fostering after Lu came to us. We had enough on our plate we couldn't possibly take on anymore…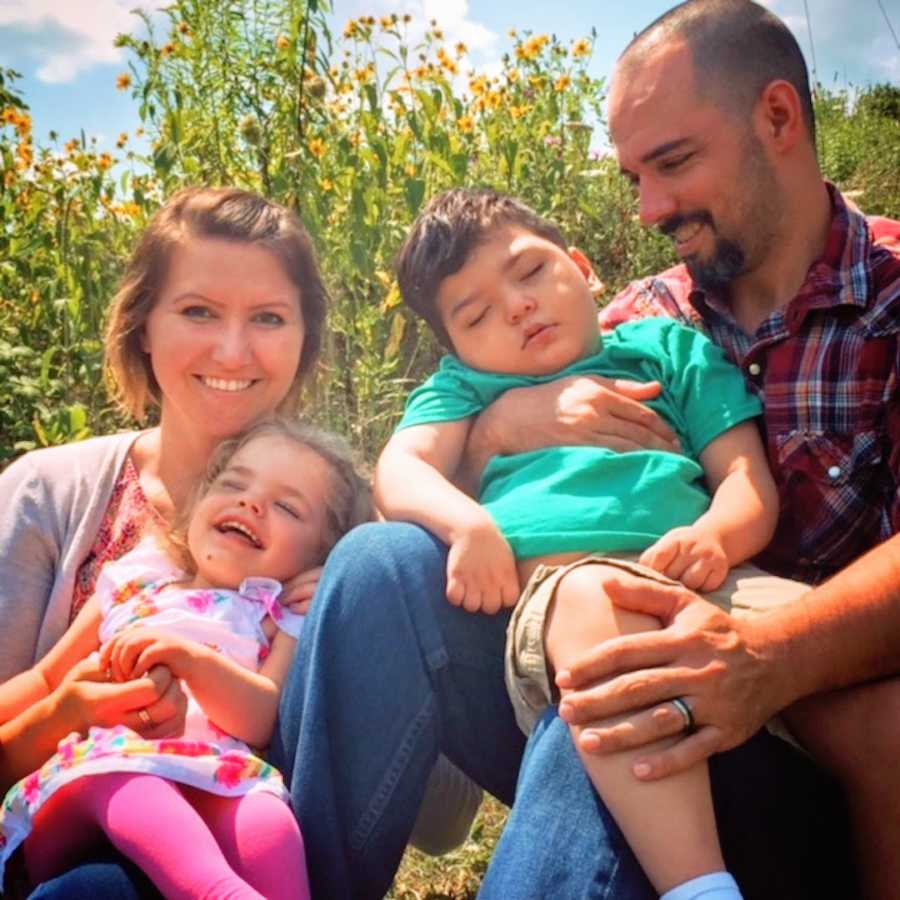 Until we got a call for a very sick baby who was born with a rare condition, called schizencephaly, and who also born addicted to drugs. She was in a children's hospital waiting for a family to say yes. My heart broke. My husband seriously thought I lost my mind, but after a lot of talking and praying, we went to meet her. Her prognosis was grim, in that they didn't know if she'd survive, but the thought of this two-month-old little baby girl lying in a hospital alone was too much for me. We brought her home and named her Rosemary. She is now five years old and in kindergarten. Rosie had a very rough first year, with neuro-irritability and coming off the drugs she was born with in her system, but she is now the sweetest little girl. Due to the schizencephaly she's unable to speak or walk, but she knows she is loved and very happy.
So, to sum this up, we were a young, married couple, and in a year had three kids. We went from being very boring to very busy, but it was the best. My husband, who had no medical experience or background whatsoever, was changing g-tubes, administering meds, going to doctor appointments, and still working a full-time job. I had some medical experience working in a nursing home, but never pediatric. We were learning together, but it just came naturally to both of us because we loved the kids so much, we would learn anything to care for them. We stayed a family of five for a few years until we received another call from Bair, asking if we would take a medically-fragile baby girl.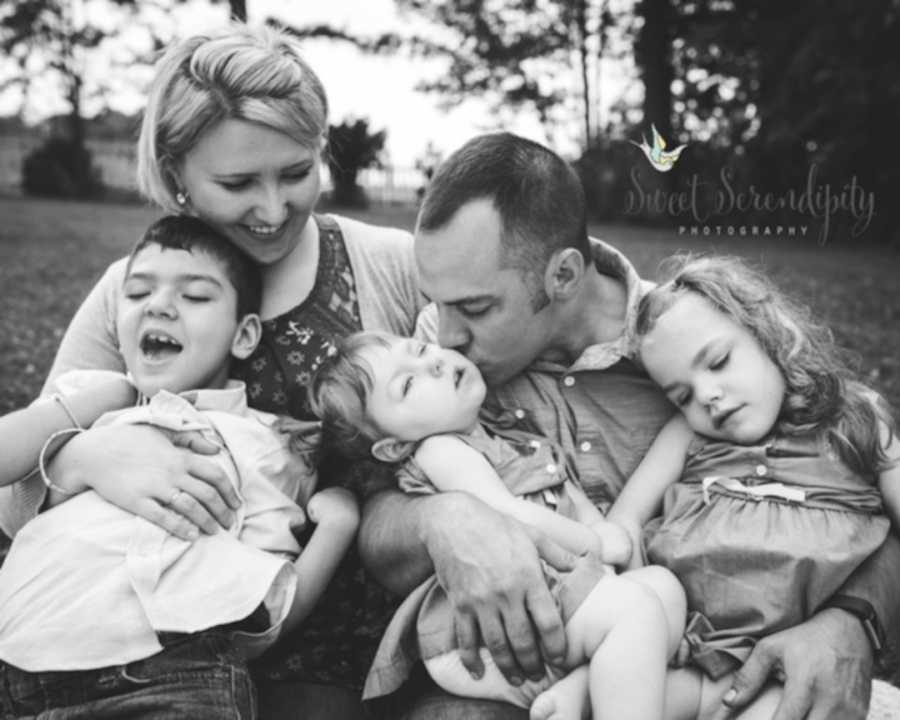 At first, the fear hit me of, 'Oh my goodness, four kids? Four medically-fragile kids!? Are you kidding me? We can't, there's no way.' I've made it a habit to pray on everything. 'If we are supposed to take this baby, Lord, let Your will be done.' A week later, we had four kids. It was a different experience for us, the baby we were fostering did not end in adoption but in reunification with biological family, which is the main goal of foster care, but it hurt. We loved 'Baby C' for eight months and still love her. It was humbling to experience the love and loss through foster care, and although it was painful, I would do it again and again. We are blessed to be able to still remain in contact and watch her grow.
After Baby C went home, I felt like we were missing something. We had four kids for almost a year, and when someone would ask I would still say four. It made me think of the call we had for Baby C, and how I couldn't even think of having four kids, and now I couldn't think of NOT having four kids. It didn't take long before we received another call, but this time for a ten-month-old baby boy. Henry was a twin born at 26 weeks, and sadly his twin brother passed two months after they were born. He was in need of a forever home and we lovingly said yes. Henry is now three and on the go all the time. He has cerebral palsy and has some trouble walking, but is so smart and so loving towards his siblings.
We are no longer licensed through Bair, but still felt the need to raise awareness for all of the things that have opened our eyes in this journey. We decided to start 'Unbroken Arrows' to shed some light on things like foster care, adoption, special needs, infertility awareness, etc. We have been met with an overwhelming amount of love and support, and we're so thankful."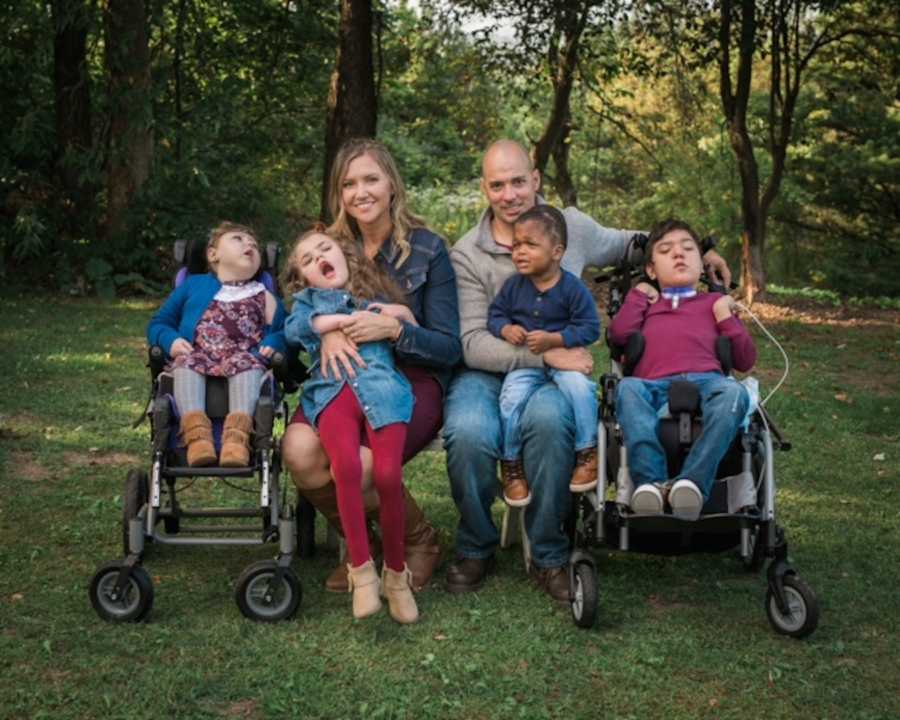 This story was submitted to Love What Matters by Lacey Rexroth. You can follow their journey on Instagram and Facebook. Submit your own story here, and be sure to subscribe to our free email newsletter for our best stories, and YouTube for our best videos.
Read more stories about adoption:
'Our PE coach pulled me aside. 'Your little buddy is about to be put on an adoption website.' I told her, 'We'll adopt him!': Teacher unexpectedly adopts student with special needs
'She's white. Is that okay?' Without hesitating, my husband said, 'She needs a home. Her race isn't relevant.': Foster parents adopt 3 children in 7 months, 'Families don't have to match'
'Her birth parents wanted to spend time with her. I wasn't sure if I would see her again. All I could do was pray.': Mom describes emotional adoption, 'She is our greatest joy'
'At 11, his adoptive parents abandoned him at a hospital, never to return. 'Mr. Peter, can I call you my Dad?' I began to cry uncontrollably.': Single dad adopts 11-year-old boy from foster care after biological, adoptive family abandon him
Are you or someone you know looking to foster or adopt? Please SHARE on Facebook to make them aware there is a community of support available.